Rosewill RGB80 BR Quick Features
Kailh Brown or Blue switches with RGB LED backlights.
N-key and 6-key rollover over USB (use 6-key mode if your keyboard doesn't work before your OS boots up).
Tenkeyless form factor.
Media function keys.
Onboard memory to save settings.
Gaming mode that disables Windows key.
RGB mechanical keyboards are becoming ever so popular this year. Typically aimed towards PC gaming, RGB mechanical keyboards give users an ability to customize and change their backlighting to fit their mood or video game. Today we'll look at a hands-on review of the Rosewill RGB80 BR, which is a great cheap RGB mechanical keyboard in a tenkeyless form factor. If you decide that this keyboard isn't for you, take a look at our list of the best mechanical keyboards to date here.
Check out our unboxing of the RGB80 below and then we'll get into our detailed review about the mechanical keyboard itself.
Rosewill RGB80 Unboxing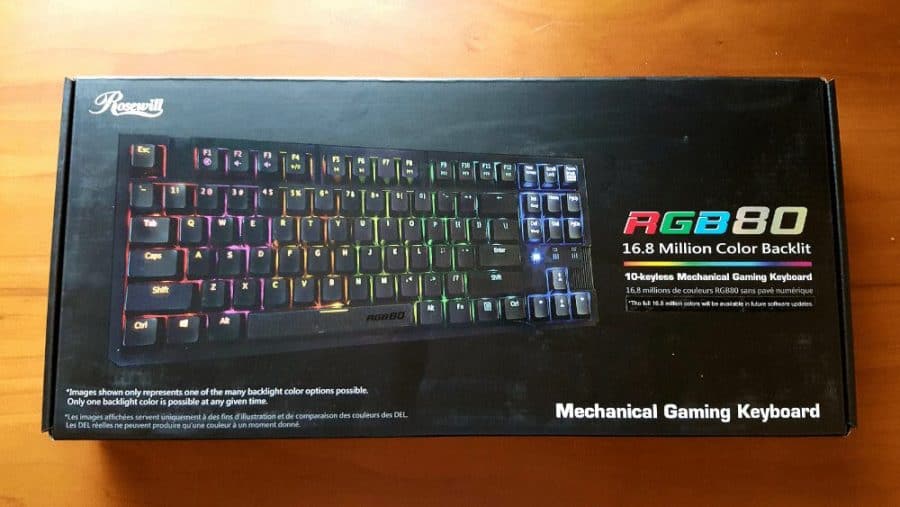 The Rosewill RGB80 arrives in pretty standard mechanical keyboard packaging.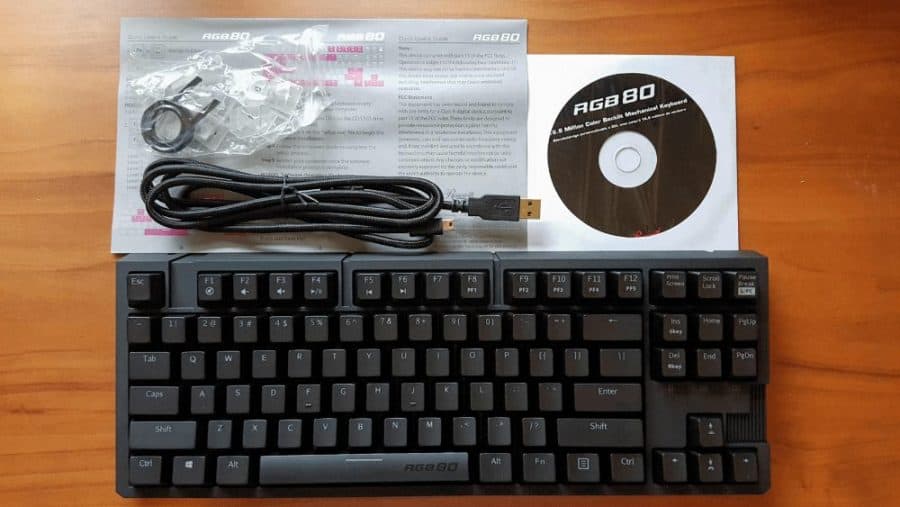 Here are all the unpacked components from the box. The RGB80BR mechanical keyboard, braided mini-USB cable, keyboard software, translucent keyboard keys, keycap puller, and instruction manual.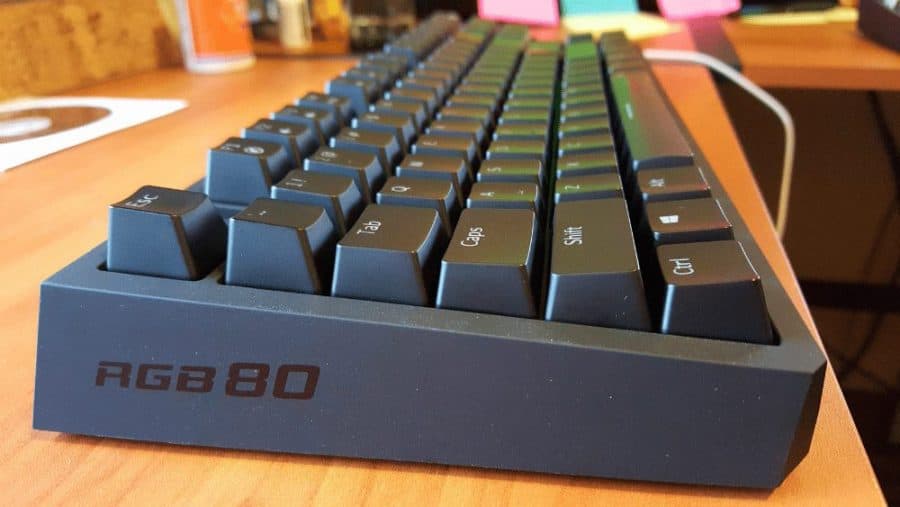 The Rosewill RGB80 has subtle branding on the side of the keyboard, as well as on the spacebar. The outer case of the keyboard has a rubberized texture.
On the underside of the keyboard, you can see thick rubber pads to prevent slipping. The RGB80 has 3-way cable routing from under the keyboard.
RGB Backlights
When this mechanical keyboard was first released, the software only allowed you to use ~230 different colors. With the latest version of the software, you now can choose from 16.8 million different colors!
The RGB backlighting has 5 different lighting modes. Off, medium brightness, high brightness, "breathing" mode (one color slowly pulsing in brightness), and two different gaming zone modes. The gaming modes light up zones of keys typically used for gaming, and no lighting on any other keys. There's no doubt that Rosewill's RGB mechanical keyboard has insane functionality and is excellent for everyday gaming. The illuminated backlit optionality is more than sufficient to meet your gaming setup and style.
The first gaming mode lights the W, A, S, D, spacebar, enter, arrow keys, and F8-F12. In the 2nd gaming zone mode, all the previous keys stay lit as well as Tab, CapsLock, Shift, Ctrl, Alt, and the numbers 1 through 0, as well as "`".
Below is the RGB80 with all translucent keys put on the keyboard, with the H key pulled off to show off the illuminated LED.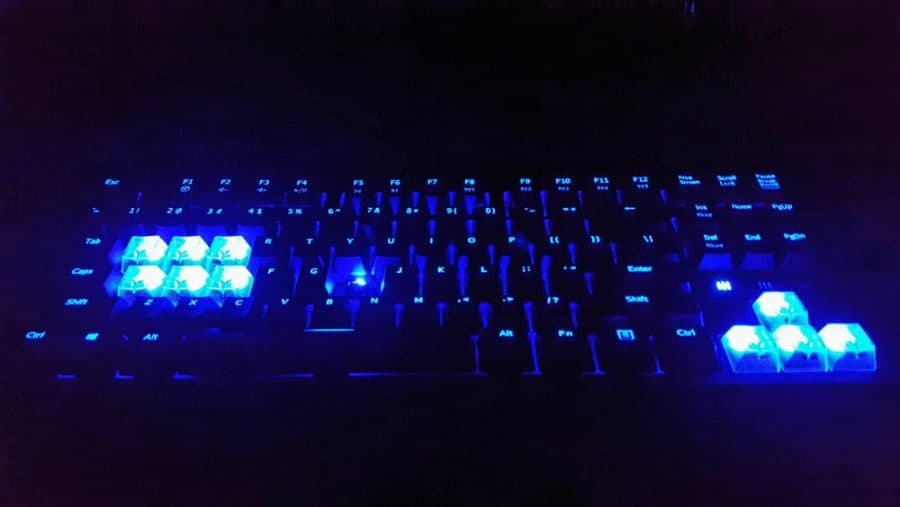 And here's an example with red backlighting enabled. You can see that the illuminated "Gaming mode" LED indicator light is enabled. More on that later.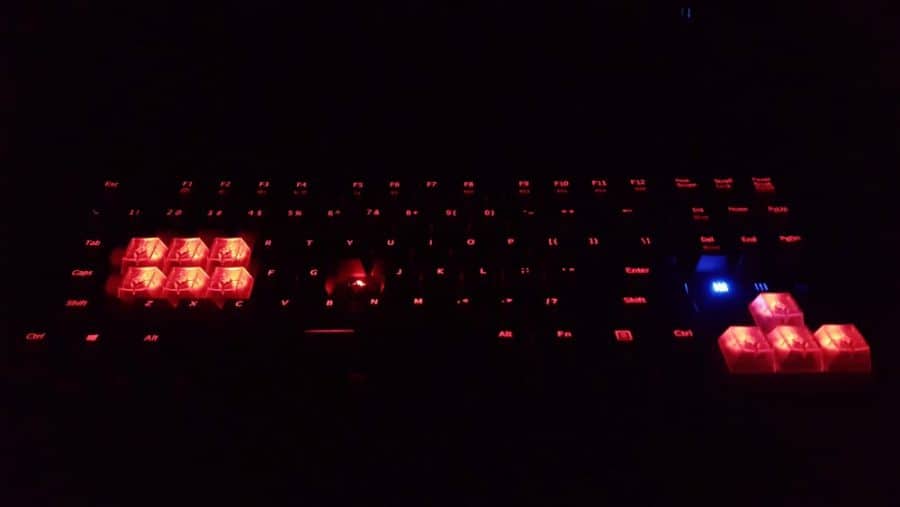 Finally, a close-up of the translucent keys with white backlighting.
And if you want to see the "Color Loop" mode in action, check out our video! You can see that the colors don't fade smoothly between each other, but fade to nothing and then change to the next color. There's also a bit of strange pulsing for most the colors.
Rosewill RGB80 Software
The software is very important for RGB mechanical keyboards; Without it, you're limited in your color choices and macro settings. When it comes to the software for the RGB80, it seems to be the weakest point.
Below is a screenshot of the software. It's not very intuitive to use, but the digital manual that comes along with it should help you figure out most features. Rather than get too verbose about a dry topic, I'll just state what you can and can't do with the RGB80 software.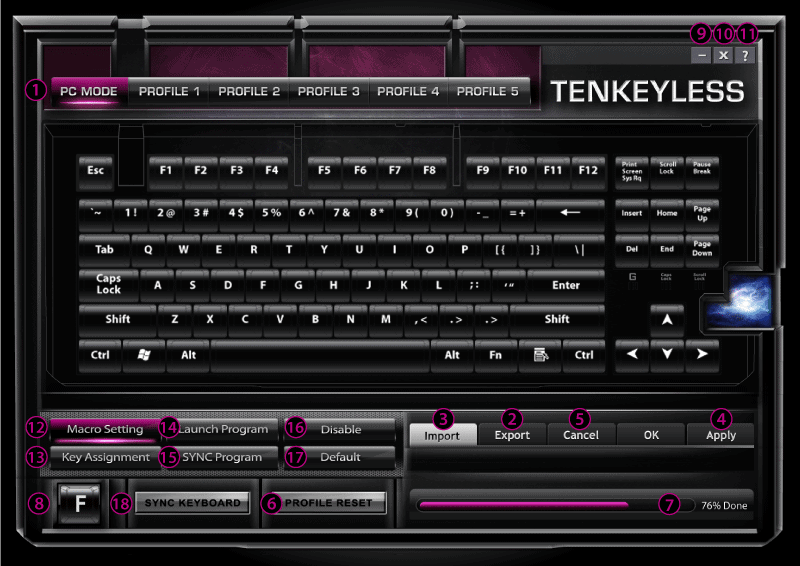 RGB80 Software – what you CAN:
Let you change the color of your 5 different "profiles". These profiles are selected when you press the Function key plus F8-F12.
Let you program macro functions.
Let you automate switching to a specific profile when a certain program is launched.
Allow you to import and export your settings.
Let you switch between having your backlight stay solid on your selected color, or cycle through all colors for your 5 profiles. This setting seems to be global, and not specific to one individual profile.
Change key assignments or disable keys.
RGB80 Software – what you CAN'T:
Let you set individual colors for individual keys.
Let you change the backlight color of the "PC Mode" profile. So if you want to use the Windows key, you must have your keyboard in PC mode, which means having a purple backlight.
Adjust brightness settings, globally or per-key.
Overall there's a lot of features built into the software, but it's disappointing how limiting it seems to be. I would have really appreciated being able to customize my backlight brightness, as even the "Medium" setting was a bit brighter than I would have hoped for.
Since there's no branding on the software stating it's specific to Rosewill, it seems like it might be made by a third-party vendor. It would be awesome if Rosewill rolled out an updated version of the software that could compete with the features in a Corsair or Razer RGB keyboard, but at $50 less it's hard to complain.
Rosewill RGB80 BR Pro's
At least $50 less than most other RGB mechanical keyboards.
Customizable backlighting looks great.
Translucent keycaps and braided USB cable were a nice touch.
Solid feeling hardware and case.
Very bright illuminated LED's.
Non-intrusive branding.
Rosewill RGB80 BR Con's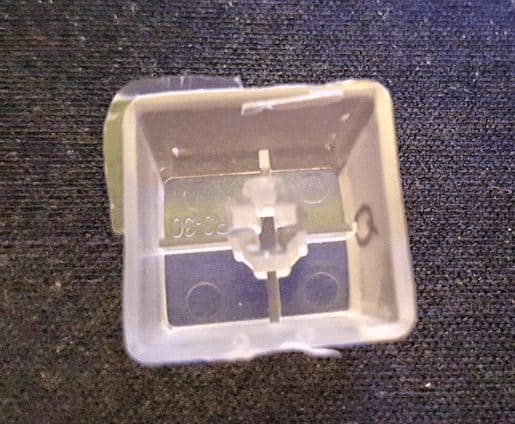 Bright status indicator LED only displays blue.
The software isn't intuitive and places some limits on the hardware.
Kailh switches aren't as nice as Cherry MX.
Found a slight issue with my translucent Q key – had some leftover plastic around the edge that I had to scrape off before it would fit.
Thoughts on Kailh Brown Switches
It's hard for me to give an unbiased opinion on these Kailh Brown switches. Just knowing they're not Cherry MX, I'm sure I have some bias into thinking they're inferior which I'm sure tainted my perception of them.
Overall I would say they worked fine for me and gave me no issues. I was actually able to type faster on them (91 WPM) than on my Cherry MX Clears (85 WPM). I'm sure it's mostly due to the Clears being stiffer, but it's nice to know Kailh's didn't slow me down at all.
My overall opinion is for the price, the Kailh Brown switches are fine. They work great for gaming, and I never had any issues with key presses registering incorrectly. I believe that when typing on Cherry MX switches, I feel more "quality" and sturdiness in the switch, but I'd need to do a blind test to confirm that it isn't just my bias.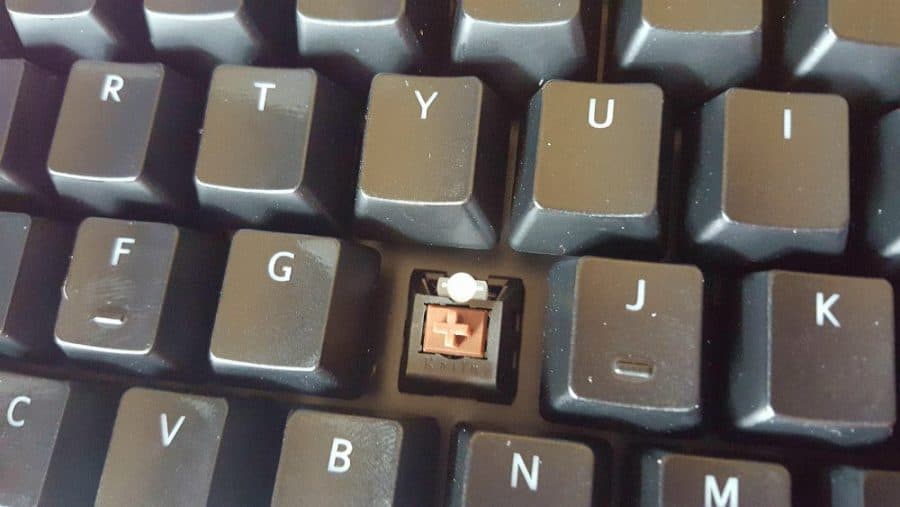 Rosewill RGB80 Verdict
I think that the RGB80 represents an amazing budget value, even with its ups and downs. I advise looking into it as an option for your gaming rig. If you don't like it, we have an article with other gaming keyboard options. Having used this mechanical keyboard for quite some time, I can say for certain that this is one of the best RGB keyboards you can get for its price. As a person who's tried many mechanical keyboards, I'm fairly certain this is one of the best cheap RGB mechanical keyboard out there. And that wraps up my review for this excellent RGB TKL mechanical keyboard.