Tesoro focuses on gaming peripherals and is quite well known for their mechanical keyboards. In this hands-on review, I'll unbox and dive into the Tesoro Gram Spectrum. This mechanical keyboard has a sleek minimalistic look and is perfect for white PC rigs or Macs (at least for the white version). Either way, it was very enjoyable to review this mechanical keyboard, lets take a look at it below.
The Tesoro Gram Spectrum arrived in a beautifully printed box with a number of glossy graphics (and a few dings, but that's what the box is there for). No expense was spared for branding, and that's entirely reasonable. I think that Tesoro should plaster their name all over this product because (spoiler alert) it's a great mechanical keyboard.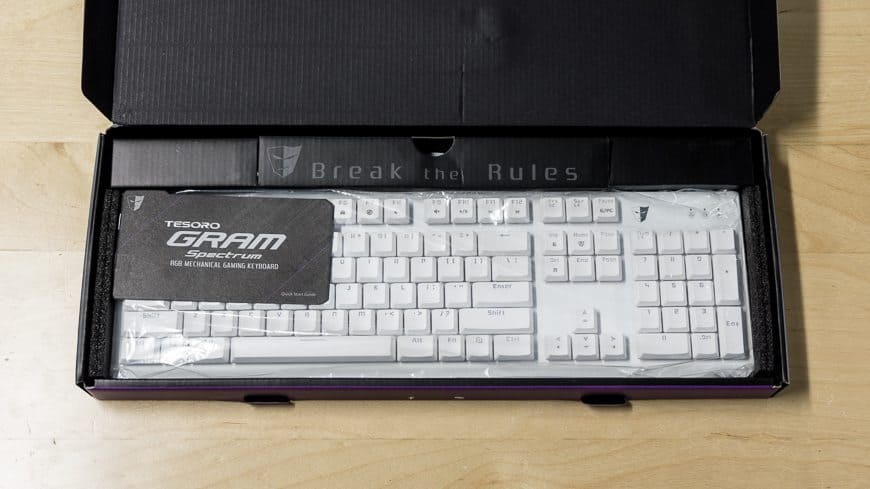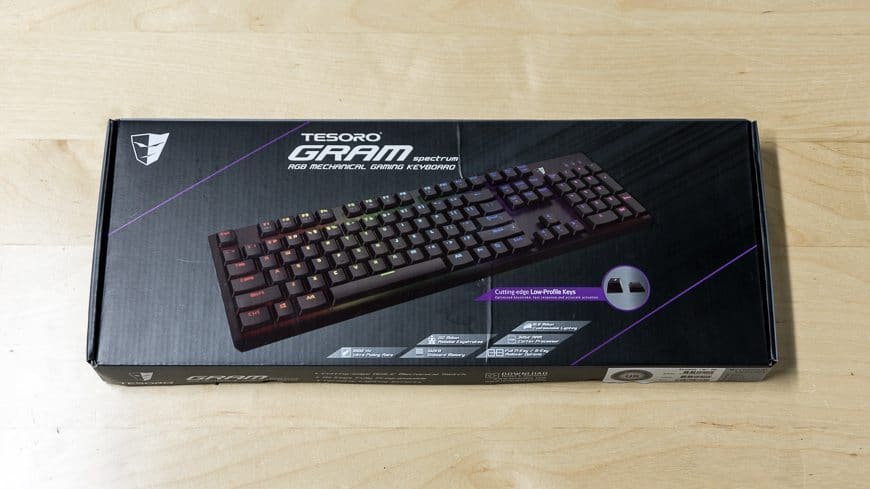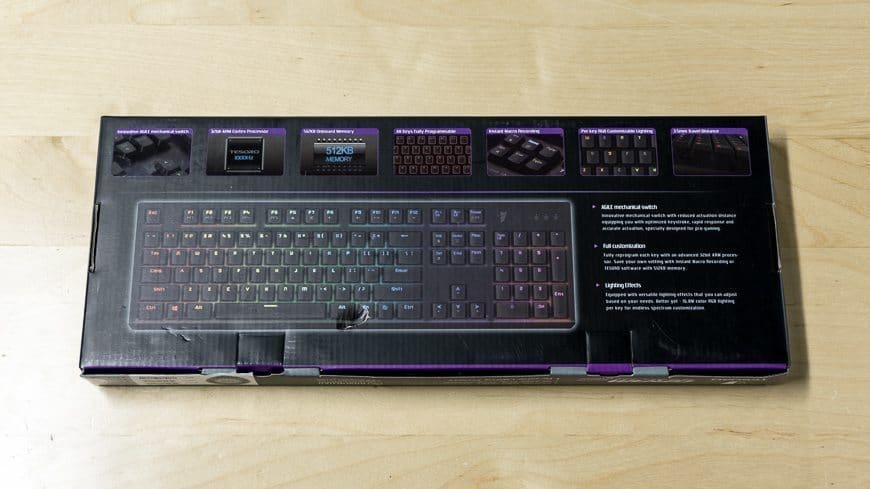 Inside the box, you'll find the Tesoro Gram Spectrum wrapped in a protective plastic sleeve. Two foam blocks protect the sides of the mechanical keyboard from dings during transit. A small flipbook format manual is included, but there isn't a keycap puller present. I'm not fond of that choice, as this is a premium product. Its price seems to justify an extra or two.
Gram Spectrum – Build quality
The Tesoro Gram Spectrum's case is a floating design, meaning that the mechanical switches are mounted in its upper case. The upper plate is painted steel, which measures 1.4 mm thick. The paint on my Gram Spectrum is lightly textured, resulting in a classy look. The lower portion of the case is ABS plastic, which may yellow over time in the white version of the keyboard.  The unit doesn't creak, flex, or otherwise cause unpleasantness in any way. I think the finish is great, frankly.
I like the steel plate, as it gives this mechanical keyboard significant weight and stability. It roots itself to desks. There is one thing to be aware of when purchasing a keyboard with an exposed steel plate, though. If you mar the paint, cutting it back to bare metal, rust becomes a possibility. Normal keyboards use steel plates, but they don't expose the edges of those plates to wear. Plastic shells prevent nicks and dings. If you throw the Tesoro Gram Spectrum into a backpack, for example, sand in the bottom could shred the paint off the plate edge. That would open the door for rust (particularly if your bag gets wet from rain or water brought in by shoes). I managed to chip a corner of the keyboard during its photo shoot. For that reason, I recommend this keyboard as a "stay at home" model.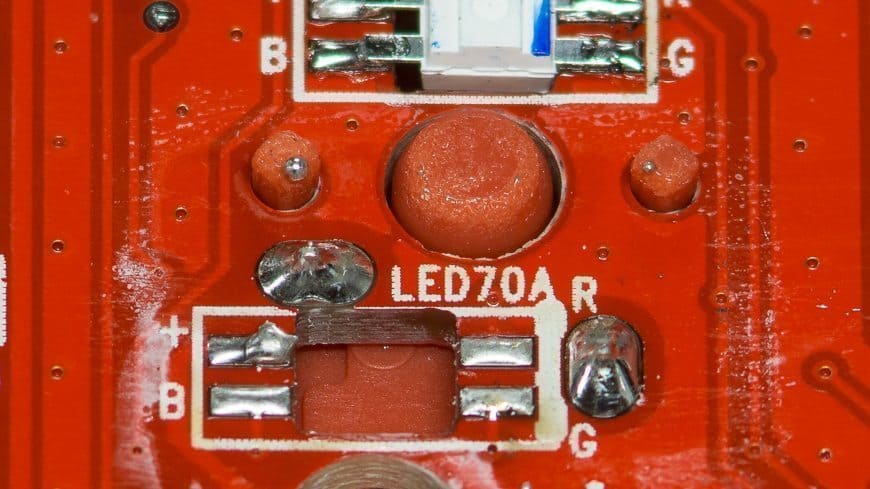 The Tesoro Gram Spectrum has a massive number of fasteners. The sheer numbers involved mean that its parts are held together tightly. I typically don't like to see plastic screws, as metal inserts are ideal, but in this instance, it doesn't affect things in the least. In fact, there are two screws that sink into metal inserts on the rear of the case. I wish that the screws were painted white to match the case, but that's a minor issue. The PCB is secured to the top plate by soldered switches, so it's not going to flex or misbehave. While we're on the topic of the PCB, it's worth noting that it has some serious depth. It's approximately 1.7 mm thick, which is quite impressive. There aren't any significant soldering errors, so the mechanical keyboard gets a pass in that regard.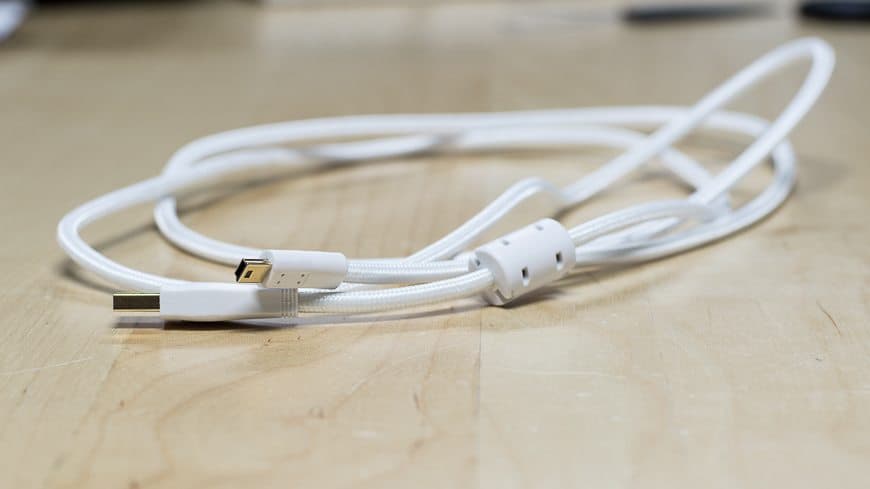 Cables typically aren't worth showcasing, but the Gram Spectrum's is a thing of beauty. Its only flaw is a lack of strain relief, which is insignificant if you use the keyboard in non-travel situations. It's thick, it's braided with a beautiful glossy fiber, and it has gold plated connectors. There's even a ferrite bead. Did I mention that it's removable? In short, it's a nice cable. I'm less satisfied with the Gram Spectrum's pads. It has a total of four. Each is placed in a corner. It isn't a huge deal due to the rigidity of the case, but it's still something that could be improved upon. A central pad in the front of the keyboard would solve the issue. They are textured, so that's a point in their favor.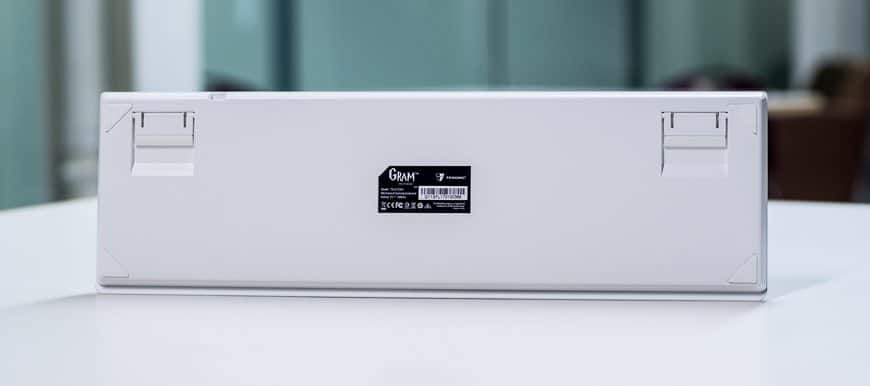 The Tesoro Gram Spectrum has wide fold-out feet with nice rubber bumpers. They're a bit thin for my liking, but they can withstand reasonable amounts of pressure without bowing. This keyboard shouldn't be shoved into haphazardly packed bags or thrown about, so I won't dock any points for their design.
Gram Spectrum – Switches & stabilizers
Switches
Kailh low profile red switches, marketed as agile fast switches by Tesoro, leave me with mixed feelings. They're tiny things with an attractive red border. Their scratch levels aren't too different from MX Browns. They're marketed as linear, but in reality, they have a very light tactile point. It isn't enough to interfere with gaming in the least, so I would call these red switches a great blend between tactile and linear switches. Are they solid for gaming? Yup. Will they throw a typist off entirely? Nope. It's pretty obvious that they have less travel than a standard key-switch, but their higher activation point isn't all that noticeable when typing (at least not for me).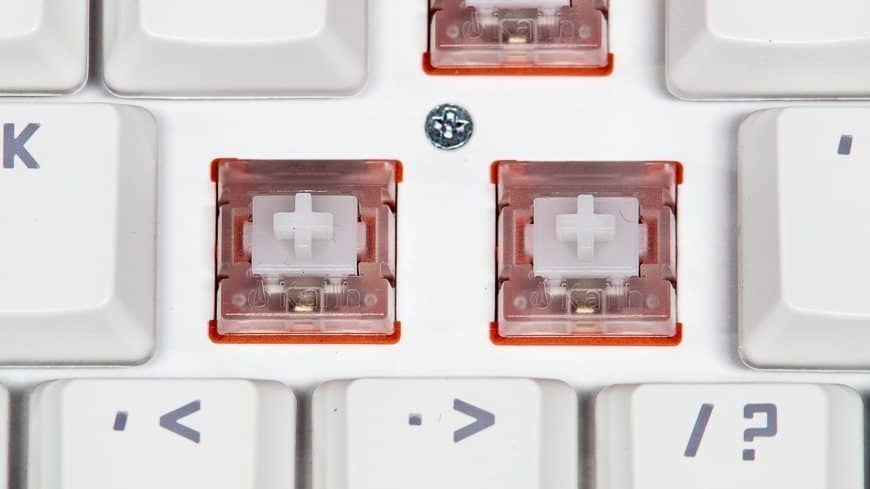 They're a bit heavier than I expected at 60 grams, but that's actually nice in a short throw switch. It makes bottom outs a bit softer. That's a real concern in low profile models. These are actually some of the easiest switches for me to avoid bottom out on due to their slightly higher activation point. If you are a bottom out typist, you'll be pleased to know that this mechanical keyboard is quiet. There is a sound absorbing mat in the bottom (that's what I think it is, at least) to prevent gnarly noises. If you're typing on a particularly hollow sounding desk, you might experience some ping.
The Y key was defective in my first review keyboard. It did output a keystroke, but it certainly wasn't pleasant to press. This is probably that one nightmarish failure which every manufacturer dreads, so I didn't dock any points. In an expensive keyboard like this one, the failure is certainly disheartening. I don't have access to failure rates or QC practices at Tesoro, so I can't say for sure. My rep didn't provide further information about the malfunction or what steps, if any, were taken to prevent further failures.
I can say with certainty that Tesoro handled the situation well. I'm a reviewer, of course, so there was extra incentive for a smooth replacement. Nonetheless, there was no hassle or request for evidence when I explained the issue. If you're returning a premium product like this one, it's quite likely that the process will be easy (particularly if you buy the keyboard on Amazon for an affordable price). Moreover, most mechanical keyboards do come with a warranty so had I been a normal customer, I should've gotten it replaced with ease.
Stabilizers
The Costar style stabilizers in this mechanical keyboard are generally good. The ones that work well don't influence the switch feel very much. They're lubed, so I'm sure that alters their performance for the better. Some of the stabilizers, however, are a bit scratchy. It's most noticeable when pressing the backspace key on this keyboard. Stabilizer quality seems to be a mixed bag in new Tesoro keyboards, as the Excalibur SE Spectrum exhibited slight variations in performance too.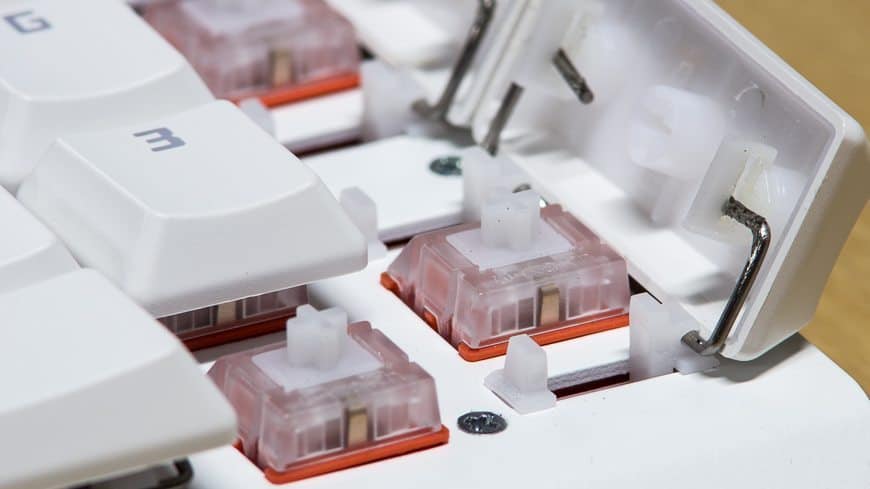 Gram Spectrum – Keycap quality
The Tesoro Gram Spectrum sports low profile ABS doubleshot keycaps with some lasered sub legends. The white variant of the keyboard, which is what I'm reviewing, could suffer from yellowing over time. I typically wouldn't comment on legends, but I think my opinion is valuable in this case. The gamer font here is pretty bad. Note that many legends were reused in multiple locations. The most atrocious is the G legend, which is reused for 9 and 6. With that said, the caps are passable. They aren't particularly thick, but echo and ping aren't a big problem due to the solid construction and small keycaps.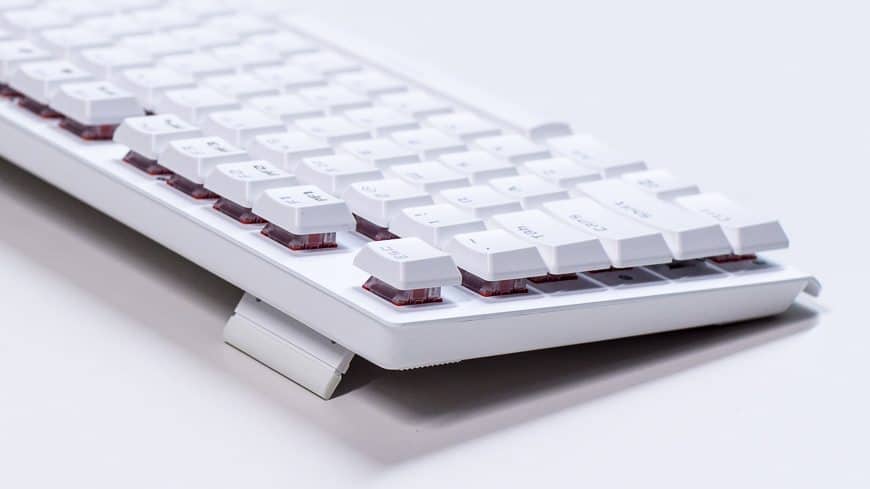 Replacing the caps will be a pain, assuming that you need to at some point. You would need to find a set of some oddly sized keys in Cherry profile. Once you source a compatible set, you must O-ring it to keep the keycaps from impacting the top plate. Then, and only then, you'll end up with usable aftermarket caps.
Tesoro Gram Spectrum – Features
LEDS
The Tesoro Gram Spectrum's backlit LEDs are nice. They're bright, saturated, and well blended. Color transitions are smooth too, meaning that active lighting effects are impressive. Unfortunately — and this is a fairly time-consuming issue — the red switch accents and red PCB blend with the backlighting, creating a red tint. When you have a particular color in mind, you need to pick its RGB value and do some troubleshooting to remove the reddish cast. When you're using the keyboard without a particular color in mind, the reddish haze acts as a nice accent to the switches. You should also know that the lock LEDs output blue light only, which can clash with certain color schemes.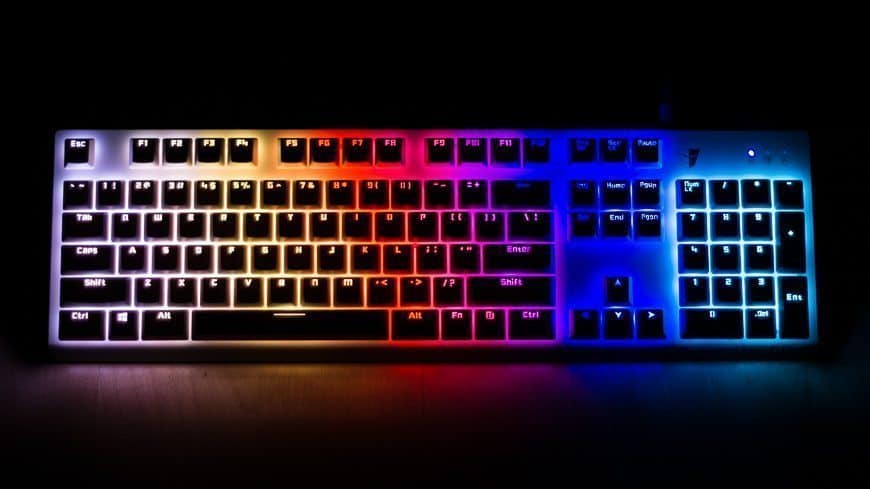 The white plate on my Gram Spectrum review model spreads lighting effects out across the entire keyboard in a visually appealing manner. I don't think things would be quite as vivid on the [easyazon_link identifier="B01ENC6VAI" locale="US" tag="xxaxle-20″]black version of this keyboard[/easyazon_link]. Color spread is probably the [easyazon_link identifier="B01ES9UE6I" locale="US" tag="xxaxle-20″]greatest advantage of a white plate[/easyazon_link] if you're into lighting effects.
Software
The Tesoro Gaming Keyboard software leaves a lot to be desired. Its macro system is reasonable, but the lighting settings are intensely frustrating. Changing colors across the entire mechanical keyboard is easy. Selecting lighting effects isn't tough either. Assigning colors to individual key colors is gimmicky. You need to find the right lighting effect first. Spectrum Colors is the ticket. Click on each key to set an RGB color value. You can also try to use the minuscule RGB value chart by clicking on it, but you can only click. Dragging has no effect, which is annoying in such a small palette. The software doesn't even allow users to select a few "favorite colors," so you'll need to jot down RGB values and type them in for each key you reassign. You can't even use the tab key to switch between the three data entry fields.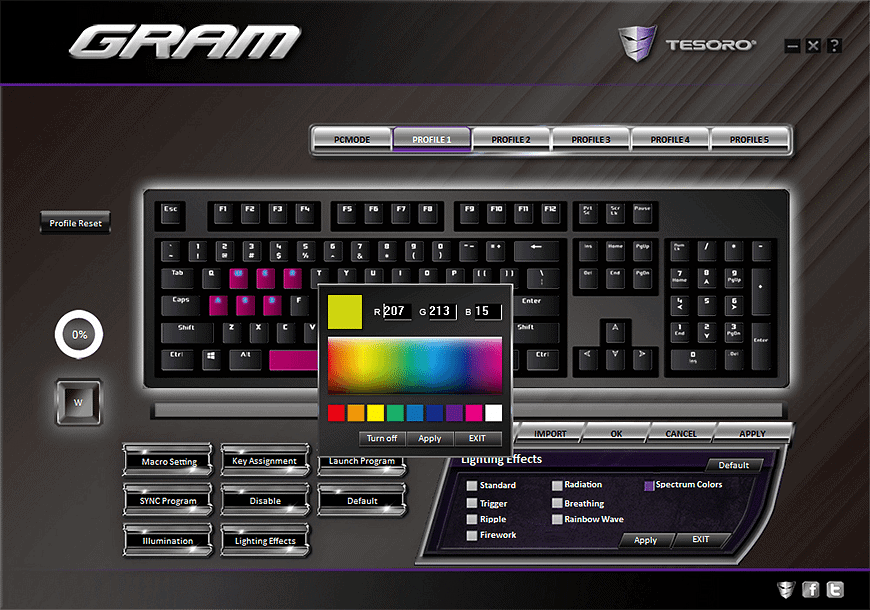 The Tesoro Gram Spectrum is held back by its software. It will mark the lowest point of your experience with this mechanical keyboard (not a huge deal as you only need to learn it once)
Spillproofing
There really isn't any spill-proofing to speak of, nor are there any drains. A spill on the Gram Spectrum would require extensive cleaning, especially if you dump a colored drink on the white variant. The sound reduction pad, both case halves, and the switches would be fair game for deep cleaning. I advise buying a warranty if you're a spill prone person because one slip will probably ruin this Tesoro mechanical keyboard.
Gram Spectrum – Labels & branding
I'm very impressed with the minimalist front branding on the Gram Spectrum. It isn't ostentatious, it matches the shade of the lasered caps, and the design theme is carried over to the lock LEDs.

I'm less excited about the rear label. It will hold up to wear and tear just fine, as it is plasticized, but the font makes me wonder if the designer graduated from the Hogwarts School of Graphic Design.
Tesoro's Gram Spectrum – Editor's opinion
I like the Tesoro Gram Spectrum. It has excellent agile switches, nice backlit RGB effects, and is an easy recommended buy in my opinion. Though it isn't without flaws, which include paint durability and poor software. That doesn't mean that the mechanical keyboard is unfit for its gaming market segment.
As a white mechanical keyboard, I'd imagine that this would make an excellent Mac keyboard alternative. All white designs are hard to come by with mechanical keyboards, and this Tesoro's design has very light and minimalist feel to it.
I wouldn't recommend this keyboard if you're looking for something with a mature RGB LED implementation, though the software is usable if you spend enough time with it. The nice backlit effects and sleek look allow for a great fit for any gaming or office rig.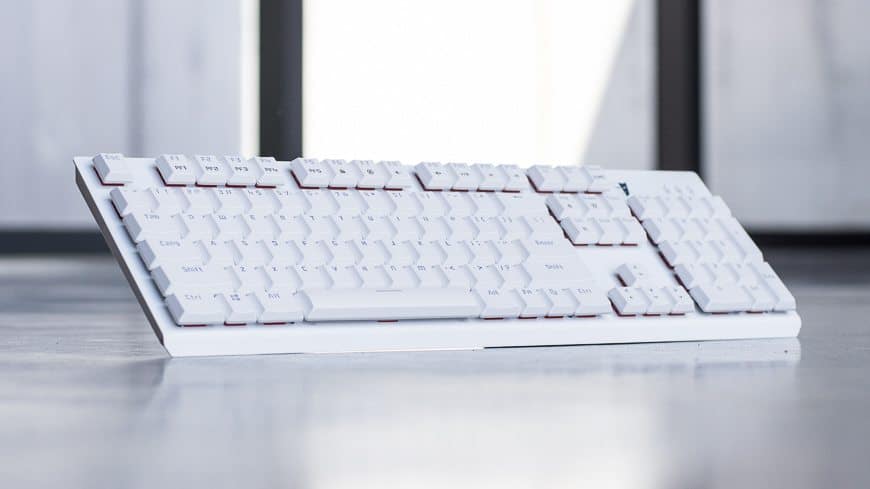 Look at this mechanical keyboard for what it offers physically. It is white (though there is also a black model), low profile, and exceptionally well built. Even the Kailh switches were enjoyable and novel. I'm not sure how long this keyboard's pricing will be justified, as other low profile options are on the way to the mass market, but for now it occupies a unique niche. I highly recommend you checkout some Amazon reviews if you're interested in one of my favorite mechanical keyboards to date – the Tesoro Gram Spectrum. Feel free to send us photos of your Gram Spectrum on social media.
We rate mechanical keyboards on a 10 point scale. 10 is absolute perfection, 6 is average, and anything less is increasingly bad. The Tesoro Gram Spectrum scored an 8.0, which means it is an excellent keyboard.