One surprising question that comes across to us surprisingly often is "what's the best white mechanical keyboards"?
We at GoMK get this question all the time, most likely because most mechanical keyboards are black. It's not too often you see a white full loaded RGB keyboard. But with many people asking, we decided to create our very own list of what we think are great mechanical keyboards that are white.
Why would you want a white keyboard?
Many people want a sleek white mechanical keyboard either for their Mac or just to match their gaming rig. In this guide, we'll take a look at what we think are top-performing white mechanical keyboards.
Best White Mechanical Keyboards
The Corsair K70 RGB MK.2 Rapidfire is another premium variant of the K70 gaming keyboard. Accuracy and reliability are guaranteed thanks to its CHERRY MX Speed mechanical key switches. Although the Corsair K70 RGB MK.2 Rapidfire has quite the price, it's a top competitor in the gaming department.
The RGB illumination provides convenience in low-light environments. Moreover, it is equipped with N-key rollover for accurate input recognition. The Corsair K70 RGB MK.2 also has a windows key lock to prevent accidental game disturbance.
What sets the Corsair K70 RGB MK.2 SE Rapidfire apart from its predecessors is its frame. The Corsair K70 RGB MK.2 SE Rapidfire has a silver anodized aluminum frame and white keycaps. Such a feature provides durability for it to endure a lifetime of gaming.
| | |
| --- | --- |
| PROS | CONS |
| Durable | Expensive |
| Decent in Gaming | |
| Gorgeous Aluminum Design | |
| 8MB Built-in memory | |
Out of all the mechanical keyboards on this list, this one may have the most functionality and highest brand name value of them all. Some people hate Razer and some people love them.
In terms of design – the Mercury edition of this BlackWidow is superb. The design is sleek with sharp edges and it looks quite heavy. The all-white design combined with its RGB keys is refreshing.
Judging strictly by its price and features, the Razer isn't too bad. The only main thing in question is its switch quality. Since the Razer BlackWidow Chroma uses Razers in-house switches, it may be of concern to most keyboard nerds out there. After doing some digging though, it seems as though these switches are actually pretty good.
Via Amazon and Reddit – some people compared them to Cherry MX blues and say the tactility is nice.
However, with more than 500 positive Amazon reviews, I'm not too concerned with its quality.
Here are some of its main features:
Programmable backlit RGB keys
Sleek all-white design
Can be synced with other Razer products
Ten key rollover
16.8 million color options
80 million keystrokes
If you're looking for a more comprehensive review of the BlackWidow X Chroma, check out our unboxing and full review here. Note that this is not the mercury edition.
| | |
| --- | --- |
| PROS | CONS |
| Good lighting and software | No USB pass-through |
| Awesome design | Small font on some keys |
| Vivid RGB | No wrist pads |
| Heavy, durable metal frame | |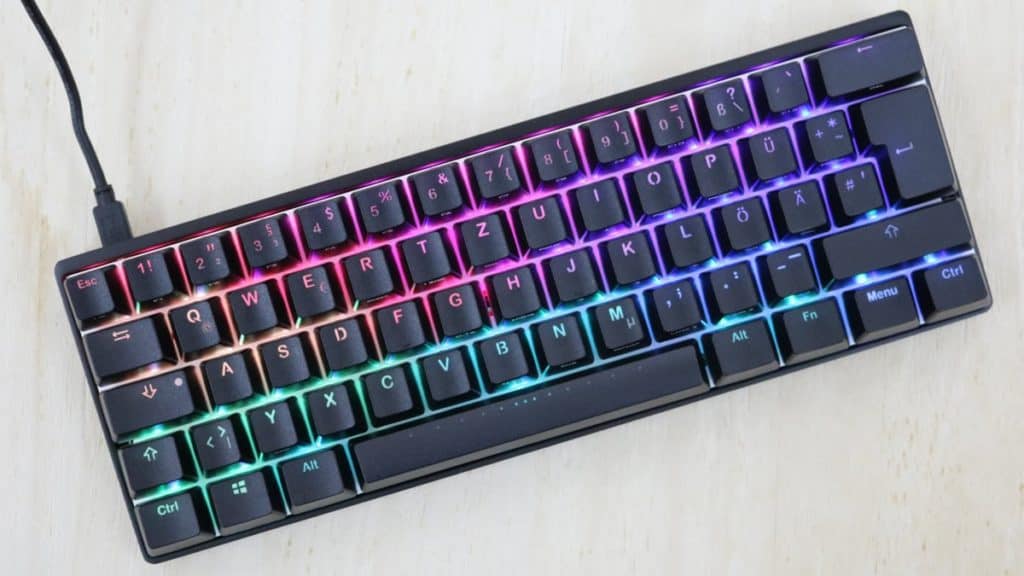 The Vortex Poker 3 is a 60% keyboard layout, which is ultra-compact and certainly not for everyone.
This mechanical keyboard is available in both black and white. This mini TKL keyboard has a ton of features that gives you the functionality of a full keyboard through the use of different keyboard layers accessed by holding down different function keys.
I highly recommend this white mechanical keyboard for those who are looking for portability or space. If you don't need to use the Numpad, this keyboard can be really fun to type with. Sporting a rare Cherry MX milky white, it is one of the more interesting keyboards out there.
Milky white switches are essentially firmer Cherry MX's. You can find out more about them here.
If you're interested in learning more about how exactly this keyboard works, I suggest you read our Vortex Pok3r RGB review where we go more in-depth. We even have a Vortex keycap buying guide due to the companies dedication in supporting the mechanical keyboard community.
| | |
| --- | --- |
| PROS | CONS |
| Decent build quality | ABS keycaps |
| Solid metal body | |
| Customizable without a software | |
| Space-saving | |
Huo-Ji Z88 – A Budget-Friendly Alternative
Huo Ji is a somewhat unknown brand making mechanical keyboards on Amazon. They sell feature rich keyboards at relatively low prices, and the Z88 is no different.
The only thing that might be off-putting is its Outemu blue switches. Although I think they're great, some people may only want the OG Cherry's. Check out this Reddit thread for more details. With the patent on Cherry switches over, there has been a lot of duplication in China. With that, came very similar switches with likely lower standards.
If you're looking for a TKL white keyboard with full functionality, RGB lighting, and a good price, this is your best bet. Given its price, the features are definitely worth it.
| | |
| --- | --- |
| PROS | CONS |
| Includes keycap puller | Loud typing |
| Great price point | |
| Space-saving | |
The KG011 by EagleTec has more than 1,000 positive reviews on Amazon making this the most popular white keyboard by a landslide.
With its sleek design, low price, and sweet backlights, its no surprise. The only thing that may be of concern is that this is not an RGB keyboard and it uses Outemu Blue switches like the Z88. With so many positive reviews, I have no doubt that this keyboard is of great quality. Not only that but I've tested and used many EagleTec's in the past with nothing much to complain about.
Although it doesn't have RGB it does have LED blue backlighting, which looks really nice against the white keyboard. You can also turn off the light if it gets annoying. This is perfect as an entry-level keyboard or if you have a low budget. Also, this keyboard has multimedia keys and gaming mode for those interested in gaming.
| | |
| --- | --- |
| PROS | CONS |
| Affordable Price | Clicky buttons |
| Premium Feel | |
| Waterproof key design | |
| Can be cleaned easily | |
| Ergonomic | |
Dierya DK63 – Budget 60% Bluetooth Mechanical Keyboard
The Dierya DK63 is a 60% mechanical keyboard that is budget-friendly and has Bluetooth features. Dierya is becoming wel-known within the gaming community, especially for their compact mechanical keyboards.
You get the option of many different Gateron switches: black, brown, blue, and red. There is also a black version of this keyboard if you would prefer that instead. Gateron switches are known to be very smooth, but also budget-friendly.
Inside the box, it comes with an L-shaped USB-C cable to save space. The USB-C port is on the top left corner of the board.
One of the biggest benefits of this board is that it has dedicated arrow keys although it still maintains the size and compactness of a 60% mechanical keyboard. The question mark, however, is located on the far right side of the keyboard, so it does take some time to get used to its placement.
In terms of RGB, it has 7 different colors and 8 different lighting effects. With BT, it can connect with up to three devices and switch between them easily.
Like other keyboards, it has N-key rollover, except only 6KRO on Bluetooth mode. The overall design is very easy to look at and use, the keycaps are slightly raised over the case, but it does not have a floating keycap design. It also comes with software that can be downloaded on the Dierya website to remap keys and change the lighting effects.
| | |
| --- | --- |
| PROS | CONS |
| Affordable Price | Weird ? location |
| Braided USB-C cable |  Need to get used to the layout |
| Bluetooth 4.0 |  Very stylized font |
| Compatible with Android, Mac, Windows | |
| Dedicated arrow keys | |
Redragon K530 Draconic – Hot-swappable Bluetooth 60% Mechanical Keyboard
The Redragon K530 Draconic comes in black and white. It has Bluetooth 5.0 for easy and quick and responsive wireless connection up to three devices with easy switching between them with key combinations.
It also has a large battery of 3000mAh to last through days and days without having to worry about charging it at all. On the left side, it has toggles to change from BT or wired mode via a USB-C cable. If you're gaming, then plugging in is highly recommended.
There are 13 preset lighting effects and software too, to ensure that you will find the perfect color schemes for your aesthetic and setup.
The stock switches are Oetemu brown switches. However, these keyboards do have hot-swappable sockets, so you can change them to other Oetemu switches if you want.
There are some reports that this keyboard may stop working after some use. However, Redragon will help work with you to fix the issues.
The USB-C cable that comes with the keyboard can be a bit short because its primary use is as a charging cable. If you are looking for an affordable Bluetooth keyboard to use with multiple devices for an affordable price, this keyboard may be a great one to look at.
| | |
| --- | --- |
| PROS | CONS |
| Affordable Price | No dedicated arrow keys |
| Hot-swappable Oetemu switches |  Need to get used to the layout |
| Bluetooth 5.0 |   |
| Compatible with Android, Mac, Windows | |
| Waterproof and dust-proof | |
The Redragon K552 is a tenkeyless compact mechanical keyboard with 87 keys. It has a dedicated arrow cluster and navigational cluster so you won't accidentally press keys that you don't want to while typing/gaming.
It has loud clicky Oetemu blue switches. This keyboard is very affordable at around $50, depending on where you get your keyboard from. These are dust proof and waterproof switches with a loud click and tactile feedback.
Despite its price, it is a very sturdy build with a metal top plate and a plastic case. The keycaps are made of doubleshot ABS, and the legends won't fade ever.
The RGB modes are preset and can be changed with key combinations. There are 18 different lighting modes with 9 different colors for the static mode.
The K552 is made for gaming and has NKRO and 100% anti-ghosting. The function row has secondary multimedia keys. The keyboard is extremely compact and allows more space for your mouse to move without cutting our important keys such as the arrow keys.
If you are looking for a silent keyboard, this is not for you. It only comes with loud clicky switches. However, Redragon has many different offerings that also come in white such as the K530 Draconic and the K550.
The Razer Huntsman Mini is a new mechanical keyboard by Razer that is 60% and has a LOT of the features that the Ducky One 2 Mini and other popular 60% keyboards have such as USB-C cable, standard layout, doubleshot PBT keycaps, and more.
This keyboard comes with two different types of switches, and they are both optical switches. One is linear and the other is clicky. The Optical Reds are linear with sound dampening material on the bottom of the switch similar to Cherry MX Silent Reds. Optical Purples are clicky and loud.
Both are extremely smooth switches and perform very quickly. They actuate at a light pressure and have little actuation distance. For more information on Razer Optical switches, read their product page explaining the differences.
The keyboard is more expensive than others on this list, at around $120-$130, depending on where you purchase it.
This keyboard has RGB lighting that can be edited on the Chroma Studio software, but the software must remain open to use your custom lighting profile. It does come with 7 different presets on the keyboard.
It has an aluminum top plate with an all plastic case. The keyboard is sturdy yet lightweight. The keycaps are nice and thick and float above, revealing the switches and the RGB lighting.
If you're a high-level gamer and want to take your gameplay to the next level, this is the mechanical keyboard to get. It may be louder than others, but the optical switches make all the difference when it comes to who will beat who in a 1v1 situation.
The Royal Kludge RK61 is a mechanical keyboard that has been out for several years and has a reputation as being some of the best budget 60% boards.
The RK61 has Bluetooth connectivity, boasts 10 hours of battery life, and can connect with up to three devices. It is available with either Gateron blue or Gateron brown.
One downside is that this device only has blue backlight. If that is not your aesthetic, then this keyboard may not be the one for you. With the blue backlight, there are 17 different effects.
The keyboard has ABS plastic doubleshot keycaps, and the legends will never wear off. They're not grime-resistant, but it's easy to replace the keycaps with the standard layout.
The keyboard has 10-key rollover, which is different from other keyboards that have NKRO. If you're pressing a lot of keys while gaming, this may not be the keyboard for you either.
Despite it being a 60% keyboard, it is possible to press FN+Shift and then have dedicated arrow keys on the bottom right instead of the modifiers. To turn that off, press the same key combination again. It really does help people who want to use arrow keys more often than not.
For this price, it is a really good keyboard. It pairs easily with Mac and Windows devices, and switching between them is really easy via key combinations as well.
The Qisan Magicforce is a very compact keyboard, but it sure doesn't lack any of the functional as a tenkeyless mechanical keyboard. You get the arrow cluster and a small nav cluster with the following keys: Insert, Delete, PgUp, and PgDn.
These keys can be remapped using SharpKeys or Karabiner, depending on what OS you're using.
The Magicforce 68 is super budget-friendly, but its price can vary depending on what version you get of it. There are versions that only have white backlight, only blue backlight, Oetemu switches, Gateron switches, PBT or ABS keycaps, and Bluetooth or not.
The version that we are looking at sits at a little under $40, which is not bad at all for a nice mechanical keyboard. It uses Oetemu brown switches, which provides a nice tactile feedback for each keypress so you don't have a bunch of typos or press not enough while gaming.
The size is perfect for portability, and it allows a lot of room for your mouse to move. It does have a removable cable, although it is not USB-C.
The keyboard has floating keycaps, and the top plate is a brushed aluminum to make sure that its stable and sturdy. The back does come with single angle adjustable kickstands, if you like a more steep angle.
The Qisan 68 is Mac compatible. Although it is a 65% layout, it uses all standard sized keys, so swapping out keycaps is super easy without too much hassle.
The Durgod K320 is available in different colors and a variety of Cherry MX switches. The switch options are black, blue, brown, clear, red, silent black, silent red, speed silver, and white. With this many options, you are bound to find a switch that fits well with you.
It has NKRO and a detachable USB-C cable. On the back are two dual-angle adjustable kickstands, for more customization of your angle.
Alongside this, it has doubleshot PBT keycaps, that are oil-resistant and feel really nice on the fingertips.
The best part about this keyboard are the keycaps and the stabilizers. The keycaps are Cherry-profile, meaning that they're lower than the usual OEM profile. This is a really comfortable profile to type on.
The stabilizers are pre-lubed from the factory, and they are the smoothest stock stabilizers I have ever worked with. Although the K320 is more expensive than other keyboards on this list, it is one of the best stock keyboards on the market at just under $100.
The Durgod K320 lacks RGB lighting and fancy features such as macro keys and whatnot. It does have secondary media keys in the function row. Durgod also has software to use with the K320 to remap or program keys.
When using it though, it just screams comfort and quality. If white is not your thing, it comes in other colors to.
This keyboard is for the person that prioritizes comfort and experience over aesthetic.
What to Look for In a White Mechanical Keyboard
Finding a keyboard with a black case is easy enough, but not many mechanical keyboards come in white.
This is likely due to the whole gaming industry having mostly dark-colored peripherals.
Black, silver, and red are quite popular. But white is sleek and nice for a minimalist look or even an office environment. The color definitely sticks out against all that black and I personally love it.
In 2020, white mechanical keyboards are becoming much more common.
Switches
Switches technically determine the sound and the feel of your mechanical keyboard. Considering this mechanism under the keys is important. There are three basic types of mechanical key switches — the clicky, the tactile, and the linear type.
Cherry MX switches are the most popular switches in the market. MX Blue and MX Green are clicky switches. Clicky switches create more sound compared to the other two. Switches like these are best for heavy typists.
MX Brown and MX Clear fall under the tactile category. However, Topre boards might be considered for people who are looking for tactile switches too. They are suited for typists who tend to choose feel over sound. It delivers a bumpy feel other than a crisp one. Moreover, it is suggested for people who type a lot.
Linear switches, on the other hand, have no direct contact. However, they can be loud despite the lack of bumps and clicks. MX Red and MX Black are linear switches.
Ergonomics
Posture is an important element in sustaining health. Although subtle, it is a significant matter for everyone. Repetitive typing for a long duration can cause pain in the wrists and in the hands. Unnatural positions like typing can induce pressure in the hand joints. Thus, considering ergonomics is an equally important criterion for choosing mechanical keyboards in order to promote wrist health.
Full-size keyboards usually have built-in or detachable wrist rest. Additionally, certain layouts allow a more relaxed shoulder, arms, hand, and finger positions. Deciding the ergonomics of the keyboard that suits you will not only provide efficiency, but also a good joint and back health.
Form Factor
Deciding which layout you want is an important concern in purchasing a mechanical keyboard. Each form of sports different layout and number of keys. Thus, each form offers functionalities for different purposes. There are three common forms available in the market — the full size, the TKL, and the 60 percent boards.
The full-size keyboard is the most popular among the three. It has 104 or 105 keys to maximize the potential of a computer. The full-size boards include the number pad, which is typically on the right side. Despite the numerous keys that are made available, it also has its drawbacks. The full-size is known to be less portable. Also, the number pad pushes the mouse farther away from the typing area, which makes your arms stretch further. Also, full-size boards are not for people who have limited desk space.
On the other hand, the tenkeyless (TKL) lacks the number pad. Thus, it is smaller than the full-size board. It does not rely on function layers and is equipped with a number row. The TKL keyboard works great in small work areas and is preferred for its shorter "throw" distance from the mouse. It is often the best board for everyone.
Lastly, the 60 percent keyboard is the best in terms of portability. These keyboards are also rising in popularity due to style and ease of access. Its compact design allows a more efficient use for people with smaller desk spaces. They are great for traveling too as their size allows portability. However, due to the lack of keys, the keyboard lacks F keys and will have to use the Fn key to utilize the needed function. In addition, programmed arrow keys will only be used by pressing the Fn key too.
Good-Value Pricing
You do not have to break the bank to have a quality keyboard. Moreover, there are premium keyboards that are not worth a hefty amount of cash. Thus, before buying one, you have to rethink if the specs and features it offers are worth the money. Several models in the market actually have competent designs and functionalities. A decent price tag comes with a proportional performance, durability, and purpose. So, always put into mind if the cost is proportional to the overall value of the keyboard.
Conclusion – Which One is the Best?
That concludes our list of the best white mechanical keyboards!
As always, I've tried to add a variety of different mechanical keyboards onto this list including cheap budget ones or just straight up sleek. Either way, check out the Amazon reviews or our hands-on review articles to find out more about these mechanical keyboards.
Since we've compiled the absolute best white keyboards in this guide, we really don't have one single favorite one. They're all great for different reasons. The Razer is great as a brand name feature-rich keyboard. Others, on the other hand, are great for its compactness (like the Poker 3), portability, and sleek designs.
If you are looking for the best gaming experience, then the Razer BlackWidow X Chroma and the Corsair K70 RGB MK.2 Rapidfire are your best bets. Its features are the best ones in the market. From their vivid RGB backlighting to their quality key switches, both offer superb performance and durability that are built for a lifetime of gaming experience.
However, the EagleTec KG011 does not lag behind in the gaming performance department either. Like the other four keyboards, it sports a white finish in the frame and keys. The EagleTec KG011 has a premium aluminum frame to provide durability. Similar to the Corsair K70 RGB MK.2 Rapidfire, the EagleTec KG011 also sports 104 mechanical keys. Lastly, it is equipped with a waterproof key design to assure users a long lifespan and prevention from damages because of water.
If you are not fond of gaming, but more into typing, then the Vortex Poker 3 and the Huo-Ji Z88 might be what you seek. Both are budget-friendly keyboards. Also, they provide a good-value exchange. Both mechanical keyboards are space-saving boards, efficiently portable, and both offer great functionality.
With so many mechanical keyboards dark in color, it's nice to change it up once in a while. This is especially true for Macs were maintaining a white aesthetic may be important.
Let me know what you think of these mechanical keyboards in the comments below.