Top white mechanical keyboards 2017
One surprising question that comes across to us surprisingly often is "what's the best white mechanical keyboards"? Many people want a sleek white mechanical keyboard either for their Mac or just for to match their gaming rig. In this guide, we'll take a look at the best performing white mechanical keyboards in 2017. White mechanical keyboards are definitely rarer than their darker counterparts.
It seems that many people want a white keyboard case to match the rest of their computer accessories or desk. Finding a keyboard with a black case is easy enough, but not many mechanical keyboards come in white.
Here's our list of the top white mechanical keyboards available for 2017.
1. Havit HV-KB389L (Royal Kludge rebrand)
When it comes to style, the Havit HV-KB389L can't be beat. This white keyboard has RGB backlighting and a really awesome side-backlight that runs along the entire case.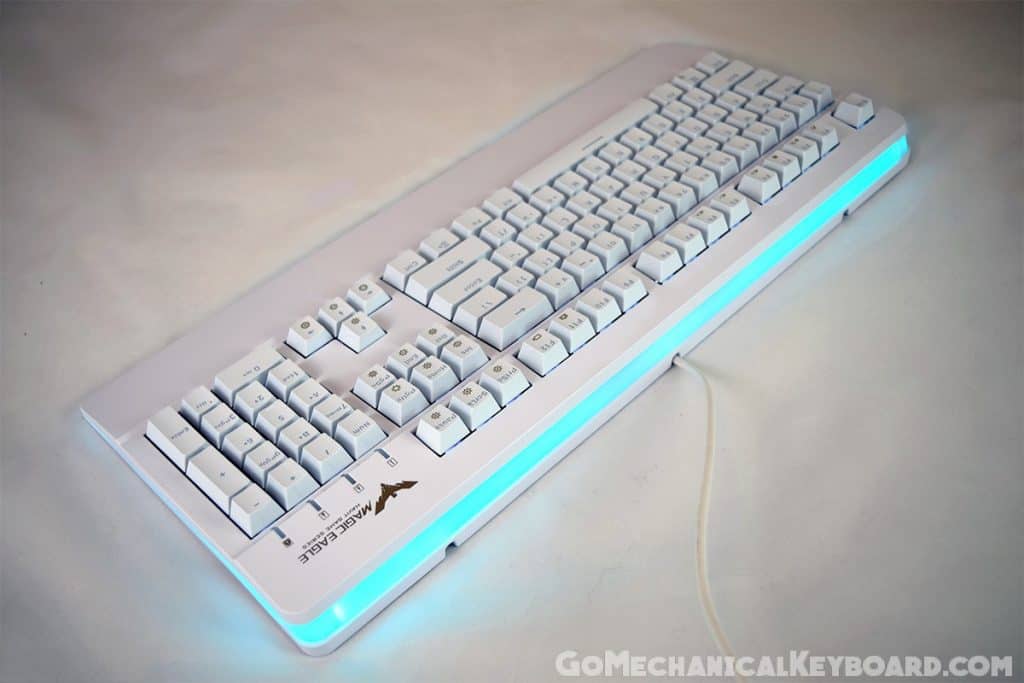 This mechanical keyboard only comes in Kailh Brown switches which could be a downside if you prefer another switch type.
You can check out our full-length HV-KB389L review for more details about this beautiful mechanical keyboard. You can find a rebranded version below, as the original doesn't appear to be available. As noted previously, most mechanical keyboards are dark in color. This particular HAVIT mechanical keyboard is one of the nicest I've seen so far and it happens to be white and backlit. Definitely worth considering to buy.
Buy on Amazon
Read user reviews
2. Vortex Poker 3

The Vortex Poker 3 is a 60% keyboard layout, which is ultra-compact and certainly not for everyone. This mechanical keyboard is available in both black and white. This mini TKL keyboard has a ton of features that gives you the functionality of a full keyboard through the use of different keyboard layers accessed by holding down different function keys. I highly recommend this white mechanical keyboard for those who are looking for portability or space. If you dont need to use the numpad, this keyboard can be really fun to type with .
If you're interested in learning more about how exactly this keyboard works, I suggest you read our Vortex Pok3r RGB review where we go more in-depth.
This mechanical keyboard is also available in a Bluetooth model in case wireless is important to you.
Buy on Amazon
Read user reviews
3. Aula White Gaming Keyboard
Aula is a relatively unknown brand, but they make an all-white mechanical keyboard that might be what you're looking for, particularly if you're after a
gaming mechanical keyboard
. I've tried this mechanical keyboard before and can vouch for its both its comfort and utility. The keyboard has a nice matte feel to it and a minimalistic style, if that's what you're going for.
The keycaps and built-in wrist rest and gaming-stylized which might be a turn-on or turn-off, but it's certainly white!
Buy on Amazon
Read user reviews
That concludes our list of the best white mechanical keyboards of 2017! As always, I've tried to add a variety of different mechanical keyboards onto this list including cheap budget ones or just straight up sleek. Either way, check out the Amazon reviews or our hands on review articles to find out more about these mechanical keyboards. With so many mechanical keyboards dark in color, it's nice to change it up once in awhile. This is especially true for Macs where maintaining a white aesthetic may be important. Let me know what you think of these mechanical keyboards in the comments below.