Best mechanical keyboard for Mac in 2018
Mac keyboards have taken a huge hit lately as many of them are becoming faulty and nonfunctional. If that's the case with your Mac, then read on for the best mac mechanical keyboard alternatives.
If Mac keyboards are becoming faulty, why use them?
Over 25% of software developers use Mac OS X and the vast majority of people in graphical design also use Macs exclusively. So, while Mac users may be outnumbered, they're often working very serious jobs that require serious hardware. The reason most designers and programmers use Macs is because of its good hardware and easy to use interface. That, coupled with its in-house software make it a great machine for certain uses.
That's why we set out to find the best mechanical keyboard for Macs.
Comparison Table - Mac Keyboard Alternatives
Keyboard
Form Factor
Switches
Extras
Price
Das Keyboard 4 Pro
Full
Cherry MX Brown, Blue
- Two 3.0 USB ports
- NKRO
- Designed for Mac
$$$
Matias Mini Tactile Pro
TKL
ALPS technology
- Contoured keys
- Media keys
- Detachable chord

$$
Matias Quiet Pro
Full
Quiet Matias
- Contoured keys
- Media keys
- Quiet keys
$$
Azio Mk Mac
Full
Cherry MX Brown
-Mac layout keys
- Aluminum face-plate
- White LED backlight
- Media keys
$
Apple Magic Keyboard
Full
Apple Keys
- Rechargeable batteries
- Wireless Bluetooth
- 33 feet and warranty
$
Before we dive deeper into each keyboard above, let's start with why you may want a keyboard specific for Mac OS.
Differences Between Mac Keyboards and Regular Ones
Apple keyboards for Mac computers have some key differences from other standard keyboards.
Some of the differences are superficial, such as using "Option" instead of "Alt",  and "Command" instead of the Windows logo key. The placement of these keys differ on the layout as well. If you like the Windows style keyboards over Mac, that this could be a huge deal for you.
Some other key differences include –
Full-sized desktop Apple keyboards with a dedicated numpad have function keys that can range up to F15, F16, or F19. Windows keyboards function keys only range from F1 – F12 regardless of
Apple keyboards have a "Clear" key instead of "Numlock", which functions to remove highlighted text as well as some other special functions depending on the app.
An "=" key on the numpad.
A "fn" (function) key instead of an "Insert" key. This toggles the function keys to behave as normally do, and their special OS functions such as volume control, screen brightness, etc.
Apple keyboards typically have an "Eject" key for the disc drive.
Most importantly, Mac keyboards aren't mechanical which make them pretty bad for gaming and programming.
Do You Need to Have a Mac Compatible Keyboard?
In short, any keyboard will work with a Mac, but the layout may not be the same a the one you're used to.
You can certainly get by on most tasks without a Mac-specific keyboard, but it doesn't make much sense to own such a powerful and sophisticated machine only to hamper yourself with a mismatched mechanical keyboard. If you do feel like exploring other options, check out our list of the best mechanical keyboards (and pay particular attention to the "Best white MKs" section).
Now that you know why you may want a mechanical keyboard specifically designed for a Mac, let's take a deeper look at our list. Each keyboard in this list has some aspect designed specifically for Macs.
Most notably, it is the keyboard layouts that will be different, to match Macs keyboard layout rather than the standard Windows one.
Das Keyboard 4 Pro for Mac
The Das Keyboard 4 Pro for Mac is easily your best option when you want to upgrade your Apple keyboard to a feature-rich, full-sized mechanical keyboard. This mechanical keyboard has the same level of quality you come to expect from your Apple products.
Das mechanical keyboards have amazing build quality with an aluminum top panel for a sturdy feel to withstand long nights of work. This mechanical keyboard has 2 built-in USB 3.0 ports, dedicated media control buttons with a volume knob, and Mac OS specific function keys. Of course, it has the high-quality mechanical switches as well.
The Das Pro is such a great keyboard it even made our best office list. With more than 1,000 positive reviews on Amazon and entire threads dedicated to it on Reddit, its no doubt that the Das is the mac daddy of keyboards. Its easy to use dedicated media buttons and USB hubs are a few of my favorite features of this keyboard.
Check out our review of the PC version, which showcases the Das Keyboard 4's impressive quality.
Buy on Amazon
Read user reviews
The Das Keyboard 4 Pro for Mac is the best all-around choice. It could really be the last keyboard you need to buy for 10+ years. We've hand reviewed this keyboard so you can be assured that this is mechanical board is the real deal. Perfect for gaming, programming, or just everyday use.
Matias Mini Tactile Pro for Mac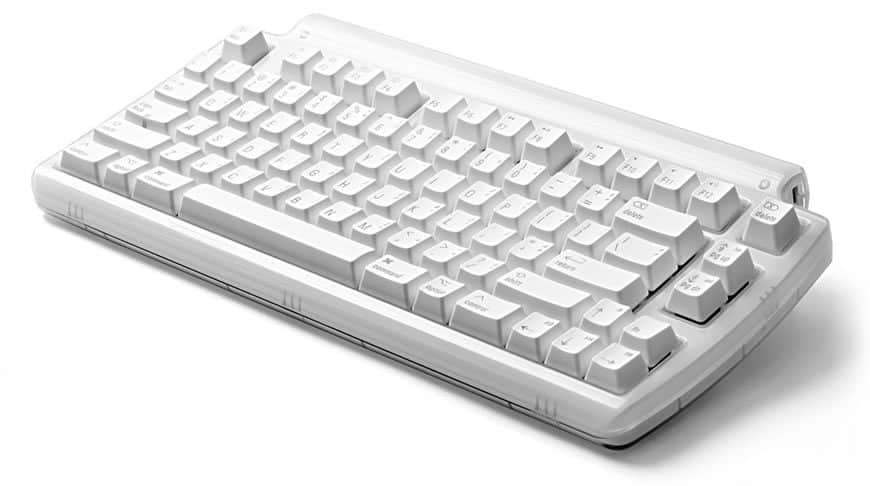 If you're looking for a compact mechanical keyboard for Mac, look no further. The Matias Mini Tactile Pro for Mac is the best of tenkeyless mechanical keyboards for Mac.
It comes with sculpted/contoured keys, Mac OS specific keys like the "fn" key, and 3 USB 2.0 ports. The Matias Mini Tactile Pro also has a detachable USB cable, so you can more easily move it around.
In addition, this keyboard has keys dedicated just for the Mac. Dedicated media buttons such as volume, iTunes, and brightness ensure a smooth experience. It also claims to have switches that were the same ones used in older models of Apple's keyboards. That being said this keyboard isn't much cheaper than the Das; so, I'd recommend this keyboard only if you like the TKL style of it more.
Be sure to take a look at the layout of this keyboard and ensure it will work well for your needs. Not having a numpad won't be a big deal for some professions, but can be a huge drain on productivity for others.
Buy on Amazon
Read user reviews
Matias Quiet Pro for Mac
Finally, if you like the Matias style of mechanical keyboards more than the Das, here's a full-sized option from Matias. It comes with all the great features of the Matias Mini, including sculpted keys and 3 USB 2.0 ports.
This keyboard is very similar in functionality to its TKL version. The major difference is that it has the numpad and that the switches are quiet. For those who are constantly typing around others, this could be an excellent option. Quiet but tactile are very popular choices these days.
You should be able to find this keyboard ~$30 cheaper than the Das Keyboard Pro 4, so it's a more frugal option as well.
Buy on Amazon
Read user reviews
Azio Mk Mac
Azio recently released a new mechanical keyboard designed specifically for Macs, and it's very similar to the Azio MGK1-RGB.
This keyboard has the full Mac layout and functions you'd expect, and the silver/white styling of it will be right at home with your other Mac products. The sleek Mac like design will fit in with all of your Mac gear. This mechanical board is an excellent buy if you're looking for a nice minimalist design with a professional feel.
What makes this keyboard stand out from the rest in this list is that it has white LED backlights. This is a very interesting option and for its low price I think that this keyboard is worth a shot. I've ordered this list on price but if it was based on my favorites this would easily be #2 (Das would be #1).
With sleek design, mac layout, and relatively low price, this is worthy of any Mac.
Buy on Amazon
Read user reviews
Apple Magic Keyboard
We decided to throw one keyboard on the list here that isn't a mechanical keyboard, but has so many other great features it's worth considering. The Apple Magic Keyboard is a wireless keyboard that will pair automatically with your Mac.
No dongles to plug-in or confusing setup process. Although not on the mechanical keyboards list, this Mac keyboard has excellent features and is compatible with just everyday work. If you're looking at gaming, then I would suggest the other mechanical keyboards on this list and they can likely handle more force.
The battery is long lasting, and you'll be able to go about a month between charges. You can plug the keyboard in via Lighting cable to use it as it charges even if the battery is completely dead.
The Magic Keyboard has a flatter key profile, which will save your wrist strain from being bent backwards as you type. That being said, it may not have that nice clicky sound you get from a nice cherry mechanical keyboard.
If you're looking for an exact replica of an Apple keyboard, then this would be your best bet with its thin keys, design, and overall layout. That being said, if you're looking for tactility, mechanical keys are your priority. Also, if you're a heavy typer or gamer, you may also want to check out the mechanical options.
Buy on Amazon
Read user reviews
Conclusion
Out of all the mechanical keyboards out there, I truly believe these are the best 6. Their keyboard layout, style, quality, and functionality all match that of a standard Mac keyboard. If you're looking for more tactility, switching to a mechanical version on this list is your best bet. I especially recommend this for programmers or gamers, as typing hard on Mac's standard keyboards can degrade them quickly.
In addition, there have been many faulty keyboards on Mac's laptops. Apparently, a few crumb drops will render them useless.. but that's for another article.
If you're interested in other potential mac keyboards, we also have a list of white mechanical keyboards that you might find match your Mac well.
Have other suggestions or questions? Feel free to leave a comment below.