Pros
Cons

The keyboard also has a braided detachable cable.
This is a robust gaming keyboard with portability.
The keycaps are lit with red LEDs which help in the dark.
Solid construction and thick rubber corners
Individually lit keys with multiple lighting effects
A Tenkeyless keyboard – allows for more space

The keys of TKL02 Wireless are a bit noisy because there are no O-rings
The range is only 30 inches, which is very low for a "wireless" keyboard
Unboxing TKL02 Wireless Mechanical Keyboard –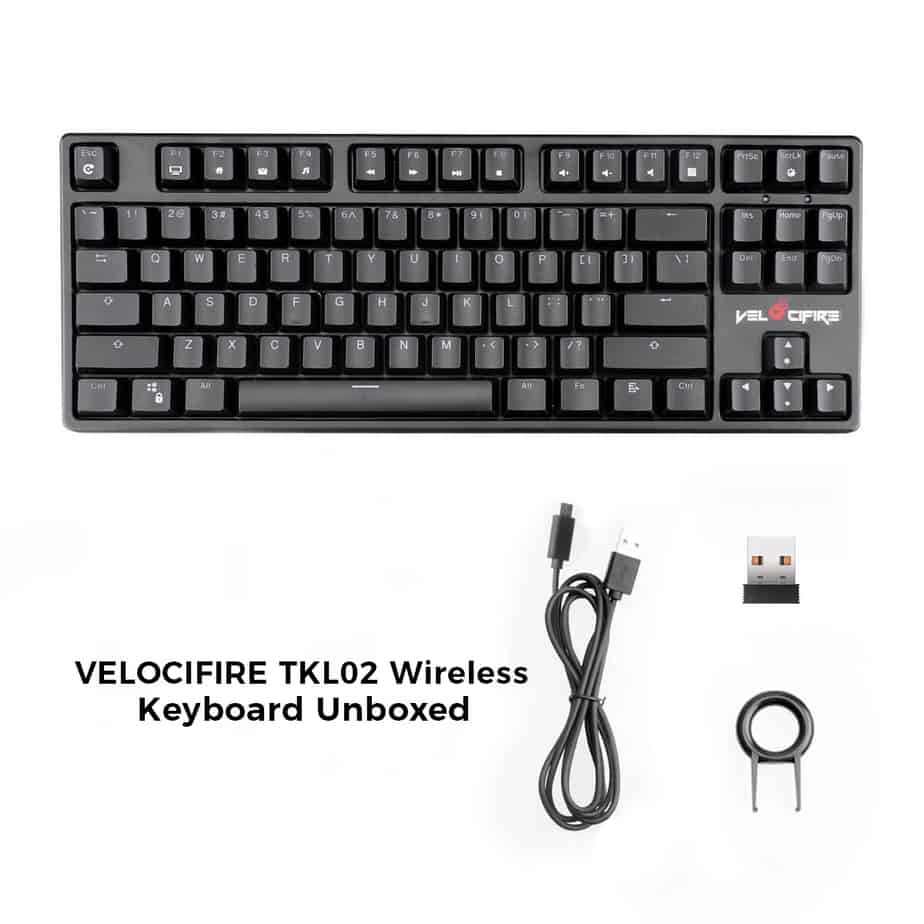 TKL02 Wireless is one of the better products in the computer accessories market. The mechanical keyboard comes in a simple brown cardboard package which is sturdy. VELOCIFIRE has done nothing fancy with packaging. The first thing you will notice when you open the box is its compact size followed by its weight when you take it out. It speaks a lot about its solid build and the quality of the hardware used. There is also this glossy finish that makes it look good. The logo of VELOCIFIRE is placed above the 'side' switches of the keyboard which is good as the company didn't try to use any blank space in the main body which may distract users. The package also comes with keycap remover which makes it a complete package.
Build Quality – Top Notch
TKL02 Wireless mechanical keyboard has a superlative build quality. The plate used in this keyboard is rock solid and the keys are tactile. ABS plastic has been used in the body which makes the mechanical keyboard durable. The thickness of keycap is moderate which is great for comfort. The elevation is well-footed and the keys are slightly curved in TKL02 Wireless. Cheap rubber feet are used in this mechanical keyboard which is a bit of disappointment but it will not affect the typing process. TKL02 WS is a bit heavy for its compact size weighing at 2.2 pounds.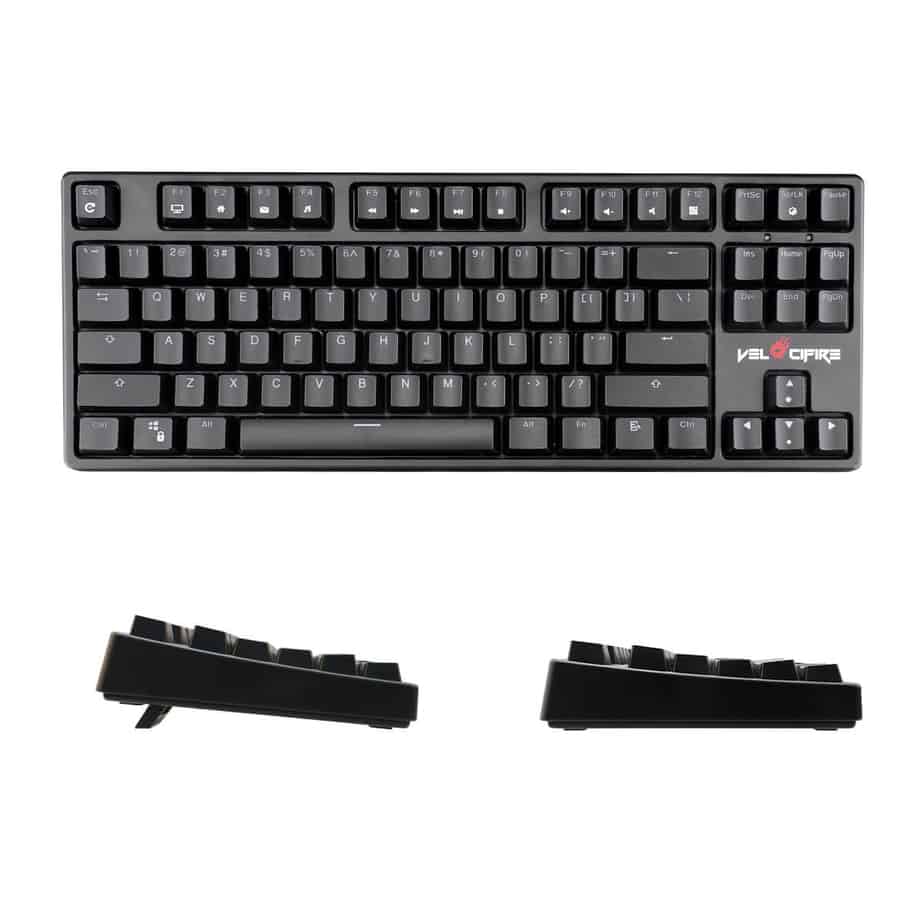 The edges of the keyboard are a bit curved and there are stands provided below. The stands are weak and they can come out of the keyboard if it undergoes wear and tear. This is because of the poor quality material used on the backside. Given that the keyboard is quite heavy and the company has invested in the quality of material, it is absurd that VELOCIFIRE saved cost in stands. Barring this minor defect, the backside feels robust. The keystroke is very smooth and comfortable as there is no wiggle whatsoever. VELOCIFIRE TKL02 Wireless mechanical keyboard is a heavy usage keyboard and good for gamers, coders and writers alike.
Switches of VELOCIFIRE TKL02 Wireless –
VELOCIFIRE TKL02 WS uses the conventional "Durable Brown Switches" instead of Cherry MX Red or Alps. These switches have a proper tactile bump and are arranged in such a way that they don't stick during typing. Brown switches have that old-fashioned German engineering and versatility. Generally, they don't make much sound but the ones in TKL02 WS lack O-rings which makes them a little noisy. Given that it is just an 87 keys keyboard, it is easy to move fingers on the keyboard. However, it is difficult to find peculiar symbols for trademark and copyright.
The switches have tactile feedback too and they are responsive with great actuation points. These switches offer a psycho-acoustic experience and the input is precise and consistent with no latency at all. Outemu Brown switches offer an incredible typing experience and it's also comfortable for continuous work or gaming as they don't lead to carpal tunnel pain and typing fatigue. These switches are surely heavier and scratchier than Cherry MX switches and will demand a strong pressing. The switches are backlit with LEDs and offer many lighting effects which make them good to use in night hours. All in all, TKL02 Wireless has done pretty well with switches even though they have saved a bit of cost by avoiding Cherry MX switches.

Keycaps Quality –
The double shot keycaps of VELOCIFIRE TKL02 Wireless mechanical keyboard have a matte finish which is great for people who sweat during typing. Advanced material in ABS plastic has been used in these keycaps which ensures the durability of these keycaps. The keycaps of the "Durable Brown Switches" are not flat and a bit curved inwards which makes the typing easy for fingers. There is also no scope of fingers sliding down. This kind of arrangement produces a bit of noise. However, it is not as noisy as the clickety-clack sound you will find in other mechanical keyboards of this range. The thickness of keycap is also moderate which is good for heavy-figured people.
Overall Design of the Mechanical Keyboard –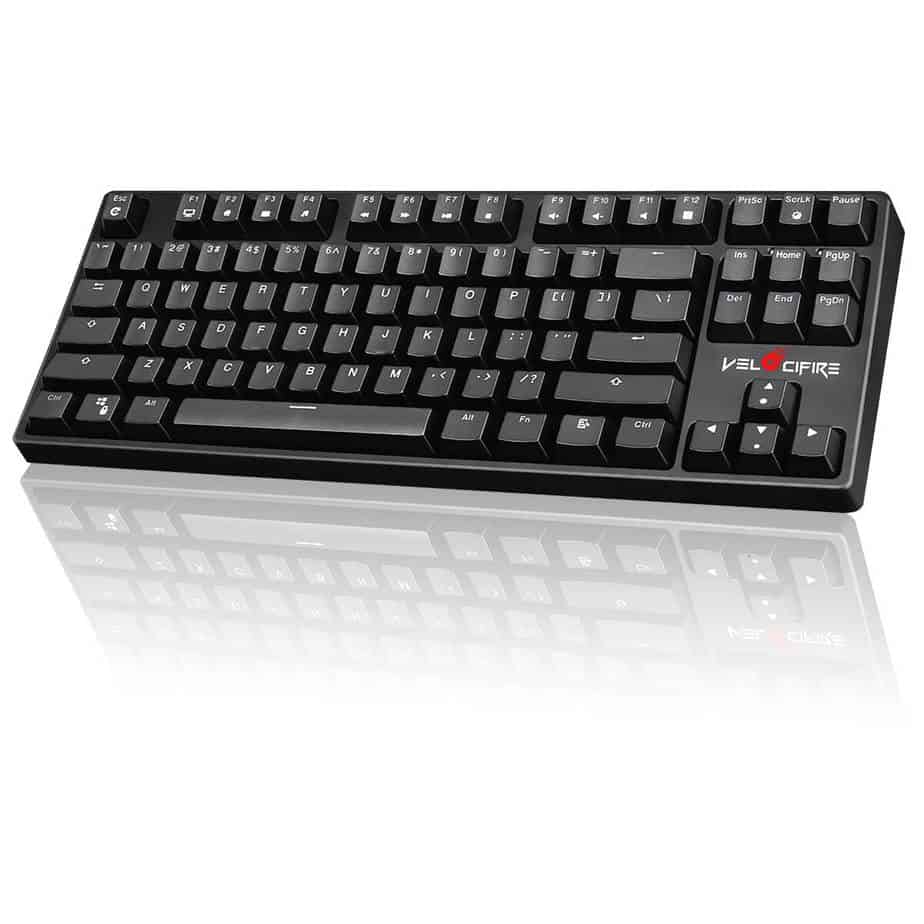 The design of the TKL02 Wireless mechanical keyboard is like any other Tenkeyless keyboard. It provides a standard layout without the numeric keys. With such a compact design, TKL02 can fit nearly anywhere and saves a lot of space on the desk. The best part about the design is that VELOCIFIRE hasn't tried to use the blank spaces for annoying icons and logos. It is just a plain and simple style of keyboard wherein the company has put the logo above the 'side' switches. Moreover, they haven't left much space between the keys, thereby making it compact. Overall, the design of TKL02 Wireless is very crisp.
The Special Features –
• Anti-Ghosting –
TKL02 WS has an anti-ghosting system, so you stay absolved of pressing two keys at a time and ending up typing wrong characters. This feature also makes the mechanical keyboard the best for coders who can't afford a small mistake.
• Macro-recording Functionality –
The macro-recording functionality of TKL02 wireless mechanical keyboard records the most typed keys and follows the typing habits. It also recommends correction and words, thereby improving productivity.
• Smart Power Management –
The rechargeable battery is 1850 mAh and supports extended usage sessions. There is an indicator in the space key that indicates battery status wherein red is charging and LEDs turn white after the full charge. The TKL02 Wireless mechanical keyboard also has an updated charging system which will let you work while the fast charging is going on.
Editor's Opinion –
VELOCIFIRE's foray into the wireless mechanical keyboard with TKL02 Wireless looks promising. With this compact model, the company seems to be experimenting with the wireless keyboard system and it seems quite successful. Even though VELOCIFIRE hasn't changed the conventional design that you will see in TKL01, this comes off as a welcome change with added features like power management and a better anti-ghosting system. TKL02 Wireless does disappoint in terms of its weight but it doesn't matter if the keyboard is going to sit on your desk. The "Durable Brown Switches" have surprisingly worked very well in this model compared to other mechanical keyboards. Considering that this is typically designed for heavy usage; the keycap quality, wiggle-less typing, and crisp layout make the TKL02 Wireless mechanical keyboard a desirable product.