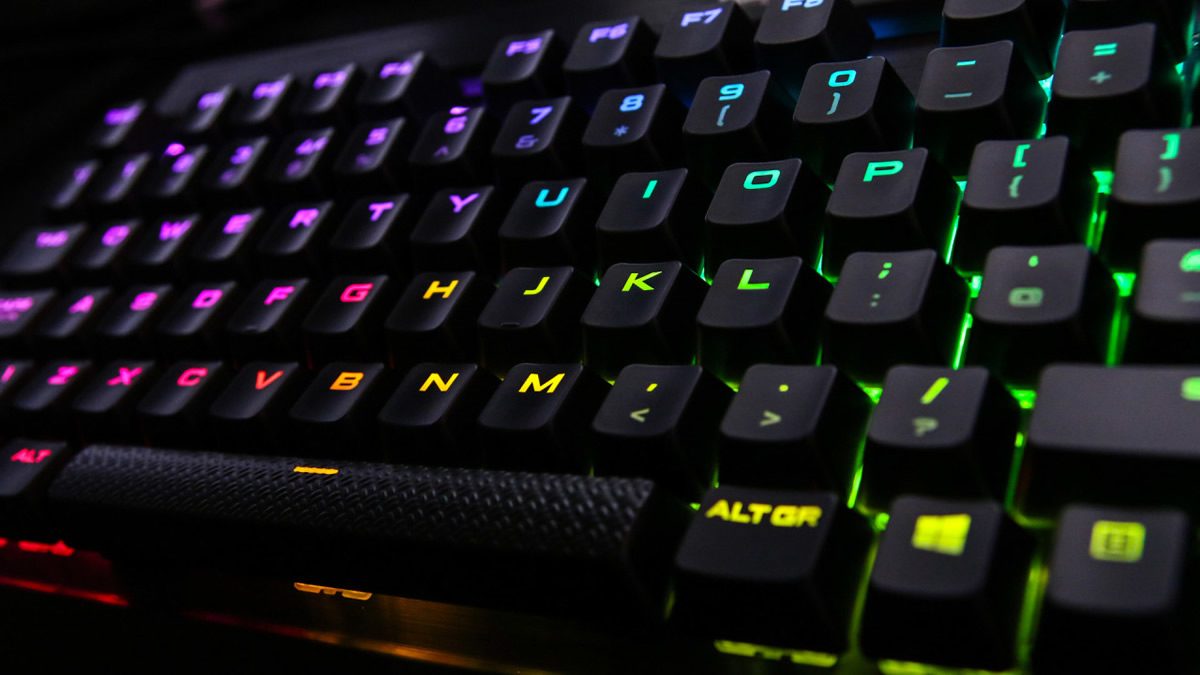 Corsair K70 vs. Razer BlackWidow
Here it is – the ultimate mechanical keyboard showdown! The two most popular keyboards for gaming are without a doubt the Corsair K70 and Razer BlackWidow. Both of these are the ultimate flagship keyboard product lines of Corsair and Razer.  Both the K70 and the BlackWidow are available with one-color LED lighting or RGB backlighting, and they're usually priced similarly. Both Corsair and Razer are known for making quality PC gaming peripherals. The K70 and Razer BlackWidow Chroma have garnered a lot of attention for their aesthetics, quality, and functionality. Also, note that these keyboards come in multiple variants and we'll take that into consideration when reviewing these keyboards. For example, the Corsair K70 has a model known as the K70 rapidfire – check out our review of that particular model here.
Check out the table below for a comparison of the main differences between these two mechanical keyboards. We'll then go in-depth as to the differences between the Corsair K70 and Razer BlackWidow Chroma.
| | | | | |
| --- | --- | --- | --- | --- |
| Keyboard | Switches |  Special Keys | Rollover | Extras |
| K70 | Cherry Blue, Red, Brown | Media | NKRO | Wrist Rest |
| Blackwidow | Razer Green, Orange | 5x Macro | 10KRO | Audio Jacks |
Corsair K70 – Check it out on Amazon
Razer BlackWidow Chroma – Check it out on Amazon
K70 vs BlackWidow – Backlighting
Both the Corsair K70 and the Razer BlackWidow come in a variety of different backlighting options. The Corsair K70 can be found with RGB, Red, or Blue LEDs.
The Razer BlackWidow can be purchased with Chroma (RGB), Green, or no backlighting.
So you have some different options for single-color LEDs, but more than likely you'll want to buy the RGB versions because the colors look excellent (perfect for gaming). When it comes to the RGB backlighting, I'd give a slight edge to the Razer BlackWidow Chroma because their lighting software is a little easier to use. Both keyboards put out amazing RGB lighting effects though, so there is no loser here. As previously noted, both Corsair and Razer are well-known players in the gaming community so you can rest assured that the RGB aesthetics are on point. Also, RGB variants of the K70 and BlackWidow Chroma don't cost too much more, so I do recommend it for the best experience.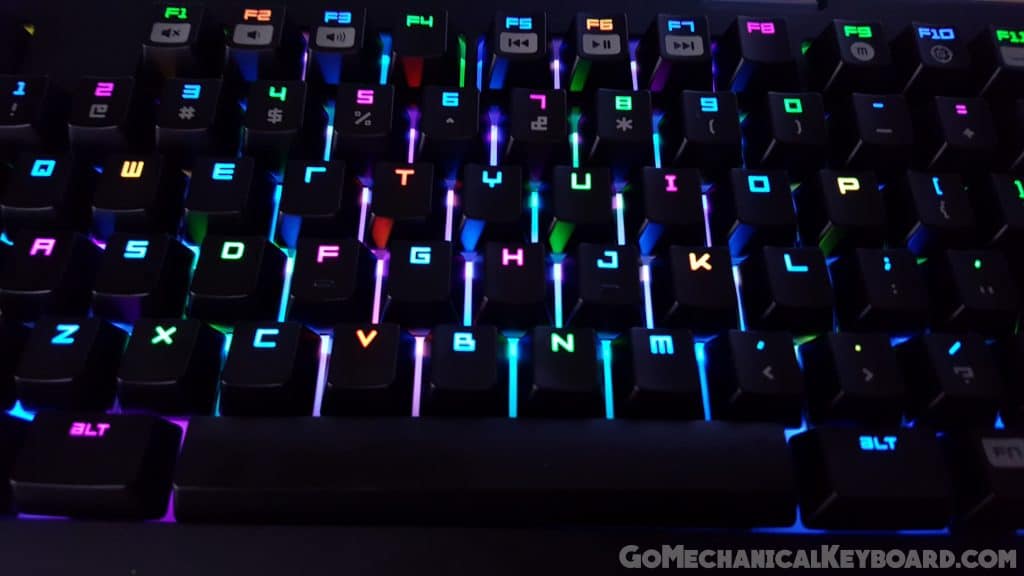 K70 vs BlackWidow Chroma – Switches
The Corsair K70 uses high-quality Cherry MX mechanical switches for all models of their keyboard. Cherry switches have been around for decades and are well renown for their durability and reliable performance.
Razer used Cherry MX switches in the past, but in the last few years have switched to "their own" Razer switches which are made by Kailh. These switches are essentially a clone of the Cherry MX switches but with a short actuation point, which Razer claims is better for gaming. The reality is, they only save you ~10 milliseconds per keystroke, which is unlikely to have an effect when gaming.
Due to many reports of users running into their Razer switches sticking and Cherry's sterling reputation, I have to say that the Corsair K70 is the clear winner for best switches. That being said, if the Razer BlackWidow sticky switch issue isn't recurring or can be fixed, then it would be a close call.
K70 vs BlackWidow Chroma – Aesthetic
Both of these keyboards have an excellent build quality to them. When it comes to which of these mechanical keyboards looks better, I have to leave that up to you.
I do prefer the font on the Corsair K70 keys to the font on the Razer BlackWidow Chroma keys (compare in the photos above), and I prefer the minimal Caps Lock / Num Lock / Scroll Lock indicators on the K70, but these are highly subjective. Take a good look at both and decide which one looks better to you! From what I've seen, Razer likes a little more flashiness in their aesthetics, which could be great for a gaming rig. The BlackWidow Chroma is no different and definitely stands out a bit more than the Corsair K70. So if you're looking for a slightly more low-key look, I'd go for the Corsair K70.
K70 vs BlackWidow – Extras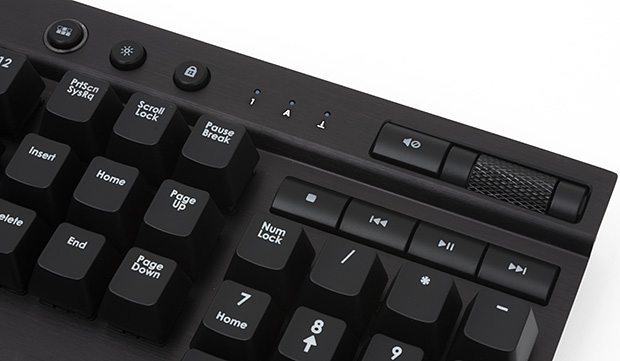 This might be one of the biggest deciding categories when deciding which keyboard to purchase. The Corsair K70 keyboard comes with a detachable wrist rest which looks great, and the non-RGB model comes with contoured and textured FPS gaming keycaps which are great if those are mainly what you play. Also, the dedicated media controls including a volume wheel are extremely useful features.

The Razer BlackWidow keyboard has some great features of its own, including 5 dedicated macro keys. The other big extras the BlackWidow delivers are an audio/mic pass-through and a USB pass-through. Depending on your PC set-up and how accessible it is, this could be a vital feature for you.
The "Extras" for the Corsair K70 and Razer BlackWidow Chroma are maybe the only features that would be a make or break for you as they make up the largest difference between these keyboards.
Corsair K70 vs Razer BlackWidow – Conclusion
Both the Corsair K70 and Razer BlackWidow are closely matched in terms of price and what they deliver. Ultimately, I would suggest you go with your gut towards whichever keyboard seems like it makes the most sense for your home or gaming setup. If I had to choose between the two, I'd go with the Corsair K70 because I love the dedicated volume wheel and Cherry MX switches. I would also say that your choice would highly depend on either aesthetics or the "Extras" portion of this article. If you're really into the BlackWidow Chroma keyboard style or macro keys, then it would be an easy buy. If you didn't already know, Corsair and Razer have been competing with each other for a long time. Corsair's RGB K70 and Razer's BlackWidow Chroma are aimed at the gaming community and both mechanical keyboards are worthy of owning.
In this comparison of the Corsair K70 vs the Razer BlackWidow Chroma, we noticed some subtle differences in the switches and larger differences in the features and aesthetics. If you need more help, I recommend checking out the Amazon reviews (links below). That concludes our comparison and review of the Corsair K70 and the Razer BlackWidow Chroma. We also have in-depth reviews of the Corsair K70 and Razer BlackWidow Chroma if you need more info. The in-depth review of the both the Corsair K70 and Razer BlackWidow Chroma are hands-on and include pictures of the unboxing.
Corsair K70
Buy on Amazon
Read user reviews
Razer BlackWidow
Buy on Amazon
Read user reviews
If you purchased or have either the Corsair K70 or the Razer BlackWidow Chroma – I'd love to hear your thoughts in the comments below!