This article covers general-use keyboards that contain Cherry MX switches. If you want to see more keyboards for everyday use, look here. We also cover gaming keyboards in a separate piece.
What is a Cherry MX switch?
Cherry, a German company that was founded in the US, produces the most well recognized keyboard switch line on the market. Their MX series was introduced in 1983, which means that the design is more than 30 years old. MX switches found increasing success in the market, surviving after Alps and other companies moved out of the keyboard switch business in the 90s. In recent years, collaboration with Corsair resulted in the first real changes to Cherry's switch lineup in more than a decade.
How they work
The MX line covers each switch type: clicky, tactile, and linear. Clicky switches are the most complex. A two part slider is held in position by a traditional leaf spring based contact mechanism (with gold plated contacts). When the upper component is pressed down, pressure builds on the leaf spring until it releases the slider's lower portion. The impact of the lower slider against the switch shell results in a clicking noise. Tactile and linear switches use a one part stem to do their thing. Tactile MX switches have a small notch in the slider ramp, much like the lower slider of clicky MX switches, to create physical feedback in the form of a small bump. Linear switches remove that notch, creating a smooth ramp for the contact leaf to travel along. The removal of the notch means that no tactile feedback is present. If you have more questions about mechanical keyboards, view our starting page.
Reasons to Buy a Keyboard with MX Switches
Three things make Cherry MX switches worth considering. Durability, quality, and aftermarket parts set Cherry switches apart from other options and MX clones. The brand name is truly monolithic; it's impressive that it's still active after all this time (though it did need a kick in the pants from Corsair to start getting things done).
Durability
They've survived the test of time in a way no other switch has. Cherry MX switches are still in production after three decades of use. Furthermore, Cherry switches in keyboards from 30 years ago are problem free unless they've been exposed to an extremely harsh environment. They're the only switch in production that has such an immense history of durability, and that makes them the mechanical keyboard switch standard.
Quality
MX switches are available in quality, purpose built keyboards. You won't need to hunt to find a number of reputable brands stocking the MX line. Corsair, Logitech, and Das keyboard produce keyboards for various uses (gaming, office, home) with MX switches.
Accessories & Community Involvement
Aftermarket keycaps and accessories are widely available. Cherry fans have been innovating in the keycap and accessory space for some time. Custom keycap sets, springs, lubrication options, and adapters for other keycap types are all over the place. In many cases, community members even design and wire their own keyboards to better fit their needs.
It's worth noting that MX switches aren't perfect. Their smoothness can vary from batch to batch; it's common for linear variants like Red and Black switches to feel slightly scratchy. That scratchiness can be reduced with proper lubrication, which is a lot of work. Even with that flaw, Cherry MX switches are an iconic and functional addition to any desk.
Choosing a Cherry MX switch
MX switches come in three main types (clicky, tactile, linear) and a number of weights, which are determined by slider color. You should think about each feature before making a purchase. You can also order a [easyazon_link identifier="B00AZQKCD4″ locale="US" tag="xxaxle-20″]switch tester[/easyazon_link] to find out what you want in a mechanical keyboard.
Weight

Springs determine the weight of a switch, or how hard it is to press down. Light keyboard switches are typically less than 50 cN (Centinewton). Medium switches range from 50 to 60 cN. Anything greater than 60 cN tends to feel a tad heavy. Cherry offers a number of switch and spring configurations that are classified by slider color. If you're a particularly violent typist, considering heavy switches is worthwhile. Typical typists will appreciate the 45-55 cN range the most.
Tactile feedback

Tactile and clicky switches provide feedback in the form of a bump. That can be useful for typists who don't bottom out, as it tells them when the switch has activated. People also enjoy tactility because it's familiar (all rubber domes have tactile feedback) or subjectively appealing. There's really no downside to tactile feedback when typing, but it can introduce some problems for gamers by interrupting rapid key presses. That isn't a big deal, as you can totally game with tactile keyboards, but it's worth noting.
Auditory feedback
Mechanical keyboards and clicky noises go hand in hand for many people. In some cases, though, clicky switches aren't appropriate. Offices and other spaces that involve multiple people or mandatory silence, such as a recording studio, will almost certainly have issues with a clicky mechanical keyboard. They're best used at a home writing desk. Clicky switches are also viable in separated offices with doors.
Best Cherry MX keyboard for general use
| | |
| --- | --- |
| Pros | Cons |
| Genuine Cherry MX switches | Its ruler foot is pretty subpar |
| Aluminum upper case and excellent build quality | Fairly expensive for its features |
| Dedicated media buttons and volume dial | Boring, non-braided cable |
The Das Keyboard 4 Professional is a sleek, top of the line keyboard that can handle late nights at the office and LANparties with ease. Dedicated media keys and a volume knob make on the fly changes easy. Versions with Cherry MX Brown or Blue keyswitches are available. It even sports USB 3.0 passthrough ports for mice and other gadgets. The only downside to this model is its ruler foot, which isn't particularly grippy.
The Das Keyboard 4 Professional is a great looking generalist, which is why it deserves this spot. It isn't perfect for everything, but it will handle every task you throw at it with gusto. The font isn't gamer-ish, the design doesn't look too edgy, and the build quality is solid.
You can read more about the Das Keyboard 4 Professional on our review page.
Best Budget Cherry MX Keyboards
Finding a cheap Cherry MX keyboard is pretty much impossible unless you catch a flash sale or find a used one. They command a premium in the market because Cherry, until recently, dominated the mechanical switch market. Its brand recognition in gaming communities is off the charts, keeping prices high. Frankly, you'll need to spend at least $65 to get an MX based keyboard. $70 is the typical entry price, so I'll cover models in that price range first. Afterwards we'll look at a couple of other reasonably priced options.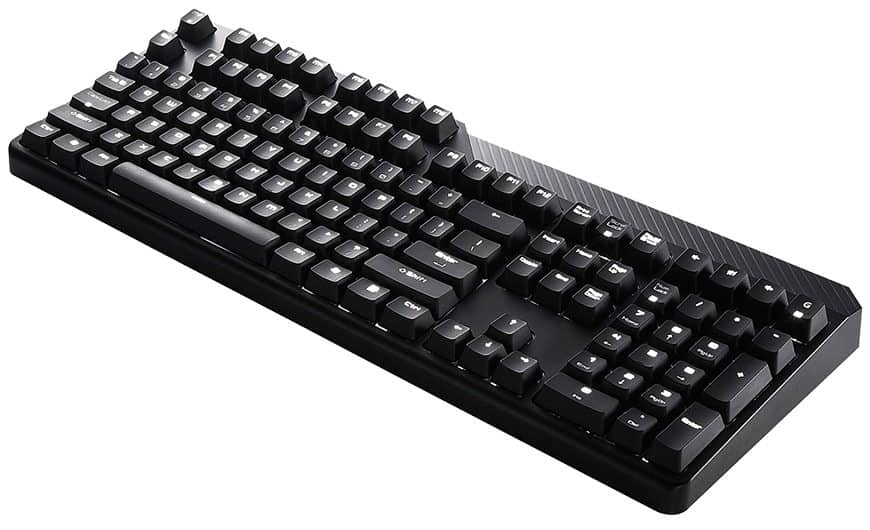 | | |
| --- | --- |
| Pros | Cons |
| Genuine Cherry MX switches | Some reliability issues |
| Macro and media keys | Gaudy logo and font |
| Reasonable build quality | Styling is generic |
The Perixx PX-5200 BR's price has gradually been creeping down into budget territory. Generic user complaints, which include occasional LED failures and other run of the mill issues, mar the keyboard's record. Nonetheless, people rarely have issues with its basic functionality. Cherry MX Brown switches, a hefty amount of macro keys, backlighting, a removable cable, and a subdued design all position the 5200 well. Its font, on the other hand, leaves much to be desired.
Check out Dragon Blogger's text review or TechteamGB's video review for more information.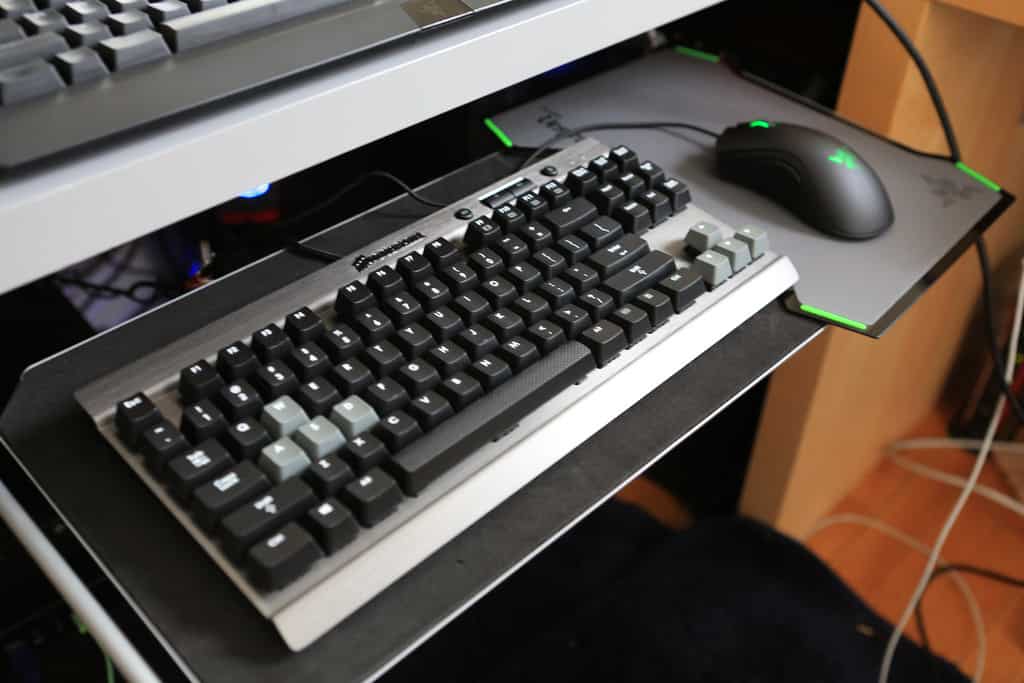 | | |
| --- | --- |
| Pros | Cons |
| Aluminum upper case | Limited aftermarket keycap compatibility |
| Dedicated volume keys | Volume keys aren't mechanical |
| Cherry switches | No frills or backlighting |
The Corsair K65 has amazing build quality considering its price. The aluminum upper case and floating key look make it an asttractive keyboard that's worth considering over other TKL options, even if they're a hair cheaper. I miss the volume knob present on larger models, and there was more than enough room to include it, but the media buttons are adequate. Cherry MX Red keyswitches are under its caps. A braided, detachable USB cable adds a final high end touch. There really aren't any surprises present in the Corsair K65, and I think that's a good thing.
Read through Bjorn3d's review to see if it's right for you.
The Logitech G610 is remarkably feature rich for its price point. Backlighting, a volume roller, and media keys complete the package. Its monolithic, sharp, black design is also a plus. Legitimate MX Brown switches further round out the keyboard — no clones here. The backlighting and function row can be configured above and beyond the norm for a keyboard at this price. Even the keycap font is acceptable. Its only real fault is that stray units have keycaps that cause key hangups, particularly on the function row. Not only would this keyboard work for gaming — it would fit in just fine at the office. If you do plan on using it at work, consider the MX brown variant of this model.
See Tech Showdown's video review for a detailed look at the keyboard.
Best Quiet Cherry MX Keyboards
Quiet mechanical keyboards are a rarity to begin with, so narrowing the search down to MX only models leaves precisely one option. Hopefully we'll see more releases in this segment of the market as Cherry's exclusive deal with Corsair expires. Corsair could also release more keyboards with the Cherry MX Silent switch, but that's not their typical way of doing things. The best we can hope for is some of Cherry's keyboards with silent switches arriving in the American market, like the MX Board Silent.
| | |
| --- | --- |
| Pros | Cons |
| Cherry Silent switches | Price is high due to exclusive switch deal |
| Corsair build quality | Plastic upper case isn't premium |
| Macro recording | No dedicated multimedia buttons |
The Corsair STRAFE MX Silent is the only keyboard available with MX Silent switches in the United States. The MX Board Silent, Cherry's brand offering, is still unavailable in North America. The damping mechanism used in Silent switches is enough to significantly muffle typing sounds — primarily bottom out and upstroke clack. The STRAFE Silent features Corsair's typical high build quality, so there's no need to worry about durability.
You can view our review of the STRAFE RGB for more information. It's very similar to the STRAFE Silent.
2. DIY sound reduction
DIY dampening is another option, but it only works to silence downstrokes. You might not even need to purchase MX Silent or Matias Quiet switches.
That said, putting on O-rings and other dampening equipment can be time consuming. O-rings can also suffer from limited compatibility with certain stabilizer systems. Check out our page on dampening methods to see if DIY dampening appeals to you.
Best White Cherry MX Keyboards
Cherry MX keyboards with white cases are difficult to find. Most full size variants with legitimate MX switches have been sold out for some time. The Ducky Shine 4 is a prime example. In any case, that leaves us with small form factor keyboards of various types. Each of the keyboards below has merits and downsides, so be sure to review each before making a final decision. The cheapest of the bunch is the Qisan, though, so look there first if you're on a budget.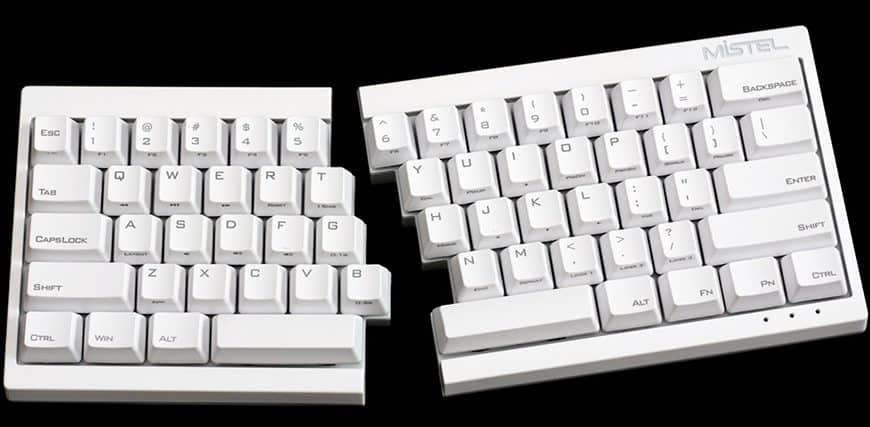 | | |
| --- | --- |
| Pros | Cons |
| Split, ergonomic design | Pad printed keycaps will wear down |
| Cherry switches | Poorly written documentation |
| Supports alternate layouts | Small firmware bugs when remapping keys |
Mistel is a new name in the American keyboard market, but they're making a splash with their ergonomic designs. Our site had some extremely early coverage of their Barocco split keyboard. In fact, they mistakenly sent us a prototype! After spending time with early and production variants, the GoMK team thinks that the Barocco is something special.
It's the only commercial split mechanical keyboard that a company produces in this form factor. Mechanical keyboard community members have created similar custom keyboards, but that's on a much smaller production scale. It's certainly the most interesting split mechanical keyboard that's available on Amazon. Split keyboards provide superior ergonomics. They place typists' hands in a a natural position, whereas normal staggered keyboards result in bent wrists.
If you want to know more, take a look at our review.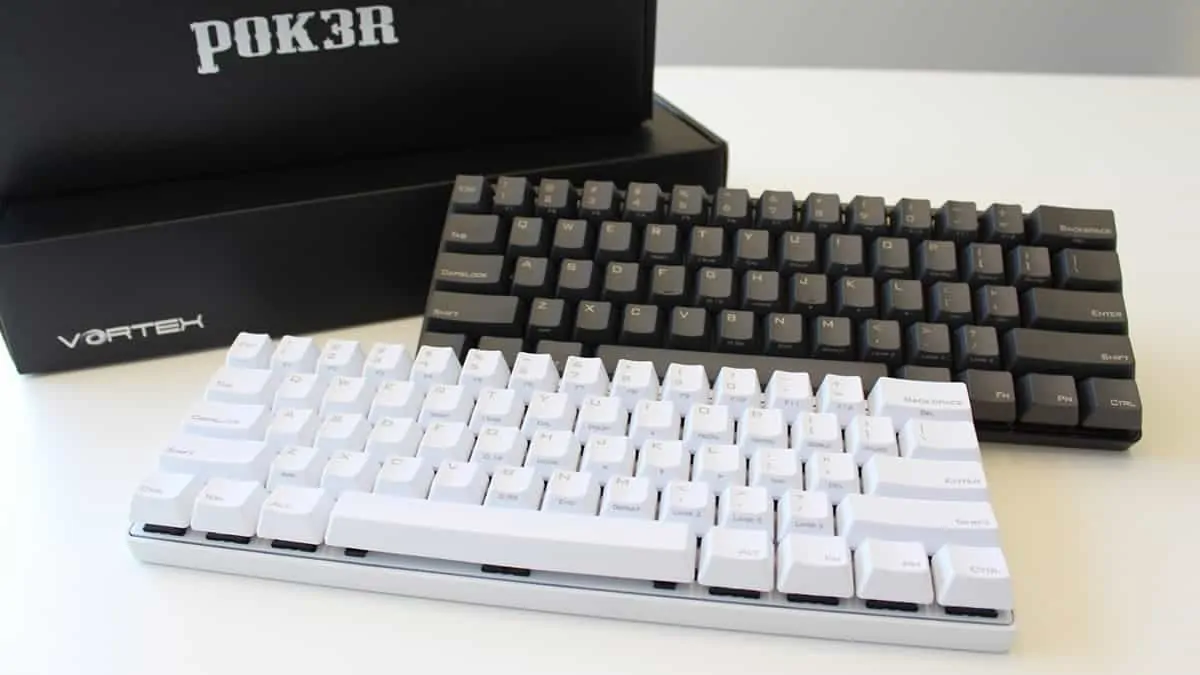 | | |
| --- | --- |
| Pros | Cons |
| Metal case | Keycap legends will wear off quickly |
| Cherry switches | Certain keys cannot be reprogrammed |
| Supports alternate layouts | Esc legend doesn't match other caps' alignment |
The Poker lineup has essentially turned into a keyboard phenomenon. Reddit's mechanical keyboard community is overrun with Pokers and other 60% layouts, shoes, and keycaps. Do I think that's a bad thing? Not at all — in fact, Pokers are a sturdy and viable platform for all mechanical keyboard users. Extensive programming support means that the keyboard doesn't lose functionality when compared with full size keyboards. Pokers also have DIP switches that activate Dvorak and Colemak layouts.
Our review of the Poker RGB should provide a useful look at the series' build quality.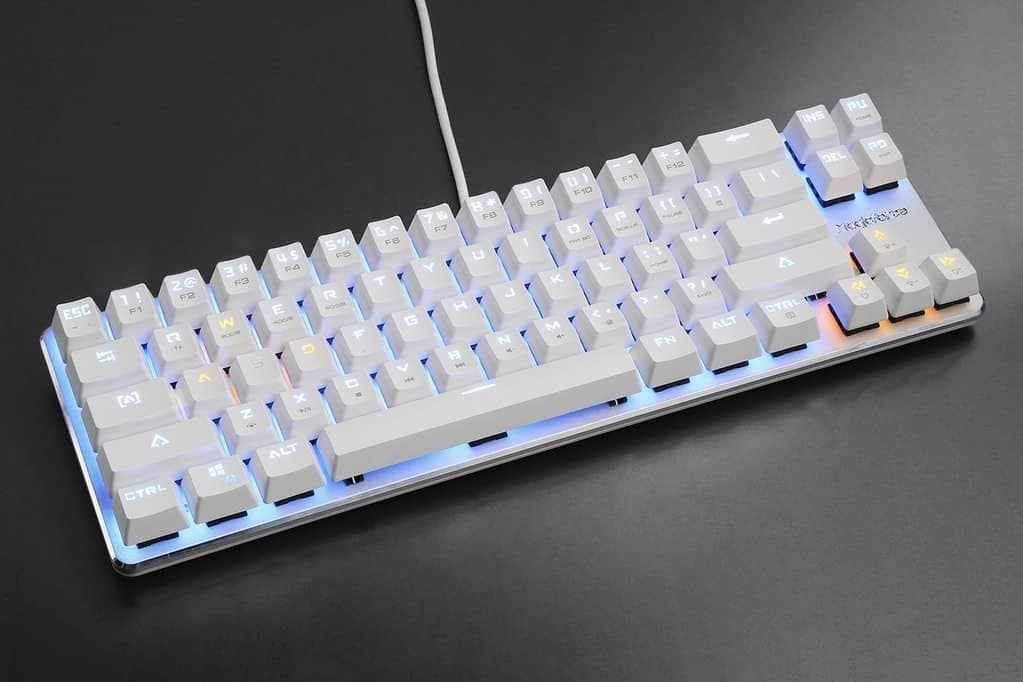 | | |
| --- | --- |
| Pros | Cons |
| Comes in a variety of Cherry switches | Barebones function layer |
| Very sturdy — uses metal upper plate/case | LEDs can create glare on monitor |
| Removable cable & rubberized feet | Weak cable attachment point |
The Qisan Magicforce 68 is, in my opinion, the best budget you could pick up. It has a machined metal upper case, doubleshot keycaps, backlighting, and a standard bottom row for replacement keycaps. It doesn't flex at all due to some great material decisions. Finally, it has a removable cable. The cable's connection point isn't ideal, but it will hold up if you aren't violent with it.
Read our review of the Magicforce 68 for more information.
Best RGB Cherry MX Keyboards
| | |
| --- | --- |
| Pros | Cons |
| Available in a few different Cherry switches | Aftermarket keycaps may not fit |
| Well built — uses metal upper plate/case | Some software hangups |
| Dedicated media keys & volume roller | Elevation feet aren't rubberized |
The K70 LUX is Corsair's newest release in the classic K70 line. It features enhanced RGB switches, a few small tweaks to the K70 design, and a sweet volume roller. A long lived software suite allows for deep customization of the RGB lighting. It's fairly stable in comparison to the competition's offerings, but still suffers from occasional glitches and a difficult learning curve. Overall, this is a great way to go if you want to make a fashion statement with your keyboard.
Tom's Hardware has a review up that provides a deeper look at Corsair's lighting customization software.
| | |
| --- | --- |
| Pros | Cons |
| Metal upper case | Aftermarket keycap compatibility is low |
| Cherry switches | Occasional software stability issues |
| Dedicated media buttons | Media buttons aren't mechanical |
The K65 RGB is a solid tenkeyless keyboard. Standout features include its backlighting, the accompanying software, and its USB passthrough port. The additional USB port is a rarity, if not a one-off, in the tenkeyless market. The wrist rest is also a nice touch. I won't mince words — it isn't cheap. It's possible to upgrade to MX Speed switches, which are great for gaming, if your wallet can be stretched a bit more.
Benchmark Reviews does an excellent job of breaking down the K65 RGB Rapidfire's features in their review — the switches are different, but the rest is the same.
| | |
| --- | --- |
| Pros | Cons |
| Split, ergonomic design | RGB lighting configuration may be limited |
| Cherry switches | May have poorly written documentation |
| Supports alternate layouts | Not well known or widely reviewed |
The Mistel Barocco RGB is, as far as I know, a completely unique product in terms of features. While split keyboards are typically less than ideal for gaming, this model can be combined into one piece — that makes it quite functional. It also has RGB backlighting, a rarity in the world of ergonomic keyboards. It's expensive for a small keyboard, but that's because Mistel has a monopoly on the pre-built RGB backlit ergonomic split keyboard market. It's a niche that draws programmers and other high income individuals. If you can afford it, the Barocco RGB has solid build quality and better keycaps than the base, non-backlit Barocco model. There's a black version too.
Read our review of the first generation Barocco to see what the line's build quality is like.
Best Wireless Cherry MX Keyboards
Wireless keyboards with decent reviews and Cherry MX switches are few and far between. In fact, only two imports seem to fit the bill. Filco, a trusted brand, offers a pair of wireless keyboards that have some quirks but perform well overall. If you want more options, looking at Asian imports is your best bet. The Anne Pro is commonly recommended, as it has programmable RGB lighting, advanced Bluetooth features, and other solid features.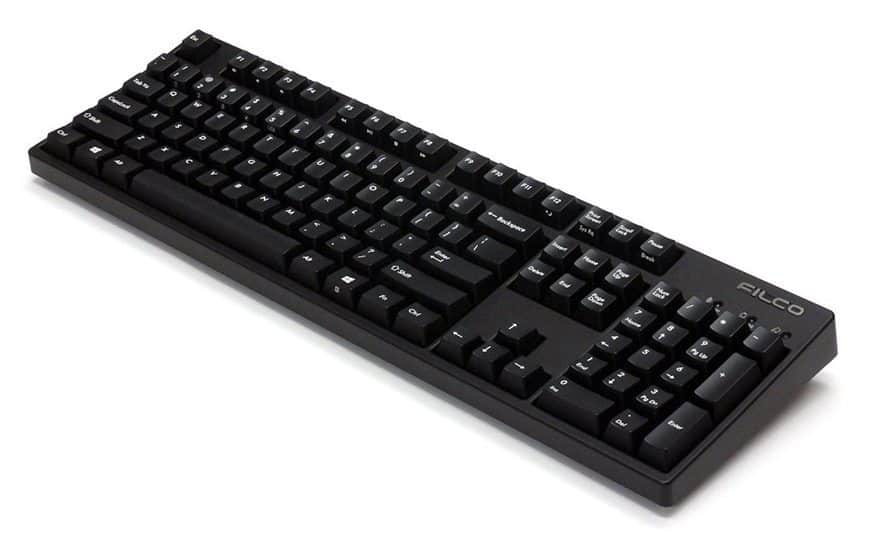 | | |
| --- | --- |
| Pros | Cons |
| Respected brand | Expensive relative to its features |
| Available with several Cherry switches | Random connectivity issues |
| Full size wireless keyboards are rare | Lack of support, as it's an import |
The Majestouch Convertible 2 is the only full size wireless keyboard I feel safe recommending. It's not quite a 5 star keyboard, nor is it consistently priced due to fluctuations in availability. It's an import, after all. Even so, Filco is known for keyboards that are consistent and high quality. It's well worth investigating.
Reviews of this model are scarce, but there is one solid article that covers it from a Mac user's perspective.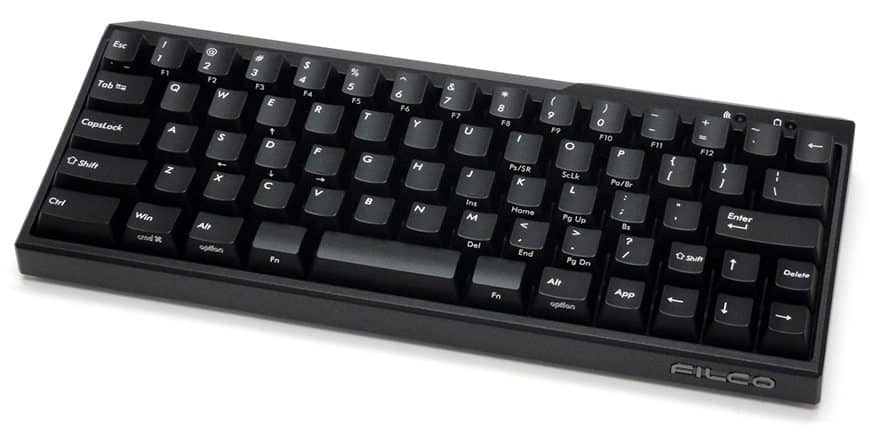 | | |
| --- | --- |
| Pros | Cons |
| Respected brand | Expensive relative to its features |
| Unique layout and form factor | The layout may bother some users |
| Solid battery life | Lack of support, as it's an import |
The Minila Air is the Convertible 2's compact Bluetooth relative. It is rock solid in terms of build quality and has a 3 month battery life when used moderately. The weird layout, on the other hand, may be a sticking point for some users. There isn't terribly much more to say about this odd-but-usable option in the wireless market.
See Matt3o's review on Deskthority — he knows what he's talking about after designing a keyboard and some keyboard related products.
Wrapping Up
Cherry MX keyboards are typically a bit pricier than other knockoff switches like Gateron and Razer variants. That said, the brand name reliability offered by MX switches is more than enough for some people to consider them instead of competing offerings. It's particularly difficult to locate deals on cheap and budget Cherry keyboards. If I missed something good, please leave a comment with more information so I can share your information with other readers. You can also visit us on Twitter or Facebook to share your thoughts.
If you're interested in sharing your photos, we'll feature them in slideshows. We may even use them as accent images in articles (with your permission).
Happy keyboard hunting!
Image Credits: Perixx | JohnSalvador | Massdrop | The Keyboard Company | ErgoGeek (featured) | Switch Animations by Lethal Squirrel