Mechanical keyboards have been making a surge in popularity among the tech-literate crowd due to the superior tactile response and feel that a standard keyboard lacks. For those of us that spend at least 8 hours a day behind a keyboard, you'd be wise to make an investment in your typing experience. If you're not sure what's going on with this mechanical keyboard thing, check out our starting page or keep reading — we discuss some basics in this article.
If you want to see an updated list featuring keyboards for everyday use, look here. We also cover keyboards with Cherry MX switches and gaming keyboards in separate pieces.
The Mechanical Keyboard Advantage
Top Reasons to Buy a Mechanical Keyboard
A better typing experience – think about how many hours every day you spend at a keyboard. If you're like most office workers, it's likely more than 10 hours a day if you count your time at home as well! For a relatively small investment, you can significantly upgrade your typing experience and make every day just a little bit better.
A reliable investment – If you're new to mechanical keyboards, you may think they're too expensive at first. Spending $80-150 for a mechanical keyboard may seem crazy when you can get a cheap keyboard from Amazon for $12, but this is a case of you get what you pay for. Mechanical keyboards are much more reliable and durable than your cheap keyboards. Unlike many other expensive electronics, mechanical keyboards are notoriously long-lasting and resistant to any breakdown or faults.
Customized experience – Most standard keyboards are largely the same bland typing experience. With mechanical switches, there's a large variety of options to choose from so you can find the mechanical switch that fits your needs! Whether you like a loud and clicky keyboard with tactile feedback, smooth and quiet switches, or anything in between, there's a mechanical keyboard out there that's perfect for you.
Things to Know about Mechanical Keyboards
If you're a complete newcomer to mechanical keyboards, there's a few basics you'll want to know.
Switches
First, there's a pretty wide variety of mechanical switches available. The undisputed best mechanical switch manufacturer is Cherry, which makes Cherry MX switches. Cherry switches are manufactured in Germany and they're widely considered the best when it comes to quality and innovation.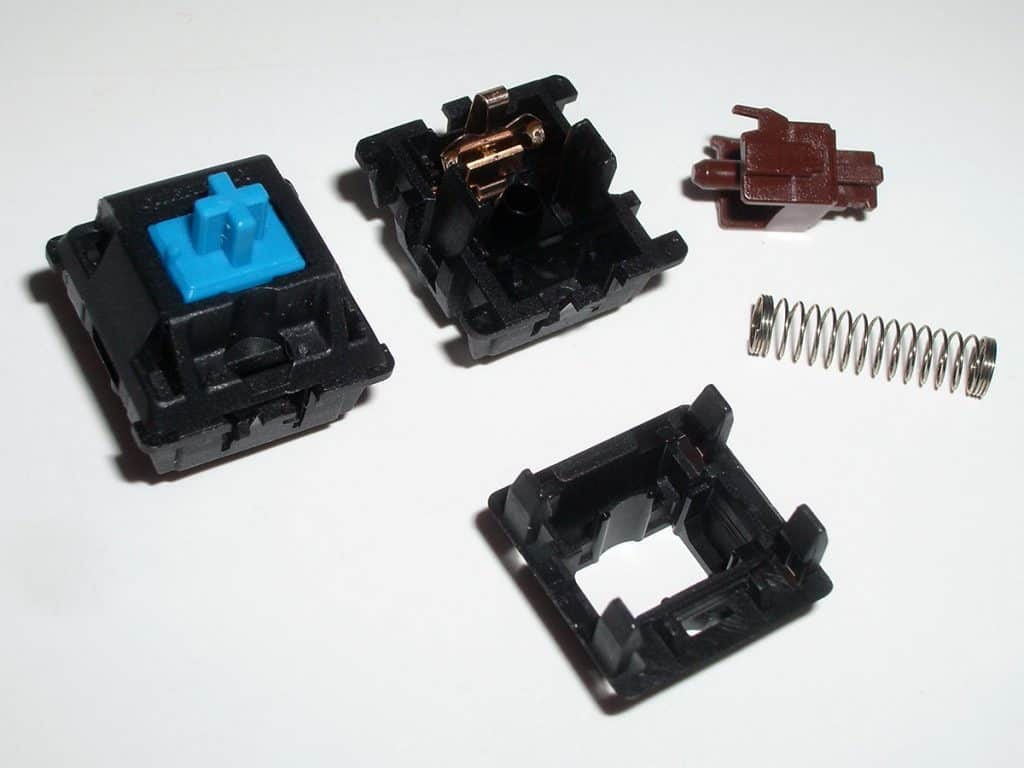 There are many Cherry copycats such as Outemu, Gaote, and Kailh which are manufactured in China and are typically used in cheaper keyboards. All of the keyboards on our list use Cherry MX switches.
Form Factors
Mechanical keyboards come in several different form factors that you might not be used to. A "full" keyboard is the standard one you're already familiar with which includes navigation keys and a numpad on the right side of the keyboard.

There's also "tenkeyless" keyboards, which don't have the numpad area. These keyboards offer ergonomic advantages in that they place the mouse closer to the center of your body, and they save real estate on your desk as well which is important for some people.
The other main form factor we'll take a look at is the super-compact "60% layout". This layout makes the keyboard even smaller, down to just 60% of the keys of a full keyboard. These keyboards are usually most attractive to power-users that want features such as programmable layers. See the Vortex Poker 3 for an example of a 60% keyboard.
Best Overall Mechanical Keyboard

The latest and greatest keyboard from Das Keyboard, version 4 takes it to the next level. New dedicated media controls, sleep button, and a very satisfying volume-knob, and two USB 3.0 ports gives you everything you could possible want from a mechanical keyboard.
Other keyboards just don't deliver the same satisfying typing experience that comes with this keyboard. Not to mention the keyboard itself is beautiful and fits in anywhere from the home office to the executive office.
The Das Keyboard 4 Pro is available with Cherry MX Brown or Blue switches. If you're on the fence about what to go with, we'd recommend Browns. Many people find Blues to be too loud!
Das Keyboard's elite build-quality featuring aluminum construction make this a mechanical keyboard that will last you for years to come.
There's a full breakdown of this keyboard on our review page.
Best Minimalist Mechanical Keyboard

CODE puts out amazingly attractive mechanical keyboards, and no list would be complete without one. Their commitment to doing things differently, like mechanical Cherry Green and Clear switches, and using a timelessly simple design and font.
Individually backlit keys with 7 levels of brightness add to the overall class of the keyboard as well. There's simply too many delightful features to list!
These keyboards are made by the WASD Keyboards company which has a great reputation in the mechanical keyboard community for excellent customer service.
Read our full CODE keyboard review for more details.
Best Gaming Mechanical Keyboard

The Corsair K70 RGB  Rapidfire is one of the newest gaming keyboards from Corsair and it utilizes the new Cherry MX Speed switches.
Cherry MX Speed switches are new in 2016, and currently only Corsair has them. These are the first switches made by Cherry designed specifically for gaming.
Speed switches are linear and light, similar to Reds. The big difference though is the travel distance for a Speed switch to activate is 1.2mm, whereas Reds have a travel distance of ~2mm.
By shortening the travel distance, you will activate the keys faster and have a quicker response time thus making it our pick for the best gaming mechanical keyboard. If you don't have the cash to pick up a K70 RGB Rapidfire, take a look at our list of Corsair keyboards. You'll find a model that suits your needs.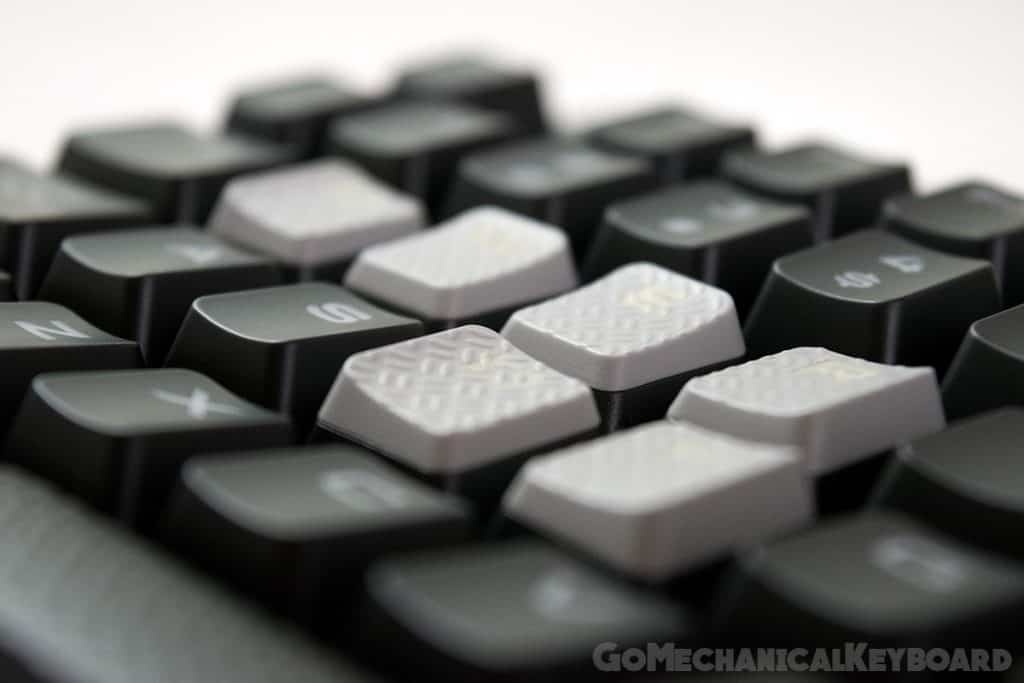 The K70 RGB Rapidstrike features some of the best RGB lighting you'll find in a keyboard. The switch housing is clear, letting light illuminate out from the switch in all directions.
Included with this keyboard is a detachable wrist rest, textured gaming keycaps, and the ability to completely customize your backlighting with the Corsaur CUE software.
Read more about the Corsair K70 RGB Rapidfire on Amazon.
Best Budget Gaming Mechanical Keyboard

This mechanical keyboard from Corsair is our favorite budget gaming keyboard for 2016, dethroning the Razer BlackWidow line of keyboards. The STRAFE can be found at around $100 for the non-RGB model, but we'd recommend you consider splurging for the RGB backlights.
As you can see in the video below, this keyboard looks amazing and comes with Cherry MX switches, a USB pass-through port, and textured gaming keycaps.
Head over to our full Corsair STRAFE RGB review for more details. We also have an covering other gaming keyboards if you're looking for something else.
Best Compact Mechanical Keyboard

For those looking for a compact mechanical keyboard, look no further. The QuickFire TK is an interesting hybrid of a tenkeyless and full-size keyboard, allowing more space for your mouse and letting your keyboard align more ergonomically with your body.
Instead of dropping the numpad, as a typically tenkeyless mechanical keyboard does, it instead drops the navigation keys and adds their functionality on to the numpad with the combination of a function key.
We find this to be the most functional compact mechanical keyboard on the market.
Best Programming Mechanical Keyboard

The Das Keyboard Prime 13 is the newest mechanical keyboard from Das Keyboard this year, and it's really a thing of beauty.
The minimalist style with white LED backlighting certainly gives the Code 104-Key a run for its money, though the Prime 13 is only available with Cherry MX Brown switches.
One big difference from the Das Keyboard Pro 4 is that the Prime 13 doesn't have the media control keys or volume knob in the top-right section. Some people may prefer the Pro 4 for that reason, or they may prefer the streamlined style of the Prime 13.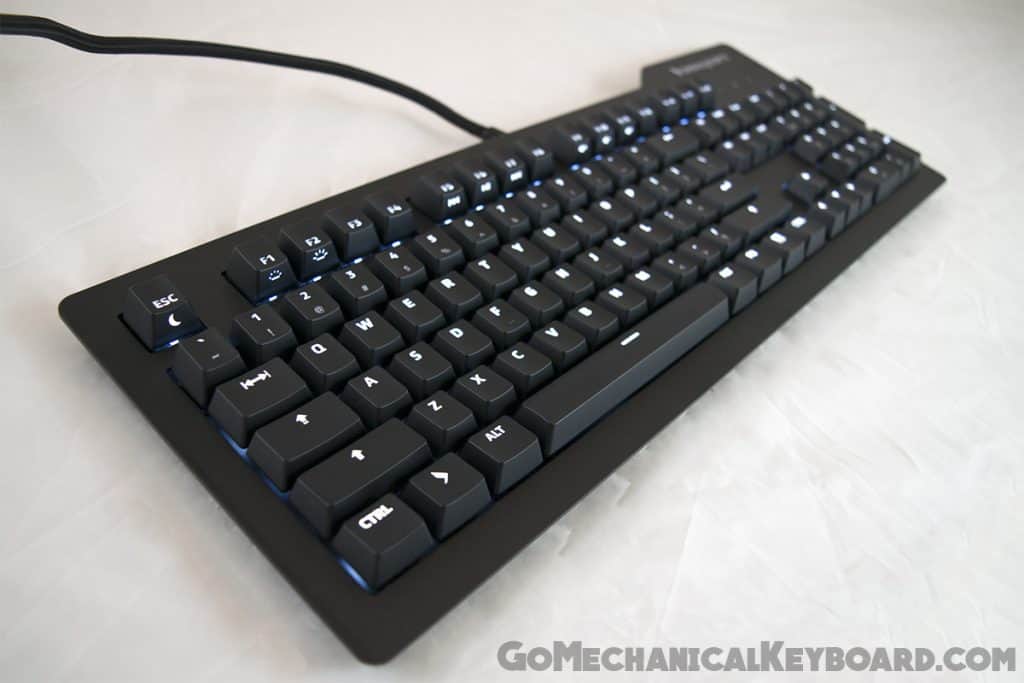 You can check out our Prime 13 review if you want more photos and information, but we think this keyboard would make anyone happy – especially programmers!
Best 60% Mechanical Keyboard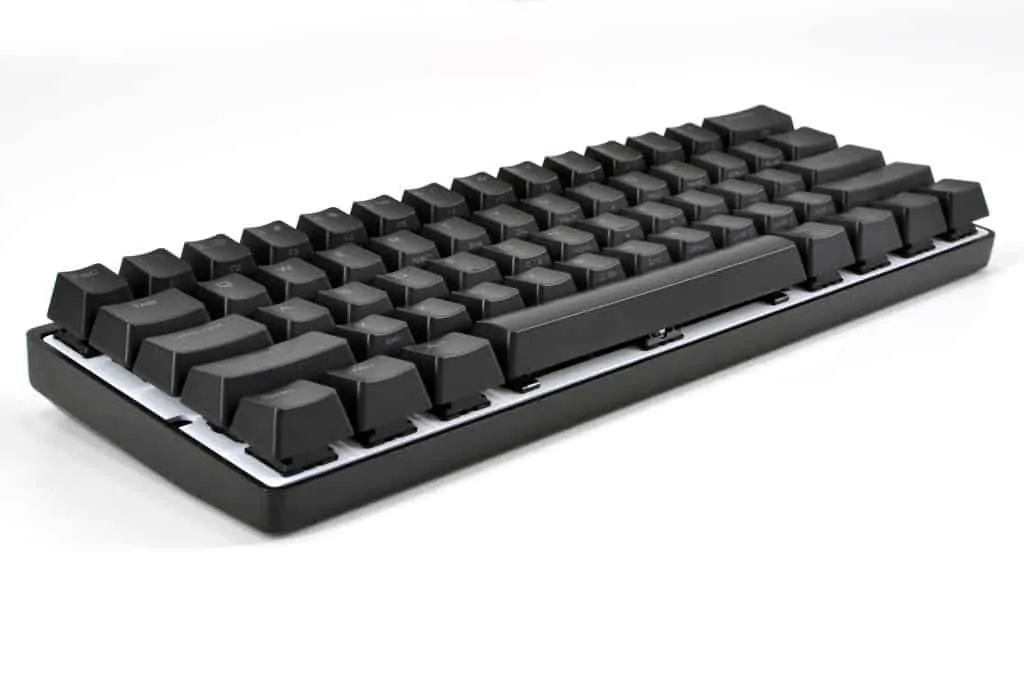 The Vortex Poker 3 (sometimes referred to as "Pok3r") is the ultimate 60% keyboard on the market, and the favorite mechanical keyboard of enthusiasts.
With only 61 keys, you'll get more out of this keyboard than a full-sized keyboard through innovative use of hotkeys and programmable layers. It may look daunting at first, but give it a shot and you'll feel like your full sized keyboard is just a waste of space in comparison.
Check out our review of this mechanical keyboard. It has recently been released for sale through WASD keyboards, re-branded as the "CODE 61 Key", but it's the same exact keyboard, so everything in the video applies to the Pok3r as well.
Best Ergonomic Mechanical Keyboard
The Mistel Barocco is an innovative split-keyboard that comes in a wide variety of Cherry MX switches. This is the first keyboard from Mistel, and the split design makes this the best ergonomic mechanical keyboard on the market.
By splitting the 60% keyboard into two pieces, it allows you to place the keyboard in a much more ergonomic position. You can position your hands in a natural position that don't force them inwards towards the center of your body.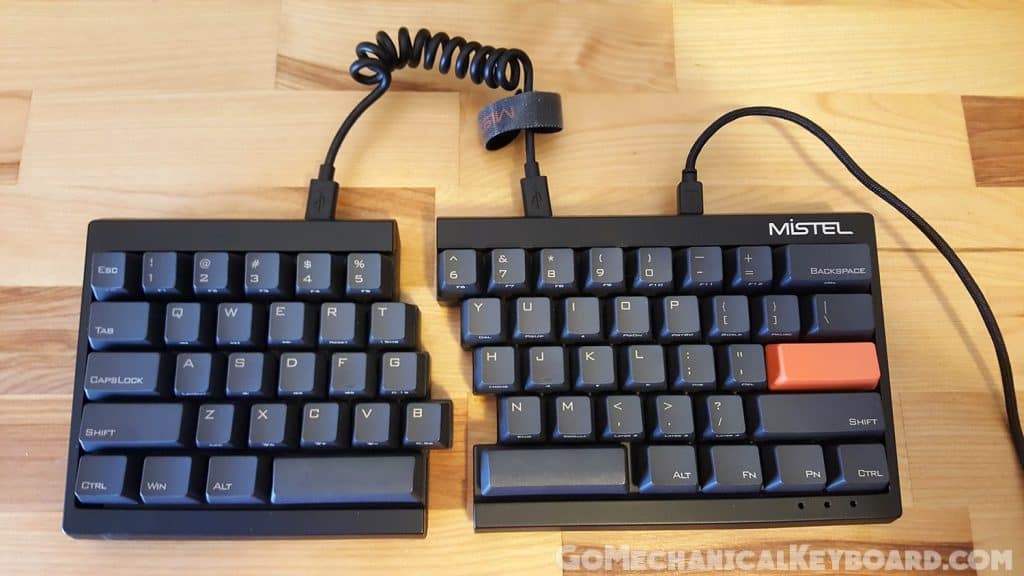 As you can see in the image above, you will need to have a USB cable connecting the two halves and then a 2nd cable that runs to your computer.
Being a 60% keyboard, you'll need to rely on shortcuts and hotkeys similarly to the Vortex Poker 3 above.
Here's our Mistel Barocco review that has more photos and details.
Best Bluetooth Mechanical Keyboard


If you're looking for a Bluetooth wireless mechanical keyboard, the Majestouch Convertible 2 has everything you could ask for.
You can run the Convertible 2 via Bluetooth or via wired USB connection. When it's in Bluetooth mode, it runs off of 2 AA batteries which can last for 6 months of heavy daily use. If you don't have batteries, you can still run the keyboard wirelessly if you plug the USB cable into a power source.
This keyboard uses Cherry MX switches. Being a Bluetooth keyboard, you can use it with a wide variety of devices including smartphones and tablets.
You can save up to 4 device connections on the keyboard and switch between them with a hotkey.
Best Quiet Mechanical Keyboard

"Quiet" and "mechanical keyboard" don't really go together, but if you're planning on using your keyboard around many other people then check out this STRAFE keyboard.
The Corsair STRAFE is the only keyboard to have the new Cherry MX Silent switches, which are made to be more quiet than other mechanical switches.
While they're still not silent, they are the best that it gets when it comes to quiet mechanical keyboard.
That's it for our top mechanical keyboards for 2016! If you were hoping for something cheaper, check out our best mechanical keyboards under $100. We also have a great list of mechanical keyboards for Mac and mechanical keyboards for programming.
Important Criteria for Mechanical Gaming Keyboards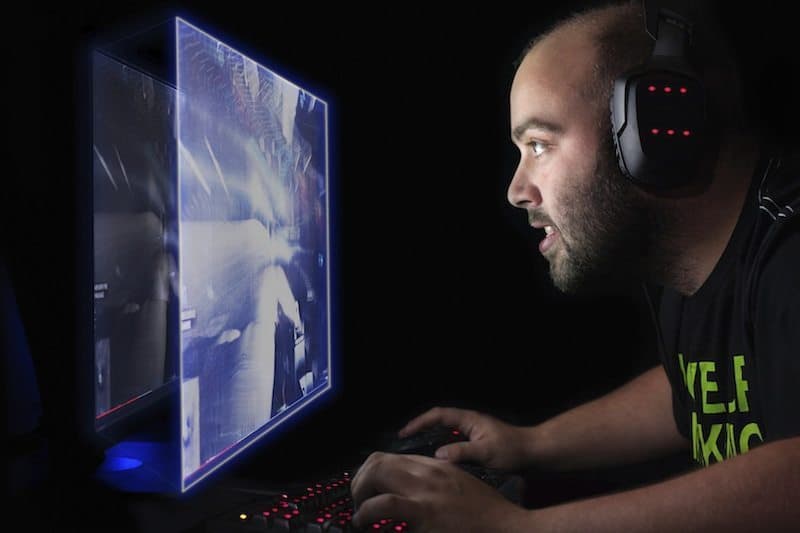 Gaming keyboards have different ideal characteristics than a mechanical keyboard you'll primarily use for work. Here's a list of the important criteria that helped us pick out the best mechanical keyboards for gaming –
Quality Switches – if you're a serious gamer, you can't have your switches fail you in the heat of battle. We prefer linear Cherry MX switches for gaming, such as Red or Speed.
Great Build Quality – gamers are going to put more stress on their keyboards than non-gamers. When it comes time to mash some keys, you want to know your keyboard can withstand the abuse and not start to breakdown.
N-Key Rollover – this features means that no matter how many keys you press at the same time, they will all be successfully sent to the computer and not dropped. This means wireless mechanical keyboards are ruled out!
Extra Features and Backlighting – Some of these keyboards have great extra features like audio/mic pass-through ports, gaming keycaps, and awesome backlighting effects which are always a nice bonus.
As we mentioned in our main list above, the Corsair K70 Rapidfire is our top gaming keyboard pick. Here's a list of some of our other favorite mechanical keyboards for gaming.

Division Zero is the gaming branch of Das Keyboard, so you can expect high-quality parts and long lasting performance with the X40.
The X40 uses Division Zero's own "Alpha-Zulu" line of switches, which have a shorter actuation point compared to regular Cherry MX switches for better reaction time.
One cool feature of the X40 is it has an interchangeable aluminum top panel so you can customize your keyboard to match your space.
The X40 features adjustable red LED backlighting, which is great for allowing you to see your keys in a dark room without blinding you or straining your eyes.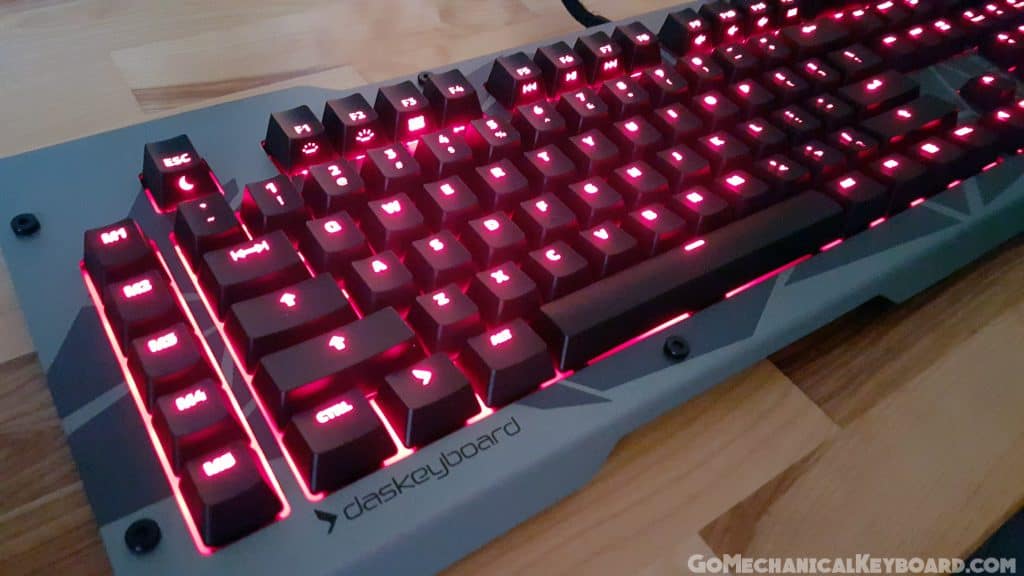 There's also a bank of 5 Macro keys on the left side of the keyboard which some gamers find to be a must-have.

I'm not a huge fan of the font Razer used on these keys, but otherwise this is a good looking keyboard. Similar to the Corsair K70, it has individually backlit keys that you can set to any color. The BlackWidow has 5 programmable macro keys which could be a big selling point to gamers.
Another key differentiation to consider is Razer puts custom-made mechanical gaming switches into these keyboards. Unlike Cherry switches, these were designed with only gaming in mind. This keyboard also features a built-in USB hub, as well as audio and microphone ports.
One downside to the Razer BlackWidow is it only has 10-key rollover. This shouldn't be an issue for most gamers, but it's something to consider.
You can read our full, in-depth review of the Razer BlackWidow Chroma to get better insight into all the features.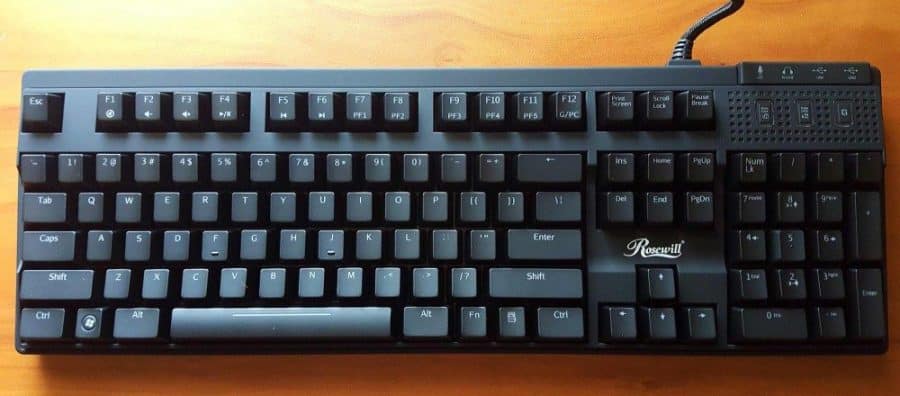 The Rosewill Apollo RK-9100 is available in Blue and Brown switches and with Blue or Red backlit LED's. The Apollo RK-9100 comes with software to let you customize your macros to your heart's content. You also have 5 different profiles to store your macro settings which you can easily switch between with shortcut keys.
This keyboard has 2 built-in USB 2.0 ports as well as headphone and microphone pass-throughs. The LED backlights have 5 different settings – off, low, medium, high, and pulsing.
This mechanical keyboard is a great option for someone looking for a cheaper full-sized mechanical keyboard for gaming.
We have a review up, so you should definitely check it out.

This is a newer keyboard from Corsair, and it quickly become one of our favorites. It comes with a detachable wrist-rest and textured gaming keycaps for both FPS and MOBA games. It has awesome and bright backlighting effects and a USB pass-through port.
This keyboard is also one of the coolest looking gaming keyboards you'll see. It's sure to impress your friends at your next LAN party. Corsair also makes some amazing gaming speakers if you're looking to enhance your battle-station's sound.
The STRAFE RGB is one of the coolest keyboards that we've reviewed.

Our final recommendation is for gamers looking for a cheaper or more compact mechanical keyboard. This keyboard merges the numpad, navigation keys, and command keys into one compact block.
The USB cord is detachable, and can be routed out from the side of the keyboard which could be a welcome option for small desk spaces. The QuickFire TK has fully LED backlit keys with 5 different brightness levels, but only in one color unlike our other gaming keyboards.
Which Switch is Right for Me?
If you're new to mechanical keyboards, you're probably a bit confused about all of the different "colors" of mechanical switches.
First of all, know that the color of the switch is simply a way to color-code the underlying characteristics of the switch. The stem of the switches will be hidden from view (unless you take the keycap off), so the actual color has no bearing on the aesthetics of the keyboard.
The main characteristics that differentiate the switches from the following are as follows. If you'd like more details, you'd be well suited to take a look at our mechanical keyboard switch comparison guide which will go more in-depth.
Stiffness – how much force does it take to press the switch down?
Tactile/Linear – a tactile switch will have a "bump" feeling while depressing it, whereas a linear switch is straight/smooth all the way down. With a tactile switch, you can physically feel when the switch has been activated.
Clicky – some switches make a clicky sound while being pressed. Some people love the sound of these switches, whereas others may find them really annoying. If you're going to be using your keyboard around others, you might want a non-clicky keyboard to not disturb them. Listen to the video below of clicky keys in action.
Here are the three most popular Cherry MX switch types, their characteristics, and who they might be best for. Note that if you're buying a switch made by a different manufacturer, their Blue switch might differ from the characteristics of a Cherry MX Blue switch.
Blue – Blue switches are a light/medium-stiffness switch that are clicky with a tactile bump. The video above uses Cherry MX Blue switches. Blue switches are very popular, and a good all-around switch. Due to how loud they are, you might not want to use them in an office or a shared living space.
Brown – Brown switches are a light, tactile switch. Unlike Blues, they are not clicky, so they are more quiet. Brown switches are the most popular, and a great starting point for newcomers to mechanical switches.
Red – Red switches are light and linear and not clicky. These switches can be used quietly, especially if you get into the habit of pressing them down far enough to activate, but not mashing them all the way down to the point where they bottom-out. Many gamers prefer linear switches because it allows them to double-tap keys faster.
Plenty of other switch types exist, but the above 3 will be found in the vast majority of mechanical keyboards. If you're interested in finding out about the other switch types, check our mechanical switch guide.