Best Cheap Mechanical Keyboards Under $100 in 2017
Mechanical keyboards are amazing – nearly everyone who tries one agrees! They're tough to live without! But some people may find the price tag to be a deal breaker. Competition among top keyboard manufacturers are always pushing the envelope with speed, make, material, and functionality. This competition naturally leads to high prices. But not to worry! We've gathered a list of the best mechanical keyboards that are all under $100 so you don't have to break your wallet. This article is perfect for those who are looking for great mechanical boards on a budget.
This article covers a number of low-cost keyboards, but we have other options available too. Check out our article that focuses on quiet keys for everyday office use. We also cover keyboards with Cherry MX switches and gaming mechanical keyboards in separate articles.
Due to the recent surge in mechanical keyboard popularity and the maturation of the technology, it's possible to get a high-quality mechanical keyboard for cheap! In this guide, we'll take a look at what's available on the market and what minor sacrifices you'll need to make.
If you're OK with spending a little more to get one of the best mechanical keyboards out there, be sure to look at our best mechanical keyboard list (regardless of price). Otherwise, check our table below of the 6 best cheap mechanical keyboards with a comparison of their features such as backlighting and switches.
So, without further adieu, here is our review of the best cheap mechanical keyboards for gaming or just everyday typing! All under $100.
Low-cost Mechanical Boards – Awesome Features, Great Quality
When looking for a low-cost mechanical keyboard, there's good news! You can still expect to get an exceptional keyboard with the same quality switches in the more expensive keyboards that will last you for years to come. You'll get the same typing experience as the more expensive keyboards, so don't worry about major functionality being hampered. If you don't know what all of this means, read our starting page. It is our comprehensive mechanical keyboard guide that will help you grasp what's going on.
The drawbacks will be in the bells and whistles. Most sub-$100 mechanical keyboards won't have most of the following features, which you would expect in more expensive models:
Aluminum chassis
Dedicated media keys
Built-in USB hub
Fancy backlights
Extensive macro support
Extra programmable keys
If you can live with those features, then check out the best cheap mechanical keyboards below, most of which are under $100! The best part about low-cost keyboards is that they're still ergonomic and fun to use for everyday use such as gaming or general typing. With everyone on the computer every day, it's important to be comfortable with your work or game station, especially if you're a daily keyboard user like myself. More than aesthetics, mechanical keyboards are for comfort, ease of use, and for gamers – speed. Though even $100 may seem costly relative to regular keyboards, having something you enjoy typing on every single day is definitely worthwhile. And for those who are use to purchasing expensive gear for their PC, $100 is considered on a budget.
HAVIT HV-KB389L RGB (RK PRO104)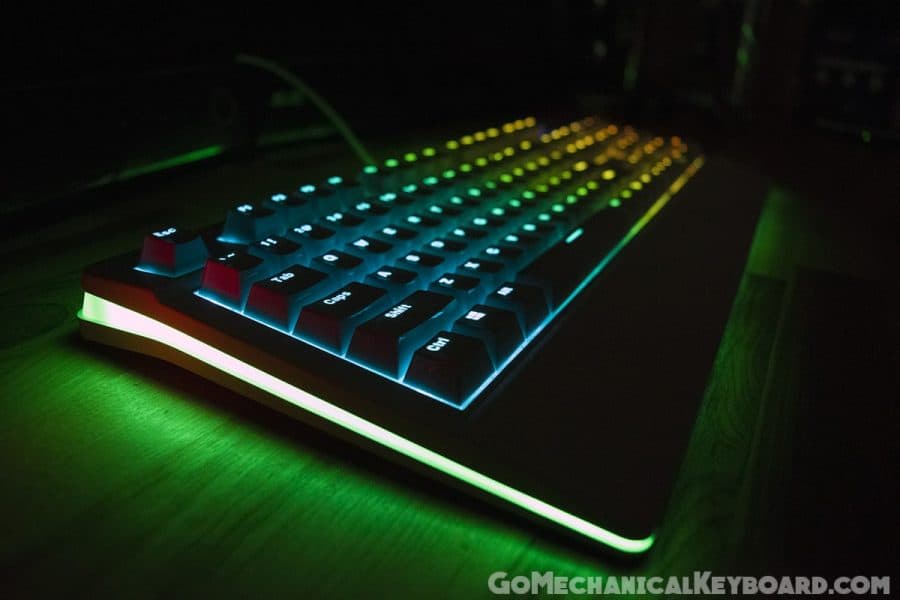 Brand new for 2016, the HAVIT HV-KB389L was a very pleasant surprise that delivers a ton of value for such a small price tag!
The main attraction here is the side RGB lighting, which is absolutely incredible, especially at night in a dark room.
Overall the construction feels great and the keyboard is simply beautiful to look at. The main downside is the keyboard has a plastic case, not aluminum, but you could say the same about most keyboards in this list. Read our HAVIT HV-KB389L RGB Review for more details, images, and videos.
Buy on Amazon
Read user reviews
Corsair STRAFE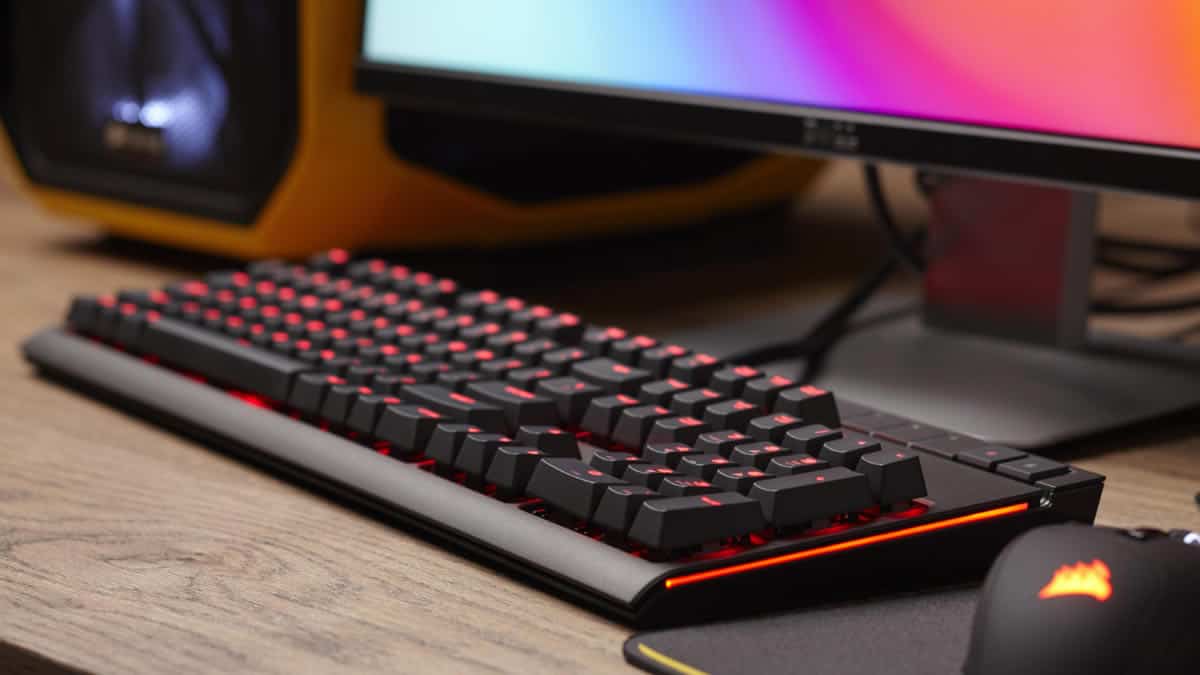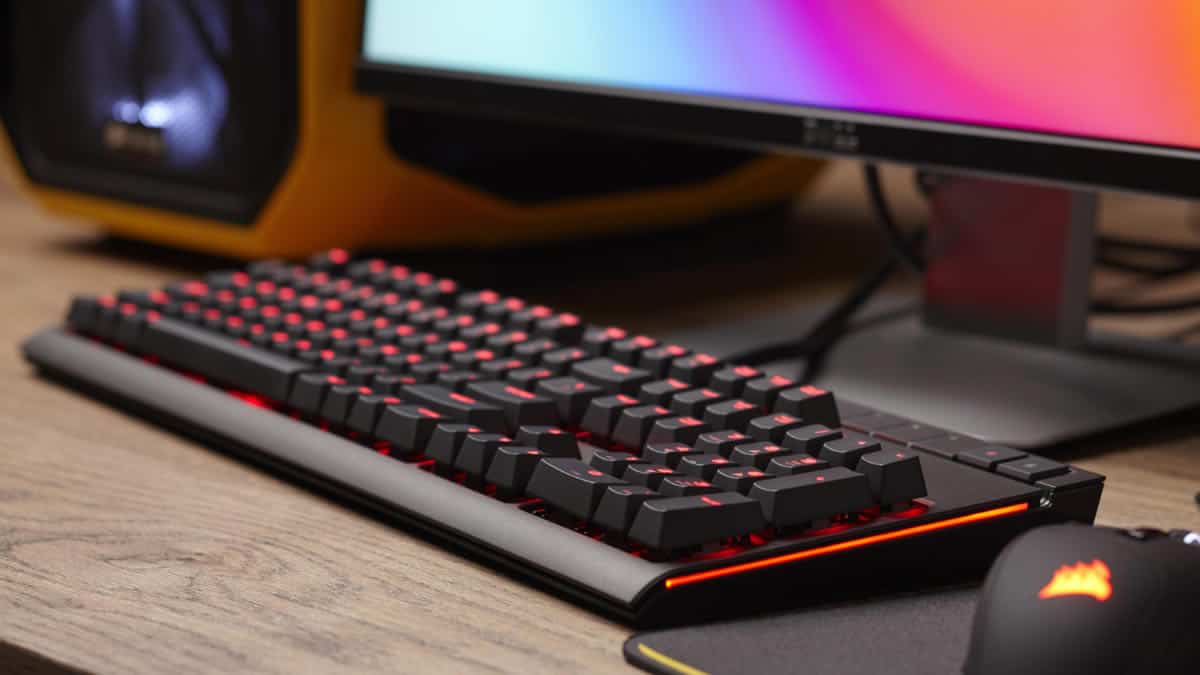 With the release of the Corsair STRAFE, Corsair edged out their rival Razer for the best gaming keyboard under $100!
While this keyboard might be one of the more expensive options on the list, it's very feature-rich for the price.
For starters, you get a USB pass-through port and dynamic red LED backlighting that can be completely customized with the Corsair CUE software.
Gamers will love the textured keycaps, which help you easily keep your fingers on the right keys during frantic battles. The STRAFE comes with both a FPS and MOBA set of textured and contoured keycaps.
Perhaps best of all, this keyboard is available with Cherry MX Red, Brown, and Blue switches. If you have more or less to spend but want to stick with the Corsair brand, take a look at our list of Corsair keyboards to find one that suits you.
We also have a review of the STRAFE RGB, which is similar to this product. If you're not familiar with this company, you will be soon. They are known for specializing in excellent PC gaming gear, including their mechanical boards.
Buy on Amazon
Read user reviews
Rosewill RK-9000v2 Mechanical Keyboard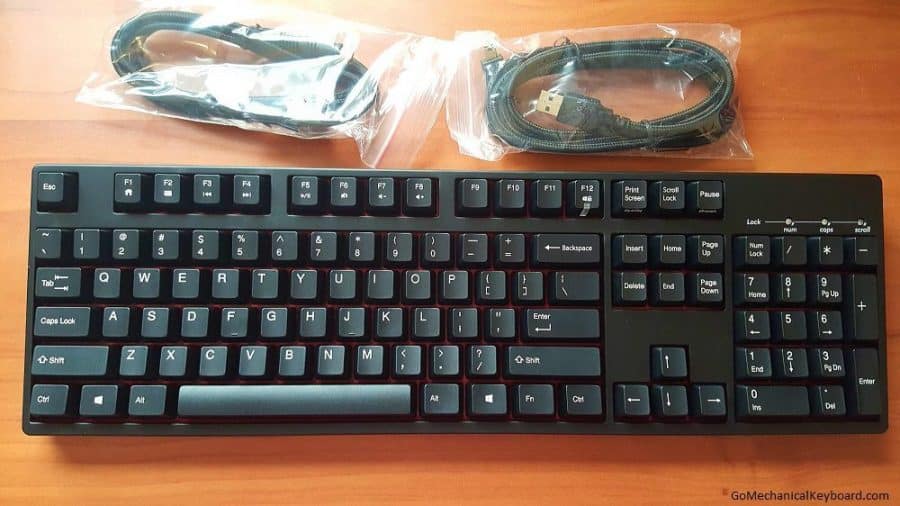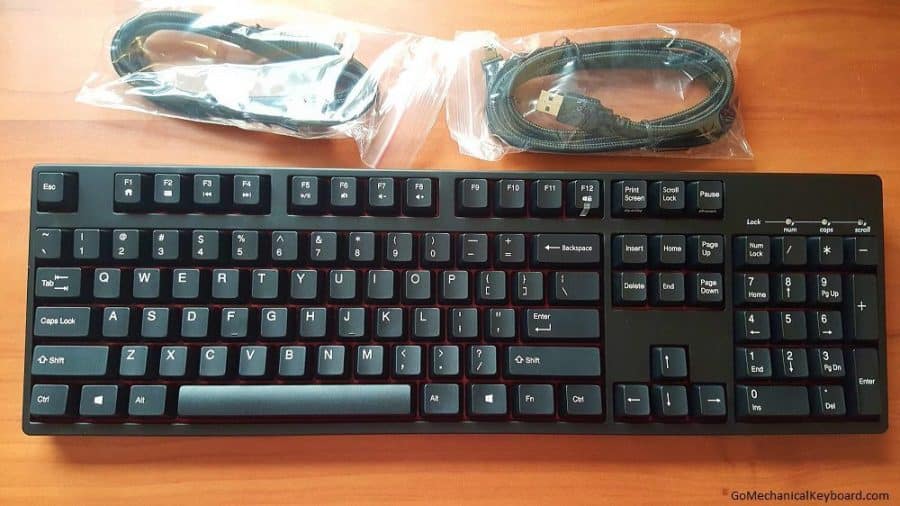 The next spot on our best cheap keyboard list goes to the understated Rosewill RK-9000v2. While this keyboard doesn't look super sleek or sexy, it is a great no-frills keyboard available in 4 different Cherry MX switch types – Red, Black, Blue, and Brown.
The RK-9000v2 is a great option for those looking to experiment with a new switch variety without breaking the bank. You can usually find this keyboard for about $90.
If you're looking for a keyboard to take to work or use in a professional setting, the RK-9000v2 is a great choice.
You can read our entire review of the RK-9000v2 here.
Buy on Amazon
Read user reviews
CoolerMaster QuickFire
The CoolerMaster QuickFire series of mechanical keyboards are top-notch, high quality keyboards for under $100! With Cherry MX switches, a steel backplate, and detachable USB cable, these mechanical keyboards have everything you need.
They are available in full layout, under the QuickFire XT line, or if you want a compact mechanical keyboard, they also have the QuickFire Rapid keyboards which are even cheaper.
CoolerMaster is a trusted name in the computer peripheral industry; they offer a 2-year warranty on their keyboards.
While not a flashy choice due to the lack of backlighting, it sports high-quality construction that could last a decade.
Buy on Amazon
Read user reviews
Logitech G710+
The Logitech G710+ might just be the most feature-rich keyboard on this list.
For starters, this keyboard has Cherry MX Brown switches, though it's available in Blue as well. It's also the only keyboard on our list that has dedicated media keys, allowing you to pause/play, stop, skip tracks, and adjust volume without having to leave your game or press multiple buttons.
Another selling point for gamers are the 3 macro profiles and 6 programmable dedicated macro keys on the left side of the keyboard. If you play games where macros are useful, having your own dedicated macro keys is a huge benefit.
The G710+ features a USB pass-through port and configurable white LED backlighting, which can selectively illuminate gaming keys. A detachable wrist rest is included as well.
Buy on Amazon
Read user reviews
Tt eSPORTS Poseidon Z Blue Switch Illuminated Keyboard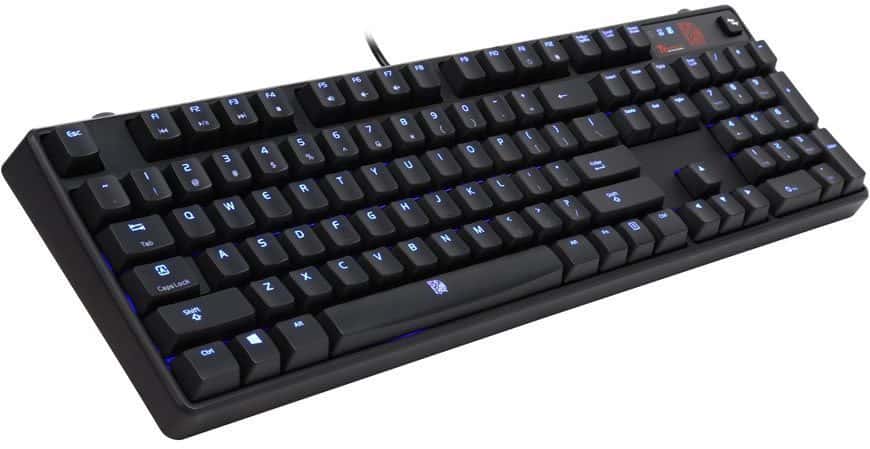 Rounding out our list is the Tt eSPORTS Poseidon Z mechanical keyboard. This keyboard is definitely made for more budget-minded consumers, as it's priced below most of the others here.
This keyboard uses Kailh mechanical switches rather than Cherry MX, but it comes with a 5-year warranty which is the longest of any keyboard on the list.
Blue LED backlighting and a low profile design gives this keyboard a little something extra that earns it the final spot on our list of the best cheap keyboards.
Buy on Amazon
Read user reviews
That wraps up this roundup of our best cheap mechanical keyboards. If you're looking for a tablet keyboard, or maybe the best mechanical keyboards for programming, we have you covered! In this guide, we've tried to give you an overview of all the various companies out there making excellent mechanical keyboards. In addition, we've hand reviewed each and every one, to ensure that you're getting the most bang for your buck! Nothing is better than a sleek new mechanical board for less than 100. Looking for something with even lower costs? Check out our newest guide to the best 5 gaming mechanical keyboards under $50. Just be aware that lower cost mechanical keyboards usually have less functionality than higher costing ones (but can still be sufficient for a gamer).