Looking for a budget mechanical keyboard under the $100 price range?
Mechanical keyboards are amazing – nearly everyone who tries one agrees! They're tough to live without! But some people may find the price tag to be a deal-breaker.
Competition among top keyboard manufacturers are always pushing the envelope with speed, make, material, and functionality.
This competition naturally leads to high prices.
But not to worry! We've gathered a list of the best mechanical keyboards that are all under $100 so you don't have to break your wallet. This article is perfect for those who are looking for great mechanical boards on a budget.
Comparison Table – Best Mechanical Keyboards Under $100
Due to the recent surge in mechanical keyboard popularity and the maturation of the technology, it's possible to get a high-quality mechanical keyboard for cheap! In this guide, we'll take a look at what's available on the market and what minor sacrifices you'll need to make.
For a thorough review of each of the above keyboards, check out their details and features below.
The Hyper X Alloy FPS is more or less similar to its other keyboards, with the keys edged on the top of flat metal. Unlike some other heavier series, this Alloy FPS comes with a thin metal layer and a plastic base that is integrated with the steel frame. The Cherry MX switches of three variants viz. Red, Brown, and Blue is available.
Furthermore, at the back, you have a mini-USB plug, which feels a bit disappointing considering most electronics now support micro-USB. Media controls are pretty simple to use and are there quite limited options. Fn button and F6-F8 keys are used to control media playback. Volume controls are from F9 to F11. Also, F12 can be used to enter the game mode. It also disables Windows keys.
Similar to other Hyper X keyboards, FPS pro also features only red LED lighting. You can use Fn and arrow keys to adjust the brightness levels and lighting style of the keyboards.
What makes the keyboard so attractive is its combination of sleek TKL design and excellent price.
PROS

CONS

Minimalistic design
Durable construction
Different levels of brightness and light styles
Stable base

RGB lighting missing
No USB pass-through
Lack of macro reading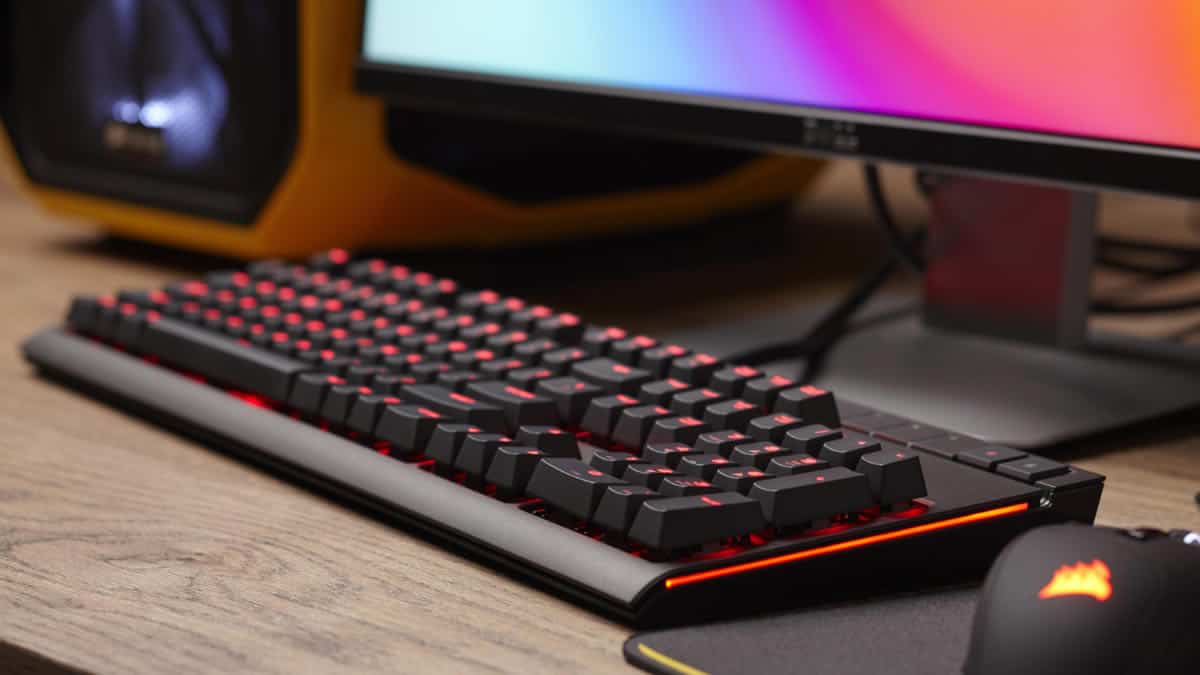 With the release of the Corsair STRAFE, Corsair edged out their rival Razer for the best gaming keyboard under $100!
While this keyboard might be one of the more expensive options on the list, it's very feature-rich for the price.
For starters, you get a USB pass-through port and dynamic red LED backlighting that can be completely customized with the Corsair CUE software.
Gamers will love the textured keycaps, which help you easily keep your fingers on the right keys during frantic battles. The STRAFE comes with both an FPS and MOBA set of textured and contoured keycaps.
Perhaps best of all, this keyboard is available with Cherry MX Red, Brown, and Blue switches. If you have more or less to spend but want to stick with the Corsair brand, take a look at our list of Corsair keyboards to find one that suits you.
We also have a review of the STRAFE RGB, which is similar to this product. If you're not familiar with this company, you will be soon. They are known for specializing in excellent PC gaming gear, including their mechanical boards.
PROS

CONS

Good build quality
Thick and durable cables
Good clicky sound of keys
USB-pass through is very handy

Bigger learning curve with software
Razer Ornata Chroma is a combination of mechanical and membrane keyboard. Despite having membrane switches, the keys have significant travel to it which makes it different from other membrane keyboards. The manufacturers have modified the frame to integrate a tactile bump for improved typing experience.
Razer has preserved the soft feel of the rubber dome and has integrated it well with the tactile feedback. The square-shaped keycaps minimize the wobble greatly, giving a discrete feel close to a traditional mechanical keyboard. However, there is certain resistance from the rubber dome and the click operation makes the switch much rigid than a standard membrane switch.
It features a striking Chroma RGB lighting system. Further, the mid-profile keys float a little above the base making it easier for you to type for a long time. However, Software can be a bit laggy and lacks lots of customization features, you would expect from a keyboard software.
Overall, this keyboard is for heavy-handed people who expect speed and accuracy when they are playing games or typing. You will love the individual coding for hotkeys across multiple games. With a pretty decent build quality and price range, I would say its definitely worth the try.
PROS

CONS

Tactile click
Customizable light settings
Comfortable wrist rest
Mid-profile keys make it easier to type for long hours
Redragon K556 feels good in hand in terms of build quality. It is a compact structure saving significant space on your desk. K556 uses software customization for macros and other light settings. There are a lot of lighting combinations you can try to create different effects. However, the lighting does not feel too bright at any point. So, if you prefer the lights to be too bright, K556 will seem like a letdown.
Besides, if you can let go of the lack of brightness, K556 has a lot to offer. There is a pretty obvious and satisfying clack every time you press a key. It gives you the old keyboard feel. The rounded keys also seem pretty unique. It might take a bit for you to get used to them, but once you do, you would not want the plastic keys.
Another point that can bother you is the volume adjustment controls. The keyboard does not offer a dedicated volume button. Volume adjustments are attributed to the F2-F4 and Fn, which can feel a bit frustrating. Still, nothing major that should keep you from trying this keyboard at such a great price.
PROS

CONS

Solid build
Customizable lighting effects
Satisfying audible clack sound
Sturdy and responsive

Brightness seems a bit dull
Steel Series Apex 5 is a blend of springy mechanical keys with a membrane touch underneath. It responds well to both gaming and typing. The software allows you to customize each and every key to your own preferences. You will love how well the single multimedia button is executed instead of putting a full set of media keys.
If you want to try a hybrid that can give you the best of both mechanical and membrane, this can be a great choice. I won't say you will not get anything like it, but it gets the job done.
It is quite easy to attach and detach. Also, it feels comfortable when you are gaming. It offers a matte surface with comfortable wrist support. Wrist support is not foam and is solid enough to last for a long time. Although the manufacturers have tried to mimic the Cherry MX switches with a clicky noise and tactile bump, it won't give you the exact feel of traditional mechanical switches.
The software works pretty decently. It will not blow your mind but it certainly allows you to reprogram each key individually, which is a great feature. You also get to create individual profiles for different games and program macros. Again, like K556 mentioned above, the RGB lighting is not too bright and can look a bit washed out in a brightly lit room.
PROS

CONS

Small display with LED settings
Gorgeous RGB Backlighting
Great for typing
Clicky sound
Smart multimedia key

Brightness can't be too high
Why Mechanical Keyboards?
So, why is this list the best for those on a budget?
First off, we've tested each of the keyboards on this list ourselves! Moreover, you can actually see our reviews and unboxings of each of the keyboards on GoMK. In the review sections below, we've linked to our professional reviews.
Not only has this list been tested by professionals but each one has amazing and longstanding reviews on Amazon, Reddit, and other sites so that you can be confident that the keyboards are reliable.
I'm not a gamer – can I still use these keyboards?
This list specifically reviews mechanical keyboards that are under $100 – but we've definitely kept gamers in mind.
That being said, these keyboards are great for anyone. However, if you're looking for specific functionality such as wireless, waterproof, or even quiet keyboards, we got you covered.
Now that you've seen the best 6 mechanical keyboards that are under $100, let's take a look at what makes them so great.
Low-cost Mechanical Boards – Awesome Features, Great Quality
When looking for a low-cost mechanical keyboard, there's good news!
You can still expect to get an exceptional keyboard with the same quality switches in the more expensive keyboards that will last you for years to come. You'll get the same typing experience as the more expensive keyboards, so don't worry about major functionality being hampered.
If you don't know what all of this means, read our starting page. It is our comprehensive mechanical keyboard guide that will help you grasp what's going on.
The drawbacks will be in the bells and whistles. Most sub-$100 mechanical keyboards won't have most of the following features, which you would expect in more expensive models:
Aluminum chassis
Dedicated media keys
Built-in USB hub
Fancy backlights
Extensive macro support
Extra programmable keys
If you can live with those features, then check out the best cheap mechanical keyboards below, all of which are under $100!
The best part about low-cost keyboards is that they're still ergonomic and fun to use for everyday use such as gaming or general typing. With everyone on the computer every day, it's important to be comfortable with your work or game station, especially if you're a daily keyboard user like myself.
More than aesthetics, mechanical keyboards are for comfort, ease of use, and for gamers – speed.
Though even $100 may seem costly relative to regular keyboards, having something you enjoy typing on every single day is definitely worthwhile. And for those who are used to purchasing expensive gear for their PC, $100 is considered on a budget.
Conclusion
That wraps up this roundup of our best cheap mechanical keyboards. If you're looking for a tablet keyboard, or maybe the best mechanical keyboards for programming, we have you covered!
In this guide, we've tried to give you an overview of all the various companies out there making excellent mechanical keyboards. In addition, we've hand reviewed each and everyone, to ensure that you're getting the most bang for your buck!
Nothing is better than a sleek new mechanical board for less than 100. Looking for something with even lower costs? Check out our newest guide to the best 5 gaming mechanical keyboards under $50.