Pros & Cons of Cougar's Attila Headset
First, here are some highlights about the headset
| | |
| --- | --- |
| The Good | The Bad |
| | |
| | |
| | |
| | |
Looking for other gaming headset options? Check out other headsets we've personally reviewed here.
Now, I don't need to stress on the importance of gaming headsets in competitive and casual gaming. While the headset provides you with the direction of an enemy's footsteps or fire, it also enables you to chat with your teammates.
Owing to this need, COUGAR sent me their decorated headset "Attila Gaming Headset" which I was looking forward to testing for a long time. In just under a $30 price tag, here's what I found about Cougar Attila Gaming Headset in two weeks of testing.
Introduction & First Impressions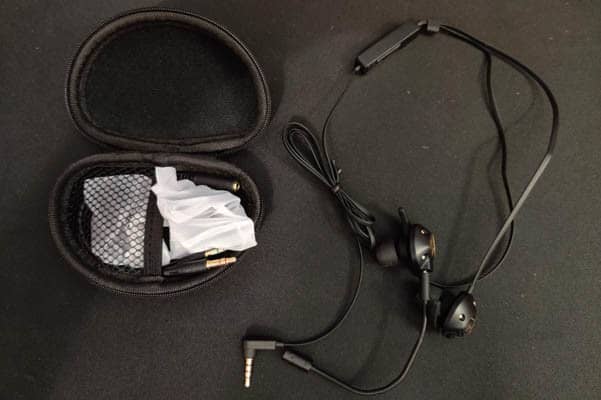 The best part of these headphones is their design, I'm super impressed with the creative and minimalistic design cougar has introduced with this headset.
Secondly, I noticed the dual microphone feature which is not seen in many other headsets even higher priced.
Dual microphone technology provides an enhanced suite of directionality; Standard Directionality, Adaptive Beamforming (Beam®) and Fixed Directionality (Zoom) for improved listening in noise.
The bass-boosted songs worked a little above-average and there were slight to no dis-orientations and over-drumming in the speakers of the earbuds.
I tested the microphone in both gaming and calling environments and my teammates said my sound was crystal clear.
You can disable the microphone by detaching it as well which is a very useful thing to have.
The headset feature stability hooks, so, you can wear them without worries of adjustments while you are in action.
Another handy feature is the adjustable microphone which can be a convenient feature as the mic tends to get in the way when not speaking.
Ultimately, I'd only give an 8-star rating to first impressions because the price tag of the headset was well-justified.
Unboxing of Cougar Attila Headset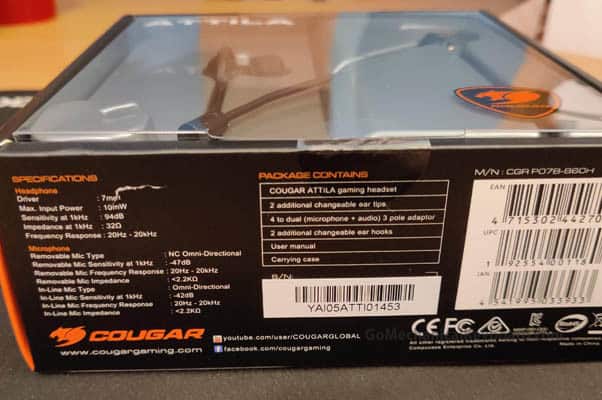 The unboxing experience was, again, a very nice experience and I really liked the box and overall packaging.
However, putting the headset back into its original packaging is a huge pain due to the large plastic mold and inconvenient space; I recommend keeping out of the box.
It might not be a concern for many people, but there are those out there who box everything up 😁.
Fortunately, the unboxing was nice. The design of the box down to the actual product itself was aesthetically pleasing and not overpowered with a large font.
Instead, Cougar opted for a more minimalistic style and it did pass my unboxing satisfaction test somehow.
The entire box was designed very well with everything you need to know or see displayed right in front of you.
The right placement of branding and a see-through plastic made the box of the product look very premium.
Performance Tests – Not Bad for Earbuds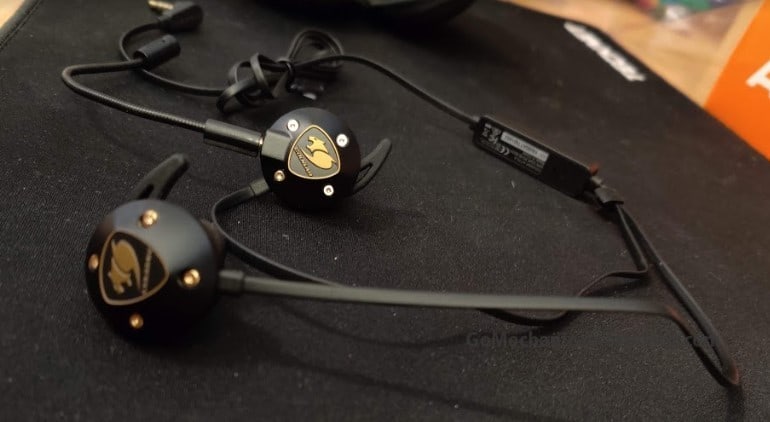 I put some real beef between my tests and this headset.
Microphone and Speakers
The microphones first, they worked well in-short.
From my mobile to my PC, I used and tested this dual-microphone system in standard calling conditions as well as some hardcore gaming. Even while I was shouting (which I normally do if I miss a headshot) my teammates would hear me clear without any scrambled voice.
This was, really, an outstanding thing to have in your mic.
Secondly, the speakers, in terms of their loudness were great!
However, if you like to listen to Trap Nation a lot, with their bass-boosted songs, I'd suggest not getting your hopes too high on this fellas.
The bass at extremes is distorted and it feels like the speaker has burst inside, unlike the Cougar Havoc BT Headset, this headset does not provide VERY GOOD bass quality but provides GOOD bass in general.
Wires and Structural Integrity
While I was at it, I threw stretched, shook, and did anything that a normal headset could go through in daily life.
Verdict, THE HEADSET SURVIVED.
There's one small thing, however, and I thought Cougar really has to look into this, that is the Wire's length.
No matter what material they use, their wires always fall short and the same is the case with these headsets, the wire is too short to be comfortably used with a low-placed PC setup. They will do for mobile users, so, cheers for them.
Gaming and Comfort
By gaming, I tested the headset's ability to detect even the slightest of movements in PUBG like when crouch-moving and prone-to-prone situations. The headset was able to detect everything.
Plus, the stability hooks and soft padded earbuds provided a very good wearing experience.
In numbers, I'd rate this headset 8/10 in terms of its gaming and comfort.
Final Words – A Worthy Purchase for Portability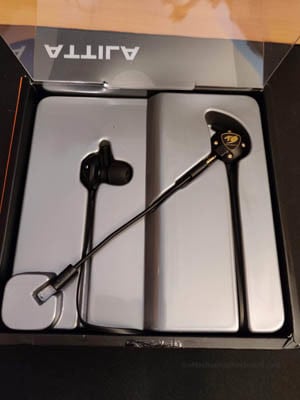 Overall, I'd give this headset a 7/10 rating.
It could substantially be better if the bass, low-frequency, and deep pitched voices wouldn't undergo destructive interference.
I believe, in this price tag, this could be the better option although.
Additionally, there aren't too many earbud-style headsets that are geared towards gamers. It's not common to find such headsets which I believe is perfect for those who are looking for a portable and lightweight headset that includes the essentials for a gamer.
So, you can go ahead and buy this for some cozy gaming sessions!
You can check out all of the different options and pricing on Amazon for an affordable price.
Let me know how well this headset did for you.
Nos Vemos!