Pros and Cons of the Cougar 700K EVO Keyboard
The Cougar 700K EVO keyboard has the following features:
You can find the Cougar 700K EVO on Amazon for an affordable price
Premium Aluminum Brush Design
Six-programmable G-keys
Completely Backlit Keys
| | |
| --- | --- |
| The Good | The Bad |
| | |
| Sleek Cherry MX Red Switches | Complex customization process |
| | |
| 20 extra keys (6 reprogrammable) | |
Looking for something else? Check out our top gaming mechanical keyboards here.
Having a great keyboard is one of the most important aspects of competitive gaming. Playing on a premium keyboard only adds more to a person's gaming experience.
Quite recently, Cougar sent me one of their most decorated keyboards for review – the Cougar 700K EVO Mechanical Keyboard.
Like their Attack X3 keyboard, this one is aimed solely at hardcore gamers.
What makes a mechanical keyboard for gamers?
Namely, additional features such as programmable keys, G Keys, and RGB backlighting are specifically geared towards gamers. The Cougar 700K EVO has all of the above.
I tested the keyboard as my daily driver for more than three weeks and here's what I have to say about my experience with the keyboard.
Features and First Impressions

Just for a while, when I first saw the actual product, it looked like some military-grade equipment rather than just some ordinary keyboard.
I was amazed to see how the keyboard was designed and carved on a piece of Aluminium; that gives it extra strength and a more premium look than its competition.
The presentation and delivery of the overall design of this keyboard are flawless.
As always, what makes a mechanical keyboard different than the rest is its switches. In this case, we received the Cherry MX red variant of the keyboard.
Not too much to say here since Cherry MX is considered the best switches of all time.
The palm rests were also a very good feature to add as gamers do get tired from constantly having their palms in the air for longer gaming sessions and a palm rest generally feels like a cool breeze.
The palm rest is detachable, so, you can take it off whenever you want to.
Note that the wrist rest is attached via small plastic attachments that can seem easy to break at times.
Another part I noticed to be a very useful feature is the option to set the RGB backlights individually for each key. Using this, you can adjust how your keyboard looks in darker rooms and customize your rig even further.
Personally, I would want RGB in every accessory I have in my gaming room. Then again, it is a completely personal requirement.
In terms of the quality of the backlighting – it seeps out of the keyboard in a subtle and clean way – overall, I am satisfied with both the backlighting and RGB customization features of the keyboard.
The keyboard also features a headphone and microphone jack as well as a USB connection port. Now, these features can come in very handy when you utilize ports on your PC that are too far for comfort.
Setting Up the Cougar 700k EVO Mechanical Keyboard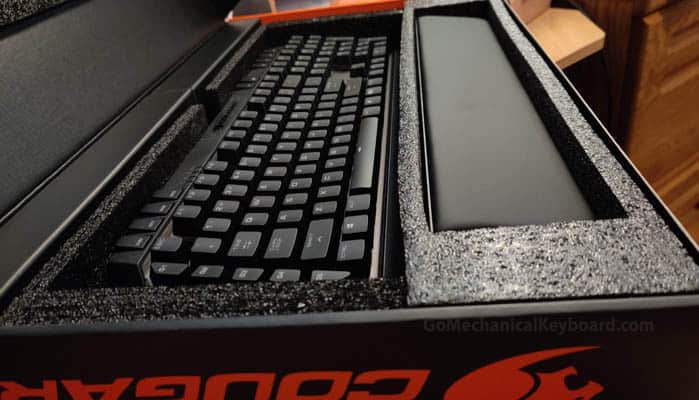 While a lot of debate can be found about Cougar's easy-to-use software, I have something else to tell.
The "programmability" of this keyboard is exasperating. It is very complex and first-time users are not going to get it without proper guidance.
When I was setting up the keyboard to use it for the first time, I remember watching YouTube tutorials and it took me almost a day to figure out how to fully customize and relay with the keyboard and its programming software.
"Once you get the thing properly-configured, you won't be running that God-awful UIX software again."
Unboxing Experience – Big Keyboard in a Big Box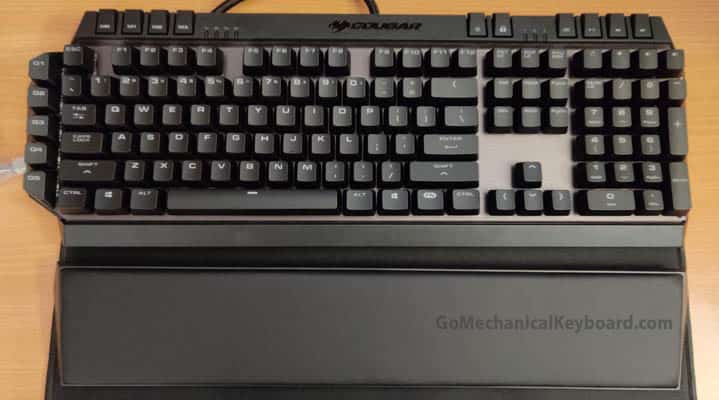 Okay, so, I'll be straight on this – it's not what I expected.
Judging from the keyboard's pictures I had seen online, I was expecting the unboxing to be another bombastic experience.
To my surprise, it was standard; perhaps I shouldn't keep high expectations when it comes to unboxings, another story.
Upon first opening, I quickly noticed the standard and somewhat ugly black foam that envelopes most mechanical keyboards – it does the job well but not in style.
The keyboard was in good condition, with no scratch marks even though the shipping process does harm the product.
And that was it, "The Unboxing…"
In the box:
A set of cougar stickers
The braided keyboard cord (attached to the keyboard)
Wrist rest
What Makes this Keyboard Standout – Gaming Keys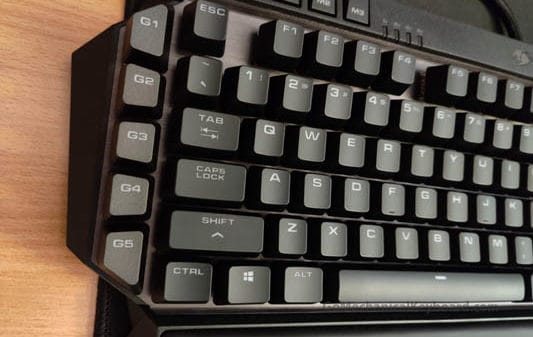 The most difficult part I faced was, without a doubt, the configuration of the keyboard. Once you have done that, I think there won't be any problem using the keyboard.
The G-keys are interesting but they are not usable unless you are a high performing and a top-end gamer. Basically, you can program them to do different things while in a game, like enable a MACRO or change the perspective or a weapon, it's entirely up to you for how to use the G-keys.
On a personal note, I found the G keys to be placed in an awkward spot on the keyboard, as seen from the image below, which made them look and feel a bit off.
The placement of the G Keys are purely functional – the G Keys are placed very close to where your left pinky sits for quick access, thus sacrificing aesthetics for function.
Also, there were these macros (the settings that allow you to execute multiple commands or CFG's at any moment) that interrupted me quite a few times and had a really bad impression on my typing.
So, sometimes, the input text looked something "llikkeee thiiiss."
The keyboard is mechanically okay but this happens solely because of the "Macro Settings" that are enabled by default and I couldn't figure out how a person can disable those, especially, if you don't want the keyboard to auto-record and apply certain wordy combinations.
A Few Other Things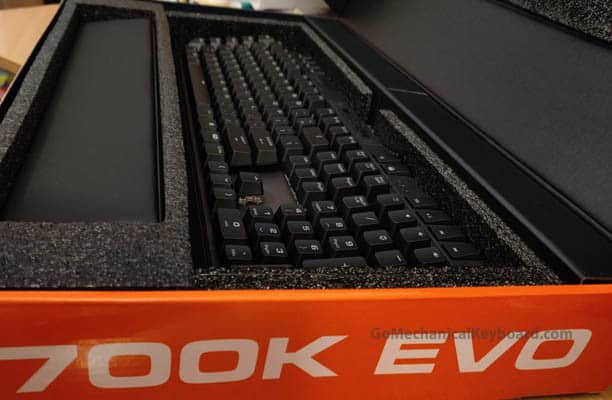 Now, in my experience, the keyboard has been a good one.
I faced no problems regarding connectivity (except the software) and functioning of the keyboard apart from just a simple, but crucial fault.
The macro settings for the six G-keys can be quite complex to use and the auto-macro functions could use some work.
Final Words about Cougar 700K EVO Keyboard

In the end, I would recommend buying the keyboard only if you are a high-end gamer and have the kind of requirements this keyboard fulfills (ie. The G keys). Or, if you simply like the design and the other features this keyboard offers, such as the sleek aluminum brush design and wrist rest, the Cougar 700K EVO is worth a shot.
For me personally, I don't utilize the G keys that often, if ever, but that's just me.
Overall, my experience with the keyboard (not the software) has been good and I'd give a solid 8.5/10 as a professional gamer but for simple folks, this keyboard is more of a luxury.
Looking for something under $50? You can find some lower-priced and simpler options here.
You can find the Cougar 700K EVO on Amazon for an affordable price.
Let me know how this keyboard worked out for you down in the comments.
Happy Gaming!