Pros and Cons of Corsair K95 Platinum XT
In a glance, the Corsair K95 Platinum XT keyboard has the following features,
| | |
| --- | --- |
| The Good | The Bad |
| | |
| | Limited Passthrough Inputs |
| Lots of Customization Options | |
| | |
| | |
Looking to buy something cheaper? Check out our under $50 list here.
So, what makes a high-end gaming keyboard?
The combination of higher tactile response times, better durability, and gaming functionality are what makes a mechanical keyboard tailored to gamers.
Recently, CORSAIR sent me their K95 Platinum XT – released in Jan 2019, for testing. This is the sequel to Corsair's K95 Platinium – a flagship and super popular gaming keyboard released from Corsair back in 2017.
The two keyboards have very similar aesthetics but slightly different technicals, therefore the "XT" model seems to be an incremental improvement and not a complete innovation.
The keyboard is premium, packed with features, and will bring your gaming rig to a whole new level with its modern design.
I tested the keyboard as my daily driver for two weeks and what follows are my final thoughts about it.
Features – Lighting, Switches, Keys, and Inputs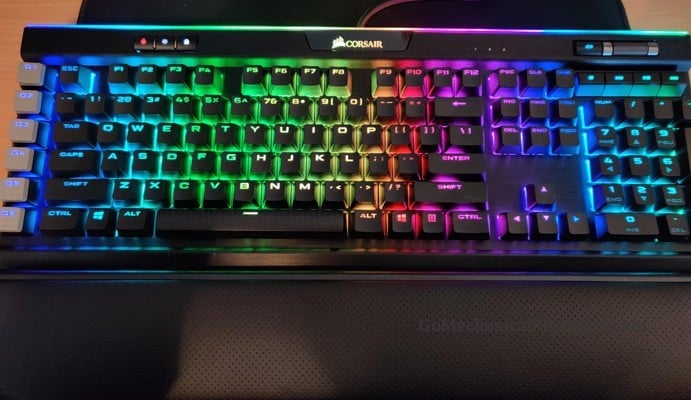 Here are the details of all the features in this magnificent keyboard,

Design and RGB Lighting – Sleek and Professional
The keyboard's design is very eye-catching and as soon as you will lay eyes on it, you'll want to just keep staring at it. The keyboard has an excellent RGB lighting system.
What makes the RGB on this particular model stand out is its "Light Edge" bar at the top of the keyboard and the clean RGB backlighting that comes out from the keys – it is not too bright.
The entire RGB is controlled by the powerful yet complex, CORSAIR iCUE software but unlike the standard K95, K95 Platinum XT has on-board memory that can save up to 8 MBs of customized profiles. This is very useful for just plugging in your keyboard enjoying your customized RGB effects on the fly.
With endless options in terms of customizations, the keyboard provides a great experience.
The keyboard is made with Aircraft-grade Aluminium which provides great strength and a premium feel to the physique of the keyboard.
8/10 will for the keyboard's design.
Switches and Keys – Cherry MX!
Corsair K95 Platinum XT sent to us had CHERRY MX BLUE switches, which in my opinion fit the overall design and gamer focus. There are a couple of other options made available – Cherry MX Speed and Cherry MX Brown.
Additionally, the keys are double-shot PBT material which is very durable and key-legends (digits & alphabets on the keys) do not fade away like single PBT material keys or simple plastic keys.
There were a few things I noticed about the keys:
I accidentally clicked the "G6" key instead of the CTRL given the keyboards condensed spacing quite often
The multimedia buttons are a nice touch however, the media buttons are not satisfying to click (they are not tactile and yield a cheaper feel)
On the side of the additional keys, you have 6-programmable G-keys (unlike 3 in K95 – the predecessor) in a straight row on the left of the keyboard.
There is a volume roller along with the mute button that can be used to change the audio settings right from the keyboard.
Since so many features are there, I'd give a 10/10 rating to switches and keys.
Ports and Wires
There is a single USB port with two USB outputs (one for the USB passthrough and one for keyboard functionality)
Even though the world is moving to faster ports like the USB 3.0, this keyboard has a USB 2.0 port.
Additionally, there is neither a mic or headphone port on the keyboard, which is a bit disappointing.
One of the two USB ports on the keyboard is used to connect the keyboard to the computer. So, you'll be left with a single port to use.
Additionally, the wire is made with braided material and feels pretty solid. Corsair recommends using a USB 3.0 port to connect the keyboard to your PC for optimal performance and shortest response times. While this is not a concern for the latest PCs but older computers might give a suboptimal performance.
The only thing that disappointed me is that there were no huge leaps in improvements from the "XT" version to the K95 Platinum version of the keyboard – I have only seen incremental improvement in the materials and tech.
7.5/10 as the keyboard could have had more inputs or USB 3.0.
Introduction & First Impressions
The K95 RGB Platinum XT from Corsair comes in at a whopping $199 at the time of this writing and is, undoubtedly, a higher-end gaming keyboard.
First off, I was impressed by its " Light Edge" design – a thin bar at the top of the keyboard that emits RGB lighting (which is the same design as its predecessor).
The RGB key setup, the layout, the overall vibe that you get from this keyboard is just amazing and I couldn't be happier with its design.
Corsair has always opted to use the available space and not make hefty and long keyboards.
They have deliberately followed this strategy in K95 Platinum XT as well.
Personally, having a keyboard that saves space on my computer desk is both practical and aesthetically pleasing.
Now, this doesn't mean that Corsair has provided you with a tiny keyboard, the keyboard is of average size, but space and key placement is organized in an above-average manner.
The keyboard features an aluminum-based body and the company claims it to be Aircraft-grade which means it is both durable and lightweight.
Overall, the keyboard weighs about 4.8 pounds which less relevant for desktop gamers.
So first impressions are a solid 9/10.
Unboxing Experience – 9/10!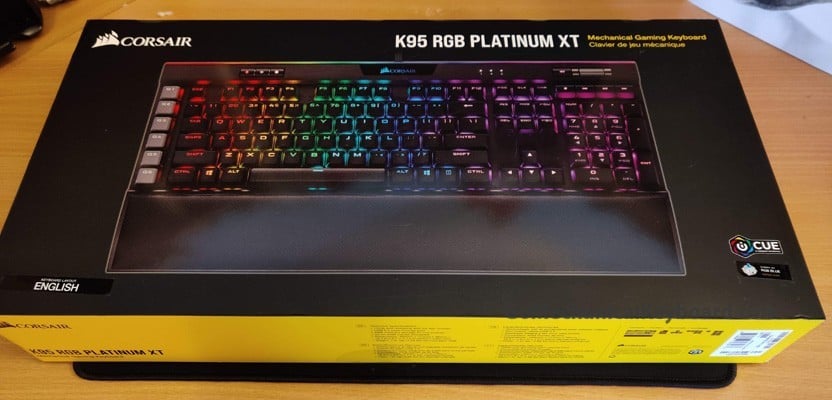 The box sent to me was very sleek and my first deduction was that something more expensive has been sent to me.
The box had all kinds of details about the product with the image of the actual keyboard up-front. The keyboard was inside a black box (box inside the main box), wrapped in a plastic sheet. The cable was stored in another cardboard area on top of the box containing the keyboard.
Here's what came with the keyboard,
The Wrist-rest
Customized WASD & G-keys
A Key-remover Tool
All in all, unboxing was great and felt premium. A solid 9/10 for unboxing as well.
Gaming and Typing Test of K95 Platinum XT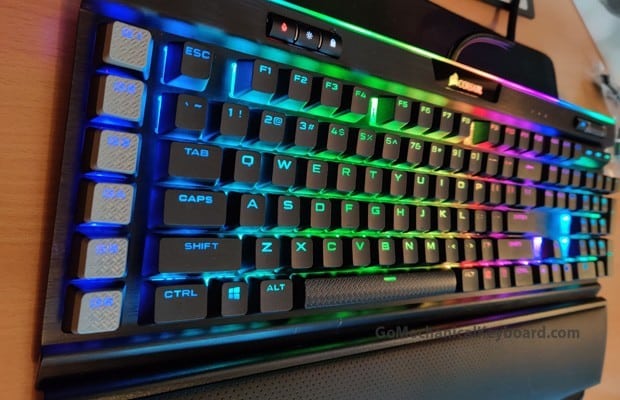 Overall, I enjoyed typing on the keyboard and it was as smooth as it could be.
As far as gaming is concerned, the keyboard is very efficient, there are very low response times thanks to the GOLD CONTACT points and faster key technology.
The G-keys provide added efficiency to your overall gaming performance providing you with all your MACRO settings and difficult combos in one keypress.
Keyboard's performance is satisfying for me in terms of both gaming and typing.
WRIST PAD & ADDITIONAL FEATURES 

Overall, the padding and attachments for the wrist pad are nothing new – they are comfortable and not much else can be said.
The wrist pad is removable, of course, and is magnetic.
There is an "X" in the bottom of the keyboard to provide your headset's wire a way to pass. (which normally tends to get in way of your mouse or other gadgets)
Lastly, there are some extra keys and a key removal tool that we mentioned earlier in unboxing.
The Verdict – An Excellent Gaming Companion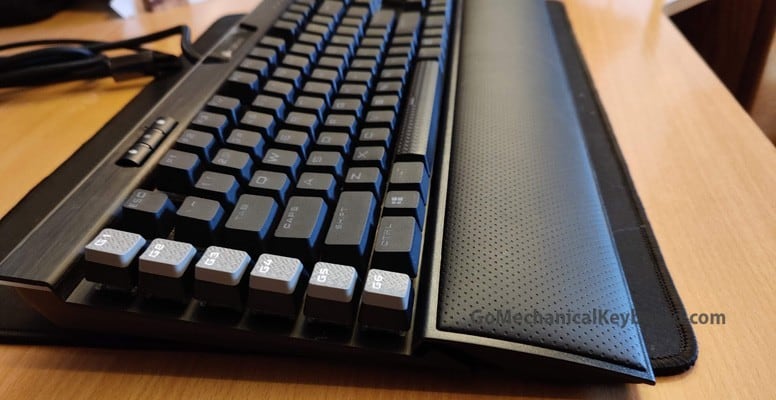 The keyboard on the higher end price but for good reason – branding, solid build, and high-end materials makes this keyboard a solid companion for any gamer.
If you have the budget, I recommend you to go for Corsair K95 Platinum XT as it justifies its price tag and provides good value.
There is another thing I find to be worth mentioning and that concerns the customer support for Corsair which is very abrupt and you won't be able to get an RMA without paying the shipping fee which might vary from place to place (I've heard second-hand and haven't had issues myself).
So, make sure you are buying from an official seller and clearly instruct/inspect the piece before buying it.
I found no critical failures in two weeks of my usage but then again, two weeks is not long for high-end keyboards.
Overall, I'd give the keyboard an 8/10 rating and if the price were a little lower (around $150) I'd give 9 or 10. So, you can expect an optimum keyboard by judging it based on this review.
You can check the up-to-date pricing and options on Amazon through this link.
Let me know what you think about the keyboard, see you in the next review!
Happy Gaming!