The Good

The Bad

Value for money
Flexible Headbands
Cushioned Ear-cups to cancel external noise
18-month warranty!

Wired, no Bluetooth
PS4: Does not allow you to switch off the microphone on the headset
Baseline specs:
Cable Length: 6.5 feet (2 meters)
Frequency Range: 20~20 kHz
Operating Current  : 0 greater than 70mA
Diameter: Φ40mm
Speaker Sensitivity: 92dB±3dB
Mic Sensitivity: -38±3dB
Direction : Omnidirectional
Interested in our hands-on review of this headset? See below for the full review!
Review Parameters of the VIP002S Gaming Headset

Like our previous review of the G9000 Headset, I tried this headset on a variety of games such as Fortnite, CS:GO, Apex Legends, and other less popular games.
After using this gaming headset for over 2 weeks, it's fair to say that this headset is a value purchase. Given its price, the quality of the audio is not bad for gamers who aren't playing competitively. In addition, its quite comfortable and has a very unique design to it.
As an avid gamer, the directional sound of the headset and clarity of the mic are the most important aspects when using a gaming headset. And so, I specifically played games that required you to hear omnidirectional movements and team-based games that required mics.
Gaming headsets are an important part of the gamer's kit specializing in multiplayer games. There are many models and brands available in the market with different specifications and prices. I have gone through a few gaming headsets over the years and the EasySMX VIP002S is a decent buy for casual gamers or to have as a spare set just in case.
See below for my findings on the quality and design of the VIP002S gaming headset!
Unboxing: VIP002S Headset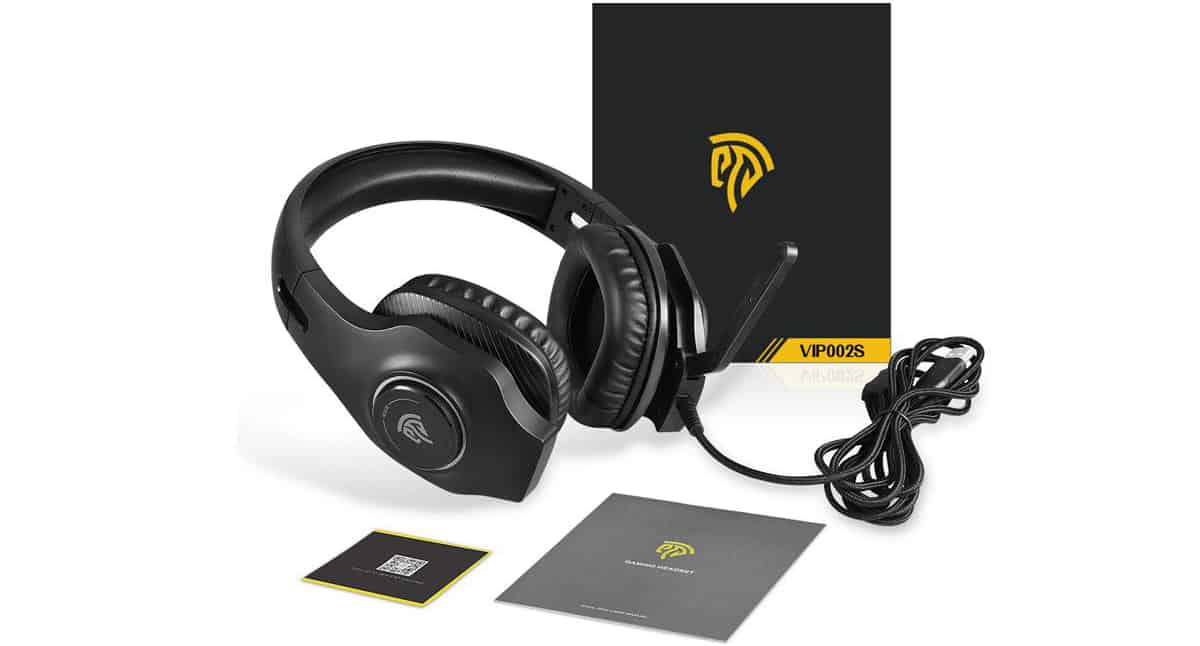 The VIP002S headset is stored in an attractively designed box that can avoid any kind of physical damage to the device.
The box displays the RGB lighting feature of the headset and makes it very clear that it is carrying the attractive lighting feature with it and there is nothing left in suspense for any unprepared buyer of the gaming headset.
The package includes:
EasySMX VIP002S stereo gaming headset

Y splitter cable

After sales service card

User Manual
The above items included in the headset are more than sufficient for any gamers needs, but nothing particularly special.
Now I'll take this review to the most important aspect, i.e, features and specifications of the headset.
Features & Specifications – Fully Loaded
VIP002S is a combination of funky gaming looks and great features, making it one of the most viable options in the perfect price range.
In my opinion, the best part about the EasySMX VIP002S is the RGB coloring LED light and volume control wheels which is quite unique in today's scenario for any gaming headset.
When testing the VIP002S, I found the volume wheel quite convenient and had no issues with the RGB lighting, which was a nice touch.
Features – Everything a Gamer Needs
The tri connection friendly EasySMX VIP002S headsets are compatible with PS4 & Xbox One S/X Controller, PC, Laptop, Nintendo Switch, Tablet, Smartphone etc.
What I loved about the VIP002S was the ease in which you could adjust the volume and LED lights on the headset. You could easily adjust them on the earcups. I do feel that having the volume adjustment would be even more convenient if you could do it on the wire instead as you wouldn't have to reach as far, but this is a minor issue for me.
As for the noise cancellation, there isn't anything specific that cancels the noise other than the cushion. Expect the noise cancellation to be as good as any other headset in a similar price range.
Key features:
VIP002S is equipped with easily adjustable and leather covered cushioned headbands to have flexible head movements while you play the game excitedly.
With the cushioned over the ear designed ear-cups for your comfort, you'll find it a lot relaxing while you play for long without any pain.
The omnidirectional and retractable microphone allows you smooth communication.
As you put on the headsets it will set you in your own zone without any external sound distractions.
You can make a style statement with the RGB LED lighting feature and can enjoy any color while adjusting the volume dial.
Overall, the VIP002S has all the essential features one needs when gaming. It provides lighting, an adjustable mic, and comfortable cushions at a nice price. The only thing that this headset is missing is a wireless option – I would definitely be willing to pay a few more bucks for a Bluetooth variety of the VIP002S.
Build Quality – Audio, Mic, and Comfort:

The build quality of the VIP002S can be tested very easily while you use it for the very first time. As a person who games for multiple hours a day, comfort to me was essential. The VIP002S provides great comfort and doesn't put too much pressure on your ears, which is a problem I've had in the past with other headsets.
It has adjustable and cushioned headbands making it strong and flexible while wearing it and that doesn't require repeated adjustments.
The volume dial makes it easy to adjust volume controls with just a finger movement on it.
92mm over the ear designed detachable ear-cups skinned with memory foam and leather are softer and easily moldable.
5 feet long sturdy audio cables make it long-lasting in comparison with plastic audio cables.
Overall, the audio quality of the headset was as I expected. I wouldn't necessarily use it when I want to listen to the highest quality music, but it does make for excellent and comfortable gaming. The omnidirectional sounds are pretty on point and when playing Fortnite I could definitely tell where the enemy was (for the most part).
Omnidirectional sounds aside, don't expect the same clear bass and crisp sounds as something in a $100+ headset.
Microphone Quality: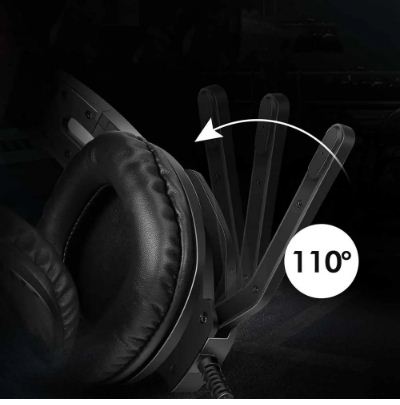 VIP002S has a mini directional microphone which makes the communication disturbance free and provides high-quality results.
The omnidirectional microphone has a superb sensitivity to identify sounds and to stop other noise to give you a profound audio experience.
The extendable mic is a great feature and makes it convenient to get it out of your face when you're not using it. However, it would be nice if you could just detach it from the headset itself.
Overall Thoughts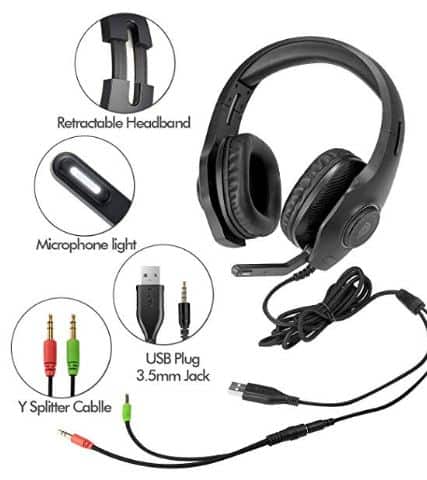 The EasySMX VIP002S is a great option for a casual gamer or those on a budget.
It falls into the most affordable price range of around $35. It has everything that a gamer looks for, right from a funky look with the RGB lighting to moldable headbands and cushioned over the ear design leather skinned ear cups.
To sum up, I'd say that if you are not ready to spend around $100+ for your gaming headphones but would like something comfortable and with good audio, go for these headphones.