Pros
Cons

Brown Switches for low noise
Double USB mode that lets you use the keyboard while charging
Can last 12 hours with backlighting on and 150 hours with backlighting off.
Solid built with internal steel frame preventing flexibility.

Weighs 1200 grams, which makes it quite heavy.
Backlighting turns off after 1 minute of inactiveness.
No other switch versions except Quite Brown switches.
No effects or patterns of backlighting, just on and off.
Looking for a budget-friendly wireless mechanical keyboard with all of the essential features?
In this review, we'll be looking at one of our favorite entry-level wireless mechanical keyboards: the Velocifire VM02WS.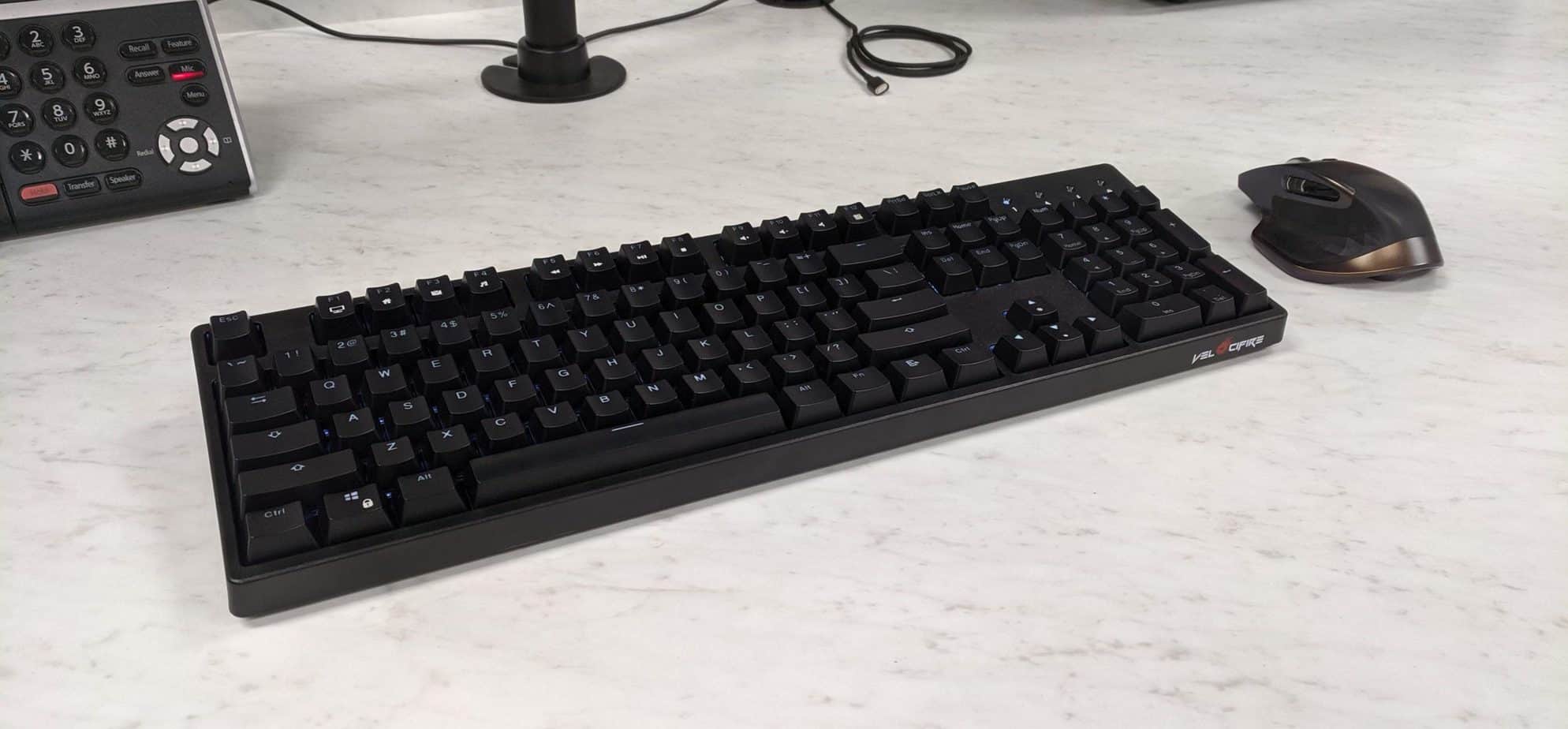 Velocifire VM02WS is an all-around, full-sized, updated mechanical keyboard.
It is a wireless gaming beast with typical white LED backlight, launched in January of 2019. After the successful market of TKL02WS, Velocifire launched VM02WS to meet the needs of the number pad.
The keyboard has 104-keys with brown switches.
These low noise switches have soft tactile bump feedback. This keyboard is not only the choice of gamers but of copywriters, programmers, and typists as well.
Additionally, every key-press gives you the best tactile gaming experience. Every keypress reacts with a tactile bump and a great actuation point. The keyboard is preferred for its fast and accurate performance, optimized productivity, signal stability, and long battery life.
VM02WS also has double USB mode with the smart charging system that allows you to charge, type, and play simultaneously. It is also compatible with Windows and Linux. With an exception with several function keys, it is compatible for Mac OS as well (check out Velocifire's Mac-friendly keyboard here).
The 104-keys VM02WS beast provides everything you would need if you're just getting into mechanical keyboards or you're just looking for something tactile and inexpensive.
Key Specifications and Features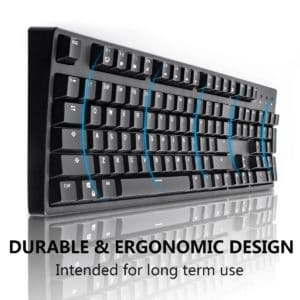 Velocifire has manufactured varieties of keyboards with different specifications as per the market demand.
The VM02WS is a highly reliable, durable, and optimal wireless gaming keyboard. It has a sweet market spot with essential features that come at such a low price.
Some of its key specs and features are:
Speed and accuracy – It is fast and accurate, making it suitable for those who spend hours typing.
Quiet Brown Switches – These low noise switches have a soft tactile bump making it perfect for work (or those who hate loud keyboards).
ABS double shot keycaps – Able to hold more than 16.5 million keystrokes.
1850 mAH battery – A fully charged keyboard works for 12 hours with, and 150 hours without backlight – perfect for on the go situations.
Signal Stability – The VM02WS signal covers over 26-feet.
Double USB method with USB type C – The smart charging system allows you to connect and charge simultaneously, something their previous versions lacked
White LED backlight.
Full N-Key rollover functionalities, 100% anti-ghosting, and compatible with Window, Linux, and IBM PC.
With all these features, Velocifire designed VM02WS, believing that gamers or typists around the world prefer a wireless keyboard with high battery life, low-noise, and high durability.
Additionally, this keyboard comes with a cable, wireless dongle, and a key pullover.
Besides all, the customization options need no installation of any additional software.
An In-depth Look at the VM02WS Design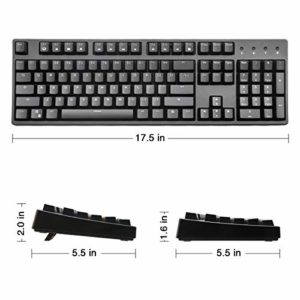 In terms of design, the VM02WS has a typical layout. It looks no different to a typical keyboard. However, its slightly inclined keys are noticeable. The frame dimensions are 17.5 x 5.5 x 1.6 inches.
Its design feels solid with minimal flex and weighs about 1200 gm, which is due to its steel framing.
With so many features included, I would love it to have separate volume keys. But that's just me being picky. Of course, with its relatively great price point, I can't expect everything.
The keys feel very similar to Cherry MX Browns with a bit less of a tactile bump. It also has a built-in 1850 mAH Lithium battery, which is rated for a battery life of 12 hours back-light on and 150 hours with the back-light off. Its cable length is 150 cm.
The LED white backlight makes the gaming beast easy on the eyes and non-distracting even in low light conditions. However, gaming professionals who love a colorful setup may not prefer it. It also has no dedicated media control keys.
It has four small rubber feet to reduce movement even during the most frenetic action.
Its connector type is USB 2.0 with a 1000 Hz polling rate. Wireless connectivity is handled by a 2.4GHz USB dongle that simply plugs into a computer. Its N-Key rollover feature lets gamers press any number of keys. All of the 104 keys are precise, reliable, and accurate. This keyboard is compatible with Windows, Linux, and even Mac OS with some functional keys in the exception.
Beyond the steel frame, the keyboard is also made of plastic. Keycaps of VM02WS have a rather minimalistic design with neutral fonts. The keys are also as tall as a gamer would expect from an average mechanical keyboard.
Overall, it is one of the best ones out there in the gaming industry.
Performance – Worth The Price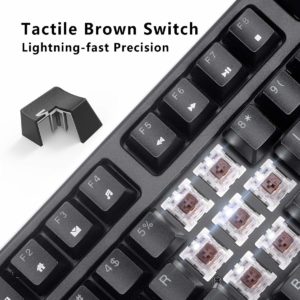 The VM02WS does not disappoint the Velocifire users in terms of performance. Its brown switches work like a charm to provide tactile and responsive gaming experience.
With VM02WS, every moment you type is as pleasurable as you can expect from a non-Cherry MX keyboard. Its Jixian switches provide you with a decent tactile feel but not as ideal as a Cherry MX. These switches feel exactly like Outemu's.
The keyboard input is lighting-fast precise and consistent. Unlike the old VM01WS, you can use the keyboard while charging with no effect on performance.
It is very clear from the moment you lay your hands on it that no compromises to performance or build quality are made in the product (of course, except for not having Cherry MX keys).
Conclusion – An Excellent Choice as A Casual Keyboard
I would love to pay less for a wireless keyboard that keeps things simple and plays it straight.
In fact, I prefer a compact, feature-light keyboard like the Velocifire VM02WS wireless. It is easy to take to tournaments and does not make you stick to your desktop.
Hence, Velocifire VM02WS is simply a low-cost alternative to other more expensive feature-rich mechanical keyboards. If you're interested in other wireless mechanical keyboards, check out our buying guide here.