Pros & Cons of Redragon K587 Keyboard
At a glance, the Redragon K587 Keyboard comes with the following features,
Note that this article is for the Magic Wand Pro, which is the successor to Redragon's Magic Wand (non-pro) mechanical keyboard!
| | |
| --- | --- |
| The Good | The Bad |
| | |
| | |
| | |
| | |
Isn't the product you've been surfing for? Check out our best mechanical keyboards list here!!
For all the wars you are going to fight sitting on your gaming chair, having the perfect piece of hardware can really be a game-changer.
Keyboards being one of the directly influencing factors in gaming are the first and foremost to be in your focus.
Having the perfect keyboard on your table is just like giving your character a legendary gun in-game.
Speaking of this, Redragon recently sent me their latest and greatest gaming keyboard, the "Redragon K587 Magic-Wand 87 Keys". (Wow, that's a really big name!)
I tested and used the keyboard for a month and here's what I found.
Specifications and Features of Redragon K587
Judging from its price tag, I was expecting the keyboard to have mid-range features but to my surprise, Redragon loaded it with almost every feature that defines a gaming keyboard.
Everything from good switches to RGB lighting effects is included in the keyboard.
Connectivity – 8/10
The keyboard primarily and solely uses a braided USB-C (3.0) cable for connectivity and has a dedicated port for this purpose.
USB-C is an excellent choice and will keep up with the fastest of users hence the response times are great.
The detachable cable ensures that the connecting ends do not ever bend/break and the keyboard remains easy to pack as well. Another great thing about USB-C is that it is becoming a standard around the world, and therefore you can likely use this same cable for charging other devices.
Switches and Keycaps – 8/10
Redragon features blue themed OUTEMU switches that are considered less desirable than Cherry MX, but overall they feel great to me.
Surprisingly, the switches perform fairly well and give a very satisfying clicking sound. However, the switches started minor ghosting (missing typed letters/keys) after some time following my routine usage of the keyboard.
Normally, this should not concern you if you tend to press keys all the way down and are not a fly-typist like myself.
The keyboard uses ABS Doubleshot Backlit Keycaps that are very similar Doubleshot PBT, both of which are high-quality keycaps that improve durability.
Doublehost keycaps are designed for longer durability and considered a golden standard when it comes to mechanical keyboards
Software – 6/10
There is no digital CD provided with the keyboard however you can search and download the set-up software for free from various online sources.
The software, however, is a bit tricky to set-up for the first time and there are very few online tutorials that can help you set it up. This can be a pain point for people who are not tech-savvy, hence the 6/10. A combination of intuitive UI and online tutorials would be very helpful here.
I'll save you the trouble and you can download Redragon K587's software directly from here.
Keys and Buttons – 8/10
This particular gaming keyboard is designed to have the most minimalistic design possible for a gaming keyboard.
Especially for people who like to play FPS and Shooter games, this is of even more concern as a long keyboard usually takes more space on a computer table. This can lead to aiming problems as the mouse doesn't have much space to move about. (unless you have a really wide desk).
Therefore, Redragon K587 features an 87-Key configuration that saves all the space one can possibly save.
The Numpad is eliminated, allowing almost 25-30% more area on your desk as compared to longer keyboards that have a Numpad section.
There is a total of nine G-keys on the keyboard including a slider button on the top right corner along with music play/pause and record buttons on the top left of the keyboard. All of the G-keys can be easily customized and assigned MACROS as you please using the software.
Lights and Customizations – 8/10
The Redragon K587 does support RGB lighting effects that are immensely customizable using the software they provide. There are more than a million custom combinations of the RGB lights that can be set on the keyboard.
The RGB lighting itself is average, nothing, in particular, popped out to me and both the RGB effects and brightness had no notable issues.
Introduction & Unboxing the Redragon K587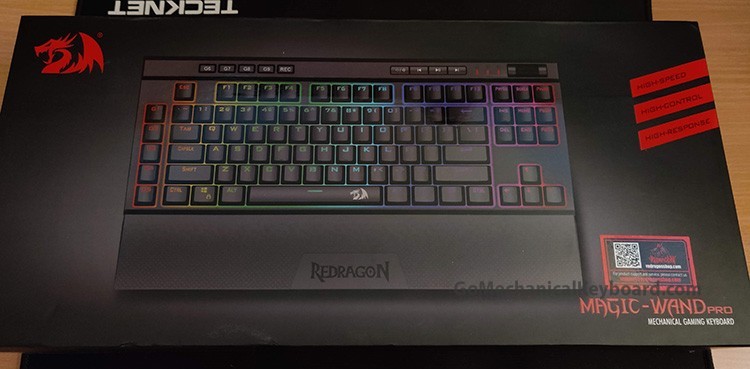 First Impressions – 8/10
I initially thought that it looked much better than most of the other higher priced keyboards because the branding, printing, and overall design of the box were well-done.
Surprisingly, the design was kept minimal and only the essential details were written on the box like that of its key specs and the product's name.
On the back, some more details and advanced features of the keyboard were listed.
Additionally, the keyboard was encased in foam and was not banging inside which meant it has been packed properly and gave me (much needed) relief.
Therefore, I'd give a solid 8/10 for first impressions!
Unboxing – 7.5/10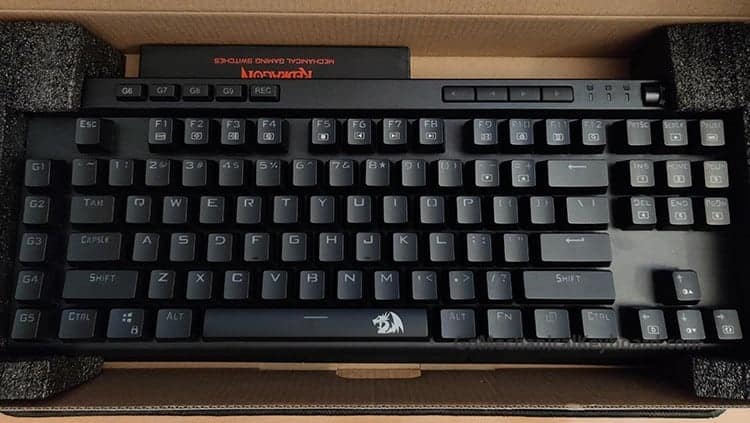 The keyboard was placed on foam from all its corners and had another box with some keys, wire, and the key-removal tool placed beneath it.
Here's what you'd find inside the box,
Redragon K587 Keyboard × 1
Connector Cable × 1
Switches × 8
Key-removal Tool × 1
Overall, the unboxing experience was about average but what stood out to me was the additional switches that were provided.
As you can see in the image below, the keyboard came with 2 blue, 2 red, 2 brown, and 2 black switches.
I thought the switches were a very awesome add-on as it allows people to experience and test different switches without having to buy additional keyboards
Performance Test of Redragon K587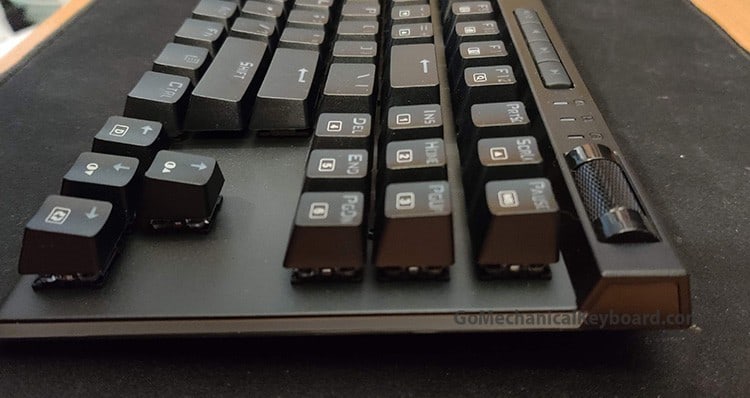 Whilst I was gaming on this keyboard, I didn't notice any sort of lag or ghosting even though I button smashed it on purpose which means it can hold up its ground pretty well in intense gaming conditions that might require you to press the keys a tiny bit more.
Games like Tekken, Rainbow Six Siege, etcetera didn't see any sort of delay or low response time from the keyboard.
For the typing point of view, the overall design is as ergonomic as it could be and doesn't put any burden on the wrists. Even at very fast typing speeds, the keyboard measured and recognized all the presses which proved the non-existence of ghosting and very good response times.
Additionally, you should press the keys all the way in as the keyboard will not register a half button press.
If you are a fly-typist, you will have to get used to the habit in order to effectively use the keyboard.
The clicks and overall sound of the keyboard are not annoying at all. However, they can become substantially loud in quiet rooms.
The RGB effects light-up and decorate the keyboard very well. You can also match the effects with a mouse from Redrgaon as well using some software tweaks.
All in all, the keyboard performed very well and passed the performance tests.
Verdict – Overall, An Excellent Choice!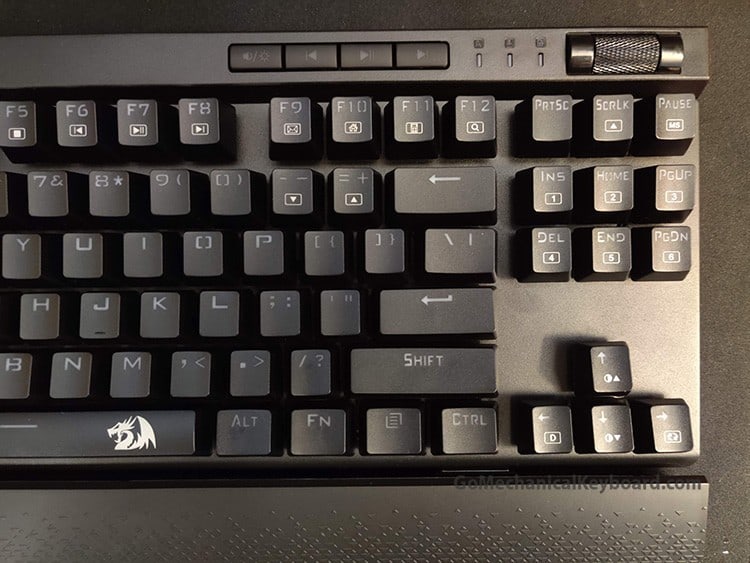 Ultimately, based on its performance, I would recommend this keyboard to people who are looking for a mix of price and value. Both its simple design and robust features make this keyboard worth consideration.
Although the software could use a bit of work, the keyboard functions as advertised with no hitches as far as I can tell.
From the font on the keycaps to its TKL-style design, this keyboard exudes a sleek minimalistic design with excellent features given its price.
If you are looking for some cheaper options, check my list of best gaming keyboards under $50 here.
The Redragon K587 is available on Amazon for a super affordable price, where you can check out all of the different available options and pricing.
Let me know down in the comments how well this keyboard served you.
Happy Gaming!