This article covers gaming keyboards. If you want to see more keyboards for everyday use, look here. We also cover keyboards with Cherry MX switches in a separate post.
In this guide, I'll go over what I think are the best cheap affordable mechanical keyboards for gaming. Most of the mechanical keyboards on this list are under or near $100, perfect for those on a budget. In the section below, I'll cover why mechanical keyboards are essential for gaming and then move onto my list for the best budget mechanical keyboards on the market right now.
Best Cheap Mechanical Gaming Keyboards
Cheap doesn't need to mean low quality, but it does mean you'll make sacrifices. Whether that's switch feel, keycap quality, or missing features, it's the cost of paying next to nothing for a mechanical gaming keyboard. Get these keyboards if you're short on cash. They're also good if you want to get your feet wet before shelling out for something costly. If you pick one up, it will beat the snot out of any rubber domes you own.
1. Velocifire VM01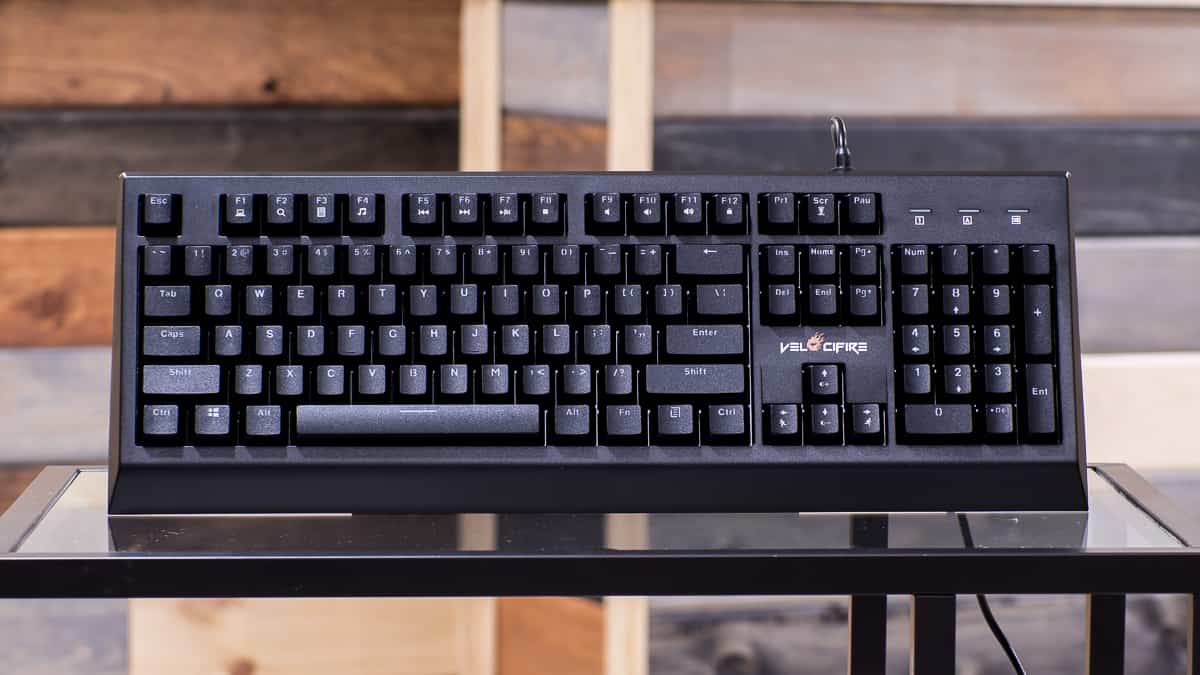 | | |
| --- | --- |
| Pros | Cons |
| Nice doubleshot keycaps and font | Uses Zorro clone switches, which are iffy |
| Passable build quality | No flip out feet |
| Backlighting for next to nothing | Limited backlight levels and settings |
The VM01 is an impressively cheap and well-equipped keyboard. It uses Zorro branded Cherry clones, which isn't exactly the best on the market. The keyboard doesn't have a flip-out feet either, which may be an issue for users who like more elevation when they type. Even so, the VM01 shells out decent doubleshot keycaps and backlighting, which more than make up for those flaws at this price point. The font choice is much better than other brands' keycaps. I legitimately don't know how they're making money with these.
Check out our review for a deep look at this entry level hardware.
2. Velocifire TKL01

| | |
| --- | --- |
| Pros | Cons |
| Nice doubleshot keycaps and font | Uses Zorro clone switches, which may be scratchy |
| Passable build quality + feet | Switch type and weight not ideal for gaming |
| Backlighting for next to nothing | Limited backlight levels and settings |
I'm going to go out on a limb and say that this is the new top dog of the cheap tenkeyless market segment. Sure, it only has a few Amazon reviews. But based on the success of its sibling, the VM01, the TKL01 is going to be a big hit. Velocifire has managed to lower the price[/easyazon_link] on this keyboard and make sequential improvements to the model line. What do I mean? The TKL01 has flip-out feet. It's always good when companies listen to feedback, and this is a case where it was implemented in a bargain-basement model. Good job; I approve. Spec-wise, everything else is similar to the VM01.
Read our TKL01 review for more information.
Best budget mechanical gaming keyboards
Budget keyboards are a step up from cheap models. They don't compromise when it comes to quality, but they do give up some features when compared with flagship models. If you're looking for solid options that won't kill your wallet, take a look at these keyboards.
1. Logitech G610
| | |
| --- | --- |
| Pros | Cons |
| Uses genuine Cherry switches | Plastic case materials |
| Volume roller and media buttons | Inconsistent Num lock on boot |
| Additional software customization | Function row keycaps may cause sticking |
The Logitech G610 is remarkably feature-rich for its price point. Backlighting, a volume roller, and media keys complete the package. Its monolithic, sharp, black design is also a plus. Legitimate MX Red switches further round out the keyboard — no clones here. The backlighting and function row can be configured above and beyond the norm for a keyboard at this price point. Even the keycap font is acceptable. Its only real fault is that stray units have keycaps that cause key hangups, particularly on the function row. Not only would this keyboard work for gaming — it would fit in just fine at the office. If you do plan on using it at work, consider the MX Brown variant of this model.
See Tech Showdown's video review for a detailed look at the keyboard.
2. Qisan MagicForce 68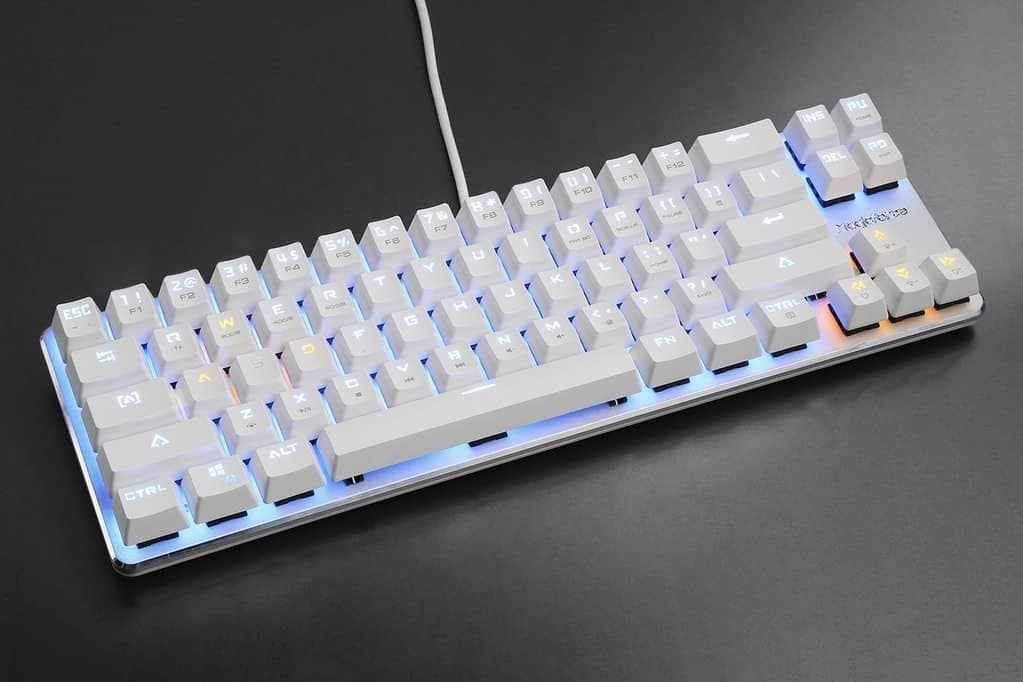 | | |
| --- | --- |
| Pros | Cons |
| Uses Gateron clones, which beat Cherry switches | Barebones function layer |
| Very sturdy — uses metal upper plate/case | LEDs can create glare on monitor |
| Removable cable & rubberized feet | Weak-ish cable attachment point |
The Magicforce 68 is a bulletproof choice in the budget market segment. It's available in several configurations with Gateron switches, a superior Cherry MX clone. The case comes in black and white versions, which makes it much easier to color coordinate with your computer. Its thick metal upper case is well machined, its floating key design is attractive, and its plastic base is engineered to survive regular travel. The Magicforce 68 rounds its feature set out with backlighting, a removable cable, and a standard bottom row. It can take replacement keycaps! It's only real downsides, which may not affect everyone, are a possibly-weak cable connector and the potential for LED glare off monitors at certain angles. Both of those things are totally manageable, but they're still worth mentioning.
Check out GoMK's in-depth review of the Magicforce 68. Inside and out, it's an impressive keyboard.
3. Logitech G710+ MX Brown
| | |
| --- | --- |
| Pros | Cons |
| Tried and true design at a low price | It's pretty big — make sure your desk can handle it |
| Plenty of additional macro/media keys | MX Browns aren't really optimized for gaming |
| The font isn't blocky or over the top | Not particularly innovative or cutting edge |
The G710+ is a solid keyboard that, at one point, was a flagship in its own right. Now that Logitech moved on to new switch lines, its price has [easyazon_link identifier="B009C98NPY" locale="US" tag="xxaxle-20″]dropped significantly[/easyazon_link]. I imagine most places are trying to clear out their old stock. This model has macro keys, a volume roller, and media keys. There's even separate backlighting zones for the WASD keys and the rest of the keyboard. In short, all it's missing in comparison to its modern relatives is a metal upper case. That's impressive for a 4 year old offering!
Tweaktwon has great review of the G710+ up.
4. Corsair STRAFE MX Red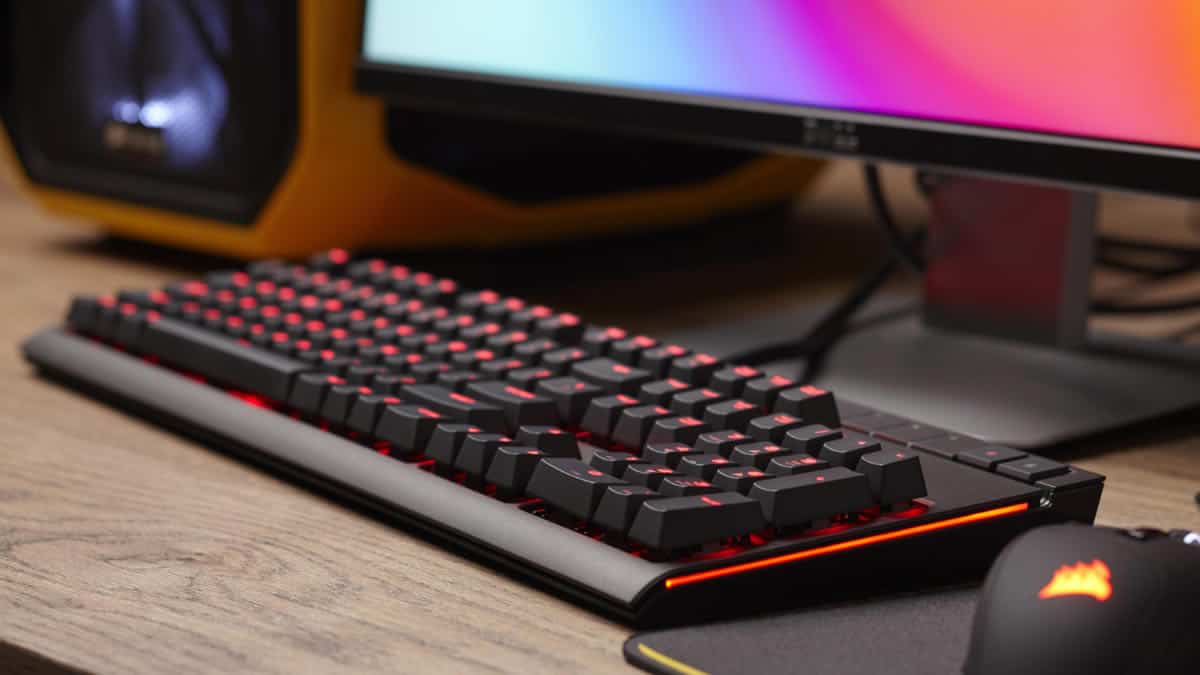 | | |
| --- | --- |
| Pros | Cons |
| Genuine Cherry switches | Isn't available with Cherry Speed switches |
| Corsair's excellent build quality | Plastic upper case, even if built well, is still plastic |
| Multimedia layer & USB port | Few features compared to high-end models |
The STRAFE with MX Red switches is priced decently, built well, and equipped with legitimate Cherry switches. It isn't fancy, it doesn't have a metal upper case, and you won't get a bunch of media keys. Even so, it does exactly what it is supposed to as a mid-range product. Yes, you could purchase a keyboard with a metal upper case from a less established company. You'd be gambling with product quality and customer service issues. I typically don't recommend brands, but Corsair comes through with such consistency that I can't ignore it in the budget segment of the market. Once again, their keycaps are a snag if you want to put aftermarket sets on. In this case, it's worth overlooking.
Take a look at our STRAFE RGB review to see our thoughts on a similar model.
Best White Mechanical Gaming Keyboards
White keyboards are less common than black ones due to industry styling practices, making it more difficult to find keyboards with a high price to performance ratio. With that in mind, this section will include three options instead of two. We'll look at the best white mechanical gaming keyboards first, then we'll go over a budget option that I think stands out. If all else fails, return to the white Qisan Magicforce 68.
1. Tesoro Gram Spectrum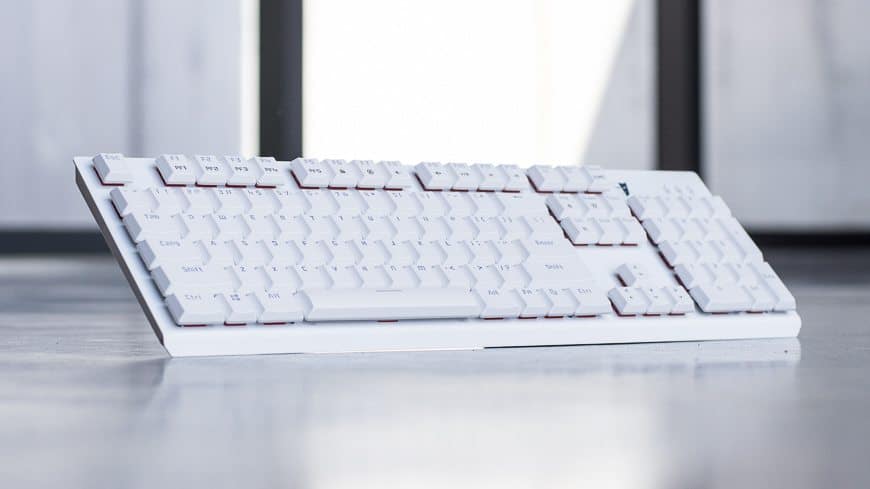 | | |
| --- | --- |
| Pros | Cons |
| Steel upper case | No Mac support for LEDs |
| Software configurable RGB LEDs | Software isn't great |
| Innovative low profile technology | Occasional reliability issues |
The Gram Spectrum is a slim offering that justifies its premium pricing. Low profile switches with a higher activation point than Cherry offerings, a metal upper plate, RGB backlighting, and a braided cable meet a high standard of quality. There's even some sound dampening (or static reduction?) material inside the case. All of those touches place this keyboard to compete with Corsair's top offerings, and I think it does so with gusto. It's also available in black.
Read our review to learn more about this awesome keyboard.
2. Mistel Barocco RGB
| | |
| --- | --- |
| Pros | Cons |
| Split, ergonomic design | RGB lighting configuration may be limited |
| Cherry switches | May have poorly written documentation |
| Supports alternate layouts | Not well known or widely reviewed |
The Mistel Barocco RGB is, as far as I know, a completely unique product in terms of features. While split keyboards are typically less than ideal for gaming, this model can be combined into one piece — that makes it quite functional. It also has RGB backlighting, a rarity in the world of ergonomic keyboards. It's expensive for a small keyboard, but that's because Mistel has a monopoly on the pre-built RGB backlit ergonomic split keyboard market. It's a niche that draws programmers and other high-income individuals. If you can afford it, the Barocco RGB has the solid build quality and better keycaps than the base, non-backlit Barocco model. There's a black version too.
Read our review of the first generation Barocco to see what the line's build quality is like.
| | |
| --- | --- |
| Pros | Cons |
| Aluminum upper plate | Outemu switches aren't awesome |
| Dedicated media/macro keys | The media/macro keys aren't mechanical |
| Detachable wrist rest | Lighting quirks limit customization |
The Redragon K550 shines as a budget alternative with a few premium features. A metal upper case, aluminum volume knob, dedicated media keys, and some non-mechanical macro keys paint a compelling picture. It even has a magnetically attached wrist rest. The downside? Switches. It uses Outemu linear Cherry clones, which are said to be scratchier than Cherry and Gateron switches. If you can deal with the "meh" Outemus, this keyboard stays well within a budget price range. Yes, there's a black variant.
Read OCDrift's review of the black version for more information.
Best Wireless Mechanical Gaming Keyboards
If you're a casual gamer, going wireless can be quite nice. Bluetooth is the best choice for wireless keyboards. Its range, cross-system compatibility, and wide support make it a sweet deal. Competitive gamers, however, should avoid wireless keyboards. Though the technology continues to improve, any sort of wireless transmission system introduces lag. At ultra-competitive levels of play, running out of batteries or losing a few milliseconds of time can have very real consequences. If your computer doesn't natively support Bluetooth, just.
1. Anne Pro 2
| | |
| --- | --- |
| Pros | Cons |
| Amazing list of features | Incompatible with third party cases |
| Widely adopted in MK communities | Loose stabilizers may hurt typing experience |
| Innovative app controlled RGB lighting | Mandatory mobile device use may annoy some |
The Anne Pro offers a boatload of features in a small, reasonably priced chassis. It's ahead of the full-size offering because smaller form factors are superior for wireless keyboards — they're much better for hauling about than their large relatives. Gateron switches, doubleshot keycaps, and advanced Bluetooth features make this keyboard stand out from the admittedly limited competition. It even has RGB backlighting, though you need to configure it through a mobile app. It's only available from Banggood, an import site, so getting support could be difficult.
Take a look at TaeKeyboards' video review for detailed information.
| | |
| --- | --- |
| Pros | Cons |
| Respected brand | Expensive relative to its features |
| Available with several Cherry switches | Random connectivity issues |
| Full size wireless keyboards are rare | Lack of support, as it's an import |
While it may not have RGB backlighting, the Filco Majestouch Convertible 2 is the only full size wireless keyboard that I am comfortable recommending. Sure, it isn't perfect. Its brand name quality and reasonable reviews place it above the other full-size wireless mechanical keyboard that I know of. There are a few full-sized wireless mechanical keyboards readily available in the United States. If you know of more, leave them in the comments. In any case, it runs on the Bluetooth protocol and is available in a number of different Cherry switches.
One good article that covers it from a Mac user's perspective, but most others weren't terribly useful.
Best RGB mechanical gaming keyboards
When searching for RGB keyboards, you should consider three things: smooth color transitions, quality materials, and mature software. Corsair provides all three, which is why two of their keyboards are featured. That isn't to say that Corsair software is bug-free, but it is pretty well established. Razer's updated releases with metal upper case aren't excellent recommendations at the moment. They're struggling with rust and some other quirks. There's a reason why Corsair uses aluminum for exterior metal parts. Good RGB TKLs are somewhat rare, and typically I'd recommend the Pok3r (also written Poker 3) RGB, but it's rarely in stock with good gaming switches.
1. Corsair K70 RGB Rapidfire
| | |
| --- | --- |
| Pros | Cons |
| Metal upper case | Aftermarket keycap compatibility is low |
| Gaming-optimized Cherry switches | Occasional software stability issues |
| Dedicated media buttons | Media buttons aren't mechanical |
The K70 RGB is the logical next step in the K70 series. It shares pretty much all of its features with the regular K70 Rapidfire, but RGB lighting and software support are overlaid on its frame. A metal upper case, Cherry Speed switches, and a USB passthrough port make this an excellent mechanical gaming keyboard. This slightly older variant is better than the new K70 Lux because it has gaming optimized switches. Lux models are okay too, though.
Read our site's review if you'd like to know more.
2. Corsair K65 RGB MX Red
| | |
| --- | --- |
| Pros | Cons |
| Metal upper case | Aftermarket keycap compatibility is low |
| Cherry switches | Occasional software stability issues |
| Dedicated media buttons | Media buttons aren't mechanical |
The K65 RGB is a solid tenkeyless keyboard. Standout features include its backlighting, the accompanying software, and its USB passthrough port. The additional USB port is a rarity, if not a one-off, in the tenkeyless market. The wrist rest is also a nice touch. I won't mince words –it isn't cheap. It's possible to upgrade to MX Speed switches, which are great for gaming if your wallet can be stretched a bit more.
Benchmark Reviews does an excellent job of breaking down the K65 RGB Rapidfire's features in their review — the switches are different, but the rest is the same.
3. Royal Kludge RK Pro104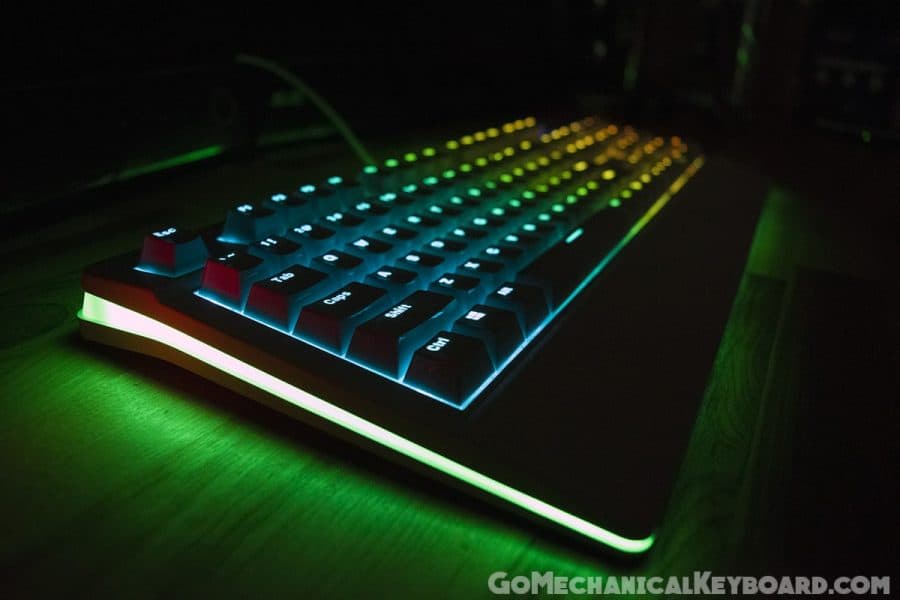 | | |
| --- | --- |
| Pros | Cons |
| Sweet side lighting | Built-in wrist rest might be annoying |
| Reasonable font | Kailh clone switches are "meh" |
| Plenty of lighting options | Switch selection limited to Kailh Browns |
If you're looking for something a bit cheaper, the RK 104PRO is the way to go. Its side lighting is seriously impressive given its price point, and it does have reasonable configuration options for a software-less RGB gaming keyboard. Costs were cut by using Kailh clone switches, which perform worse than Cherry switches and Gateron clones. The built-in wrist rest gives the keyboard a pretty large footprint, so watch out for that as well.
Take a look at GoMK's review of the Havit HV-KB389L, which is the same keyboard with a different brand plastered on it.
4. Razer Blackwidow Chroma V2 Yellow Switch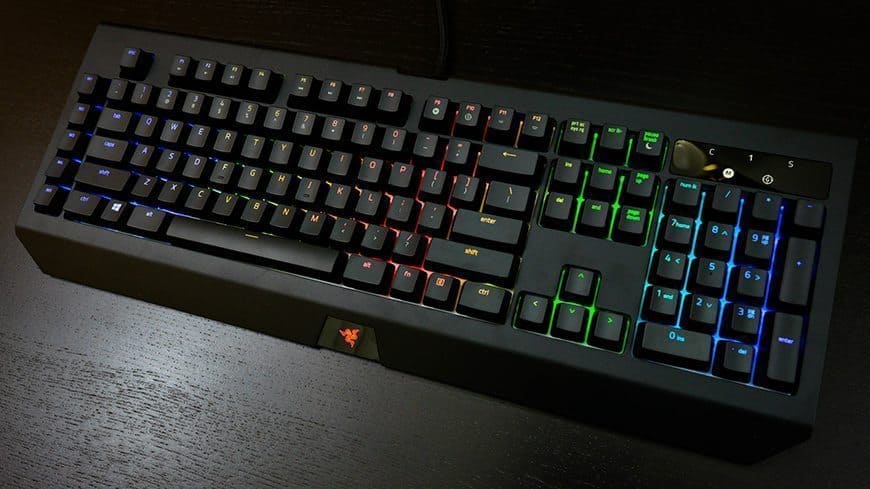 | | |
| --- | --- |
| Pros | Cons |
| Well known brand | Not the best in terms of value |
| Razer's first in-house linear switch | All-plastic exterior |
| A decent number of passthrough ports | Audio passthrough may alter sound |
Let me make this clear right away: the Chroma V2 is not competitive in terms of price, materials, or features. In fact, it's the only keyboard in the Chroma lineup that features a linear switch. It will, however, provide you with the Razer brand name that so many gamers are interested in. It also makes a couple of great additions, including normal-looking keycap font (no gamer weirdness, thank goodness) and a substantial wrist rest. The software is supposed to be more intuitive and accessible than other brands' offerings. Finally, Razer smoothed out their color transitions during rainbow effects — older versions were quite choppy.
Brainbean has a video review up that discusses its features and changes vs. the V1.
5. Logitech RGB G810
| | |
| --- | --- |
| Pros | Cons |
| Innovative switches | Not everyone enjoys switch feel |
| RGB lighting has great coverage | All-plastic exterior |
| Dedicated media controls | Audio passthrough may alter sound |
I dislike Logitech's new Romer-G switches, though your opinion may differ. It doesn't help that they're incompatible with Cherry MX keycaps. If you insist on having them, the G810 is your best bet. It's a full size RGB keyboard with a volume roller, some media buttons, and a fairly reserved design. The different function row legends hurt its aesthetic, but that's a minor issue considering the case's conservative styling. Logitech's software allows deep configuration of the keyboard, so it checks all of the important boxes for a typical gamer. If you want Cherry switches instead, take a look at the G610.
You can find a video review on HardwareCanucks' channel.
Why Game on a Mechanical Keyboard?
Performance, comfort, appearance, and key feel all contribute to a solid gaming keyboard. Gamers should pay close attention to mechanical keyboards because they offer all four of those points in one sweet package. Rubber domes, on the other hand, tend to make poor showings in those regards. Taking a look at the technology will help explain why. If you're not familiar with mechanical keyboards at all, read our starting page as a primer. If you're looking for keyboards that are good at multiple things, please view our other page on the best mechanical keyboards for every budget and use.
Dome switches vs. mechanical switches
Rubber dome switches are aptly named. Domes of flexible material sit beneath a slider mechanism. They're typically placed on top of a three sheet membrane with conductive traces on the top and bottom layers. Bumps on the inside of the domes press the top and bottom layers through holes in the middle sheet, registering key presses. The technology is functional but limited in a number of ways. The most painful things for most gamers and typists are the squishy key feel and forced bottom out. In other words, you need to press a key all the way to the bottom to register a key press. While that isn't so bad on chiclet or short travel keyboards, it's a big problem with traditional dome models.
| | |
| --- | --- |
| Rubber dome pros | Rubber dome cons |
| They're quiet by nature | They feel squishy and cheap |
| They're dirt cheap to manufacture | Keys must be bottomed out to register a press |
| They're cheap to buy or free with new PCs | Keyboards with domes are typically low quality |
Mechanical switches are quite different. They use metal springs and leaves, which allow for greater customization in terms of switch feel and sound. Clicky, tactile, and linear switches are available in several variants. Those variants are broken up by switch weight, or how much force it takes to press a key down. Regardless of which one you try, gaming on a mechanical keyboard is a must-have experience. The switches feel crisp and responsive, not mushy, typically activating long before bottom out occurs. They're also much more durable than most rubber dome keyboards, and that quality tends to be reflected in the structural elements of mechanical keyboards as well.
| | |
| --- | --- |
| Mechanical pros | Mechanical cons |
| They're extremely customizable | They can be expensive |
| They feel very crisp or linear, not mushy | Not all switches are optimized for gaming |
| They're typically high quality, long term survivors | Once you have some, you'll probably want more |
On the flip side, certain mechanical switches aren't optimized for gaming. Some switch variants activate pretty far down into a keypress, creating a delay. It's still better than dome bottom out, but it's worth noting. New mechanical gaming switches have been decreasing the activation distance, so that isn't a huge deal. Cost is the final thing to take into consideration. Even the cheapest mechanical keyboards cost significantly more than typical rubber dome models. And, while this doesn't happen to everyone, you'll probably end up with multiple mechanical keyboards. I started out with one. Now I have 20ish.
Choosing a mechanical keyboard for gaming
Now that we've covered why mechanical keyboards are better for gaming, let's take a look at different features that make certain models great (or not so much). Certain features, like N-key rollover, are so ubiquitous in gaming keyboards that they aren't worth mentioning.
Switches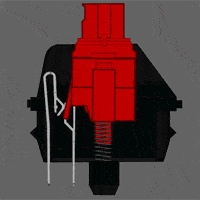 There are a few guidelines regarding gaming switches. The first is that light to moderate weight switches are good for gamers, as keys are often held down for long periods of time. Linear switches, or switches without a bump/click, are considered the best choice for gamers. They don't interfere with rapid keypresses. Finally, a high activation point results in less delay between a key press and a game action. If you prefer tactile or clicky switches, don't despair. Both work fine for gaming, they just aren't ideal for it. In the end, the skill of the gamer will matter more than the equipment that gamer is using (unless the peripherals are really bad).
Form factors
Keyboards come in all shapes and sizes. This article will present you with standard and tenkeyless options. Standard keyboards have a ten-key or numpad on the right-hand side. Tenkeyless keyboards, which are quite small, ditch the numpad and typically chop off other keys off as well. Gaming traditionally doesn't use the full range of keys on a standard keyboard, and there's no reason why you need to have them if you're only using a keyboard for gaming. Tenkeyless keyboards are very portable, so on the go gamers should take heed.
LEDs

LEDs are a practical addition to gaming keyboards. Sometimes finding keys in a dark room is tough. A recent trend in the gaming world is RGB lighting. It can be cool, but it is nothing more than a fashion statement that sucks a ton of power from USB ports. The only exception to that rule is the unreleased Das Keyboard 5Q, which uses backlight colors as Internet-connected notifications.
Media controls
It's nice to have buttons or knobs that handle the volume and other media controls. Many games dislike alt-tabbing and disable function layer based volume buttons. If you don't want to completely exit your game to change the system volume, which we've all had to do, dedicated media controls are your best bet. Unless you have an external audio amplifier. But that's a totally different can of worms.
Macro keys
You probably don't need them. They're banned or discouraged in most competitive games. If you're playing casual local games they're usable, but otherwise, they're a feature that exists due to hype. Industry professionals who spend time in Adobe products and other complex software benefit from macros the most, in my opinion. Don't let macro keys stand between you and a keyboard that's great in other ways.
Audio passthrough ports
Audio passthrough ports may be convenient, but the additional cable length can mess with your sound quality. It adds resistance, changing the electrical performance of your headset. In addition, improper shielding may pipe noise into your ears. We're talking environmental EMI, cell phone interference, and USB cable noise. None of those things are pleasant to hear in the middle of an immersive gaming session.
Wrapping up
We've covered the best cheap gaming keyboards on the market, but I'm only familiar with so many brands. In this guide, I've tried to cover a good variety of budget gaming mechanical keyboards that are affordable and wallet-friendly. All of these mechanical keyboards are affordable and a worthy buy in my opinion. If you think this article missed any important models, please leave a comment. You can also visit us on Twitter or Facebook to share your thoughts.
We'd also love to feature some of your images. If you pick up some of these keyboards and send us a photo, we'll put it up in a slideshow. With your permission, we might even feature it in some articles.
Happy keyboard hunting!
Image Credits: TaeKeyboards | Massdrop | switch10 | Scorptec | The Keyboard Company | Bit-Tech (featured) | Custom PC Review | Switch Animations by Lethal Squirrel