Lightweight and occupies very little space
Ergonomic design that can provide comfortable key typing
Compatible across multiple devices and OS
The Good
The Bad

Sleek keyboard design with inbuilt touchpad
Intelligent sleep mode
Touchpad and number pad can be used interchangeably

The OTG adapter needs to be purchased separately to pair with phones or tablets
JP136 design requires gentle handling
Interested in the JP136 but unsure about its quality or features?
In this review, I will be unboxing and testing the JP136 Ultra-thin wireless keyboard for 2 weeks and sharing my opinions on both the pros and cons for those interested in a very portable and light keyboard.
Note that this is not a mechanical keyboard! However, we decided to give it a chance given its unique build, interesting features, and practicality.
This is a product to watch out for in case you are looking for an extra portable keyboard. JP136 being moderately priced can provide most of the basic features and is comfortable to use. With its unique key design, touchpad, it has a comprehensive 78 keys.
The JP136 Ultra-thin Wireless Keyboard – Introduction and Unboxing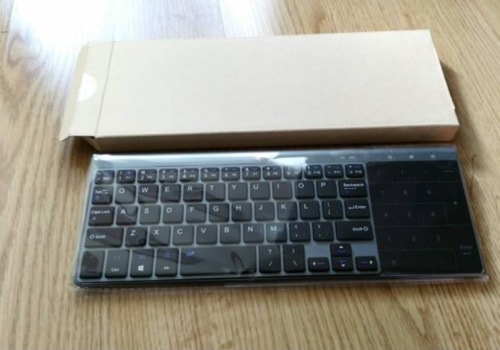 The JP136 came in a simple cardboard box. It had no design or logo on the box which was a little disappointing as far as unboxings go.
However, the keyboard inside was a warm welcome and surprisingly light and sleek with no nicks or scratches as far as I could tell.
JP136 came with:
Ultra-thin Wireless keyboard
USB receiver
English Manual
JP136 ultra-thin wireless keyboard is completely portable. On my first encounter, I found this to be extremely low weight and comfortable to use the keyboard.
On further testing, the keys were lackluster and sometimes made a scratchy sound but I am a picky person as I've been around mechanical keys all my life.
JP136 is moderately priced while writing this review. The keys are flexible and designed to perfectly fit your fingers.
At first glance, you can tell that this is the type of keyboard for those who want something light and portable for their desk or to carry around. For example, I found it very convenient to have when utilizing my computer or android at a distance while keeping my gaming keyboard at the desk.
Key Specifications and Features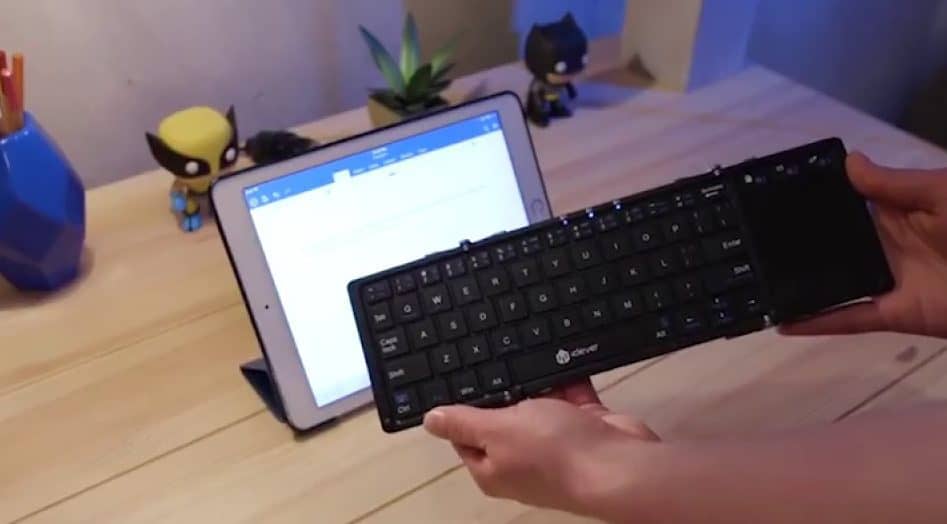 JP136 is one of the lightest ultra-thin keyboards available in the market. The product weighs 0.2 kg and when packaged its around 0.25 kg.
The keyboard uses ABS material which makes it even lighter but could hinder its long-term durability
JP136 has a wireless coverage of about 10 m which is certainly more than I ever would need. When testing, the 10-meter range was quite accurate but became laggy as I got further away from the computer.
My main use for this type of keyboard is for traveling and as an easy alternative to my main PC mechanical keyboard. Moreover, it makes an excellent keyboard alternative when using tablets or large smartphones.
Testing this with a tablet was better than expected as the numpad and trackpad combo was convenient. Personally, I typed and navigated my tablet far better than I otherwise would and this cheap keyboard add-on basically transformed it into a laptop.
The product dimension is 258 x 98 mm. It perfectly fits in on my table and anywhere else wherever I take it. JP136 is built to support Android, Windows, Linux, macOS and comes with a connection configuration of 2.4 GHz wireless.
Design and Performance review for JP136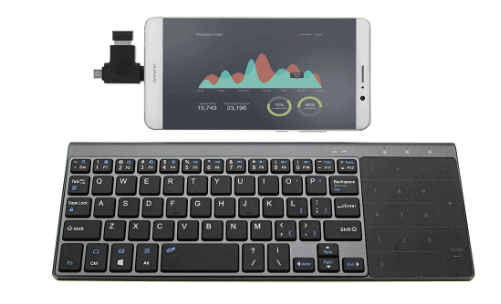 JP136 is surprisingly sleek and provides a nice finger-to-keyboard experience.
While JP136 is sleek and flexible, its equally sturdy for a certain amount of rough usage.
As I started it did take some time to get used to the keyboard, especially the combination of using the Function Key. However, within almost half an hour I got pretty much used to these shortcut keys.
Its simple to switch between the touchpad and the Number pad.
Using the touchpad, I was able to perform all the functions that I usually do over my laptop while the numpad help improves efficiency where my laptop would otherwise fail (as it doesn't have a numpad).
Build Quality of JP136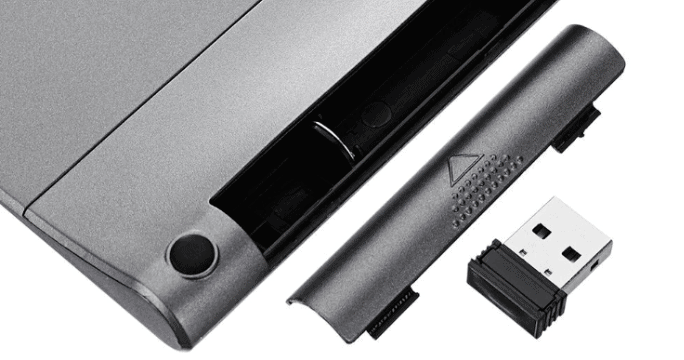 On the whole, JP136 has a decent build quality (given its price).
The surface of the keyboard does look like it will scratch easily and I do recommend getting something to cover it if you're going to be moving it in a bag all day long.
However, my 2-weeks of use revealed no major issues in typing or finger navigation. Like I said before, the typing experience is decent but not great but I was overall impressed for something at such a low price point.
This is probably because the makers have focused more on the touchpad and provided a more elementary keyboard experience.
JP136 has a good look and feel and comes in a gray shade. It's a simple design and nothing extravagant.
The keyboard design is a bit different from the conventional keyboard design and is great for quick navigation.
JP136 ultra-thin wireless keyboard packing contains a manual that provides a detailed setup guide for multiple platforms. This is easy and quick to set up and does not require a lot of technical expertise.
JP136 ultra-thin wireless keyboards – My Overall Thoughts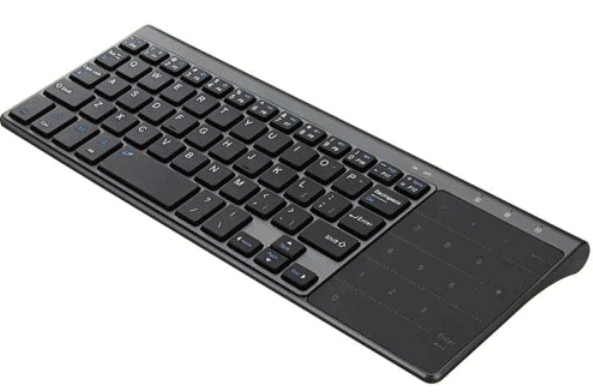 This keyboard with no second thoughts is a comfortable, portable and robust wireless keyboard. It's relatively easy to use and a low-risk purchase given its low price.
Overall, the JP136 will be an excellent companion if you like to use your PC away from your chair. But more importantly, this device will allow you to fully utilize your smartphone or laptop – I've used it on both my Android and Windows laptop and was very happy with the results.
Have any comments or thoughts about JP136 Ultra thin wireless keyboard? Let us know in the comments below.