Released in August 2019, HyperX gave us a sample of its PBT Pudding keycaps to test so that we can share our opinion after a few weeks of use.
What makes these keycaps exceptional is the fact that the keycaps are designed to bring out the RGB lighting in your keyboard. Unlike most keycaps, these have a semi-translucent bottom half that accentuates the light emitted from the keyboard, giving it a very unique "gamer-style" look.
Suffice to say that these keycaps were made more for keyboards with RGB lighting, and therefore we only tested them with such keyboards.
See below for our in-depth review and unboxing!
Introducing the HyperX PBT Pudding Keycaps!
Almost all mechanical keyboard lovers, including me, love the idea of customization.
Keyboards might be the least of it but ask any gamer, and you will know how crazy we all are to give our set-ups the highest-grade look. It is not only about the latest consoles we want but also the ability to customize our setups to make it as personal and unique as possible.
Well, not all of us can buy new keyboards every week for sure.
One of the few options we have left is to replace the keycaps. I like the idea that companies provide custom keycaps for their keyboards, which not only helps to customize your rig but also increases its feel from time to time.
HyperX is one of those companies, providing excellent options in terms of customizations with its new Double Shot PBT Keys.
These keys are among the best customization options available in the market. Not only do they feature gorgeous aesthetics, but they also go easy on your pocket. They are available for a low price on Amazon as of this writing.
As noted previously, their double-layered design may prove very useful if you are looking to enhance the overall lighting on the keyboard.
Unboxing Experience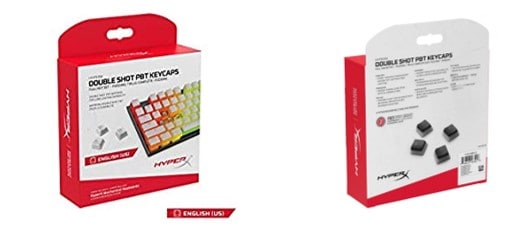 The box came in as a standard cardboard box containing the keys. There were 104 keys on the English-US version I ordered. The packaging is not extravagant and to be straight – it's a box with the product's pictures, some instructions, text, and HyperX branding on it.
There are three sections of keys inside the box. All the sections are vacuum-sealed in a plastic bag, which was a nice touch and ensured that the keys were in perfect shape when it arrived.
The middle section has the keycap puller provided by HyperX to ensure you have everything you need to start customizing your keyboards. Overall, the unboxing experience could have been a total mess.
The only thing that could have made the unboxing better is to have had each key on a keyboard foam template so that you could put it back in the box without creating a confusing mess. I've seen the foam setup before in other Keycaps and it is by far the best way to deliver Keycaps.
So, 6/10 for the unboxing experience.
Features and Specs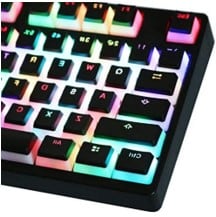 These keys have the following basic features,
Lustrous RGB lighting
Double Layered design that increases luminosity
Easily operable with a key removal tool
Made from Durable Double Shot Material
Compatibility with all HyperX keyboards
There are no problems with their functionality, and overall, they look great.
The fact that their design is more optimized to increase their luminosity and brilliance plays a crucial role in my judgment of them as an owner of RGB keyboards.
They add up to the feel and provide the keyboard with more RGB aesthetics than a typical keycap set would have (since most keycaps are not translucent). These keys offer extra brilliance crediting to their double-layered design and support any gaming keyboard HyperX is currently offering.
In short, you get what the company has promised.
Faults and All the Bad Things!
First and foremost, this keycap with its pudding style design does give off quite a bit of RGB backlighting.
IF RGB is not your thing, then the Pudding-style keycaps are not for you.
On another note, the quality of these caps is somewhat mediocre.
The main issue in terms of quality is the white plastic material at the bottom of the keycap. This area of the keycap is not Double Shot and is thinner plastic. Because of this, the key bases feel a bit low standard. I suppose the thinner plastic was intentional to add more translucence to the bottom half of the keys, but HyperX gave up sturdiness in the process.
Some of the white plastic parts at the bottom were somewhat "warped", especially on the longer length keys (long shift, space bar, backspace, enter, etc). Because of this, it seems like these are made of thin plastics, especially the base single shot translucent portion.
When it came to installing the keys, the process was easy and I didn't have any issues at all, even given the thinner plastic bottom. After 2 weeks of use, I found that the thinner plastic bottom didn't deter performance in any way and so I wasn't too concerned. However, it should be noted that I've only had the keys for a few weeks and so my opinion might change after long periods of use.
Are these keycaps for YOU?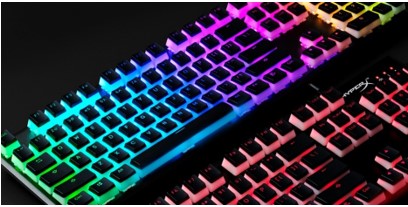 If you are thinking of buying these keycaps to bring more RGB brightness your setup, you are probably making an excellent choice.
Furthermore, if you ignore the fact that these keys have shallow plastic in the bottom, you can most probably enjoy the keyboard because, for me, it doesn't matter. I have no problems with the keys and how they function because they work just fine.
Last but not least, they are sleek and aesthetic, and you do not have to worry about the characters fading away.
Final Words about HyperX PBT Pudding Keycaps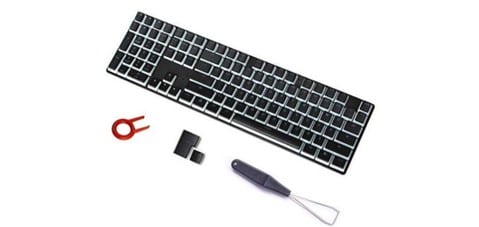 Summarizing my experience with these HyperX keys: I will confidently say that I am satisfied in terms of performance and durability but not very satisfied with the unboxing and thinner plastic on the bottom-half of the keys.
The typing experience is a smooth breeze, and with maximum backlights, it feels as if you are typing in lights. There was some trouble, however, in adjusting the bigger keys like the long shift, both windows, and the space keys.
Overall, if you are looking to find some branded customization at an economical price, I'd recommend these keys.
Let me know in the comments how well these keys held out for you. Happy Gaming!