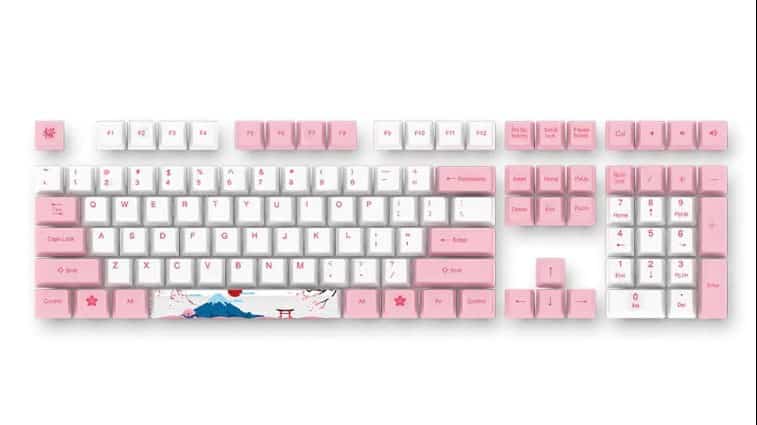 These AKKO keycaps have the following specifications:
114 Keycaps in total (108 Keys + 6 custom printed keys)
85% PBT material chassis
Includes 6 Japanese themed keys
| | |
| --- | --- |
| The Good | The Bad |
| Beautiful design with customized buttons | |
| Attractive color scheming | High price when compared to similar options |
| Wide range of mechanical keyboards supported | Theme of the keys are not as unisex friendly |
| Provides comfortable typing experience | |
Almost every one of us, including me, love the idea of customizing our stuff. As a keyboard geek such as myself, this means decking out my mechanical keyboard with custom keys.
So, following the trend, I got a set of AKKO Japanese Keycaps home to test and review. I used the keycaps for almost a week  – see my full review below!
Introduction & Unboxing of AKKO Japanese Keycaps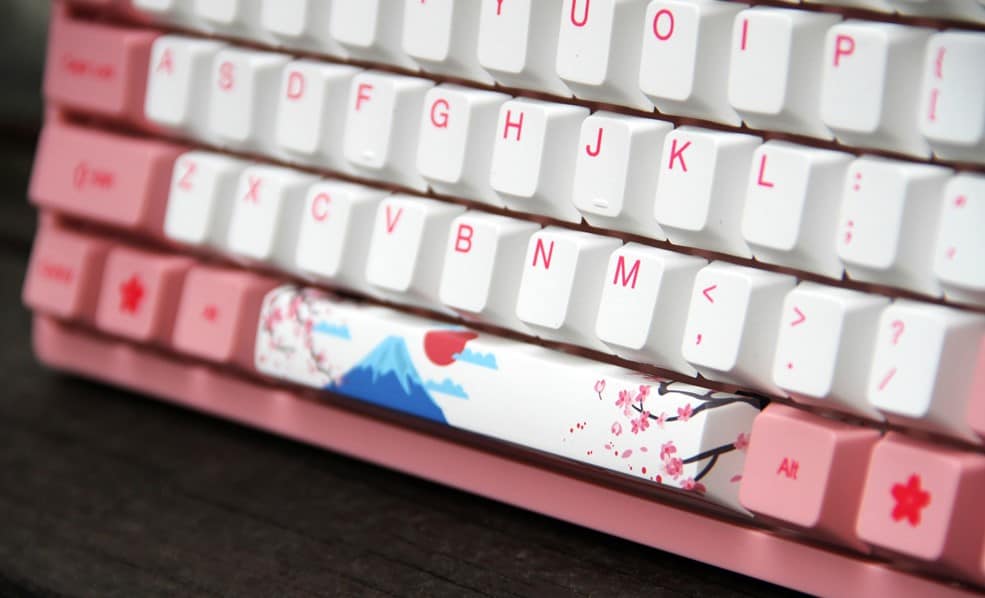 AKKO is a Chinese-based company that provides various mechanical keyboard designs, and with the World Tour – Tokyo series, the company surely took it to the top.
These keycaps are, without any doubt, made with excellent design and the best PBT material there is.
The overall theme and feel of the keycaps are a combination of sleek and cute. They will fit anyone who likes the pink/white and anime-style theme.
I like the separate set of six keycaps that particularly focused on the Japanese tradition – they are fun and allow for extra customization not seen in other keycap sets
The unboxing experience was a cool breeze and I enjoyed unboxing the keycaps. They came in a simple black box with "AKKO" branding.
Inside, the keycaps were fixed on a styrofoam template in the exact layout of a keyboard.
This saved me from creating a mess when I was replacing the older keys of my keyboard. The feel and build quality of the keycaps was excellent and everything in their unboxing and first expression was, for sure, a 10/10!
Specifications & Features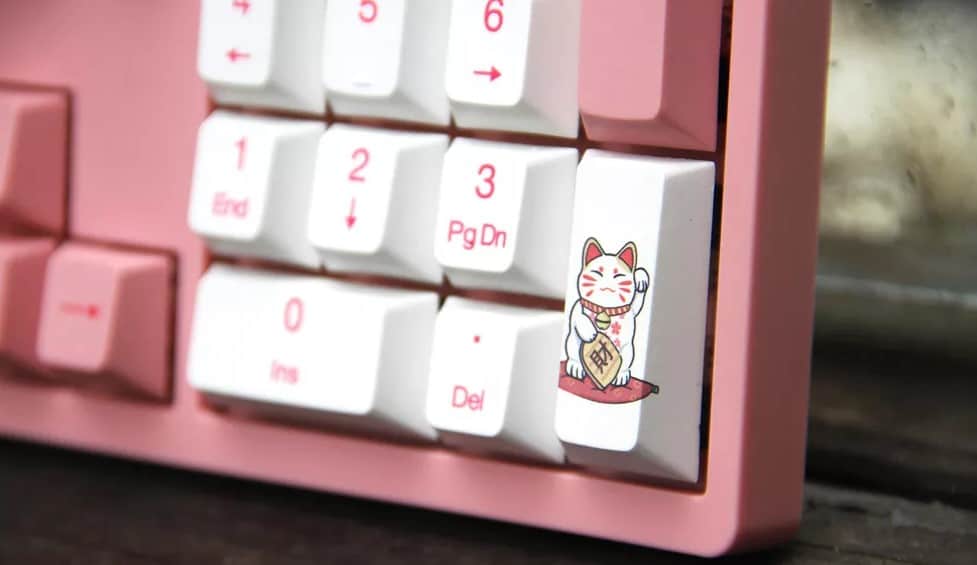 As far as specs are concerned, these keycaps come from the famous Japanese brand AKKO. They belong to AKKO's trending product series "World Tour – Tokyo."
They are built using 85% PBT material which ensures you have a good "grainy" feel on your keyboard. Throughout my usage, I could not feel or see any signs of "touch-prints" or fading of any kind on the keys and they held up their shape very well.
However, there was one very significant issue when they were used with a backlit keyboard. The light could pass through the edges of the keys but overall, the lighting could be better.
This was, however, expected since the keys aren't translucent and were likely meant for a larger audience. My RGB keyboard did shine through the edges of the keys, making them look even sleeker than they otherwise would. Overall, there are no issues with lighting relative to other standard PBT keys.
Design & Performance – Top Quality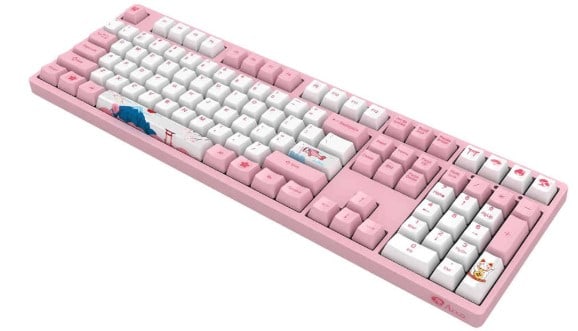 The design and looks of these keycaps are, undoubtedly, breathtaking. The more you look at them the cuter they feel.
AKKO Japanese Kycaps are best to use with computer setups requiring light and bright colored accessories.
When the topic of discussion turns to their performance, I found them to be outstanding in every aspect – they are comfortable and easy to type with, neither too hard for the fingers nor too soft.
Note that I found that these keys do not work on all keyboards, like the Razer Blackwidow Elite, but they do however work on all the keyboards I've tried.
Final Words – A Worthy Purchase
These Akko keycaps are recommended for people who want to add a Japanese-custom aesthetic to their mechanical keyboards, especially if you love the pink/white aesthetic as I do.
It is rare to see such a well-designed and themed keycaps such as these.
The keycaps unusually delightful design catch one's eye every once in a while. They also look very comforting while typing which greatly increases the user experience. The premium build material ensures durability.
All-in-all, I was very happy with these keycaps and will continue to use them in the foreseeable future.