­
Pros and Cons of Anne Pro 2 Keyboard
60% keyboard, more space for mouse movement
Affordable wireless mechanical keyboard
RGB themed with Brown, Red, and White (can vary depending on the retailer)
| | |
| --- | --- |
| The Good | The Bad |
| Bluetooth and Cable Support with a large 1500 mAh battery | Connectivity via Bluetooth is a bit slow |
| Full RGB backlit key mapping | |
| | Customizing each key may take a long time |
| | |
Check out the white version of the Anne Pro 2 here and the Cherry MX version here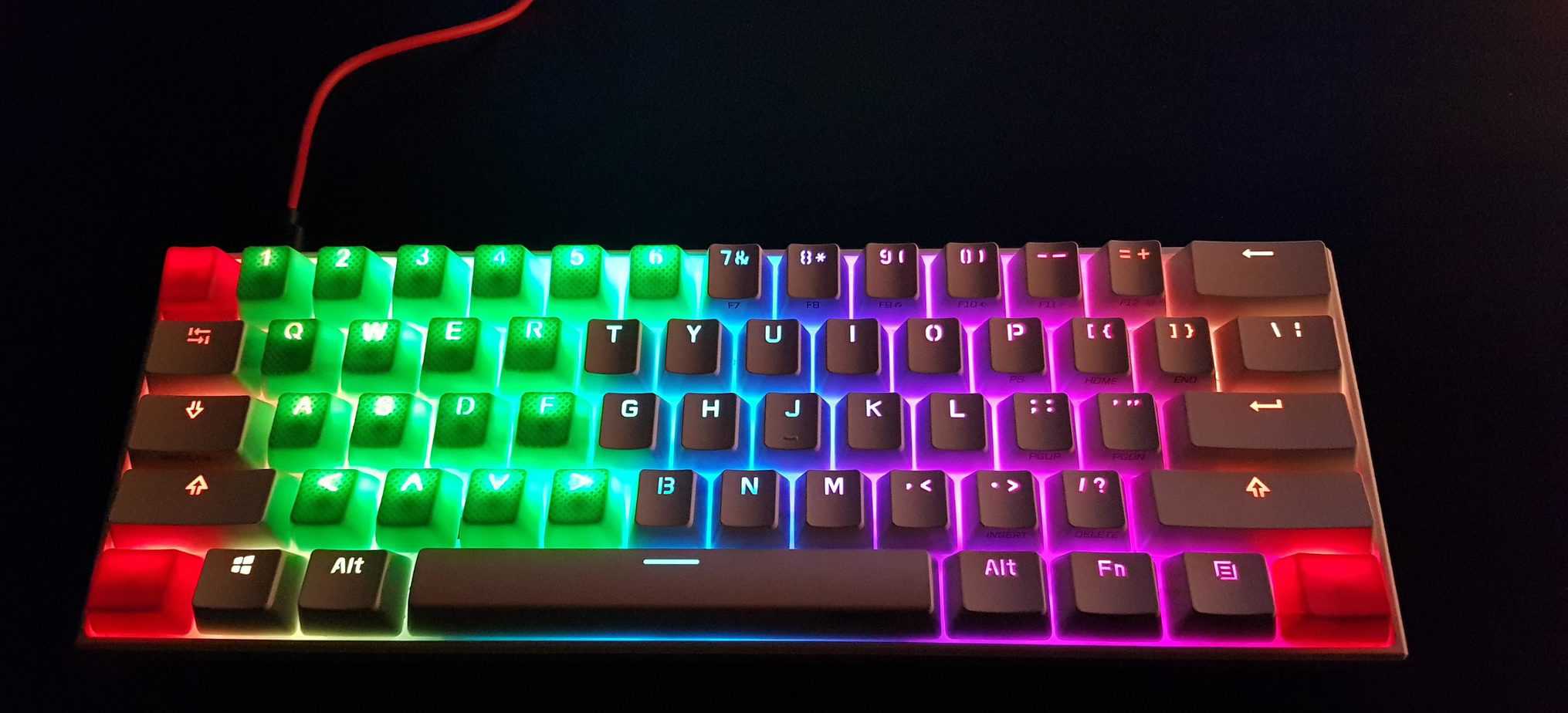 What would YOU want in a high tier gaming keyboard?
Anne Pro 2 has everything you can name and is more than just a gaming keyboard – it is an all-in-one pack for a gaming enthusiast encompassing RGB themes, MACRO settings, customizations, and much more.
The aesthetics of the Anne Pro 2 is seamless with any RGB gaming setup!
Looks and performance have always been the top priority for Obins, and that's why they have created this "masterpiece" to cope with the ever-growing needs of the gaming industry. So, what makes it the ultimate choice?
I this review, I shall try to cover everything from Unboxing to the Performance and let you be the judge of whether this keyboard will be the right choice for you or not.
Note that Obins's Anne Pro 2's form factor is a 60% mechanical gaming keyboard. In addition, we received the Gateron switch version of the keyboard and not the Cherry MX version.
While there are a lot of options available for mechanical keyboards in this price range, it has surpassed my expectations within a week's use. Specifically, the keyboard keeps a minimalistic 60% compact design while still maintaining quite a few high-tech features usually not seen in this price range.
Specifications and Features
Anne Pro 2 can be confidently added to the list of best affordable keyboards with its premium build quality relative to other comparable keyboards in the market. It beats the competition by its aesthetic looks and rules the desktop by its RGB customizable lighting.
The keyboard measures 97*284*40 mm. The overall weight for it is around 635g, which I find comparatively lightweight.
The physical keys are the next best thing. I like the feature which allows you to set the overall theme using its software, which is easy to use when wholly understood. However, it is recommended that you take some basic info about this software from someone who already uses it, this can help you know the keyboard's feature better.
You can also set MACRO settings on all the keys, which are also a very convenient feature for advanced users.
Other features include,
Type-C USB port
Bluetooth Connectivity
Large 1500 mAh battery
Multiple Lighting Modes
Full Key Customizations
Various Gaming modes
Variety of Switch Types
Switches in any mechanical keyboard is a mechanism that is triggered when a key is pressed. Usually, the typist gets tactile feedback, which can be a sound, light, or vibration. Anne Pro 2 also has these switches; the ones I noticed in my review unit were brown and did a lovely job in increasing my overall gaming as well as typing experience.
It is important to note that the switches are Gateron switches and not Cherry MX.
That being said, I have had no issue with these switches and have used them many times in the past. Gateron switches are considered a top tier "copy cat" of the original Cherry MX.
Keycaps are PBT which are good but not great. For reference, a double shot PBT keycap is sturdier and preferred for durability. They are usually on pricier keyboards so I wasn't too surprised.
7/10 rating for switches – note that this highly depends on your switch preference!
What's in the Box?
The Anne Pro 2 came in a nice white box with red font, matching its interior. Overall, the unboxing was pretty standard. The design of the box was nice and the parts were nicely packed, but it was nothing out of the ordinary.
Nothing's more important for any product as much as the genuine accessories supplied with that product. I think that applies to keyboards as well, so, these accessories are boxed with the keyboard,
Anne Pro 2 – USB-C, Bluetooth 4.0 RGB Mechanical Gaming Keyboard
Keycap Puller
USB-C Cable
Set of 11 PCS blank keycaps
While most of these are necessary supplies, they are useful in their ways. I think anyone would want a USB cable and extra keycaps because they would prove helpful in the future or if you don't want to use Bluetooth as your connectivity option.
The keycap puller is nothing special, but the USB-C is a nice touch. USB-C is now considered the gold standard of charging, and I expect Anne 2 to load quickly because of it.
Bluetooth 4.0 is also a nice plus given the keyboards price, and I do expect the wireless connectivity to be reasonable given the higher standards of Bluetooth 4 relative to the older generation of Bluetooth 3.0 products.
Overall, the accessories were as expected and nothing exceptional. Its features such as Bluetooth 4.0 is what sets this keyboard apart.
Design and Performance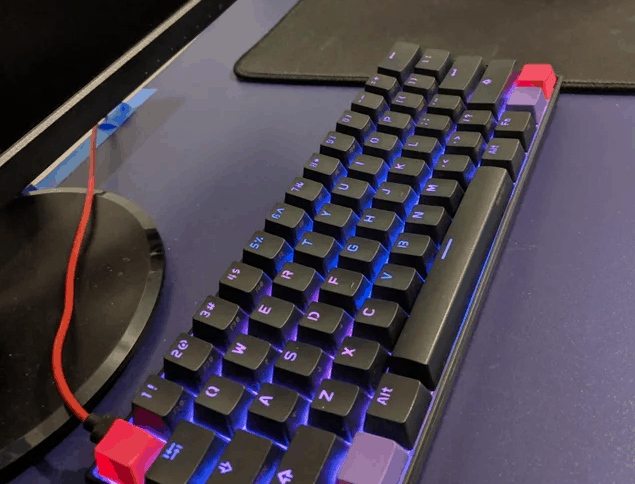 I like its design – the backlights and the overall RGB theme is something that the Anne Pro 2 does well.
You can even customize each keys' color and make your design using Obinskit – the software it comes with.
Thus, you are never getting bored of the same design – you can keep the keyboard looking new each time!
Anne Pro 2 goes above the expectations in terms of its design and look. The highly customizable keys and RGB theme designs would make it stand out the crowd almost instantly; by far, it has been the right choice for me.
After about two weeks of gaming, I tested the build quality and overall performance of the keyboard on games like Fortnite, PUBG, Call of Duty: Black Ops 4, and Counter-Strike: Global Offensive.
My final thoughts were,
"The keyboard performed excellently if the Bluetooth connectivity was not taken into account."
When we are talking about the performance, I found the Bluetooth connection to be slower than that of the USB-C (not slow enough to disrupt your gaming experience), but for gaming enthusiasts and gurus I'd suggest that you use the USB-C if you're worried about the keyboard lagging.
Other than that, the Anne Pro 2 works great and performs very well in every aspect the right gaming keyboard is expected to perform. It is, thus, a proper mix of looks and performance for a low price that can decorate your computer and add flair to your setup.
Final Words About Anne Pro 2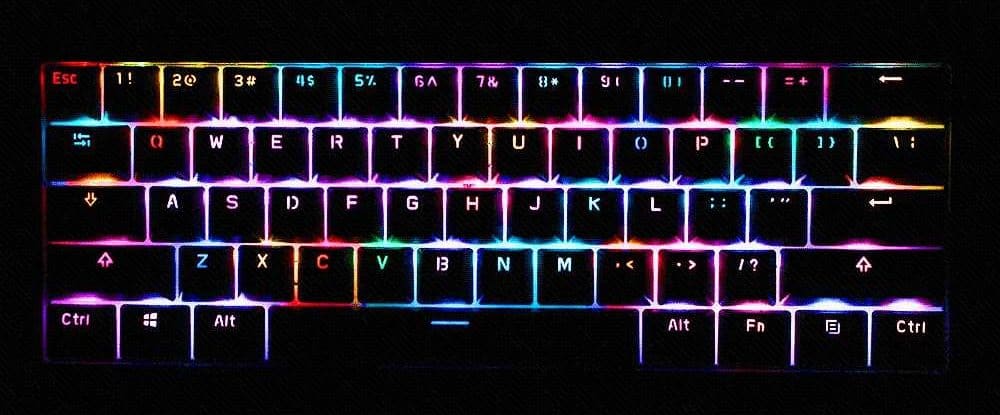 The Anne Pro 2 not only looks but also feels very premium.
Overall it features smooth and rounded plastic chassis, PBT keycaps, and carefully stenciled legends. I like the smoothness it has, the uniformity of keys, the minimalistic but practical layout, and the RGB quality. After a 2-week use, I was satisfied with both its aesthetic quality and overall gaming and typing experience.
The heaviness of this keyboard prevents it from slipping, thus adding effectiveness and stability in all of your typing and gaming experience.
If the Bluetooth connectivity issue is not taken into account, there is no doubt that Anne Pro 2 has proven to be the ultimate gaming keyboard for me (in this price range)!
If you are looking for even cheaper options, check out my lists of keyboards under $50 here.
Have any questions or comments? Leave them below!