Pros & Cons of Redragon M908
Redragon M908 has the following features,
| | |
| --- | --- |
| The Good | The Bad |
| | |
| | |
| | |
All of us know the need for having the perfect gaming mouse is undeniable. While many people struggle to find a good gaming mouse in the market, a few can actually afford it.
Usually, as I have experienced, most companies focus more on their markets than their products but then again, there are some companies that can provide all value, affordability, and features in a single product.
Recently, Redragon – a company based in the USA, sent me one of their most decorated gaming mouse, the Redragon M908 Impact RGB.
I tested and used the M908 as my daily driver for two weeks, see below for my full review.
Introduction and Unboxing – 8/10
The most notable thing you'll find in this mouse is the way it is designed. There are a lot of buttons on this mouse and fortunately, 18 out of the 19 buttons are reprogrammable using the software Redragon provides.
The software can be downloaded either from their website or the link provided with the mouse. Additionally, I'll save you the struggle and you can download it directly from here.
This mouse can support DPI levels from 100 to 12400.
Of course, like many other gaming mice, Redragon M908 has dedicated DPI buttons.
Not only buttons, but it also has the lights to indicate what level of DPI you are on.
Apparently, there are 5 default levels and a maximum DPI of 6200, which can be increased up to 12400 using the mouse's software.
For those of you who are unaware, DPI is basically how sensitive your mouse is and when does it reacts or detects small changes. The mice with higher DPI are more effective (usually more than 9600).
Look and Feel
The mouse is particularly good at providing convenient aesthetics through its RGB lighting system but it can give you a hard time setting them up since the software needs to be understood well before it can be used.
Given its claw grip style, the Redragon M908 is a big boy and it'll give a tough time to small hands.
The mouse comes with a 6 feet long braided wire which is relatively rigid and long enough for most people.
There is an option to increase the mouse's overall weight by adding 8 x 2.5g weights as per your needs that are supplied with the mouse by Redragon. They are placed inside the chamber beneath the mouse.
You can add/remove these weights until the mouse becomes balanced enough for your hands. Heavier mice tend to be more stable and provide you with more control when compared to light gaming mice.
Unboxing Experience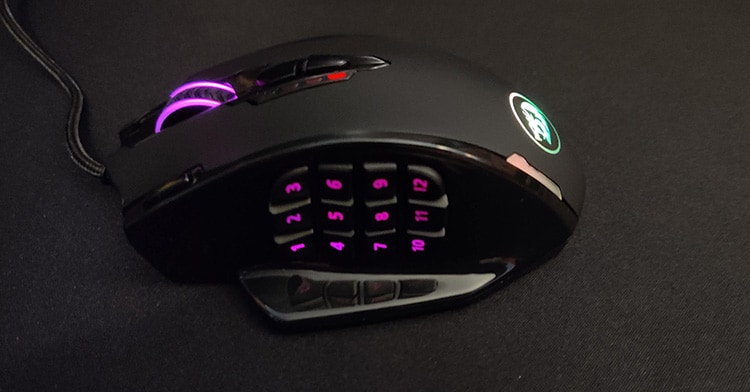 You get the following things out of the box,
1 x Redragon M908 Impact RGB
8 x 2.5g Adjustable Weights
A User Manual
The unboxing experience was both unique and antiquated – it came in a plastic box that you opened via clamps on the side of the box.
Modern boxes require you to pull out the product from an outer layer which I still prefer as it gives a premium unveiling as opposed to a plastic box with clamps.
It could have been better, the box, for example, could have used a bit more detailing to add a premium design and feel to the overall experience.
Long story short, I was not impressed by the unboxing.
A solid 7/10 for Unboxing.
Features and Value of Redragon M908 – 8/10
The mouse encompasses the following features,
Buttons – 9/10
There are 19 buttons on this mouse. 7 Main Buttons and 12 MMO side-buttons that can be programmed to perform various functions.
There is a dedicated MACRO button on top of the left-click key that can be set to Rapid Fire or MACRO using the setting available in the software.
All the buttons are made of plastic but feel durable.

Connectivity – 8/10
The mouse uses a braided USB 3.0 wire for connectivity and there are no other options apart from that. USB 3.0 is much faster than USB 2.0 and provides the users with lower response times and higher data transfer speeds.
The cable measure 6 feet in length, is rigid, and very durable.
You should not be worried about the capability of the wire since I noticed little or no latency at all.
RGB – 9/10
This gaming mouse uses almost the standard RGB lighting system but is very well designed in terms of RGB as all the lights are placed almost perfectly.
There are many modes and effects for you to choose from, such as;
Breathing
Reactive
Condescension
Disdain
Weight and Size – 6/10
This gaming mouse is not perfectly balanced in terms of weight. It is light-weight as well which means you'll not have a VERY STEADY base while aiming down a scope. However, to counter this, you can add the adjustable weights provided with the mouse.
Personally, I'd want those weights to be heavier as I don't feel content even after adding all the weights in the mouse.
Optical Sensor and Speed – 8/10
Redragon M908 uses a 1000 Hz polling rate, 30G acceleration and high-precision Pixart PMW3327 Optical Laser Sensor giving you a very nice set-up to rock on your gaming rig.
The overall speed and sensitivity of the mouse are pretty well-balanced on default settings but in-case they do not work well for you, you always have the option to customize them.
Performance Test – 8/10
Primarily, the mouse gives very good performance despite its low price.
I was not expecting such a good job for a budget mouse like the Redragon M908 but it did surpass my expectations.
However, it took me a while to properly set up all the MACRO and DPI levels.
Adjusting the sensitivity and response times were also a hard thing to do but once I had it set-up, it performed well.
I had no problem at all with FPS games like PUBG or Call of Duty and open-world games like Gears of War or GTA.
But there was a mechanical issue with the Left-click button that resolved on its own, every time I clicked it, it squeaked.
Since the problem resolved on its own, I think that some dust might have fallen into it because I tend to keep a clean room and do dusting all the time.
Additionally, I noticed that the glossy material instead of matte on the mouse caused it to be slippery if you have sweaty hands.
Other than that, the mouse stood up well in the performance test.
Verdict: A Great Value Purchase
All in all, the mouse was an excellent product from Redragon and I enjoyed using it for the review time.
There were a few aspects it needed improvement in like the software UI and the glossy finish. The hard to use software should be changed to improve a more natural UI experience, as a suggestion.
I'd recommend this device to anyone who wants both flexibility and all of the bells and whistles of a premium gaming mouse.
Especially in terms of the weight, you can add more or less as per your preference, which is a unique and nifty feature!
Judging in this price range, the features are promising and the mouse has no deal-breaking issues!
If you want to look at some gaming combos under $50, check out our list here.
You can find the Redragon M908 on Amazon for an affordable price
Let me know your thoughts on this mouse down in the comments, your valuable edits/suggestions will be reviewed!
Until next time, Happy Gaming!