Pros & Cons of Matias Ergo Pro
The Matias Ergo Pro has the following features,
Available on Amazon for a good price.
Ergonomic Design
Comfortable Wrist Rests
Programmable
| | |
| --- | --- |
| The Good | The Bad |
| | Does not have USB 3.0 Ports |
| Multiple Configuration Options | |
| Durable Matias Quiet Keycaps | Wrist rest not easily detachable |
| | |
| | |
Yes! A keyboard split in two-sides or designed in such a way to reduce muscle strain as much as possible is commonly referred to as an ergonomic keyboard.
Matias, known for its Mac-compatible mechanical keyboards, has sent us their newest Ergo Pro keyboard which specializes in the "ergonomic keyboard" niche.
Note: The Ergo Pro reviewed in this article was released in Jan 2020 and is the successor to their previous model, which from anecdotal evidence, had issues with its keys.
Generally speaking, this keyboard is perfect for people who are very active typists and want to give ergonomic comfort to their wrists.
If you're interested in a fully ergonomic setup, check out our list of the best ergonomic mouses here.
Ergo Pro – Differences Between the New and Old Models
As previously stated, the Ergo Pro in this review is the Jan 2020 model, the successor to Matias's old Ergo Pro model.
The Matias Ergo Pro in this review is an upgrade to the previous Ergo Pro and includes the following upgrades:
Updated Hardware
Switch improvements to reduce wobble and increase reliability
Programmable
2-Year Warranty (their old model had a 1-year warranty)
The signature properties of the Ergo Pro are should contain the best qualities of the predecessor. Signature features,
Introduction & Unboxing – 7/10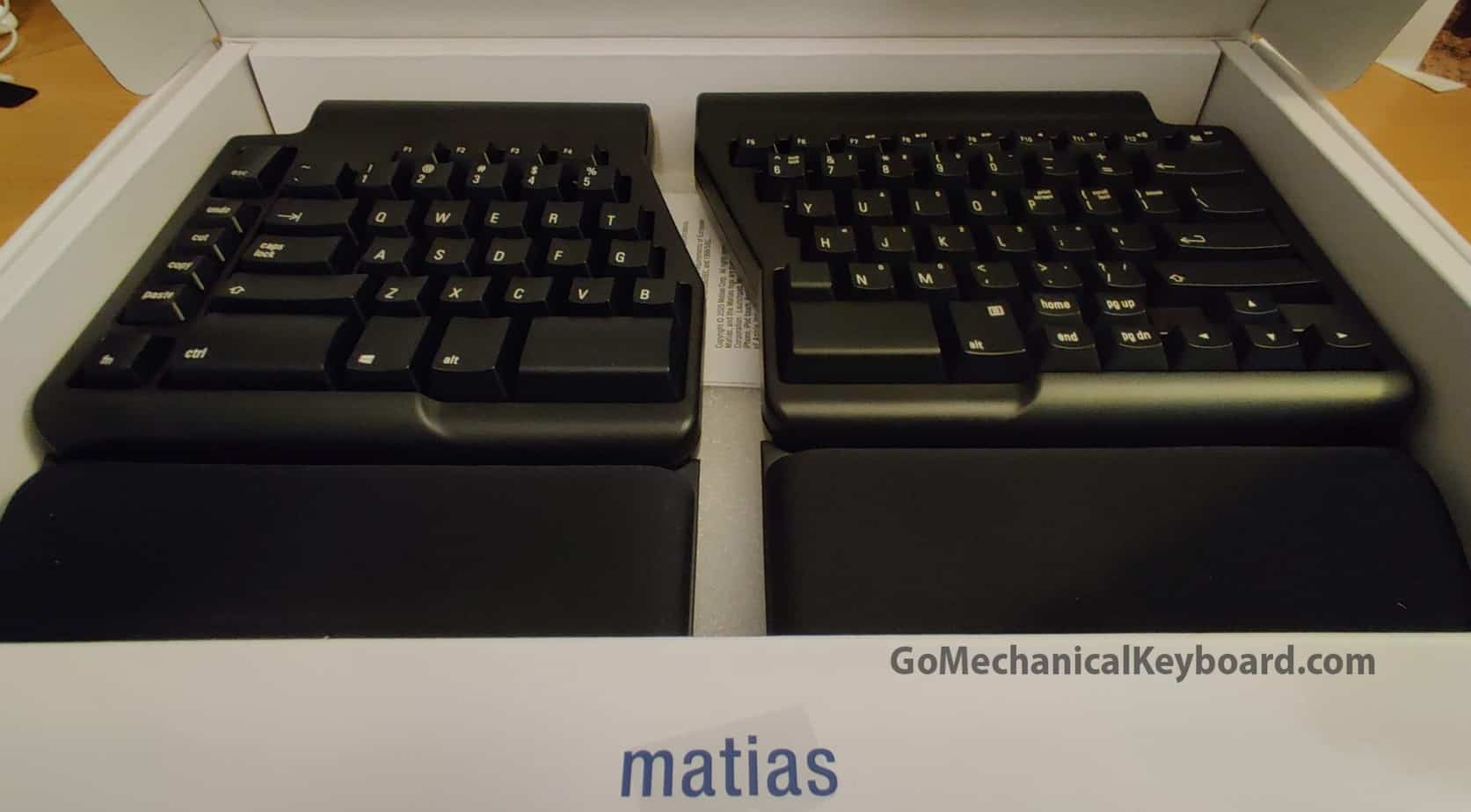 The unboxing experience was average as Matias could have made it a little more premium given its price tag.
Extra things such as foam encasing the keyboard itself and better box design could have truly amped the unboxing experience.
Here's what was included in the box,
The Keyboard
Palm Rests
Connectors and Wires
2 Year Warranty
They give extra cables and a retractable bridge cable as well!
Retractable bridge cable – this is a connecting cord used to connect the two halves of the keyboard together.
Features and Value of Matias Ergo Pro – 7/10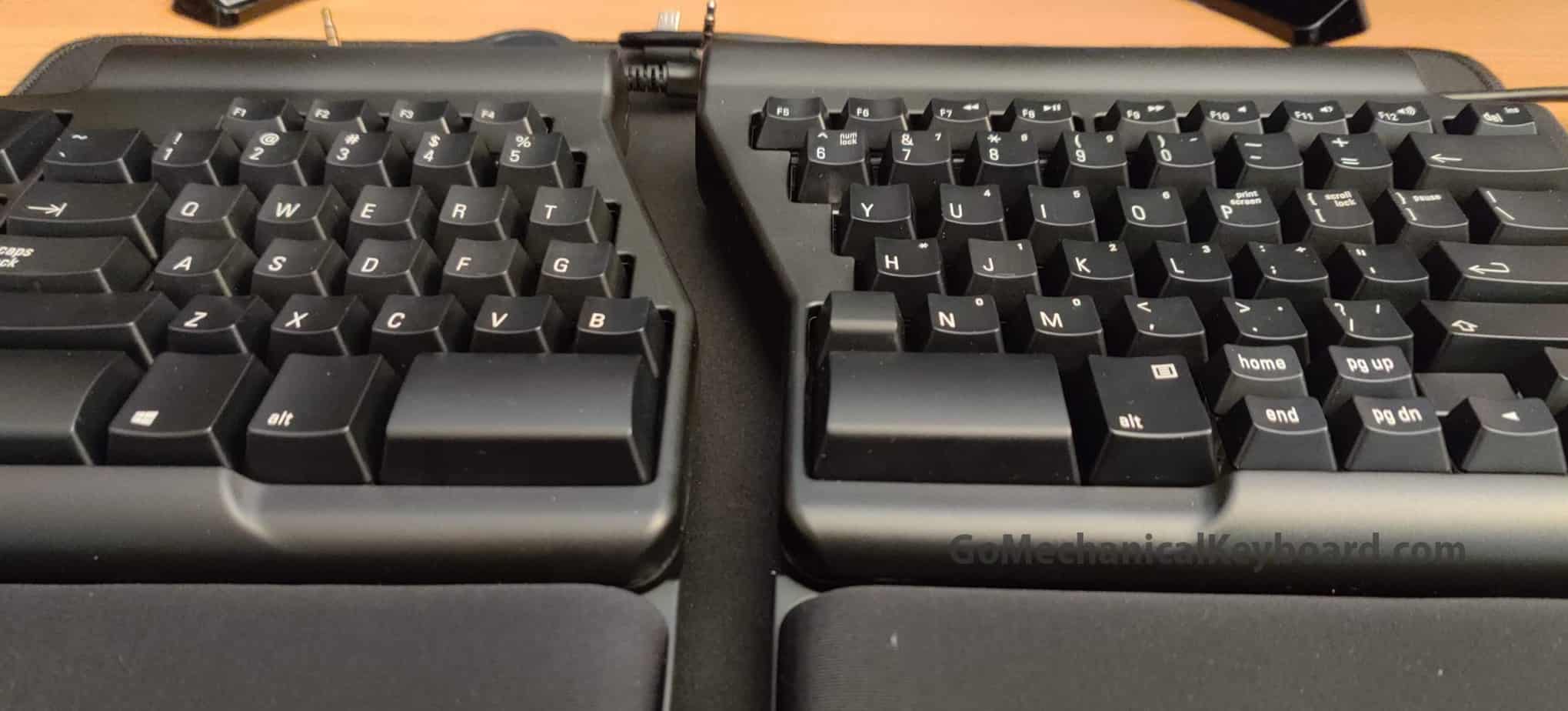 All in all, the Matias Ergo Pro encloses features that are remarkable, but the overall price of this set-up pushes it to a premium price tag.
Here is our detailed review of the features and values of the Matias Ergo Pro:
Palm Rests – 8/10
The soft-gel palm rests are focused on providing the maximum comfort to your palms as you type. The gel not only molds the palm rests according to the curve of your palms and wrists but it also provides a firm base so that you can type without slipping.
Overall, I found the palm rests to be super comfortable even with many hours of use. Unfortunately, the wrist rests were not easily detachable. Although I never needed to detach the wrist rest it would have been a nice option to have.
Configurations – 9/10
There are several different configurations that allow better optimization of comfort. This may require the users to fold or bend the folding legs according to each configuration.
For example, the full flat configuration would need all the legs to be folded and to set the keyboard up at an angle, you'd need to set it up by only by unfolding the front OR back legs depending on how you want to set it up.
These are the names of the keyboard configurations to help you better set them up,
Configured to a 9-degree Tenting Angle
Configured to a 4.5-degree Negative Tilt
Flat Face Configuration
Keycaps and Switches – 8/10
The Matias Ergo Pro features the premium Quiet Click Mechanical Switches (made by Matias as well). These switches are quieter than Cherry MXs and make them ideal for work where louder switches can be a nuisance.
The alphabets and symbols are laser etched so you can rest assured they will not fade away.

The navigation buttons are squished together and include all the basic buttons namely, Home, Page Up, and essential media control keys.
Their placement, however, is a bit awkward and takes a while to get used to. For example, if you need to use the arrow keys you have to extend your finger over the home alignments which can occasionally cause a typo or a navigation error that you did not intend.
USB pass-through and Ports – 8/10
The keyboard features three individual USB pass-throughs which far above the norm when it comes to USB pass-through. Although out of the norm, I would have liked to see a USB 3.0 port.
The keyboard also came with a retractable bridge cable which is primarily used to connect the parts of the keyboards among themselves.
What I liked about this keyboard is that it came with two USB cables with varying lengths in case you need a longer cord for your desktop. It is always nice to have extra cables but to have them with varying lengths is even better.
What would make this keyboard really stand out is media inputs for mics or headphones.
Performance Test – 8/10
After setting the keyboard up on my desktop, I started testing it.
Initially, as I was new to the layout of the keys, it was a bit hard for me to properly use the keyboard.
I remember it to be frustrating to a point as sometimes I wanted to type in a text swiftly and simply couldn't because my fingers were not familiar with the layout the keyboard had on top of it.
Now, this should not be an issue for someone who is familiar or is a frequent user of split keyboards.
As far as the performance is concerned, the keyboard performs excellently.
The response times of the keyboard were good and all-in-all the keyboard had no issues while I was testing it.
While I found the ergonomics of the keyboard to be both interesting and refreshing, it did take me a while to get used to it.
Verdict – An Excellent Ergonomic Alternative

If you find yourself working long days in front of a computer with an uncomfortable wrist angle, I recommend Matias's new Ergo Pro keyboard.
Though the wrist rests aren't detachable, their very comfortable and will hopefully last you years (our test was only for two weeks and therefore we cannot comment on the wrist rest durability).
The tactile switches are both responsive and quiet, as advertised.
The keyboard requires time to get familiar with and its layout can take a while to optimize for the best positioning.
Unfortunately, most ergonomic keyboards of this nature do not have an entry-level price tag. If you're wanting a mechanical keyboard at a lower price I suggest checking out our under $50 list here.
You can find the Matias Ergo Pro on Amazon for a super affordable price.
Let me know what you think of this keyboard and share your experience with the community down in the comments.
Best of keyboarding to you!