GoMK is looking to expand our horizons!
We're looking to review more PC gaming peripherals, and with that in mind, here's our review of Havit's HV-MS794 gaming mouse.
We've done a few other mouse reviews in the past but this the first RGB backlit mouse with its own software that we've ever had, courtesy of HAVIT.
We were not paid to do this review but HAVIT has given us a sample via Amazon to do an objective review. In this review, I'll unbox the RGB gaming mouse and take a look at its software, functionality, and overall build quality. Let's see the specs below.
Specs & Features – Overview
Size: 130.4 x 71.6 x 41.6mm
Key Number: 7
Chip: Avago 3050 optical sensor
Resolution: 500-1000-15000-2000-3000-4000 DPI
Keystroke life: 10,000,000 times
Interface Type: USB
Voltage: 5V±10%
Current: 80mA
Cable length: 1.8m
RGB: 12 RGB multi-color backlit modes
I would've never expected that the Havit HV-MS794 Gaming Mouse would contain excellent specifications and functions because of its low price.
We are used to high-quality products that are expensive, thinking as if the price says it all. Isn't it nice that it is not always the case? Havit is now giving us the most reasonable deal. As seen on their webpage, Havit has vastly expanded its list of electronic items to include gaming mouses, keyboards, as well as everyday electronics such as headphones. This is nothing new, awhile back we did a number of HAVIT mechanical keyboard reviews – KB389L, KB378L, and the KB366L. If you're looking for an accompanying HAVIT mechanical keyboard, I'd recommend the KB389L (a sweet all-white mechanical keyboard).
Nowadays, we have a lot of accessories and gadgets to use and choose from. It all boils down to scrutinizing each product through personal tests or our interpretation of reviews. A thorough read through every comment in forums and blogs helps us decide on what to buy or not to spend our money on. That's what this review is for. We're going to unbox, test, and review the HAVIT MS794 to see if it is truly as advertised. In addition, we'll look at the latest online comments via Amazon, Reddit, and other good sources, and distill it here for you. Without further adieu, let's get into our review of the Havit MS 794 below.
The Box Façade of HV-MS794 [Unboxing]
As the Havit HV-MS794 package arrives, you'll see a black box with a touch of red on both sides. The box shows its brand along with its tagline that it is ideal for gaming.
The brand logo is also present in the box, the three stripes that look like a flame as if saying "Game on!" You can locate the Havit logo at the bottom; we can't mistake it for anything else. This familiar logo that some of us might have probably seen in the barricade ads of football leagues and car racing events has a good sense of familiarity attached to it.
After taking off the lid, I can see a vibrant red. The box said hello and thanked me for choosing the brand which was kind of refreshing. You can also find a black foam inside the box protecting the programmable Havit HV-MS794 mouse. Quite a standard these days for good packaging – no one would want any scratches on a brand new product.
The box holds the size of the mouse correctly, and no other unnecessary design, corners or branding are present. The Havit HV-MS794 is well-secured by its packaging so it would be hard to believe if it even gets damaged during shipping or transport. A Smartphone unboxing-like feel. Something all of us enjoy the most when getting a brand new toy.
HV-MS794 – Gaming Mouse Design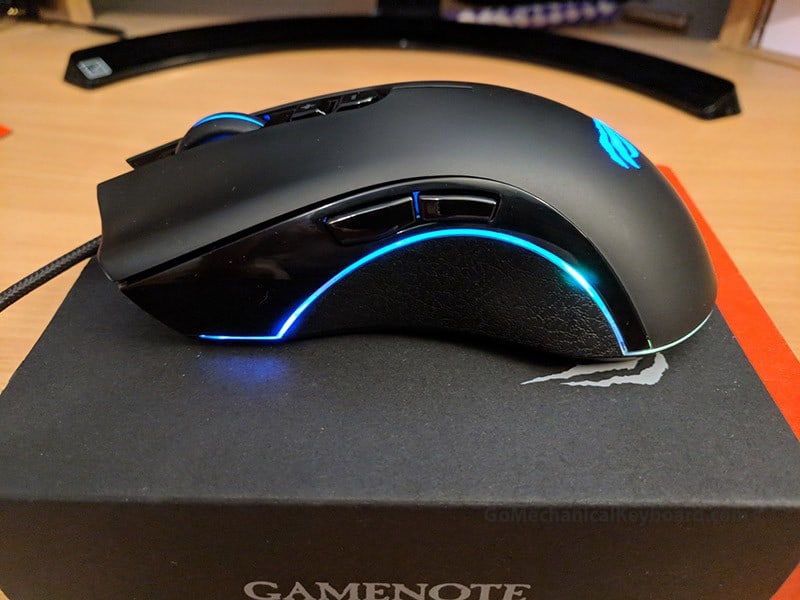 The Havit HV-MS794 looks like a typical pitch black mouse in an ergonomic shape.
Well, aside from the fact that this mouse looks elegant with its inner curve on the left that fits the grip of our hands. The concave is made of a leather material that gives comfort to the thumb. On the right side, there is a finger rest for our digits, which is smooth. This feature enables the pinky finger to rest in-between games. Furthermore, this mouse suitable for claw grips and it features materials with the prevent-sweat technology.
The logo is also visible at the top. If you pay close attention, you will see a clickable DPI button below the scroll wheel. The surface of this device is also made with an anti-slip medium. The buttons on the left side are used to move the map to and fro. As it is a gaming mouse, these buttons can also be used to activate voice chat or load and shot grenades. The buttons are all clickable and not stiff. With all these buttons, we will probably remember the days when we still use joysticks in gaming; now, we can all do it with just one hand!
The Havit HV-MS794 chord is braided, giving it more durability than the normal ones we use. The USB connector is coated with gold color, and it comes with a velcro holder. Havit undeniably knows how to take care of its product with excellent maintenance. I've seen lower priced gaming mouses before but it's nice to know you're getting these small benefits with its price.
Compatibility
This device is compatible with Windows Vista, Windows 2000, Windows ME, Windows 7 to 10. It can be used on Mac and Linux computers, but for normal use only, its programmable function is not supported.
The Avago 3050 optical sensor is already a good spec for average gaming.
It is a good deal in a mouse that comes with a $20 price tag. The sensor is pretty accurate as upon testing it on Battle Royale and Fornite (super fun!). The Havit HV-MS794 DPI varies from 500 to 4000; these are considerable numbers to choose from.
Higher DPI is hypersensitive in small movements, and it moves the cursor farther on your screen as you move your hands with the mouse. The 4000 DPI should be enough for casual games. However, there is no 400 DPI which is usually the standard DPI setting for CS: GO.
The keystroke lifespan of this mouse is 10,000,000 clicks, which should last the Havit HV-MS794 for at least three years.
Design
The gold-plated USB interface adds up to the classy and elegant look of the mouse. It also has an anti-interference magnetic ring.
The 12 RGB multi-color also gives your gaming experience more color, in a literal sense. If you love to play games with the lights off, Havit HV-MS794 should be very fun to use! Though the lights are only for the mouse edges, and scroll wheel and logo both don't illuminate. I found this quite refreshing – subtle RGB backlighting with nothing overly flashy. This minimalist style lighting and mouse design makes it a good match for most mechanical keyboards. This 12 RGB backlight has been the new favorite feature by gamers and gadget-savvy individuals alike.
The Software and Program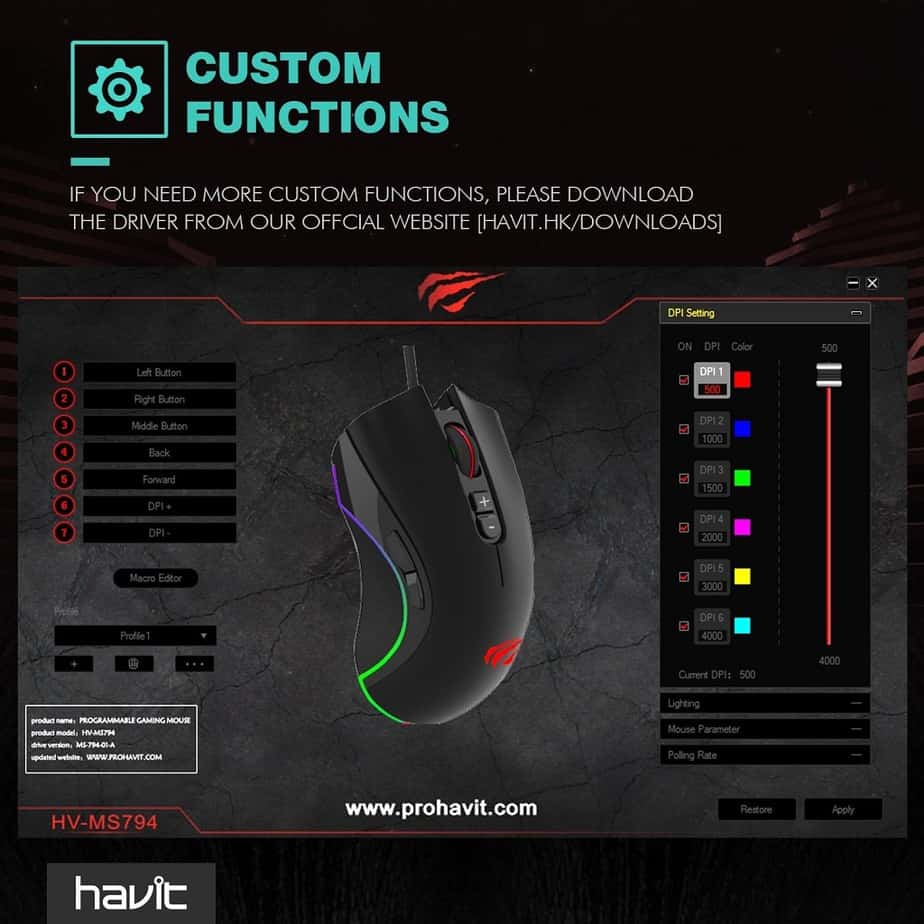 Even though the price of Havit HV-MS794 is around $20, its software is also proven to be user-friendly. It offers an adjustable setting for the six levels of DPI. However, its backlight limits us to six colors only: cyan, yellow, blue, red, green and purple. The software also has a Lighting section that will let us control the backlight of the RGB. Personally, I really liked the software and its control over the mouse. Its intuitive layout made it easy to adjust the mouse to my personal gaming preferences. Havit gave us options like Colorful Streaming, Steady, Breathing, Tall, Neon, Colorful Steady, Flicker, Response, Streaming, Wave, Trailing or even None at all. The manufacturer, indeed, designed it for your customization. Download the HV MS-794 driver here.
As usual, there is also a mouse parameter for pointer precision, double-click speed, sensitivity and scrolling speed. The polling rate is also adjustable depending on how your computer interprets and responses to the motion of the mouse.
Overall, Havit HV-MS794 moves well without unnecessary acceleration and delays. Though, the weight might be a little troublesome for more extended gaming sessions as it weighs 170 grams with its cable. It also feels a bit clunky given its massive back. It drags on the pad as we try to move or reposition the mouse.
THE FINAL VERDICT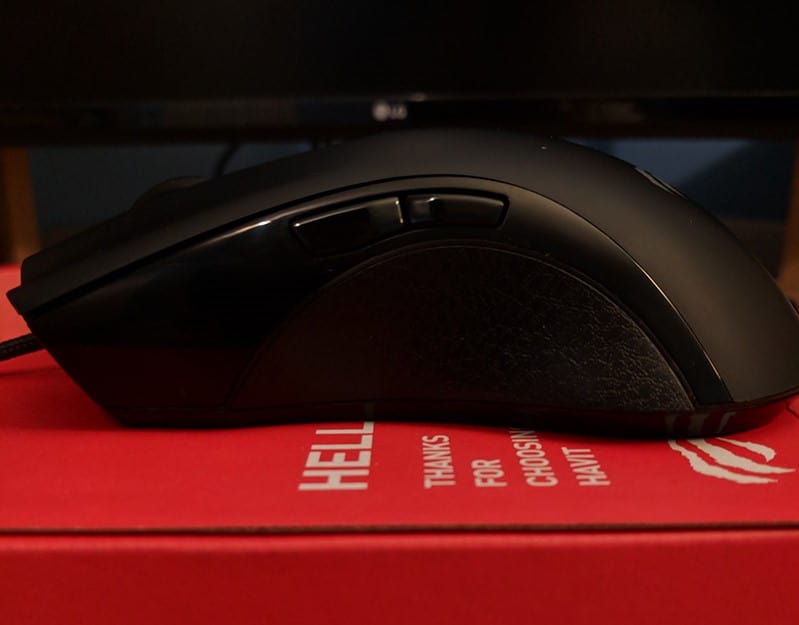 The good part is the Havit HV-MS794 gaming mouse is undoubtedly affordable, budget-friendly, and performs well enough for a standard gaming session.
Its performance is also pretty decent for its price. I've really enjoyed reviewing this gaming mouse as it has been quite different from the other mouse reviews I've done in the past (see our best mouse list here).
It also offers 12 RGB colors that will evidently upbeat and uplift our mood during games, unless we lose, of course.
Although I haven't had the gaming mouse long enough to attest to its long life, I am certain that its quality and functionality is on par with whats advertised on Amazon. One main issue I have is that I could not find it on the Amazon.com site and only the Amazon.ca one. Nevertheless, with its low $24 CAD price, its a low-risk and potentially high reward purchase. The RGB is and design are quite slick. Its ergonomics are decent (I liked the ergonomics on the EVM0 more).