Cherry MX Brown switches are by and large the most popular mechanical switch people turn to today.
With that, we decided to do a thorough analysis of what the market has to offer and tell you guys what we think are the best Cherry MX Brown mechanical keyboards to date.
Comparison Table – Cherry MX Brown Keyboards
See below for our in-depth reviews of each keyboard.
Why are Cherry MX Browns the most popular switches?
Brown switches are often what people recommend for someone's first mechanical keyboard due to the characteristics of it that so many people love.
It also acts as a great starting point if you decide you'd like to try a stiffer switch, clicky switch, linear switch, etc.
Check below for a video demo of the brown switches in action and if you're unfamiliar with Cherry switches, checkout out our comparison guide here.
Note the main characteristics of the Brown's are its noise and tactility. It is considered the quietest switches of all the other colors.
However, there are still ways to make your keyboard even quieter even if you have brown switches – find out more about silencing your keyboard here.
Many people try all the switches out there and still find Browns to be the best their favorite! Whether you're looking for your first mechanical keyboard or just looking for that perfect Brown switch keyboard to become your daily driver, we've got you covered! Let's take a quick minute and recap the characteristics of the Brown switch, and then talk about keyboards.
What Do Brown Switches Feel Like?
Cherry MX Brown switches are a tactile switch, which means when you press down on the switch, you will physically feel a bump when the keystroke is registered. In the below animation, you'll see that the "bump" that you feel occurs when the brown plastic clip on the back of the switch slides down past the metal spring.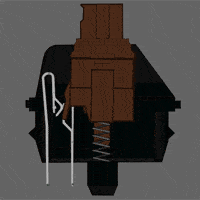 Overall, the Cherry MX Browns are a very light switch, meaning it doesn't take much force to press the switch down. It only takes 45 cN (you can read more about centinewtons and activation force on our switch guide). The tactile bump is pretty mellow, and many people find that they love the physical feedback for both typing and gaming alike, making it a great choice for an all-purpose keyboard.
As noted above, another reason Brown's are popular as a general use keyboard is that they're quieter. If you were to use Red switches, on the other hand, you will get a very noticeable difference in tactile noise. This is more enjoyable to some by can also annoy those around you.
What Do Brown Switches Sound Like?
Brown switches are not clicky, so unlike Blue switches, they don't have a high-pitched clicking sound that makes them sound similar to a typewriter.
Brown switches make more of a "thud" sound, but they're not silent by any means. Check out the video below, of keyboards with Cherry MX Brown switches. The build quality of the keyboard will also affect the sound the keyboard generates.
If you watch a video with another switch, you can clearly tell the difference in sound. If you're typing with people around you, the Browns are much more comforting to the ear. However, with louder switches, that added response makes it more enjoyable when playing games.
With that being said, let's get into the actual reviews of the keyboards in the comparison table.
Best Mechanical Keyboards with Cherry MX Brown Switches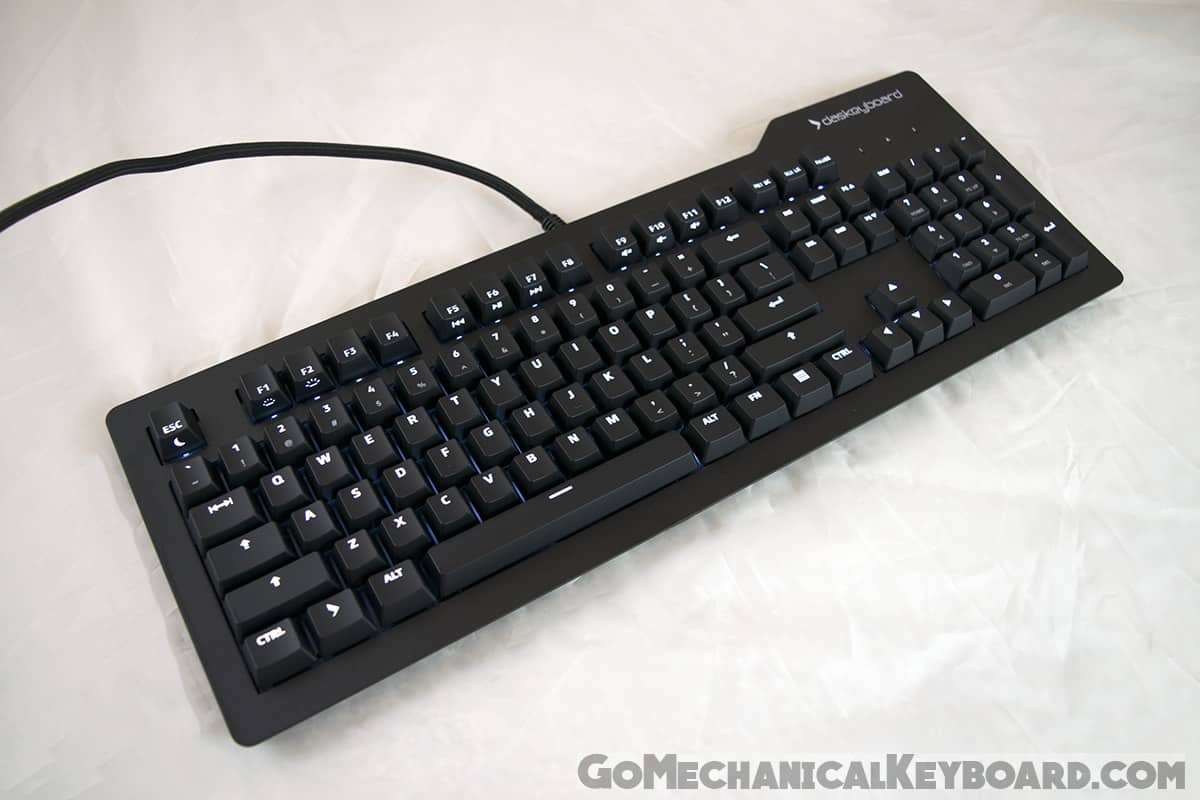 The Das Keyboard 4 Pro has consistently been named one of our best mechanical keyboards, so of course, it's going to show up here. And, with more than 1,000 positive Amazon reviews, it's easy to see why.
The "Soft Tactile" model means Cherry MX Brown switches. The Das has excellent media control keys, a USB 3.0 hub, and an aluminum case that feel awesome and solid.
This is the most classic work keyboard anyone can have. Its high-quality build, media-specific buttons, USB ports, and low-key design make it top-notch for any office environment.
Check out our full Das Keyboard 4 Pro review & unboxing to get all the details.
PROS
CONS

Comfortable typing experience
Oversized volume knob for quick adjustment
Dedicated media controls
Aluminum durable top
Instant Sleep Mode

Not really great experience for gamers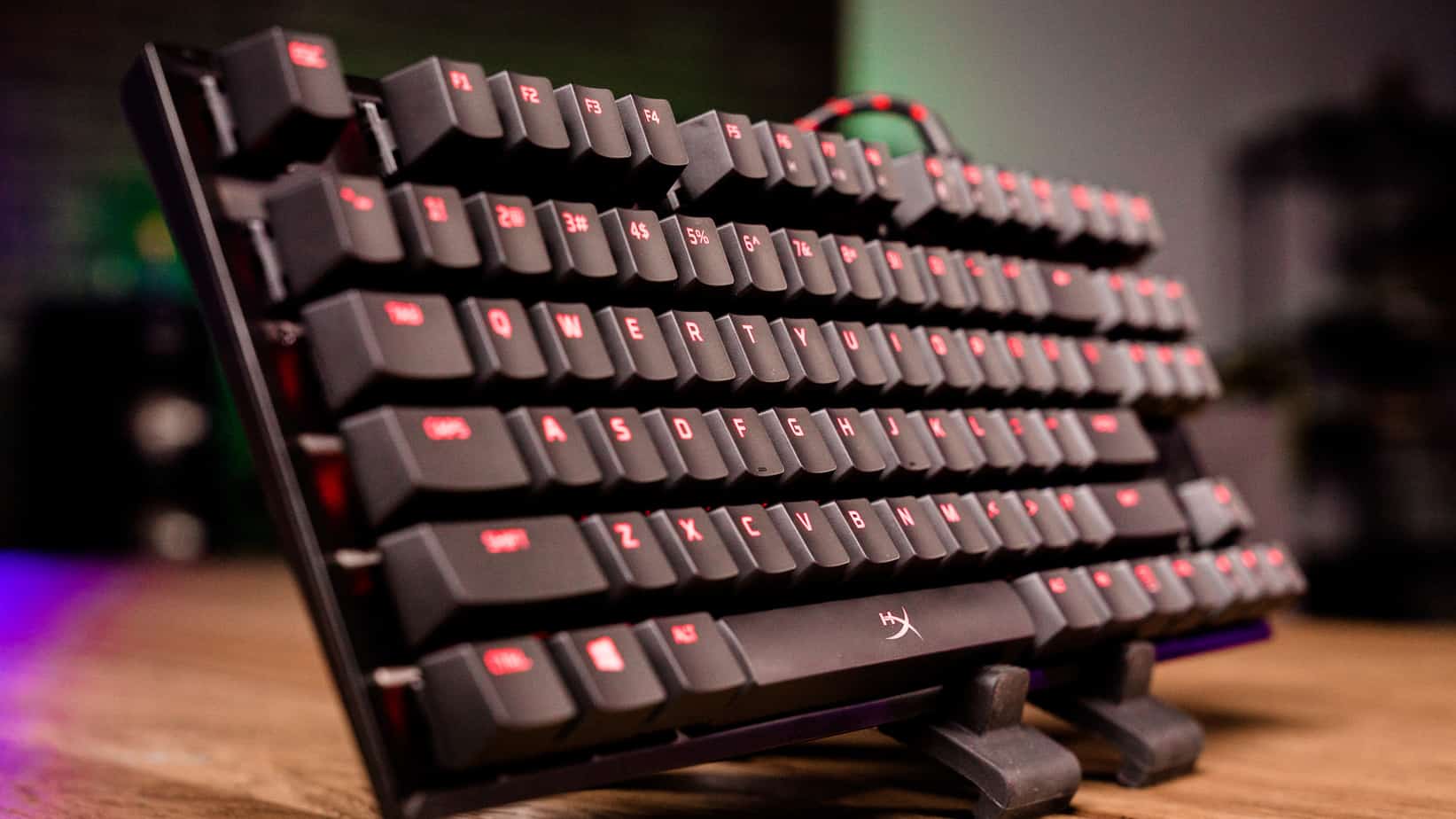 Hyper X FPS features floating keys on the flat metal frame. The frame is thinner than other keyboards from Hyper X. The base below this layer is made of plastic which is integrated with steel interiors. The keyboard feels pretty heavy and sturdy. In addition, you get the options of three different Cherry MX switches.
You can also notice a mini-USB plug around the back and a braided USB Cable. It would have been better if the manufacturers could replace mini with micro-USB, which is used by most consumer gadgets. There is nothing fancy about the control buttons. They are pretty straightforward to use and are limited in number. Function buttons can be used to control media playback and adjustment of the volume. There is also a gaming mode that can be turned on by hitting F12. The gaming mode will disable the windows keys and allow you to have a better gaming experience.
The keyboard does not feature RGB lighting. Still, the red LED lighting looks pretty gorgeous on its own. You can also change the brightness levels and lighting styles (Always on, FPS, Wave, Breathing, Explosion).
Overall, you will love this keyboard if you are a gamer for its feel, durability, and responsiveness. The keycaps are shaped well and slightly curved on the top with a smooth finish giving a good experience.
PROS

CONS

Sturdy and durable
Detachable, braided cable
Simple and limited media controls
Game-mode for a better gaming experience

Only red LED light
Limited customization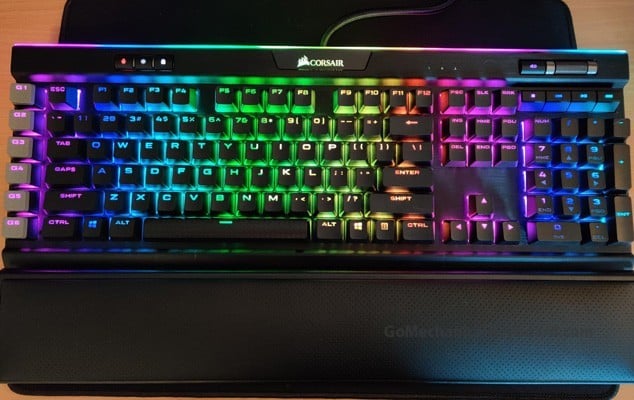 For old Corsair's users, there will be nothing new in terms of the physical design of this keyboard. With a brushed aluminum body, this keyboard offers dedicated media controls, volume controls, lighting controls, and a window key. The keyboard feels more sturdy and durable from its earlier versions and comes with a premium double-shot keycaps. The white translucent plastic layer allows the RGB lighting to shine through the top, giving it a more premium look and resistance against stains.
S-keys caps are also included in the package if you want to replace the G-keycaps. Textured keys for QWERDF and WASD give you better gaming and typing experience. The padded leatherette palm rest feels more comfortable than the previous rubber wrist rest. However, the plastic attachments do not feel as strong as a magnetic attachment. Given that the price is a bit on a higher side, users expect better.
Corsair sticks with tried and tested Cherry MX switches. MX Brown switches have been upgraded to give more reliability and promise to withstand 100 million keystrokes. The Corsair's iCue software is a delight for people looking to control lighting, creating macros, and adjust onboard storage.
PROS
CONS

Simple classic design
Dedicated media keys
Metal volume roller
Software for easy manual settings

Wrist rest does not feel durable
A bit expensive
Code 104 is yet another beloved mechanical keyboard in the MK community. Made by WASD, this keyboard was made with the community in mind.
With gold plated contacts, detachable mini USB, and sleek white LED back-lighting, this keyboard is clearly made with care. What stands out in the CODE 104 is that it has a DIP switch.
This essentially allows you to switch the layout of the keyboard to other styles. Though this isn't a huge benefit, given that most people use the standard QWERTY layout.
For a full review of the CODE 104 keyboard, check out our unboxing here.
PROS

CONS

Affordable
Great backlighting
Easy adjustments
DIP Switches

Not so great for long sessions of gaming
The SteelSeries Apex 7 TKL is a mid-range alternative to other premium models from SteelSeries. While it may not have all the features of the Pro version, it does retains its attractive design and durability. You can't ignore the vibrant RGB lighting that shines throughout the keyboard.
The Apex 7 is made of black plastic that features a gorgeous low-profile bottom and elevated keycaps. There is a negligible bezel, making it compact and portable. Also, the detachable magnetic wrist rest makes it ergonomically better than many other keyboards in the same range. The small OLED screen can be used to change the lighting and recording of macros. However, these changes are much easier to manipulate using the software.
You can even use five onboard profiles that are useful when you move from one device to another.
Overall, it is pretty straightforward to use. The gaming experience is precise, responsive, and comfortable even when you play for hours. The key stabilizers are awesome so you won't feel any wobbling. It is a delight for people who love to play in a dark setting.
PROS

CONS

Ergonomic design
Bright RGB lighting
Programmable macro keys
OLED screen for customization

Customization does not work with Linux
Our Best List Criteria
We have created this list of best brown switches keyboards based on the following factors –
Actuation distance – It is the distance between the key to the point where it touches the keyboard. The more the distance the more you will press hard to type. In brown switches, the actuation distance can be around 4mm.
Actuation force – It is the force required to make the touch the keyboard. You can say, how hard you need to press the keys to be recognized by the keyboard. The ideal actuation force for the brown switch would be around 45g. It is also termed as operating force, which should be around 55cN.
Upper housing – The upper housing of the brown switches can be made of plastic polymer or sometimes even rubber dome. Hybrid switches are quite popular these days. However, Cherry MX still remains the top priority.
Feedback – Brown switches should have tactile bump making them perfect for typing and gaming.
Sound – These are most appropriate for office use because they are relatively quieter. The silent travel and medium operating force make it quite a versatile option for users.
Conclusion – Which One Should You Choose?
This list of mechanical keyboards with brown switches contains a keyboard for everyone.
Like all of our buying guides, we try to have variety as well as top-rated, reliable keyboards. I would only recommend a keyboard if I myself would use one. And I would definitely use all of these if I had the chance – not to mention that I've tried most of them already.
For office works, programmers, or just someone looking for a low-key keyboard, the Das or Logitech are excellent picks. If, however, you want RGB lighting, the STRAFE is the way to go.
Regardless, every keyboard in this list is great. They can all be used for gaming or working, it just depends on your wants and needs.
Leave a comment below to let us know what you think!