Mechanical keyboards are known to be tactile and clicky, yet we often get asked – what are the best quiet keyboards?
People who are working or gaming in an environment where loud noises may not be appropriate still want the tactility of a keyboard but without the noise.
In this buying guide, we will dive into the quietest mechanical keyboards that are enjoyable for work, efficient for programming, and our 'best list' for the office.
Contrary to popular belief, mechanical keyboards can actually be silent. Many manufacturers even make keyboards that are specifically quiet. How do they do this? Placing the right switches and rings below the keys to ensure a dampening effect.
If you already have a mechanical keyboard and don't want to invest in another one there is a way to make it quiet. Check out our guide here on how to do that with just O rings and switches.
The Quiet Office Keyboards List
Each keyboard has been tested as per our criteria shown at the bottom of this article, see below for full details.
To make sure the keyboards are quiet, make sure you get the proper switches (Cherry MX brown or silent switches. O-rings can help as well, but they change the overall feeling of your keyboard.
That being said, this list contains some of the quietest, most silent, and sleek-looking keyboards on the market. We're confident that this is the ultimate list for a quieter typing environment with a pro and sleek vibe.
The Best Quiet Mechanical Keyboards
Durgod K320 and K310 – Simple and Sleek Silent Mechanical Keyboard
The Durgod K310 and K320 are basically the same keyboard, except the K310 is a full-sized mechanical keyboard and the K320 is tenkeyless, which lacks a number pad. A tenkeyless layout is convenient if you have a small desk and want to save space. However, if you do a lot of number entry, this may make this task more difficult.
Both keyboards come in a variety of colors: two-toned dark and light grey, two-toned off-white and grey, white backlight, and RGB lighting. The prices will vary depending on whether you choose to have backlight or not.
Both keyboards have a detachable USB-C cable, an assortment of Cherry MX switches, and doubleshot PBT keycaps. We recommend picking Cherry MX Silent Red or Silent Black for that quiet mechanical sound. The MX Reds, Blacks, and Browns are more quiet than MX Blues, Whites, and Greens. However, they still have the bottom out sounds that can echo throughout the office. With O-rings the MX reds, blacks, and browns are okay and won't annoy your office mates.
Depending on the feel that you want, there are different options to make. On the back of the keyboard are two dual-angle adjustable kickstands. The wire also has routine channels to go through depending on where your PC is positioned relative to your keyboard. The software , Zeus engine, allows you to remap keys and edit RGB (if your keyboard has RGB lighting).
Both boards have a plastic case with a low comfortable typing angle, but they have a metal plate to ensure that there is no flex or wobble. The keyboards are quite sturdy and feel amazing to use.
The best benefit for buying Durgod is that they really pay attention to the stabilizers. Their stabilizers come pre-lubed from the factory and have almost no rattly or additional sounds when you use them. The spacebar especially sounds amazing.
The full-sized version costs a bit more than the tenkeyless version, but both are amazing options for the office. The colors and style looks completely office-appropriate and with the Cherry MX Silent switches, the noise is equivalent to a membrane-style keyboard.
For the person who wants the really simple white lettering on black keyboard look, yet still want a mechanical keyboard, this one is for you. For number entry, this keyboard has no dedicated number pad since it is tenkeyless. However, there is a full-sized version here on Amazon, but you'll want to get additional O-rings on Amazon to make it more office-appropriate because MX Reds still have a loud bottom out sound compared to the MX Silent Reds of the TKL version.
The Filco Majestouch 2 TKL has pad printed ABS keycaps. Over time, they will get shiny. It is easy to replace them for PBT keycaps because both versions have a standard layout. No need to think about keycap sizing or anything like that. There is no backlighting if you do happen to work in a dark environment. However, the contrast between the white legends on the black keycaps should be plenty to see all of your keys.
On the function row, there are side-printed secondary media functions. There's also Windows Lock so you don't accidentally open up the Windows menu while deep in work.
There are four rubber feet on the bottom to prevent any slipping and two single-angle kickstands to change the angle to a steeper one if that's what you prefer. Additionally, the cable is non-detachable, but it is quite thin and doesn't clutter your table space. There is very subtle branding on the front right side of the board. Above the navigational cluster, there are two light indicators for Caps Lock and Scroll Lock.
The Filco Majestouch is available in the following Cherry MX Switches: red, blue, brown, black, silent red (costs extra).
Leopold FC980M – Extremely High Quality Prebuilt Keyboard
The Leopold FC980M is has a special compact layout that still keeps the arrow keys, number pad, and part of the navigational keys. It keeps all of the function, but the width is about the same size as a tenkeyless keyboard. Leopold does offer different keycap colors if you look around, but this keyboard looks extremely simple and office appropriate.
The profile keycap they use is called SS2 and is very similar to OEM profile and Cherry profile. They are all sculpted and designed to reduce the distance between each keyboard row for more comfort.
Leopold is a well-known name within the mechanical keyboard enthusiast community for being one of the best prebuilt keyboard manufacturers out there.
The FC980M comes with a detachable cable, doubleshot PBT keycaps that are oil-resistant and more textured than ABS keycaps, and a layer of felt within the case to reduce reverb and sound echoing within the case itself.
There are many other Leopold keyboards available in different sizes as well, ranging from 65% all the way to full-size. It just depends on what your preferences are when it comes to sizing. The FC980M is probably the best for office work because it has almost all of the keys of a full-sized keyboard but is much more compact. For more information on the different Leopold keyboard sizes and the differences between them, check out this article we found.
The Realforce R2 is special in that it has unique Topre switches. Topre switches have a mechanical keyboard feel yet have a rubber dome at the bottom. They actuate via the hall effect, and Topre switches are capacitive.
These switches may not be for everyone because they feel so different. However, some people swear by them and cannot revert back to mechanical switches once trying out these Topre switches. One of the downsides of Topre is that it can be loud unless you lube and silence the switches, which can take additional work. Some Topre keyboards have the option to come with silenced switches already.
Topre switches can be very expensive, but there are also Topre clones out there as well such as the Niz Plum by Epomaker. A benefit of these switches is that they're extremely lightweight to press and reduces fatigue over long typing sessions. The Realforce R2 comes with N-key rollover as well to register every single keypress despite being a rubber dome keyboard. It is very different from a membrane keyboard.
The cable that comes with it is nondetachable. The R2 also has dye-sub PBT keycaps that last for years despite long typing sessions and usage.
There are many different editions of the Realforce Topre keyboards, depending on what weight you want your switch to be, the size of your keyboard, and whether you want backlight with RGB lighting. The version linked below is the most office-appropriate with a full black case (also available in all white), subtle branding, full-size with the numberpad, and dye-sub PBT keycaps.
The Kinesis Freestyle Pro is a split ergonomic mechanical keyboard, which is the only one of its kind on this entire list. Depending on your circumstances, this may be really good for you or not…so make sure you read on.
The Freestyle Pro is available with Cherry Mx Silent Red switches, which is great and quiet for the office. Because of the way that it is split, you must be able to touch type with your left hand hitting T,G, and B for the middle letters and your right hand hitting Y, H, and N for the middle letters. If you mix these anywhere when you type, then this keyboard will be quite uncomfortable for you.
If you use the Escape key often, the Esc on this is actually quite far away. The layout of this keyboard is similar to a 65%, that has been split in half. 65% means that there are arrow keys, some navigational keys, but no number pad. This keyboard does have the function row though, and on the left side there are 10 additional macro keys for improved productivity.
This keyboard is not for people with small hands, as it feels very uncomfortable and large while typing. The keyboard has nice software, and it is easy to record macros for office tasks that require you to type the same things over and over again.
There are arrow keys on the bottom right, but if you do number entry, make sure you get a separate number pad. If you look at the bottom right, also notice that the right shift is smaller. That may take some time to get used to, depending on which side of the shift you hit while typing.
If you are at your desk typing a lot, experience any wrist problems, this keyboard may be able to help with that. It is an award-winning keyboard for being ergonomic. If you purchase the additional tenting/tilting kit, you can raise the keyboard and adjust the angles for it as well.
iKBC CD108 and CD87 – The Budget Friendly Silent Mechanical Keyboard
iKBC is a well-known keyboard company with their keyboards being recommended by Wirecutter as well. The iKBC CD108 is a full-sized keyboard, and the CD87 is the tenkeyless equivalent. Tenkeyless (TKL) means that there is no number pad. If you are doing a lot of number-entry at your office, make sure to get the full-sized version or get a separate number pad.
Out of all the keyboards on this list, these are the most budget-friendly, while also having Cherry MX Silent Red switches and high-quality builds. Despite the prices for these boards being lower, they do not sacrifice quality to make this happen. iKBC still choose to use high-quality and durable Cherry MX switches.
In addition, both boards have double-shot PBT keycaps that are oil-resistant and textured to improve feel when using them. There are no backlit or RGB options for these boards. Additionally, the wire is nondetachable, but it does have 3 cable routing channels that it can go through to make your setup look less cluttered.
Both boards already come at a nice angle, but in the back, there are two dual-angle adjustable kickstands to customize the typing incline even further to suit your needs. Both boards have Windows lock, secondary media functions on the function row, and 100% anti-ghosting and NKRO. iKBC doesn't sacrifice at all in these budget-friendly boards. They feel as if they should be more expensive, but they aren't, thankfully. They are only available in black, but there are a variety of Cherry MX switches available: red, black, brown, blue, clear, and silent red.
We recommend picking up silent red for the office, but if your office tolerates a little more noise and you want the tactile bump, browns and clears are good options to pick. Both have bumps, but the clears are slightly heavier to press and may not be good for long periods of use at a time.
Mechanicalkeyboards.com created and designed this keyboard specifically for typists. The switch options available are Cherry MX Brown, MX Silent Red, and Kailh Box White (which is a loud clicky switch).
The Night Typist comes with a black case with white legends on the doubleshot PBT keycaps. It is a full-sized keyboard with over 10 pre-built layouts within it for the unique office worker: Dvorak, Colemak, Qwerty, Norman, Workman, MiniMak, Alphabetical, and more. The legends are clean, office appropriate, and won't make you stand out too much from your office mates.
The Night Typist also comes with a second programmable layer that you can program all the macros on, which is a lot of different macros you can create. Additionally, the cable is a detachable USB-C cable, which makes it easy to pack up and bring home if you travel with your board without worrying about damaging your cable.
The best feature of the Night Typist is that it does have simple white backlight (hence the name Night in Night Typist). It is a warm light that doesn't blind your eyes when working in a dim environment. There are four brightness adjustment levels for the white backlight.
The case is all plastic with an aluminum plate to increase sturdiness and durability. On the back are 4 DIP switches, allowing you to switch the locations of Windows and Alt for the keyboard to be compatible with both Mac and Windows.
The HHKB is designed for professionals, especially programmers. Despite its small size and lack of bottom left and right buttons, many programmers love this layout.
The HHKB uses Topre switches, which are lightweight, easy to press, and actuate via electrostatic capacitive switches. They provide a satisfying feel without the hard bottom out, making them great for long typing sessions. They also sound great, but for certain offices, they may need to be silenced and lubed for less sound.
The HHKB lacks the bottom left and right keys because the Ctrl is build into the CapsLock key instead. Additionally, the backslash comes the backspace, making it even closer to the home row for increased comfort. These keyboards are compatible with both Mac and Windows, and there are wireless versions as well that use Bluetooth to connect with up to four devices.
Additionally, the compact layout allows more room around your PC for other tasks involving your mouse or just storing notes, books, etc. It may take time to get used to the layout that the HHKB has. It took me approximately 2 weeks to get used to the backspace being moved to the backslash key.
The Keychron K6 is a compact 65% layout, but it has the option to be hot-swappable. This means that you can take the switches in it and replace it with better silent switches without having to desolder and solder. Despite the compact layout, it is quite functional, unless you do number entry.
The arrow keys are easily accessible, and many other functions can be found in the secondary layers. It is also possible to remap the right side keys to whatever you want them to be using software such as SharpKeys for Windows and Karabiner for Mac. Unfortunately, Keychron doesn't have their own dedicated software yet, but they are working on it.
The hot-swappable sockets fit pretty much all mechanical switches, whether they be 3-pin or 5-pin. They do not fit optical switches, keep that in mind. For silent switches, some recommended options are Zilents, Aliaz, Gateron Silent Reds or Silent Browns, Cherry MX Silent Reds or Blacks, and Kailh Box Silent Pink or Silent Brown.
The Keychron K6 is also compatible with Mac and Windows. It also has Bluetooth 5.1 and can connect up to 3 devices, changing between them quickly with key combinations. The function row is the same as the Mac function row, so you don't need to learn completely new placements.
If 65% is too small for you, Keychron also has a tenkeyless layout with all the same features (hot-swappable, Mac/Windows compatible, Bluetooth).
Other than this, we can also recommend building your own custom mechanical keyboard and using the exact parts to get the exact sound that you want. This is the closest option while also being extremely affordable.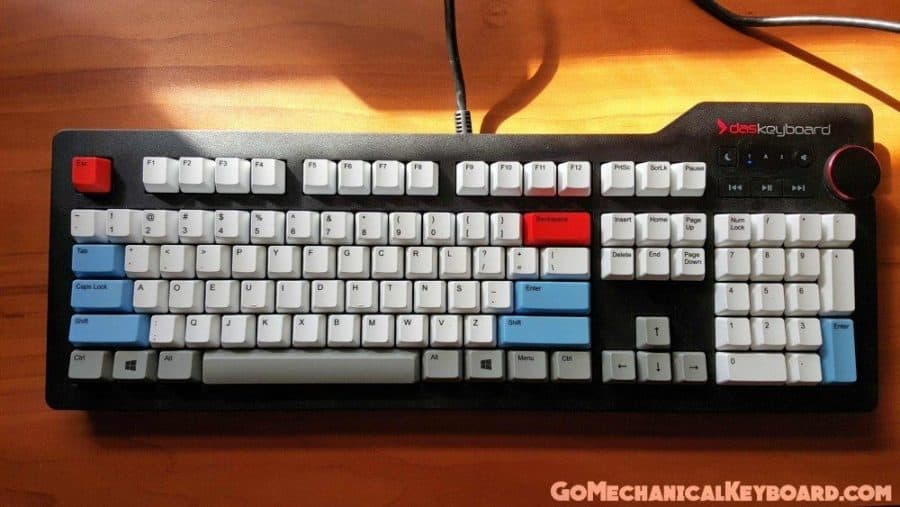 The Das Keyboard 4 Pro is one of the best looking mechanical keyboards you'll find, hands down.
The keyboards look like it belongs in an executive office, but will be right at home in any office scenario.
This keyboard is so popular that it has over 1,000 positive Amazon reviews and has made quite a few of our top lists.
We recommend installing the blue O-rings on these keys, as the Cherry MX Brown switches aren't exactly silent, but they are quiet enough for a work environment. All of the keyboards on this list are popular among gaming enthusiasts and can work just as great for any environment.
By purchasing the right switches and rings, you can make just about any keyboard quiet.
You'll certainly get a lot of compliments (and jealousy!) from your coworkers when you bring this to the office. Das is a very well known company in the gaming community. They are known for their excellent mechanical keyboard builds and quality and have a sleek and professional look to them (excellent for the office).
Once this bad boy is quiet, it'll be low-key one of the most enjoyable keyboards you can have.
Best features:
Dedicated media controls
2 USB 3.0 ports
Sleek minimalistic design
Check out our review for more information.
| | |
| --- | --- |
| Pros | Cons |
| Awesome tactility | Configurability isn't too impressive |
| Stylish and seamless design | Noisy |
| Great ergonomics | |
Here's a great choice if you want more style and backlighting in your work mechanical keyboard.
Code's 104-key is a classic and a favorite amongst keyboard enthusiasts. With its built-in DIP switch, you can actually switch the style of the keyboard from QWERTY to other styles.
It's also compatible with Macs and makes a great alternative. With a very minimalistic sleek look, this would be a great keyboard for the office.
Also available in tenkeyless, this keyboard uses Cherry MX Clear switches, which have a tactile feel similar to Brown, but with a heavier actuation force. CODE uses a detachable micro-USB cable, which would make transportation easier between home and the office.
Best features:
Detachable micro USB
NKRO
DIP switch for configurable output modes
White LED backlighting with 7 levels of brightness
If you're interested, we have a review of the CODE 104 that you can check out here.
| | |
| --- | --- |
| Pros | Cons |
| NKRO mode | Keypad is a bit stiff |
| Minimalistic sleek look | |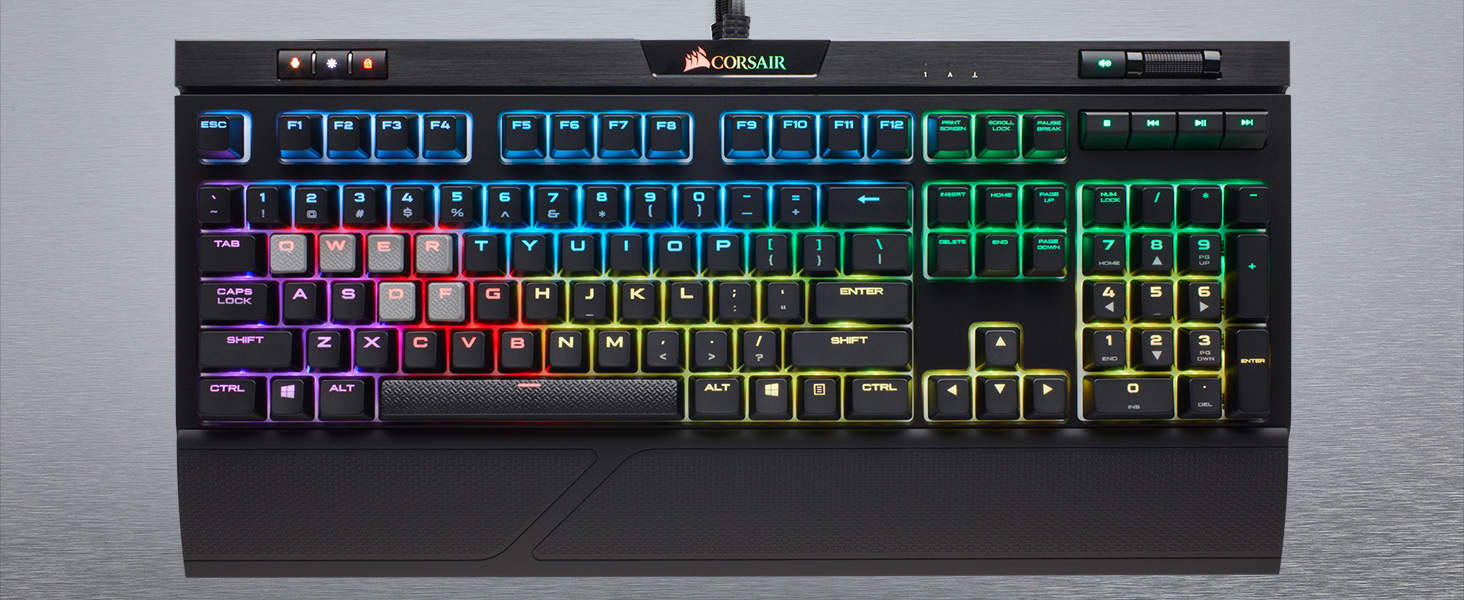 This mechanical keyboard produced by Corsair has to be applauded for its improvements compared to its predecessor, the RGB STRAFE.
The Corsair Strafe RGB MK.2 offers a cherry MX silent mechanical switch with a solid build. It features a texturized wrist rest that you may find comfortable. Aside from its customizable RGB lighting and its texturized space key, its general design makes it look like a race car keyboard. And that only makes it look and feel better on your office desk.
It is a full-sized keyboard with all the necessary features and media buttons. Its keycaps also feel incredibly comfortable. That is all thanks to its mixture of plastic and soft-touch materials. Its USB pass-through ensures that you can connect your gaming mouse and play games without any hiccup.
Its biggest con probably is that Corsairs iCUE isn't as straight forward as others in the market.
| | |
| --- | --- |
| Pros | Cons |
| Smart improvements | Arcane software |
| High-quality Cherry MX keys | |
The Matias Quiet Pro is an excellent keyboard for every typist who wishes to enjoy typing.
For more than three decades, Matias has proven time over that they deliver quality. Although they operate on a smaller scale, their keyboards still compete with the big dogs. The Matias company goes as far as to say that this is the quietest mechanical keyboard in the world. This is all thanks to the Quiet Click Switches that it uses.
The Matias quiet pro is a full-size keyboard with a modified ANSI layout with additional media buttons. The overall design and layout make it both suitable and excellent for office use.
Although it follows a standard 104-key layout, it is still quite compact. It owes this attribute to the removal of things like double-height, and a huge reduction in the gap between the paging block and Numpad. The connectors in this model are angled at 90 degrees. Connectors built in this way are more durable than straight mini USB jacks that are rather vulnerable to snags.
Want to learn more? Check out our full review of this keyboard here.
| | |
| --- | --- |
| Pros | Cons |
| It is really quiet | No backlighting |
| 3 extra USB 2.0 ports | Poor quality |
| Audio and Media control | |
Why Use a Mechanical Keyboard for Work?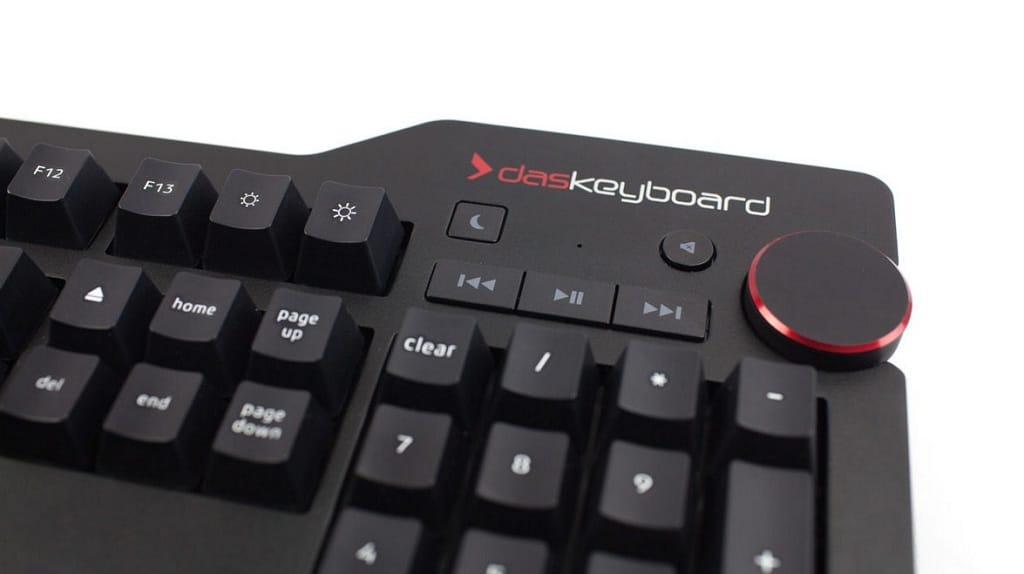 If you're a mechanical keyboard enthusiast or use it for home then I don't need to convince you why these types of keyboards are the best.
But for those of you just looking into this, I recommend you check out our beginner's guide, which will help shed some light as to why you would want one for work.
Long story short – if you're an office worker then chances are your typing nonstop.
Mechanical keyboards are simply amazing! they offer so much to every user. From its switches, framing, functionality, led lighting, PCB boards, and several other features make them one of the best keyboards you can use.
As such, you should be absolutely comfortable with what you're typing with on a daily basis (without it being noisy). This will not only increase the enjoyment of everyday work, but can also make it easier on your wrist, fingers, and improve productivity (not to mention making your keyboard deadly silent).
The last thing you want to do is drop $150+ on a new mechanical keyboard to bring into work, only to be banned from using it due to complaints.
To help you avoid the drama, we're going to give you some tips and our list of the best office-friendly quiet mechanical keyboards! These keyboards are designed to be silent but also have all of the other awesome features of a typical mechanical keyboard (actuation force, RGB, backlit, programmable, etc.). At the end of the day, you get to keep your job and your keyboard.
If you'd like something programming specific, check out our list of the best mechanical keyboards for programming.
Criteria For a Work-Friendly Quiet Keyboard
Cherry MX Red or Brown switches: These are the quietest of the Cherry switches with a similarly low actuation force. The Brown switch gives more feedback on your keystroke, letting you know through touch that the keypress has been registered. Many people prefer Brown mechanical switches for typing. You should view these as mandatory. They make a huge difference in sound levels, as well as improving the typing experience by most people's opinions. It will probably take you about 30 minutes to put these on your entire mechanical keyboard which is pretty damn quick considering it'll make your keyboard a quiet and stealthy beast. Check out our article on mechanical keyboard accessories to help you as well.
Professional Look: You probably don't want to buy a flashy gamer-geek keyboard to bring to work, since you don't want to distract yourself or other employees. You'd also run a higher risk of having your flashy mechanical keyboard stolen if you leave your keyboard at work overnight, so we want to stick with minimalist or ordinary-looking keyboards. The ones covered in this list are professional looking and can be customized to be super quiet. Excellent for work or gaming during your breaks.
Office friendly design and functionality: There are some subtle functions and layout forms of mechanical keyboards that can make it more optimal for an office environment. Design aspects such as compact forms, wireless or Bluetooth functionality, and function keys are important aspects that you should take into consideration.
Comfortable to use: the objective of buying a specialized keyboard is to ensure you get more work done in fewer hours. but we can't do this if they keyboard we use to work isn't comfortable enough. This makes it absolutely important for work-friendly keyboards to be comfortable enough for its users to work more without strain on your hands or fingers.
Note that there are also other switches such as Cherry silent and non-cherry varieties than can emit even less noise!
Conclusion – So, Which One is Right For You?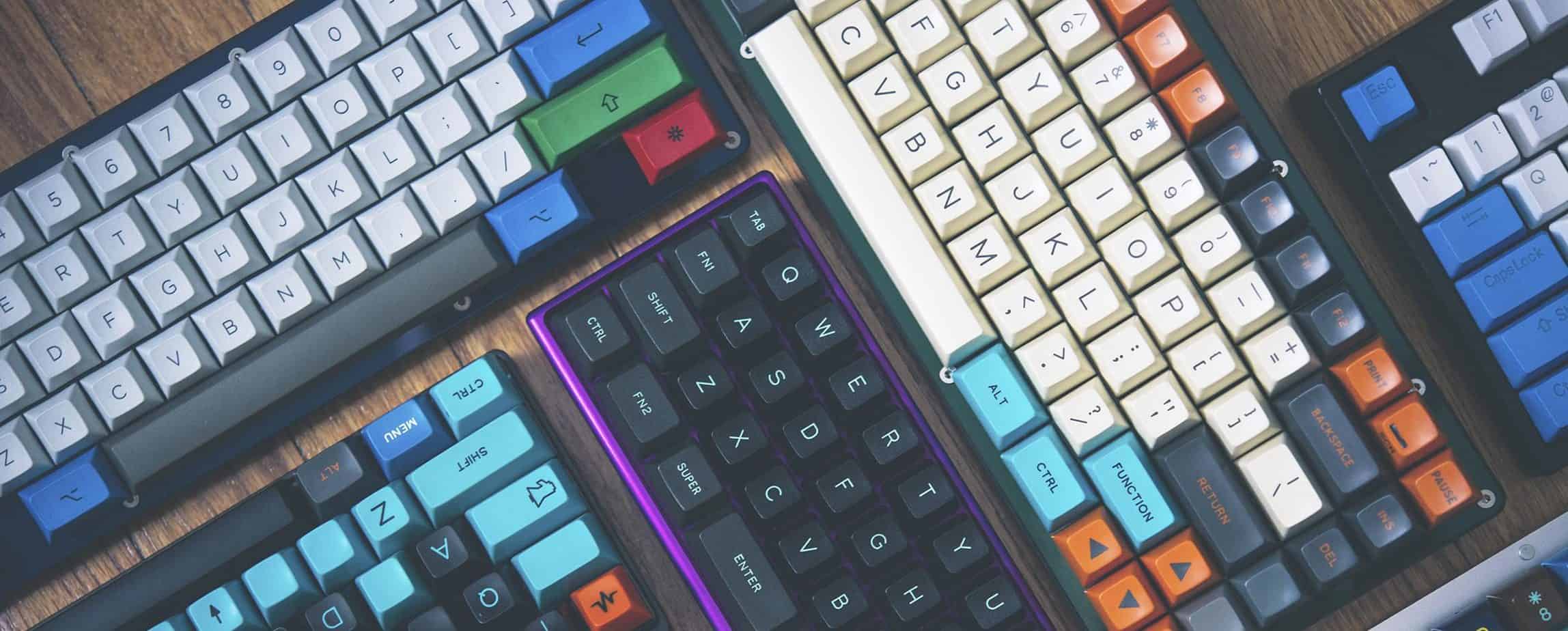 Your everyday work environment doesn't have to suck as much with something fun to type on.
Pick up a mechanical keyboard and get the proper switches for them and voila! You'll have a sleek, professional, and silent mechanical keyboard that you'll enjoy using every day.
Most importantly, mechanical boards make typing easier as it can require less force, can be programmed, and can also be customized to your liking.
Best of all, we've reviewed every keyboard on this list and can attest to their quality (and quiet sound). You won't regret investing a small amount for a high-quality keyboard that can increase how you work and type in your office environment.
Another contender that didn't quite make it on the list is the super quiet Matias lineup of mechanical keyboards. Not as popular in common gaming rigs but their keyboards are considered to be pretty damn quiet. Check out their quiet keyboards list here.