Pros & Cons of Roccat Vulcan 120
What's the difference between the Roccat Vulcan 120, 121, and 122?
Before we start anything, know that Roccat's Vulcan 120, 121, and 122 are the same keyboards. They only differ in their colors.
Roccat Vulcan 120 has the following exciting features,
AIMO Intelligent Lighting System
Up to 30% faster than most keyboards
Titan Swift Tactile
You can find the Roccat Vulcan 120 on Amazon for an affordable price.
| | |
| --- | --- |
| The Good | The Bad |
| | |
| | |
| Integrated Macro & Settings Memory |   |
| Unique & Excellent Design |   |
You can find the Roccat Vulcan 120 on Amazon
for an affordable price.
 Read Also: Best Mechanical Keyboards Under $100 here.
In gaming, timing and response rates are everything.
Having the hardware that equips you with faster response rates gives you the edge in competitive gaming environments.
Not long ago, Roccat sent me their exclusive gaming keyboard "The Vulcan 120" to test and review.
I used the keyboard for more than two weeks and here is what I found about it.
First Impressions and Features – 9/10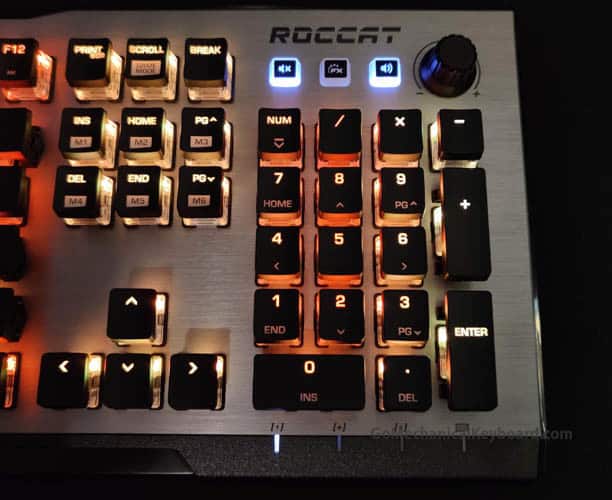 As soon as I laid my eyes on the keyboard, I felt its capability at once. 
The keyboard has a very good design and is equipped with everything you could imagine in a perfect gaming keyboard. 
It has beautiful aesthetics
There are a lot of textures
Those keys feel premium
The nakedness of the keycaps makes it even more attractive
I especially liked the way RGB looks on Vulcan 120. The more spaced keycaps allow more of the RGB light to pass that automatically adds more to the user experience. So, I'd give it a 9/10. 
From the price point, the keyboard really doesn't come cheap but it still provides you with literally everything.
Roccat has included the following features in their flagship gaming keyboard,
DESIGN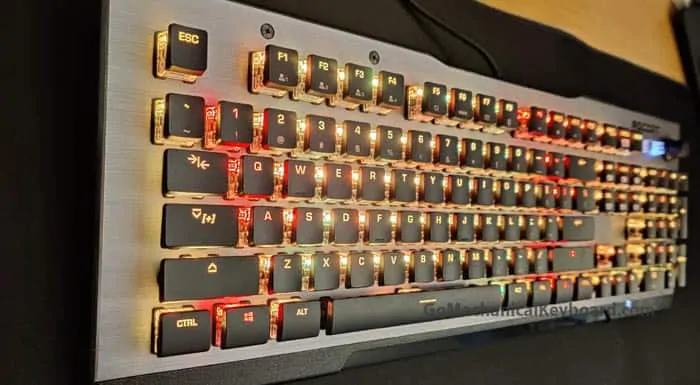 The whole assembly sits on a brushed aluminum base with a couple of screws to hold it in place. The anodized aluminum plate not only reinforces Roccat Vulcan 120 but also helps to keep it clean and dustfree.
There are three variants of this keyboard available in the market advertised as Vulcan 120, Vulcan 121, and Vulcan 122. 
While they have the same spec sheet and the same design, they have entirely different colors.
On the top right corner, a volume rocker can be seen alongside which there are three other shortcut keys for sound control.
The keyboard has a fully loaded key mapping software that enables you to remap all the keys which are an advantage for people who have just gotten into competitive gaming.
Since the Roccat Vulcan 120 is not compact, all its keys are easily reachable and there is no flaw in their placement at all. Also, there is no key missing and the keyboard follows a full-fledged layout.
There is an attachable wrist-pad which makes your wrists more comfortable even though the keyboard sits at a perfect angle. I rarely needed the wrist-pad but it does become a necessity if you are using the keyboard for extended time periods.
One additional thing to note about the wrist-rest is that it does not use hinges like most other ones. I personally dislike hinge mechanisms as they often break and are made of thin plastic.
To summarize,
Full Layout
Comfortable to use
Added wrist pad that attaches magnetically to the keyboard
Satisfying Typing Experience 
Great Aesthetics
To end the design part, the keyboard feels more than premium and is slightly heavy due to the metal plate which makes it more stable as well.
LIGHTS OF ROCCAT VULCAN 120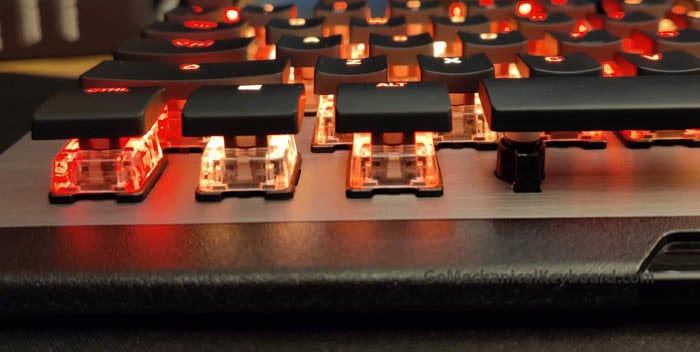 The AIMO engine powers the whole RGB set up as well as the individual LEDs.
The intelligent system can be controlled using Roccat's software and by the drivers that are required to be installed at the time of first use.
Overall, the RGB setup looks very sleek and neat. The LEDs support 16.8M colors which means they are really bright and saturated.
The design of keycaps makes the switches even more visible and allow the RGBs to completely walk over the keyboard.
All in all, the Roccat Vulcan 120 has better RGB lighting than most other gaming keyboards out there, mostly due to their unique translucent design.
Out of the box lighting system is usually something like a breathing effect that can be later changed to the desired style using the keyboard's software.
CONNECTION
The keyboard requires a USB 2.0 port for connection with the PC and is only capable of wired connectivity.
This is because the Roccat Vulcan 120 is targetted towards gamers who acknowledge and admire wired connections since they are lag-free.
Additionally, the Roccat Vulcan 120 has a polling rate of 1000Hz which enables it to send and receive information at blazing fast speeds. 
This not only enables you to have zero-latency but also gives you an edge in battle.
–
However, there is no USB passthrough in the keyboard which is a little disappointing.
–
KEYS AND SWITCHES USED IN ROCCAT VULCAN 120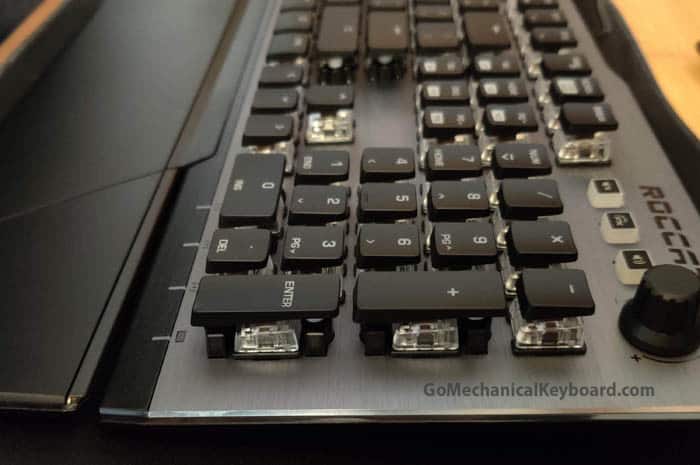 The Roccat Vulcan 120 has excellent switches. They are not only efficient but a lot faster than typical mechanical switches.
Roccat designed TACTILE TITAN SWITCH uses a debounced switch technology that allows it to have 20% faster recognition and up to 30% faster keystroke response.
Now, in my point of view, Roccat has included non-clicky tactile switches to counter Cherry MX Brown switches.
In fact, Titan Tactile switches are actually better, and faster as they have a 1.8mm actuation distance and require 3.6mm of pressing to bottom out compared to 2mm and 4 mm in Cherry MX respectively.
While they feel more premium than what we have experienced in Cherry MX switches, they are certainly faster and have a higher response rate. Cherry MX switches take the game for their durability, however.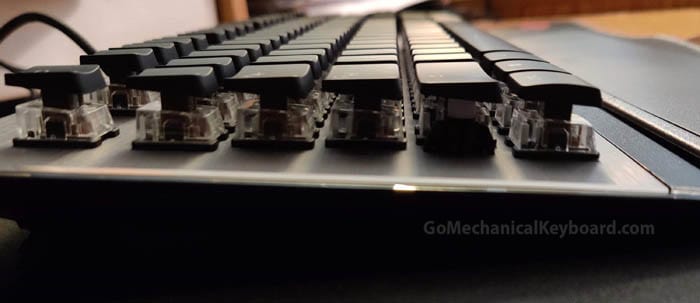 The keys are built to last and they are designed to be dustproof so you would not be cleaning them every now and then.
As I noted before, the only thing I do not like about the keys is that they have a grippy feeling instead of a smooth surface. This results in a feeling of friction every time my finger touches the keycap, which can be a nuisance.
In the end, the keys are combined with 45G supported switches that allow the users to have a silent yet crisp keystroke that is more responsive than most keyboards in this price tag.
Onboard Storage in Roccat Vulcan 120: Roccat has included a 512kb onboard memory in Vulcan 120 that enables it to store dynamic and custom RGB profiles as well as key mappings.
Unboxing Experience – 8/10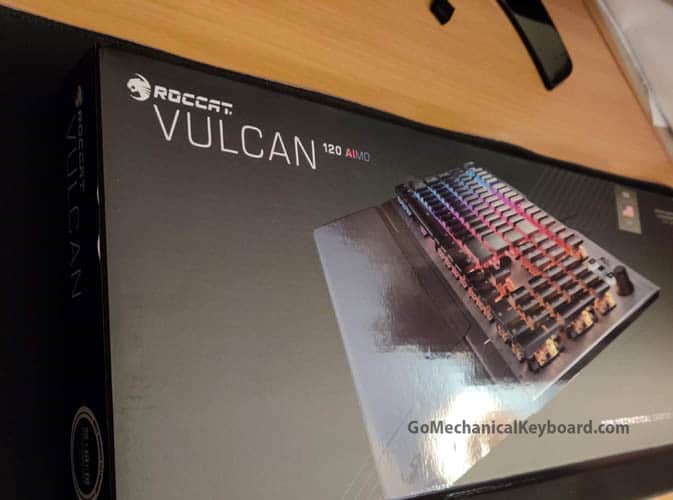 For unboxing, I must say that I'm pleased if not surprised by the packaging.
The overall delivery of Vulcan 120 from the company comes in a cardboard box branded topside with a picture and the name of the keyboard and some details about its highlighted features in the bottom.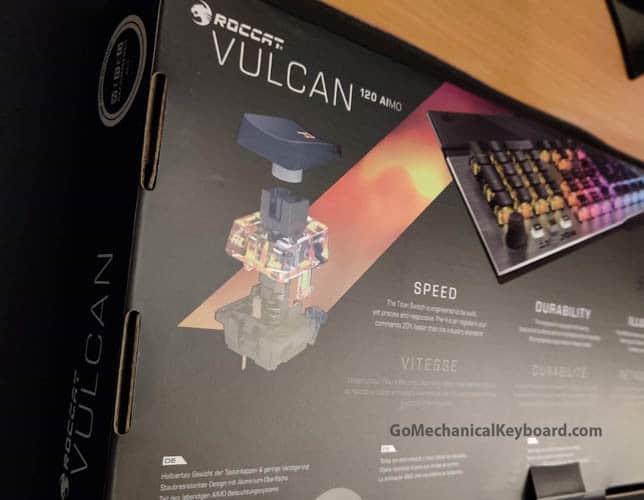 In short, the Vulcan 120 was very well packed and I'm satisfied with the unboxing.
Here are the box contents,
Magnetic Wrist Pad × 1
Roccat Vulcan 120 Keyboard × 1
Stickers × 3
Product Guide Magazine × 1
User Guide × 1
A solid 8/10 for the unboxing. 
Tests and Performances of Roccat Vulcan 120 – 8.5/10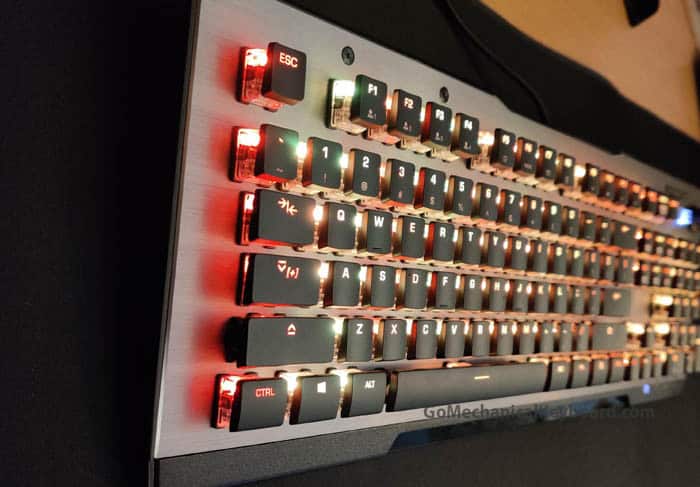 I used the Roccat Vulcan 120 in almost every way and I found that it worked pretty well for me.
No matter if I were using it in the office for simple typing and emails or I was having 4 vs 1 in Call of Duty Warzone with my buddies, the keyboard held up and it held up good.
Absolutely no lag was noticed and I have to admire the responsiveness of this keyboard even when used with combos or multiple keystrokes at a time.
The keyboard handles itself well.
Verdict: An excellent gaming RGB keyboard
For people have $160 to spend on a keyboard, Roccat Vulcan 120 is definitely a great choice.
With those naked keycaps, vibrant RGB lighting, and media keys, you're getting a fully-loaded keyboard with a unique twist.
The only thing that matters is whether or not you need this spec sheet.
If you're looking for something more affordable, check out our best list under $50 here.
Let me know what you think of this keyboard or if you have any questions.
You can find the Roccat Vulcan 120 on Amazon
for an affordable price.
Your suggestions are always welcome and will be featured in the reviews.
Until next time, Happy Gaming!