The Pros

The Cons

Compact layout

Brown Switches gives perceptible feedback with every keystroke

Pairs automatically with Mac

No need to install an extra driver

Sleek design and white backlighting

The feet occasionally slides

Some of the keys have tactile noise inconsistencies

No number pad
Why Use an External Mac Keyboard?
Looking to upgrade your Mac keyboard to a mechanical one; or did it just break?
It's no surprise that your $1,000+ Mac has a very underwhelming keyboard – the keyboard is cited as having many issues and complaints from users everywhere.
Instead of having to pay a ridiculous $700 to repair it, you could just upgrade and buy an external mechanical keyboard.
Whatever the reason for your interest in looking for a Mac keyboard, Velocifire's M87 is a great choice. This mechanical keyboard is budget-friendly, maintains the same layout as Macs, and is fully compatible with all Mac products.
Velocifire's M87 – Our Review
Velocifire let us try out their M87 mechanical keyboard for Macs and I tested it for 2 weeks. In this test, I personally used it every single day and tried it on a variety of scenarios to ensure its durability and build. Below are the details of my in-depth review.
Summary of our review:
2 weeks of everyday use in all settings (office, gaming, etc.)
Heavy usage and testing of switches
Looking at the quality of all features
Comparing it to other mechanical keyboards in its category
M87 – The Results
After having tested this keyboard for more than 2 weeks in all types of environments, I'm comfortable in saying that the M87 is a reliable companion to the Mac. It has the same layout and the switches are Jixian switches.
The M87 is a compact TKL (tenkeyless) keyboard that provides excellent portability, durability, and a sleek build.
Regarding the switches, the Velocifire's M87 has Jixian brown switches that produce a nice and more subtle tactile sound when typing. The response is very satisfying and perfect for a working or office environment.
The keyboard is ideal for those looking for a nice Mac keyboard upgrade (especially since there have been a lot of issues with the current butterfly switches on most current Mac keyboards).
This is for the users who want to experiment, while still retaining their Mac OS keys and layouts.
The best part is it is very budget friendly! Moreover, if you want to customize or upgrade, you can just crack it open and replace the switches (unlike Mac's default keyboard).
Velocifire M87 – Specs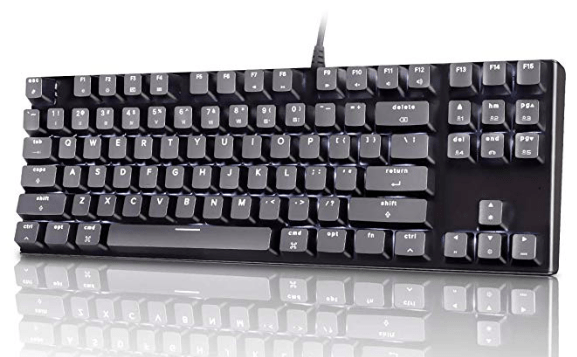 The brand's latest mechanical keyboard released for Mac OS comes in at a cheap price.
Further, this keyboard is specially designed for Mac users; hence, it has the Mac layout with the firmware matching 100% with the Mac system.
Key Specifications
The keyboard weighs around 1.43 pounds
It entirely supports Mac OS
The cable length is 150 cm
Uses a USB 2.0 connector
White LED backlight
ABS painting and laser keycaps
M87's Key Features & Build
Overall, for its price, I think the M87 has decent features, especially when compared with other Mac keyboards. For example, the white LED backlights are a nice touch and not too overwhelming. In addition, the plug and play feature makes it quite convenient to use.
For the price, you definitely get what you pay for.
The keyboard is very compatible with Macs and already has the required key mappings
The mechanical keyboard follows the users' behaviors offering firmware compatibility and keyboard layout, thereby making it a true Mac mechanical keyboard
Trusted Performance
100% firmware compatibility
No requirement of Mac configurations, just plug and play
The anti-ghosting key rollover makes sure that the simultaneous keystrokes and commands are registered without any delay
From F1-F12, this mechanical keyboard has the same layout as the Apple keyboard. Hence, it makes it user-friendly for the Apple users. This means you don't have to change your typing behavior
High-quality Mechanical Switches

The Brown Switches can last for more than 50 million keystrokes
Sturdy and robust ABS polymer material with perfect dust and waterproof effect
Laser-engraved keycaps will not fade quickly. This mechanical keyboard is durable in use as it is abrasion resistant
Ergonomic Design
Your fingers will feel more comfortable when you use the keyboard. The keycaps have a slope angle, and with the inclusion of the flip-out feet, your wrist and palm won't get tired
The flip-out feet are extensive with rounded rubber pads on the base. Moreover, the flip-out feet will not lift the keyboard in abundance but will provide you with a choice for changing your writing dynamics.
The cables of this mechanical keyboard are well-designed to prevent any strain and have sufficient thickness. The wires are not braided giving a reasonable flexibility
The LED backlight allows you to type or play when the lights are dim or during the night
What is the Firmware Capable of?
Remapping modifier keys
Remapping keys for letter layout
Designing hold key
Creating a key macro
Building a lock key
Creating a leader key
Creating new modifier keys
Final Words
Our review of the Velocifire Mechanical Keyboard for Mac will give you ample information on how a mechanical keyboard should work. The best part about this mechanical keyboard is its robust firmware that allows you to simply plug and play without any configuration required.
Even though it is low-priced, its features and specifications are exceptional.
However, if you need the numpad and are not looking for a TKL keyboard, then I suggest you take a look at our list of best mechanical keyboards for Mac's, which includes non-TKL keyboards.