Velocifire VM01 Unboxing
Velocifire has sent us yet another mechanical keyboard for review – the wireless VM01! The company manufactures a wide variety of high-quality gaming products for gamers and sells affordable and budget-friendly mechanical keyboards and other PC accessories. The Wireless VM01 might have a few flaws but is definitely better than other mechanical keyboards in the market for the same price.
The VM01 mechanical keyboard is a sample that was delivered to me in very simple packaging (via Amazon). In fact, the style of packaging is Velocifire's signature trait because they do not create anything that is too fancy. However, not all people are impressed with this kind of packaging since flashy colors are more appealing to the eye. As for me, the packaging is excellent. Usually, a lesser budget on creating a fancy budget may mean that a more significant budget was provided to develop the product inside the box.
Upon opening the box, I saw that the wireless keyboard was covered with a foam wrapper to protect it from breaking or being damaged during transit. I also saw inside the box the user manual that contains all the basics in operating or using the keyboard, including a keycap puller.
It should also be noted that we've reviewed the non-wireless version of the VM01, so you can expect the wireless version to be similar in build and quality. For $12 more than the wired version, I'd say the wireless is well worth the money. The range was as expected (33 feet), with a compact USB plug. The only main difference between the wired and wireless VM01 is the wireless function and the fact that the wireless VM01 does not have backlighting. The wired VM01 has teal LED backlighting. So, whether you care more about backlighting or wireless capability will be the deciding factor between the two keyboards.
VM01 Review – Build Quality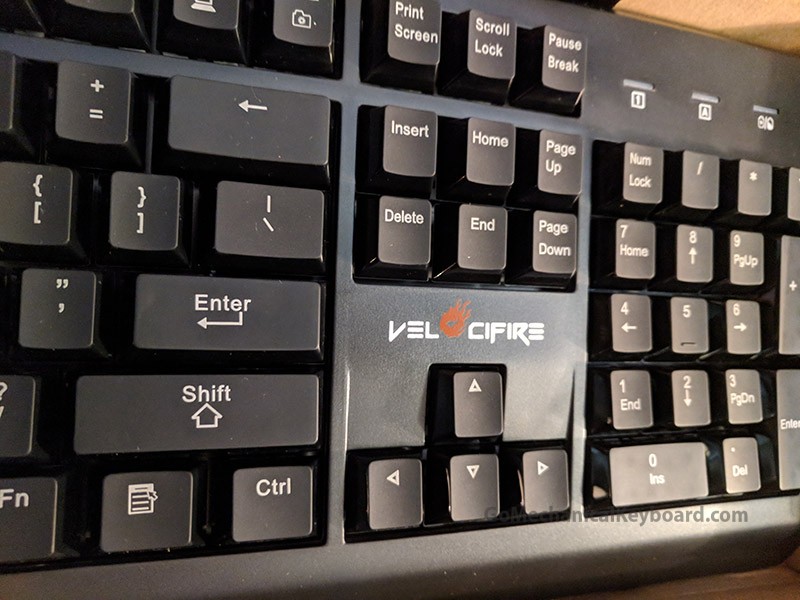 The VM01 is sold at a low price which could be attractive to gamers who have a tight budget but are looking for a good quality keyboard (with Zorro brown switches). ABS plastic is the primary material for the case of the keyboard, which can be as thick as 2mm depending on which part. It has a light and consistent texture when it comes to its finish. There is zero creak or warping that is present in the product. As I thought – the Wireless VM01 is quite similar to its wired counterpart. They're both very similar in build, quality, and sound.
Velocifire's VM01 is also a bit heavy and large. – has a dimension of 6.4 x 18 x 1.2 inches and weighs a surprising 2.2 lbs. The mechanical keyboard is 7 ounces heavier compared to the TKL01. The bezel that is around this product is a bit large, and it has a downward slope that faces the user.
Under the mechanical keyboard are four rubber pads that keep it from moving around while typing or playing. The wireless portion of the VM01 is what you would expect. There were no issues when I used it from a decent distance and I believe it works as advertised on Amazon. USB is compact with simple plug and play functionality. Also, the VM01 has a magnet that allows the USB to attach to it – pretty nice addition but at times can feel a bit loose.
Keycap Quality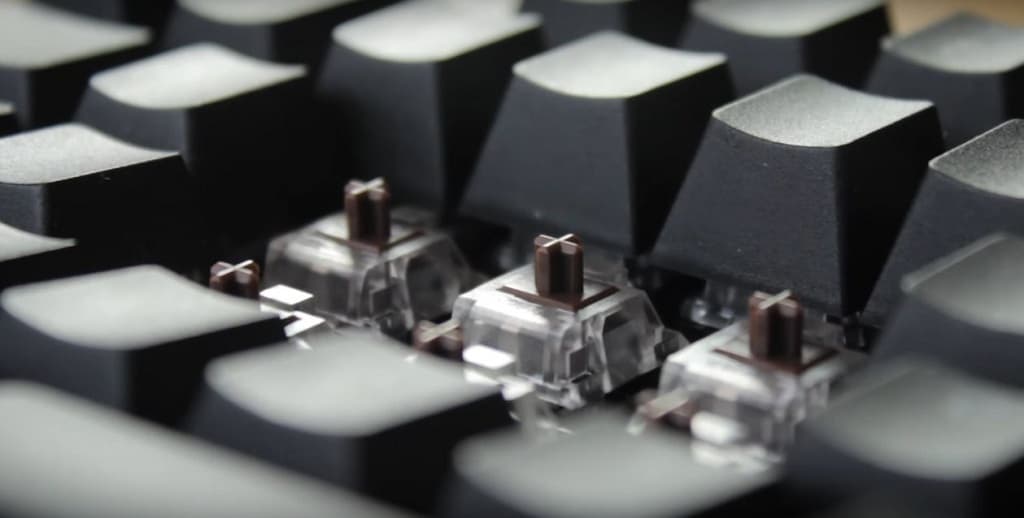 The VM01 has medium-thick double shot keycaps. In addition to that, the product has a refreshing font, unlike those that we can see on other mechanical keyboards in the market. It shows that the product is not that aggressive like other budget-friendly keyboards nowadays. The keycap will turn shiny after some time but know that it is entirely typical for its type. Close inspection of the keycap print revealed a little bit of inconsistency but it wasn't anything worth worrying about.
Switches
The VM01's switches are one of the factors that make the product not too impressive. The switches are not consistent. I understand because things cannot be perfect at $52. According to Amazon, this keyboard has high-quality brown switches that are tactile. These switches aren't Cherry MX though, they're from Zorro browns, and they feel that way. Slightly more jittery and less tactile than what I care for. But to be as objective as possible, I read up on Reddit and Amazon to see what other Zorro brown users had to say. A lot of people like Zorros as they're more affordable versions of the Cherry MX ones. Zorro's are essentially clones of the Cherry MX browns with minute differences – mainly a lower tactile press. To sum, Zorro's seem to be liked (or at least not hated) by most.
When I was typing, I can feel a force on the bottom out. This observation could be a positive feature for people who type lightly but not for those who type way too hard. If these switches are a turn off for you, check out our review on the Velocifire VM70 – a very cost-effective Cherry MX keyboard. Or, if you're just fan of brown switches, check out our list on the best Cherry MX brown mechanical keyboards.
Design Features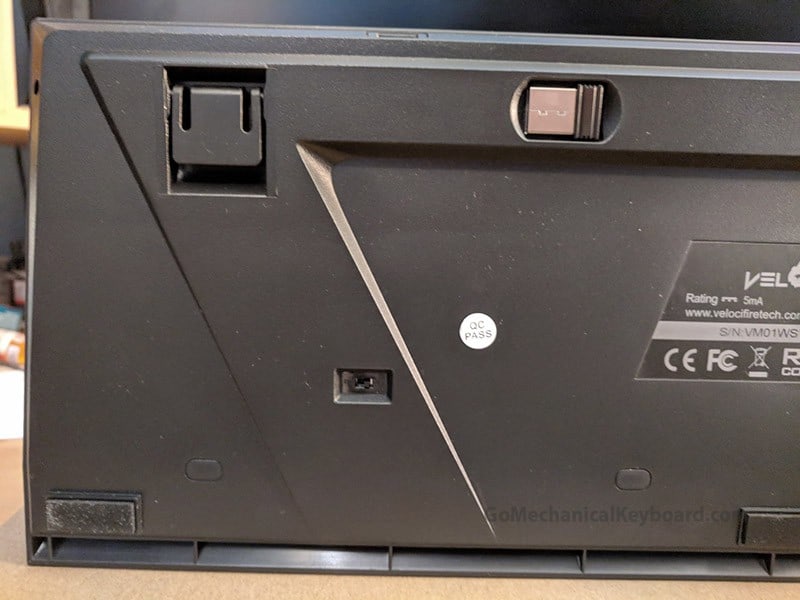 Like I said before, the main difference between the wired and wireless VM01 is that the wireless one has no illuminated backlight switches. This could be helpful if you live with someone who is sensitive to light that she can't sleep at night with the lights on. The wireless VM01 still features a flawless design even without the backlighting feature. It can also keep up with the users who do not fancy the LED illumination colors.
At the end of the day, LED or RGB lighting isn't a huge deal as it only adds aesthetics and not practical utility. I like having a wireless setup and it does add some amount of convenience and comfort to daily typing. One minor issue one might have is that wireless keyboards have been known to be jittery and laggy – a big factor when professional gaming. So far, I haven't any major issues with its wireless.
Velocifire's logo is imprinted on the VM01's case which has a nice subtle look to it. It has standard printing and is not that unique. The emblem has nicely saturated flames, and the label on the bottom is plastic. I don't think the VM01 will scratch easily – I've been using it for quite some time with practically no marks on it whatsoever.
Wireless VM01 – Editor's Opinion
The Velocifire VM01 keyboard is great compared to other wireless keyboards with the same price in the market. Add to that its Zorro brown switches, good build, and wireless capabilities make for an excellent budget keyboard. Even though it does not meet perfection, the positives still outweigh the negatives. I personally don't think it's as competitive as the newer Velocifire TLK01 model (because its lower in price and is tenkeyless), but it's a better option when you are searching for an affordable mechanical keyboard. The wireless aspect of the keyboard is as advertised – easy to use and very convenient.
I can see the Wireless VM01 as an excellent general purpose keyboard – office, gaming, or everyday use. After using this keyboard for a while now, I can tell it's quite sturdy and won't get easily damaged. So for those beginners who are looking for an affordable keyboard, this is the answer to your prayers. Is the VM01 still somehow above your budget? Check out our list of the best mechanical keyboards under $50.
That wraps up our review of the Wireless VM01 from Velocifire. If you have any questions, drop a comment below!