Velocifire Wireless TKL01 – Unboxing
Our sample Velocifire Wireless TKL01 comes in a plain brown cardboard box that includes a quick start guide manual. Inside, you'll also find a keycap puller that lets you remove some keys for cleaning or switching out the Zorro brown switches. If you're looking for a mechanical keyboard in the 40+ dollar range, the TKL01 is a perfect fit. This keyboard is for gamers who are on a  tight budget because it gives you the assurance that every penny you spend is worth it. Disclosure: we got this model from Amazon, courtesy of Velocifire.
As someone who can be quite picky when it comes to computer and gaming accessories, the Velocifire Wireless TKL01 still has convenient features that make it optimal for certain uses. Its wireless plug and play functionality is handy, especially for those who hate chords. Also, this model came with a mini USB to charge the mechanical keyboard – no batteries required. A nice touch for $40, if you ask me.
Note: GoMK has done a review of a different version of this keyboard – the wired TKL01. Not much to say so far other than the fact that the wireless version we got is quite similar in build and quality. For a few dollars more from Amazon, it's well worth the wireless feature (unless you're crazy about FPS latency). The main difference between the wireless and wired versions of the TKL01 is that the wired version has a teal backlighting whereas the wireless version does not.
TKL01 Review – Build Quality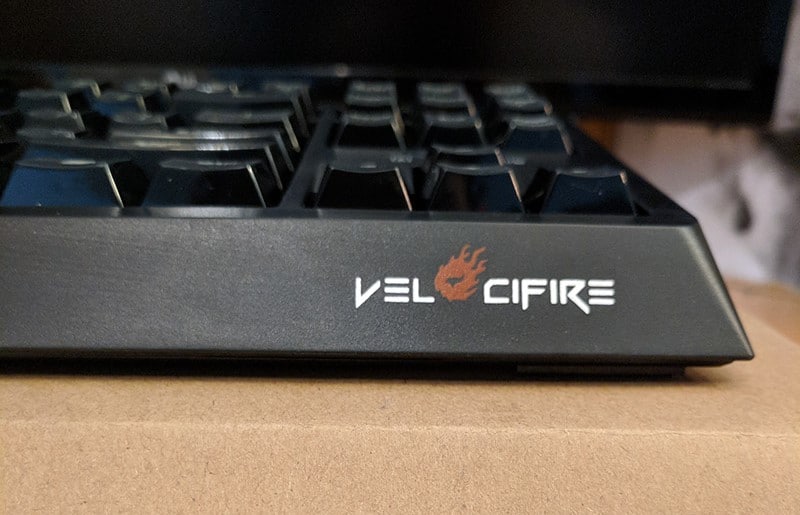 The Velocifire Wireless TKL01 and its wired version are both successors of the Velocifire TKL78 and share much of the successes of the TKL78.
The Velocifire Wireless TKL01 has a solid and sturdy shell with no flexing and no chance of sliding during use (it's quite heavy). It comes with three large rubber pads and extended feet that makes it ideal for intense gaming. This is a tenkeyless mechanical keyboard (hence the TKL) that gives you more space and range when moving your mouse around. If you didn't already know, a TKL keyboard is just a compact version of a regular sized keyboard, with the Numpad excluded. Why would you want no Numpad? For gamers or regular typists who don't need the Numpad, the reduced size and weight can be very convenient. Additionally, if you still wanted a Numpad, you can actually buy them separately. It also lets you position your mechanical keyboard sideways or any way that's comfortable to you, allowing you to play like a real pro. The keys are firm and are of high-quality, thanks to the double shot ABS keycaps.
A close look at the 87 Key TKL01 keyboard reveals that it is made mostly of high-quality plastic material. I've been using the Wireless TKL01 in various settings (gaming, work, etc.) and it seems quite sturdy. The keyboard doesn't flex, creak, or make any awful switch sounds (more on that later). Moreover, the Zorro brown switches are more silent than I expected.
Both the three large rubber pads and the padded feet keep the keyboard from sliding. The rubber pads also make sure the keyboard doesn't leave scratches and marks. So, you won't have to worry about damaging your desk. Overall, it's quite comfortable and compact, as advertised.
Keycap quality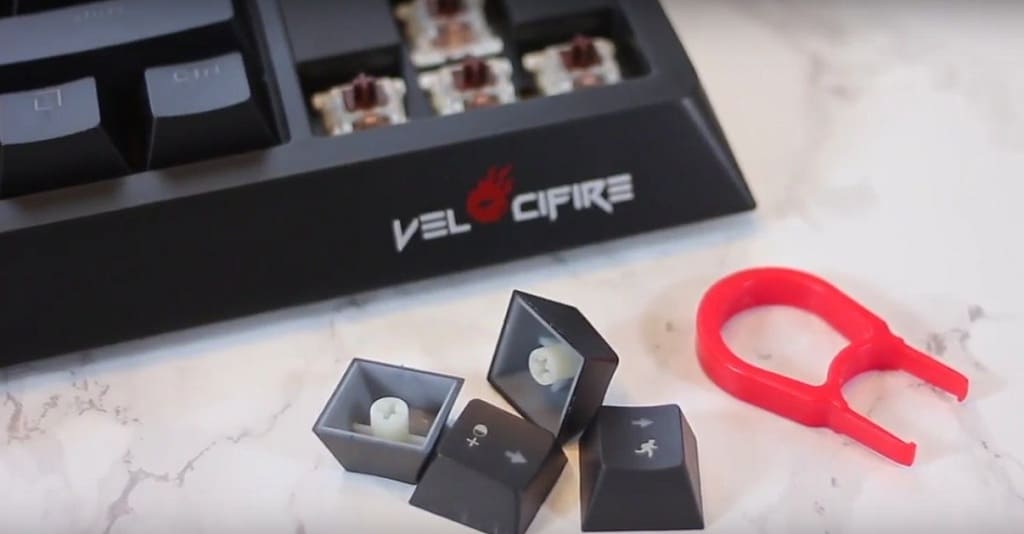 These TKL01 keycaps are double shot – two plastic materials that are fused and molded together in the manufacturing process. This makes the keycaps more durable and long-lasting. This is crucial, especially if you're using the keyboard for heavy-duty gaming.
The Zorro brown switch of the Velocifire Wireless TKL01 produces less noise compared to other blue switched keyboards. This is a real advantage when you're sharing the room with someone. Less noise means less annoyance on the part of your roommate. After testing and reading Amazon and Reddit comments on Zorro switches, I'd have to say they're decent copies of Cherry MX's. Some people like them as a cost-friendly alternative and others dislike them as they feel less tactile than the Cherry MX switches. If you're keen on owning the OG Cherry MX switches, check out our best Cherry MX list here.
I noticed that the Wireless TKL01 consists of popular floating keys – the keys are fully enclosed. This makes it look a little wobbly, and some people find to be a little bit annoying. Also, I couldn't tell if the keyboard was charging or not – the light that signifies charging sometimes turns blue or purple and never stays on. The LED lights are confusing both regarding charging and use. It simply doesn't have any LED light that signifies it is on. At other times, you need to be as close to the wireless receiver as possible so the keyboard can work properly.
Features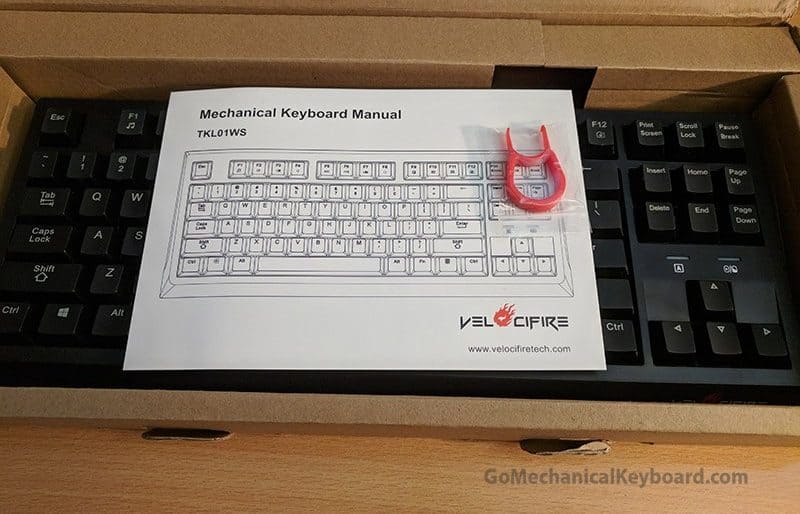 In terms of features, the TKL01 is very average – N-Key roller, anti-ghosting, and wireless capability (its main selling point). N-Key rollover means each key is independently recognized by the TKL01 even if you press several keys at the same time. Ghosting may not be a problem for average computer users, but it can be a big deal for gamers. This is why having a mechanical keyboard with an N-key roller and anti-ghosting features is a huge plus if you're into gaming.
Another unique thing about the TKL01 is that it comes with a magnetized USB port. This is something you won't find in other wireless mechanical keyboards. This USB port can save you all the hassle and effort when you're looking for places to put your USB receiver. Just insert the receiver into the port and cha-ching! The TKL01 mechanical keyboard safely magnetizes your USB receiver.
The wireless feature of the TKL01 is as expected. The TKL01's USB is compact, it's easy to use, and the wireless works well when it is in range. So far, I have not had any issues with keys lagging or not working from a regular distance.
Wireless TKL01 Review – Editor's opinion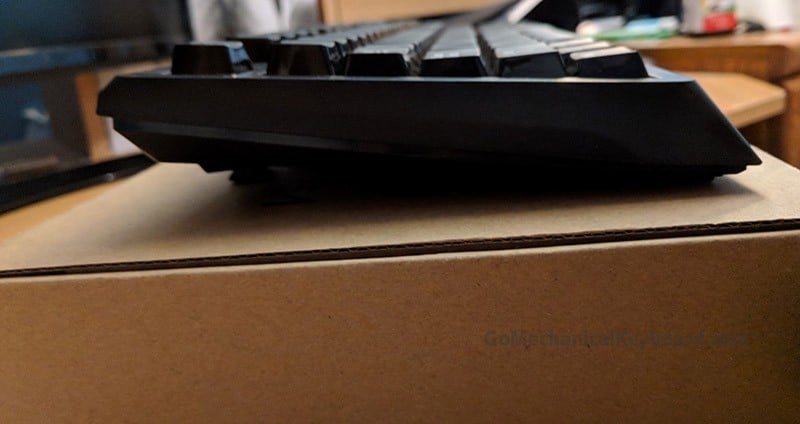 The Velocifire Wireless TKL01 is one of the best, cheapest, and easiest to use mechanical keyboards below $40. It simply does an excellent job for a budget keyboard of its caliber.
With a combination of wireless, tenkeyless, and quiet brown switches,  the TKL01 is quite versatile with its use. It's not flashy, making it perfect for office use and not so loud that you'd drive your roommates crazy. You can rest assured that it's worth the price.
Conclusion
The Velocifire TKL01 is a win-win with its price as a wireless mechanical keyboard. If you're simply testing the waters or want something to lug around, try the Velocifire Wireless TKL01 to start with. Spare yourself from enduring the stress your old keyboard provides because this can be an excellent investment. It's not just for beginners, though. This is also for users that consider the price and quality of the product.
Even experienced users will appreciate what this model has to bring to the table. No doubt, this model will give you enough knowledge and experience when it comes to mechanical keyboards. You don't have to spend much money for this. The Velocifire Wireless TKL01 is available on Amazon.com for $40. Instead of spending $100+ on fancy backlit RGB lights, a budget-friendly wireless mechanical keyboard can add much more utility.
That concludes my review of the wireless TKL01 from Velocifire! Like I said, not much different than the wired version other than the fact it has no backlighting.