Pros & Cons of Redragon M686
Here it is – our full review of Redragon's M686 gaming mouse.
These features are what you should expect from Redragon M686,
Budget-friendly price under $50
Wireless 2.4Ghz connectivity
16000 DPI (Adjustable)
RGB Light Effects
| | |
| --- | --- |
| The Good | The Bad |
| USB-C and 2.4G Wireless Connection | |
| | |
| | |
| | |
Looking to complete your gaming rig with a keyboard as well? Read our list of best gaming keyboards here.
So, you've been playing a lot of games amidst all these lockdown situations and let me guess, you've developed a habit of competitive gaming. Perhaps, you need a better mouse to help you win that electrifying situation when you face your enemy head-on?
Even if that's not your story, having a gaming mouse not only saves you from not hitting a headshot just because of sluggish response time but also adds great aesthetics to your ultimate gaming setup.
Recently, Redragon sent me their latest piece of hardware: "The VAMPIRE ELITE M686"
I gave this mouse a test run for about two weeks and read below to learn what I think about this product,
Read Also: Best Keyboards Under $100
First Impressions and Features – 8/10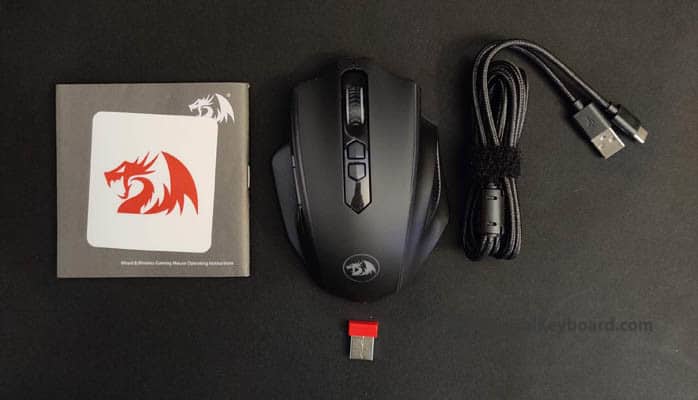 To get started, I must say that this product gives you the best value for the price. It includes many features from a flagship gaming mouse while falling just short of the $50 price tag.
Although Corsair's Dark Core Pro is almost double in terms of price, M686 lists a similar set of features if you ignore the polling rate and DPI range (with 1000Hz and 2000 differences respectively) that will certainly challenge Corsair (take connectivity and build for example).
Let's dive further into the details of what Redragon offers you for less than $50.
DESIGN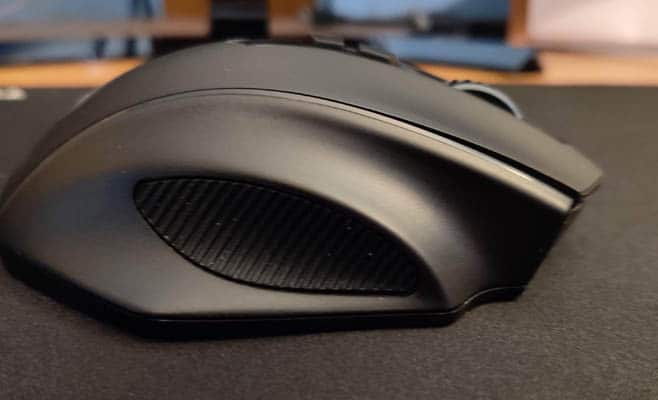 In one word, "Ergonomic" !!!
Yes, the mouse has an ergonomic design to take the load off your wrists and help you get an indefatigable gaming session even if it lasts a long time.
It is aimed for people with medium to large hands. For smaller hands, however, you'll need to spend more time getting used to this mouse.
Speaking about the texture, it is very smooth and the main color of this mouse is themed black. Since black color is one of the uplifting colors for RGB lights, it is more favorable when you need an RGB accessory.
It also grips very well into my hands and I have no troubles while clicking and button-reach at all.
To summarize,
Ergonomic Design helps you stay comfortable
The black color is best for RGB
Smooth Surface doesn't attract dust
LIGHTS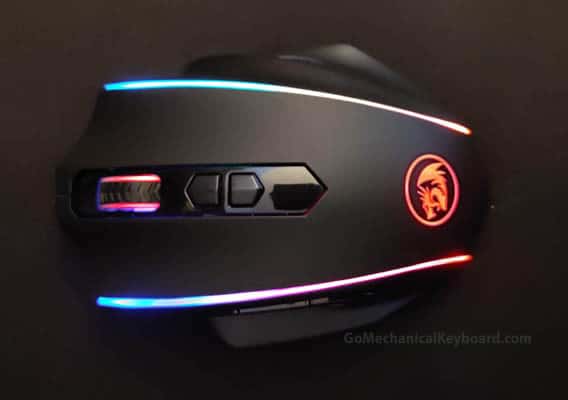 When it comes to light up the mouse, I believe that Redragon could've done a better job. Now it is not a deal-breaker but a matter of preference.
For me, I prefer zig-zag RGB lights to streamline design. However, the latter looks aesthetically more attractive and simple.
There is a band of RGB lights on either side of the mouse and a logo that matches.
Did I mention the fact that the scroll-button also lights up? Yeah, it looks pretty damn dope!
BUTTONS
There are eight customizable buttons with three on the left side of the mouse to be used as MACRO(s).
All the buttons including on-the-fly DPI buttons as well as MACRO dedicated buttons are included in Redragon M686.
They are standard issued and have a nice build quality. The click is very satisfying and the scroll button is well-crafted as well.
There are three programmable buttons that can be set up as needed using the software.
CONNECTION
Since the mouse is wireless, it uses a wireless 2.4Ghz nano receiver that frees you from lagging response rates.
Apart from that, there is USB-C wired connection that will easily satisfy all your demands.
The mouse has a standard 1000Hz polling rate which is fairly GOOD to use but there are better options out there. However, this is the standard for $48.
Likewise, the wireless mode still has latencies ranging from 3ms to 10ms
The wired mode is somewhat faster
OPTICAL SENSOR and DPI
Geared with 5 onboard DPI levels (1000/2000/4000/8000/16000), this mouse is equipped with enough DPI to meet most of your needs.
Higher DPI is only recommended when you can handle it. Of course, higher DPI has higher accuracy.
The new optical sensor; PMW3335 Optical Pixart, is robust and provides pinpoint accuracy as well.
BATTERY LIFE
Redragon uses a 1000 mAH battery to power the mouse. In daily usage, with the eco-mode OFF, I had an average battery life of one day.
However, with eco-mode ON, you can have a couple more hours of power. As a consequence of ECO-MODE, latencies in wireless mode become sky-high in gaming environments!
Unboxing Redragon's M686 – 7.5/10
The mouse comes in a branded box that has all the details listed on the back with the front featuring the mouse's image. One the bottom right side, the name of the mouse and build can be read.
Inside the box, the mouse, as well as the connection wire, can be found. To summarize, you get the following items in the box,
Wireless Dongle × 1
USB-C to USB-A Connection Cable × 1
Vampire Elite M686 × 1
User Manuals × 1
The mouse was very well packed, but the design of its box was pretty average so 7.5/10 rating for the unboxing.
Tests and Performances of Redragon M686 – 8/10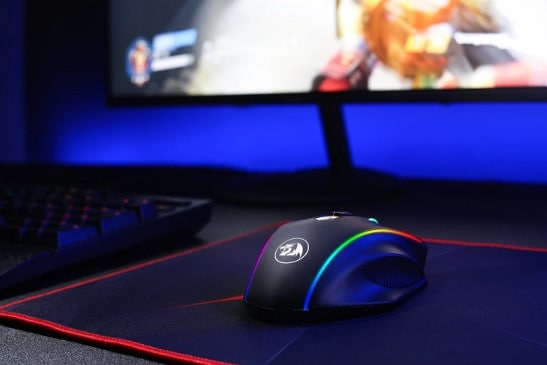 I tested the mouse under harsh working conditions and while the mouse stood its ground in the office environment, I decided to up the game in competitive gaming.
I must say that the PIXART sensor they use in this device is very accurate. However, they should've included at-least a 2000Hz polling rate as to back the sensor's speed.
As a result, the whole assembly bottlenecks. (The reason behind a 3-10ms latency)
However, even with this latency, the mouse performed better than many devices I have tried in the past. It is very good at sniping, but you need to aim a little higher in order to hit a target below like a few millimeters.
I couldn't figure out if that was the problem with my game or the mouse, but a friend helped me out by testing the same mouse and found the same thing.
Now, this is adjustable in the mouse settings, we figured that we had disturbed the mouse's default configuration while trying to customize it.
So, you'll have to properly study the options and do some research on the mouse's software before trying anything new.
The battery life is also dependant on the level of DPI and eco-mode. RGB lights have little effect on the mouse's battery.
In games like PUBG, Call of Duty, and Rainbow Six Siege, the mouse exceeded my expectations and provided better performance than most in this price range.
Verdict: Solid Design & Features!
This mouse has a good feature set and it can last you a while as well. Therefore, it is recommended if you are very keen in terms of value and features.
Apart from a 16000 DPI and 1000Hz polling rate, the mouse features Flagship aspects such as the 2.4GHz wireless receiver and 40G acceleration.
Judging from the results and user experience, Redragon M686 might be the perfect choice for many people. Again, with this price range.
Let me know what you think about the review above and some additional information that you may find important: I'll feature your comments in the review.
Kudos!