Pros & Cons of Velocifire M2 (TKL61WS)
Here are some of the most prominent features of Velocifire M2 (let's just call it M2),
Budget-friendly price under $100
Wireless Connectivity
60% (61 Key) Keyboard
RGB Lights
| | |
| --- | --- |
| The Good | The Bad |
| | |
| | |
| | |
| | |
Looking for something else, do not miss our best list of budget mechanical keyboards under $100 – here!
Wireless keyboards are something we all admire and need at the same time. I prefer having a keyboard that works in both wired and wireless modes to deal with the many mood swings I have while I am using my computer.
Not only are wireless keyboards convenient, but they give your computer table a modern look as well.
A few weeks back, Velocifire sent me their 60% wireless mechanical keyboard – The Velcocifire M2 TKL61WS.
I have been using the keyboard as my daily driver since then and finally writing this review with the keyboard itself. Read below for my reviews on this keyboard,
First Impressions & Features of Velocifire M2 – 9/10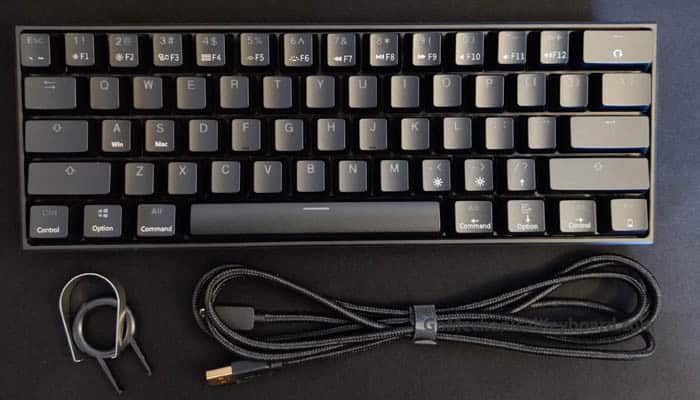 While I have a lot to say on this one, I will keep it short and tell you that the first impressions of this keyboard are very exciting.
I remember pulling the keyboard out of its box and feeling mesmerized about the keyboard as it came out of the box.
The build quality, in general, was rock solid and I became a fan of its TKL design from "moment one!"
At that point, I wondered if this looks so sleek while it is not plugged in, how would it look when it rocks its RGB lights.
So, I would say a 10/10 for the first impressions.
As for the features, you get a pretty decent spec sheet. It is certainly not the best in class but it'll do for most people.
Here are some of the highlighted features of Velocifire M2 or TKL61WS if you like to call it that 😉
Read Also: Best 60% Mechanical Keyboards
Connection – 8/10

The keyboard uses wireless as well as wired-mode, both of which are capable of dealing with day-to-day scenarios.
Given the stake, wireless mode lags with response rates ranging from 7ms-12ms in competitive gaming environments.
Although the keyboard has Bluetooth 3.0 – which is very capable hardware for wireless connections, I feel the keyboard misses some basic optimization that could've made it a better wireless keyboard for gaming.
For example, Logitech G915 is one of the best and well-optimized wireless keyboards of all time. If that sort of optimization could be made in Velocifire M2, the keyboard will surely beat the competition.
Wired-mode, on the other hand, has USB-C (USB 3.0) that ensures blazing fast connections. The wire also functions as a battery charger while you are using it.
I did not see the keyboard suffering in either of these modes but I just prefer wired-mode because of its lower response times.
Switches & Keys – 7.5/10
Velocifire has included OUTEMU Brown Switches that are hot-swapped which usually helps you in replacing switches. Though the switch puller is only compatible with OUTEMU switches.
The sound of the keypresses is also impressive, neither too loud nor quiet.
Based on their performance, I'm satisfied but Cherry MX switches would have done much better as they are smoother because of their actuation distance and feel more premium.
The switches feel pretty solid and don't have any sort of flex. However, the spacebar is not as premium and feels very low-key.
Design and Ergonomics – 9/10
Velocifire M2 is based on a TKL or 60% design having only a 61-key configuration. The reach on all the buttons is very easy and you can expect a very good typing experience. However, for power users, there are a lot of essential keys missing, like the physical delete key.
I couldn't find an FN shortcut/combination for the delete key as well, which is a bit inconvenient on my side.
However, I feel that the keyboard is a little tall if you use it on a big desk or if your chair is smaller.
As for the layout, several keys are missing and you'll have to learn some basic (FN + Key) combinations for usual characters like a "?" and "/".
The FN key can use combinations up to three to get a special character.
Now, this is a pain especially if you are a typist or a programmer. However, after spending much time with the keyboard, you'll get used to these.
Ergonomically, the angle of M2 is very convenient and the keyboard sits on a natural incline.
My wrists never bent while I sat on a desk, and thus, they were never tired even after long typing sessions.
RGB Lights – 9/10
The lights on Velocifire M2 are worthy of applause as well. There are 18 different kinds of RGB backlight modes, just press Fn+I/O/P to easily switch it. These modes will give you colorful typing and enhance your gaming experience. You can also customize the backlit by pressing Fn+Z/X/C.
The lights are very bright and have a smooth appearance all over the keyboard. This smoothness makes them even more attractive.
For further combinations and customizations, you can use Velocifire's software.
The software is not much complicated and has a simple UI. You can easily customize, change, or control the settings of your keyboard – nothing to worry about there.
Also, there are some firmware updates which include some new combinations and function and can be downloaded directly from here!
Battery Life – 9.5/10
There is a massive 1800 mAH battery on Velocifire M2 that gives it a very long operation time. (Not stand-by!!!)
If you're using the backlighting, the keyboard goes well beyond 9 hours of continuous usage.
However, if the backlights are turned off, the keyboard can go up to 150 hours although I have not tested the battery with backlights turned off.
All in all, 1800 mAH battery is massive and it can easily last you a while without having to recharge.
Compatibility & Connectivity – 10/10
The keyboard is compatible with all versions of Windows after WinXP, Apple OS, Android, and Linux. It can connect with up to three different devices at a time without breaking a sweat.
Bluetooth connection is usually a cool breeze and I have not seen it having trouble connecting even once. The keyboard performs well if the connection stays within 26 feet.
Although lags depend on the distance from the computer, I found that the keyboard had the same or only about 2ms slower response time relative to some other wireless keyboards.
Unboxing the Velocifire M2 – 8/10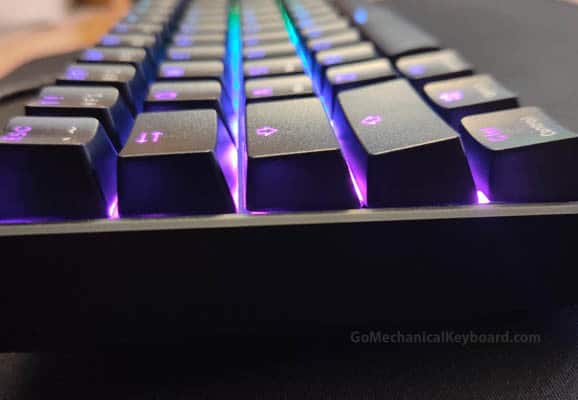 The Velocifire M2 comes in a standard cardboard box with branding upfront. The model name is also seen on the front of the box.
On the rear, some details and specifications about the keyboard are present.
While the design seems pretty decent, I quickly understood the product only from the details mentioned on the box. For that, I'm much impressed.
Moving forward, the keyboard was well packed and
The box contains the following items,
Velocifire M2 × 1
USB-C Cable × 1
User Guide × 1
Switch Puller × 1
Performance Tests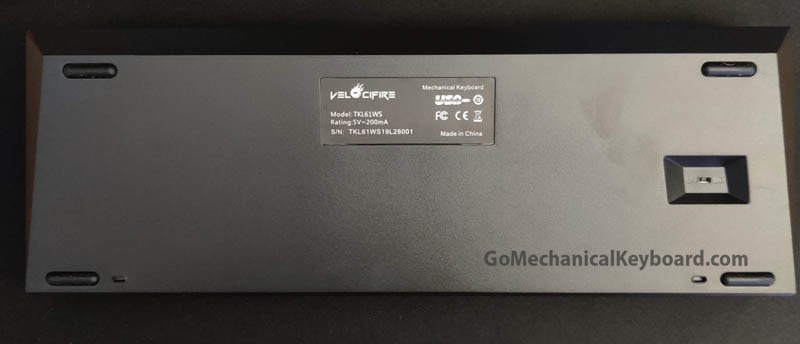 As it might be obvious, the keyboard performs well in office and gaming environments. While there are no mechanical issues with the keyboard, I feel that the design might not be adequate for programmers and elite writers.
It is definitely not designed for people who like to type fast and conveniently. This is mainly because of the placement of special characters like "?" and "/".
You have to press three keys just to get a single "?" which is definitely going to take some time to get used to. Other than that, I feel the keyboard is good for offices.
For the Gaming Side, the keyboard has two modes of operation and both are based on preferences.
Wired Mode can be used for Gaming as it is much faster and provides good response rates. Wireless mode on the other hand has a noticeable lag and it usually hinders your ability to play games on a competitive level.
Although Bluetooth 3.0 holds up pretty well in single-player games, you'll have to switch to wired-mode for multiplayer or some demanding titles such as Call of Duty: Warzone, Fortnite, or Players Unknown Battlegrounds.
On another note though, I found that the RGB light effects cause a further 0.5ms-1ms (estimated) lag while on wireless mode. Now, I don't know if this was a problem in my unit, but it was noticeable.
Overall, the keyboard did a good job if you use the proper configurations and wired mode for Gaming.
Verdict: A Solid 60% Wireless!

The best part about Velocifire M2 is its build quality and aesthetics. They are extraordinary.
As with most 60% keyboards, you will also notice that the keyboard has some weird combinations that you will take a while to get adjusted to.
If you're looking for something especially portable, compact, and with wireless capabilities, this is a solid choice.
I will see you in the next review. Peace!