Gaming Mechanical Keyboards – What to Look For
Before we get into the review and unboxing of the XTRFY K2, we should know what most gamers look for in a good gaming mechanical keyboard. If you are a casual or a devote gamer, there are a few select things that you would want. That is, a mechanical keyboard that is fast and fully loaded with RGB back lighting, macros, gaming mode, and of course, great switches.
RGB backlighting – this is not essential for gaming but of course, is purely aesthetic. And for the price of a mechanical keyboard, RGB backlighting is now a standard
Macros – can be quite essential to gaming or office work. Macros are so helpful that they can actually be banned by some games
Gaming mode – this is a glorified shortcut that disables the windows keys and sometimes other keys to prevent typos during gameplay
Switches – as a gamer, you're going to want to look for fast polling rates, actuation force, type of switch, and how it feels
A good gaming keyboard will primarily be a keyboard that provides high performance to users as well as aesthetics and comfort of use. A keyboard is one essential factor in having an excellent gaming experience. For FPS, MMORPG, or any other type of PC game, a fast reacting mechanical keyboard with easy to use shortcuts makes the game-play smoother. That's where the XTRFY K2 comes in. It has every feature that a typical gamer would want, but it is by no means perfect.
XTRFY K2 – Specifications and Features
Illumination – RGB, 16.8 million colors
Cable – braided, two meters
Shortcuts – media controls, gaming mode, illumination settings

Shortcut to FB, Google, Stream, and other sites
Macro programmable

Layouts – UK, German, Nordic
Response – 1000 Hz Polling Rate, 0.001 second response time
As you can see, the XTRFY K2 has all of the features a typical gamer would want. Regardless, there are still some things that may bother users – lets really get into the review of the XTRFY K2 below.
Video of Lighting Effects:
The sample XTRFY K2 came in a very simple cardboard Amazon style box. As one of their most popular mechanical keyboards to date, XTRFY has given us their XTRFY K2 to test and review. Unveiled, was a very sleek and minimalistic mechanical keyboard with a few spare keys and a key-cap remover. The first thing I noticed was the XTRFY logo splattered on a few of the keys. It stands out in a nice and subtle kind of way.
Another thing I noticed right away was the number of symbols and words on each of the keys. This was a quick indication that his keyboard comes fully equipped with many built-in hotkeys. More on that later. For now, let's look at the overall features and specs of the XTRFY K2.
XTRFY K2 – Overview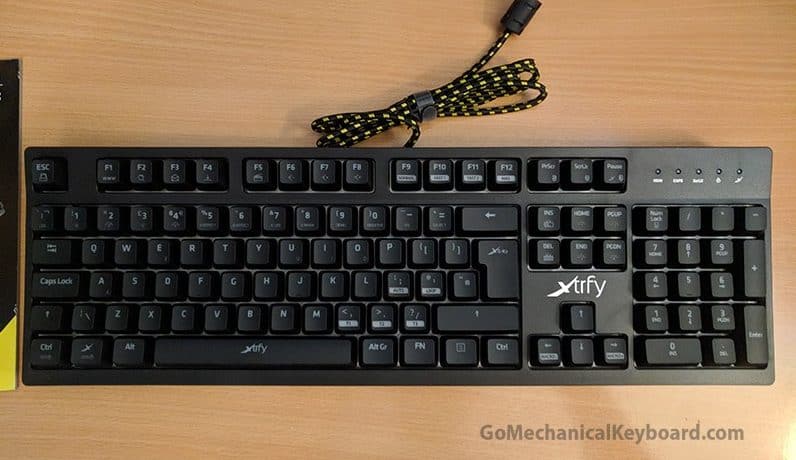 According to its manufacturer, the XTRFY K2 has a polling rate of about 1,000 Hz. When you press a key, you can expect it to give the signal to your computer in just 0.001 seconds, and that alone makes it a really fast gaming mechanical keyboard. Moreover, it features the latest super scan technology to give it instant reaction. I can't really attest to whether or not this is actually the fastest mechanical keyboard out there. Nor can I really attest to this so-called super scan technology. However, the keyboard is extremely fast. Its so fast in fact, that the keys can be overly sensitive, making typos more prominent.
For example, I noticed that when I capitalize on shift, the next letter I type gets capitalized as well. This is likely because the shift button is still pressed prior to typing the next key. Though, this is just a matter of getting used to.
What's nice is that the XTRFY K2 is more quiet than one would expect. It is so because the XTRFY K2 will only require the slightest touch or press to get a response.
Sensible Looking Gaming Mechanical Keyboard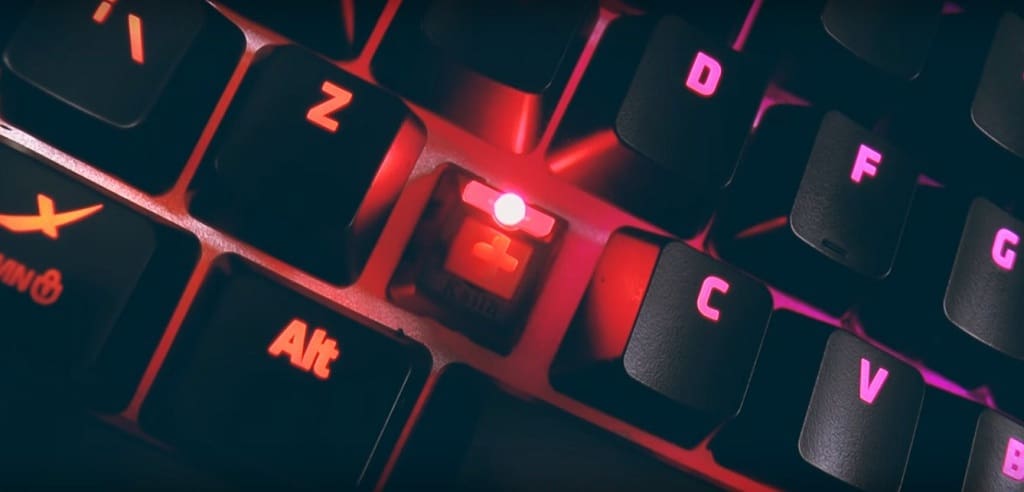 XTRFY K2 reviews from Amazon and Reddit emphasize its sensible design and build as one of the features of the keyboard. It looks like your average gaming keyboard, and that is not a downside when it comes to the XTRFY K2. You can't find any wild design innovations or any aggressive angles. Its simplicity is even one of its features that attract users the most.
While the design is as basic as you can find, the XTRFY K2's build is not subtle at all. The overall system is made with the excellent quality especially with the braided cable. The groove you can find the underside of the XTRFY K2 is also useful when it comes to channeling the USB cable and make it a little more organized.
Overall, the first glance of the XTRFY K2 features a sensible and subtle gaming mechanical keyboard. It packs nothing short of high quality, being the "fastest" gaming mechanical keyboard.
One thing sort've bothered me was that the left shift button is much smaller than I'm used to. This caused a few typos in the beginning but it's easy to get used to.
No Hassle & Easy to Use
One of the best features of the XTRFY K2 aside from being the "fastest" gaming mechanical keyboard is that it embraced accessibility. Everything a gamer needs can be done using the keyboard quickly. That also includes the system's lighting effects and macros which the users can access without using the software.
There will be no need for you to open and run an application on your computer. You only need to read the manual and execute the series of keys and combinations for you to set up the macros and change the lighting. For some, this can be considered a con. Remembering the macros and setting up the RGB backlighting can be a pain to learn. However, if you've owned an RGB mechanical keyboard before, it shouldn't be a problem.
Macro Settings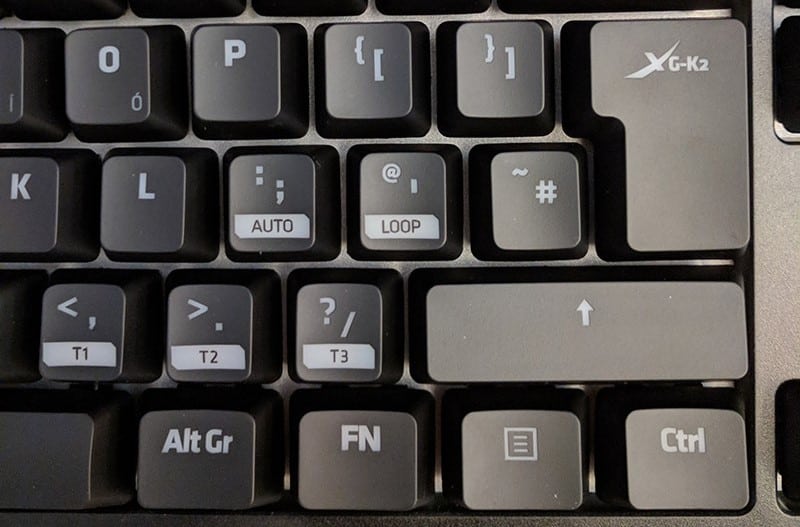 The XTRFY K2 features three different keyboard Macros. The Timing Macros which can record keystrokes such as time delay, the Auto Macro for keeping all the recorded keys down, and the Loop Macro which is putting key actions on repeat. All these macros can also contain different mouse clicks. With the XTRFY K2's Macro Speed Control at 10-levels, you can now easily adjust the speed of the macros.
The XTRFY K2 also acts as an all-in-one mechanical keyboard. You can customize in a lot of ways and without any hassle of using software. You can also adjust all the settings of the systems directly from the keyboard. It includes the recorded macros and color profiles since these are stored in the built-in memory of the keyboard. The "fastest" gaming mechanical keyboard is a plug-and-play kind of keyboard. All the settings are already in place on the device.
As previously noted, there might be some users that get a little bit frustrated by setting it up. Still, the principle of accessibility of the XTRFY K2 is actually good and makes things more convenient when you get used to it.
Keys & Switches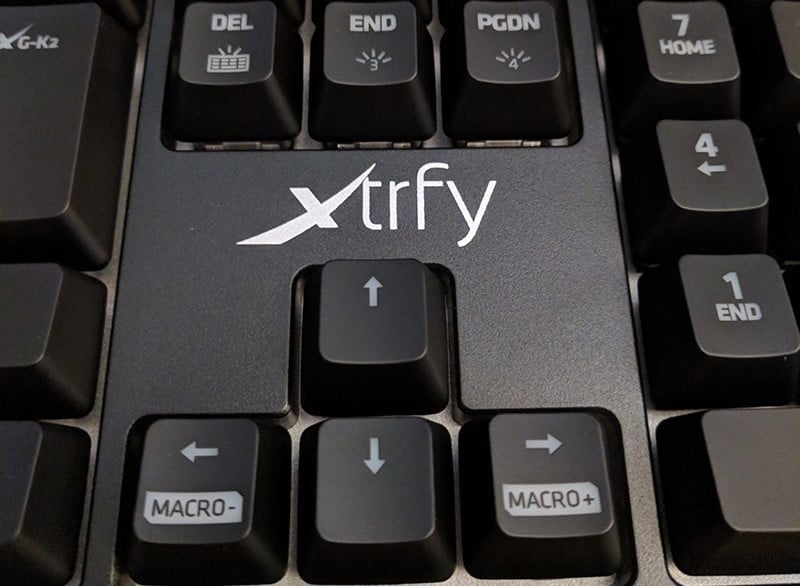 As indicated by Amazon and the box itself, the switches are red Kalih's. Although not Cherry MX's, their decent copies. Though, this is a matter of personal opinion and some people don`t like Kalih's. Given the XTRFY K2's price, I would've preferred the original Cherry's. However, the noise emitted from these switches aren't as loud and the sensitivity of the keys adds a new layer and feel. It is definitely worth a try as these keys feel quite different than anything else I've typed on before.
Overall, the quality of these red switches aren't bad. If switches and key quality are the main selling point for you, I recommend checking out Amazon and Reddit reviews on them to get a better sense of what people think. There is one con that I have noticed reading reviews – the space bar can be a bit squeaky at times. Though, I haven't noticed it yet on my end.
Conclusion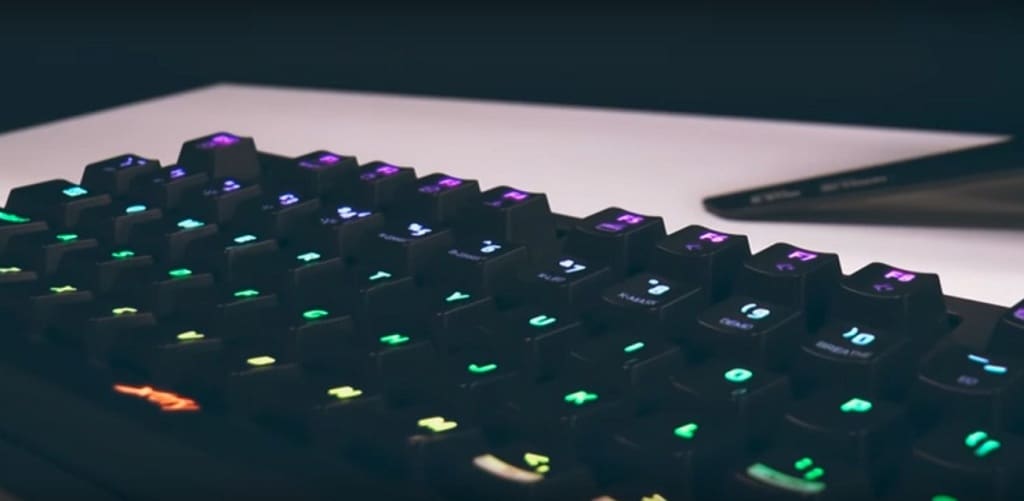 The XTRFY K2 is undoubtedly a very fast gaming mechanical keyboard. The response speed of the device alone makes it a unique experience and very fun once you get used to it. It can genuinely provide one of the best typing experiences. Even if you're not a gamer and just want one for everyday typing or work, this keyboard can provide a great experience. With its macros, RGB, shortcuts, and sensitive keys, this could make typing a whole new experience.
The design might be simple and traditional, but XTRFY K2 gaming mechanical keyboard has not compromised when it comes to quality build and performance. Its label of being the "fastest" gaming mechanical keyboard proves that it can bring exceptional value to the right buyer.
That concludes our review of the XTRFY K2 mechanical keyboard. If the price of the XTRFY K2 is a little over your budget, check out our lists on the best gaming keyboards under $50 or under $100.