Corsair K68 Review – The Ultimate Spill-proof Keyboard
Users may like its great build quality. It is also equipped with a Corsair Utility Engine (CUE) software and designed with media keys. It is also intended to be spill-resistant.
The only drawback of this keyboard is that it lacks color options. This will also only be a problem to users who are pickier when it comes to the color of their gaming keyboard.
Features & Specs Overview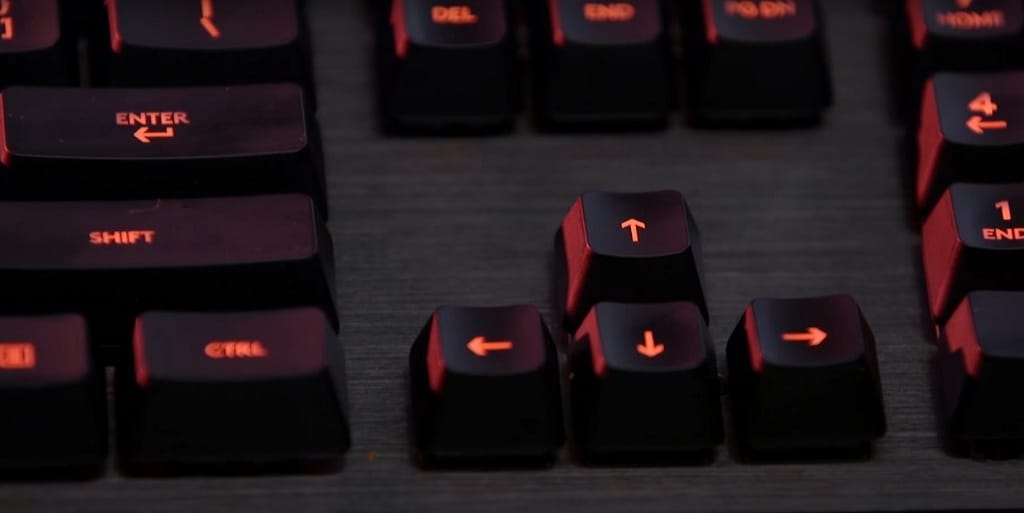 Price on Amazon: $89.99
Warranty: two years
Weight: 12 kilograms or 2.47 pounds
Key switches: Cherry MX Red
Keyboard backlighting: red LED
Dimensions: 455 x 170 x 39 millimeters or 17.91 x 6.69 x 1.54 inches
Report rate: up to 1 millisecond/1000 Hz
Matrix: 100 percent anti-ghosting with full key rollover
Media keys: dedicated (mute, volume down/up, stop, prev, play/pause, and next)
Wrist rest: yes
Cable type: tangle-free rubber
Package contents: K68 mechanical gaming keyboard, detachable full-length wrist rest, warranty card, and quick start guide
Are you looking for a reliable and honest Corsair K68 review? Then you're at the right place. In this review, we'll take a look at how spill and snack proof the K68 mechanical keyboard really is. Most of our Corsair posts have been showdowns (such as the K70 vs the BlackWidow). But the K68 deserves its own review, as it boasts excellent spill resistant capabilities.
Corsair, the popular computer hardware company, has a new peripheral device on board – the K68 mechanical gaming keyboard. The new product has a special feature: it is a spill and dust-resistant mechanical keyboard. Yes, you've read it right. Gamers out there do not need to worry much about munching some snacks and having a drink while playing their favorite game. This new mechanical keyboard works well with spills and can stand up to small amounts of liquid without requiring a serious clean.
In this Corsair K68 review, we will examine the product's spill resistance as well as some other key features. We'll also look into Amazon and Reddit reviews in addition to our unboxing, for a more realistic picture. Let's get into the review of the K68 below.
Corsair K68 – Unboxing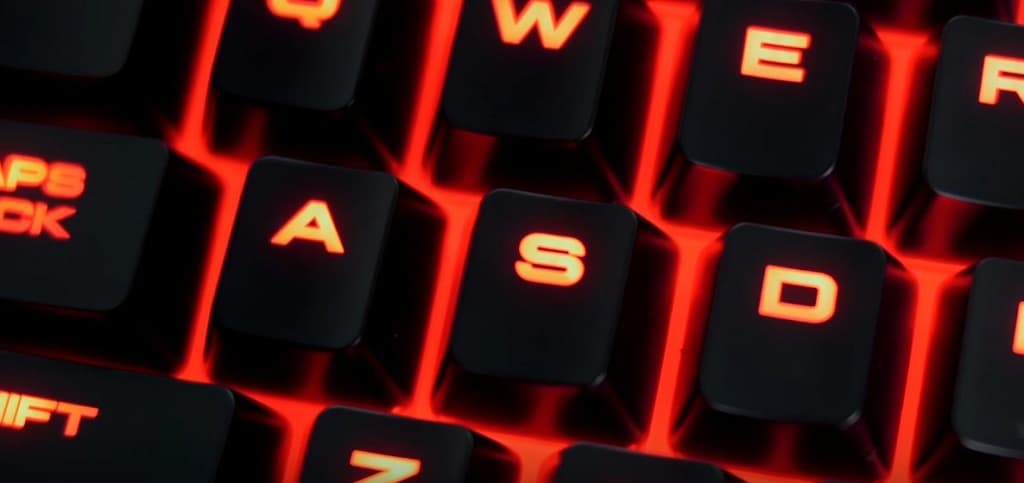 Corsair's newest product, the K68 mechanical keyboard, carries a full set of real Cherry Red MX switches. The keyboard's size is standard, and it has a detachable wrist rest for extended comfort. The CUE software is enabled for customization, and the device is compatible with Windows 7, Windows 8, and Windows 10 OS.
Corsair K68 mechanical keyboard currently costs $99.99. On Amazon, it is $89.99. (You can still look up online for the best prices and other Corsair K68 reviews.) Refer below for the complete specs of the K68 mechanical gaming keyboard. You can also go to www.tweaktown.com for more information.
Accessories and Packaging
The K68 mechanical gaming keyboard comes in pretty good packaging, with yellow accents and shiny cardboard. The Corsair logo and name are found on the left side as well as the keyboard's features, including the Cherry MX switches and spill and dust resistance. An image of the K68 keyboard occupies most of the packaging's front portion.
We can also see the Corsair name and logo on the other parts of the box, with a list of specifications. The system requirements are also specified in the packaging. The keyboard's other features are explained at the back of the box, with an image of its spill-resistant membrane.
Inside the box, the K68 is covered in clear plastic bag protecting it from damage. The bent cardboard at the back keeps the keyboard in place and prevents it from shifting around. The cable and wrist rest are also in the box as well as the manual and warranty guide.
Build Quality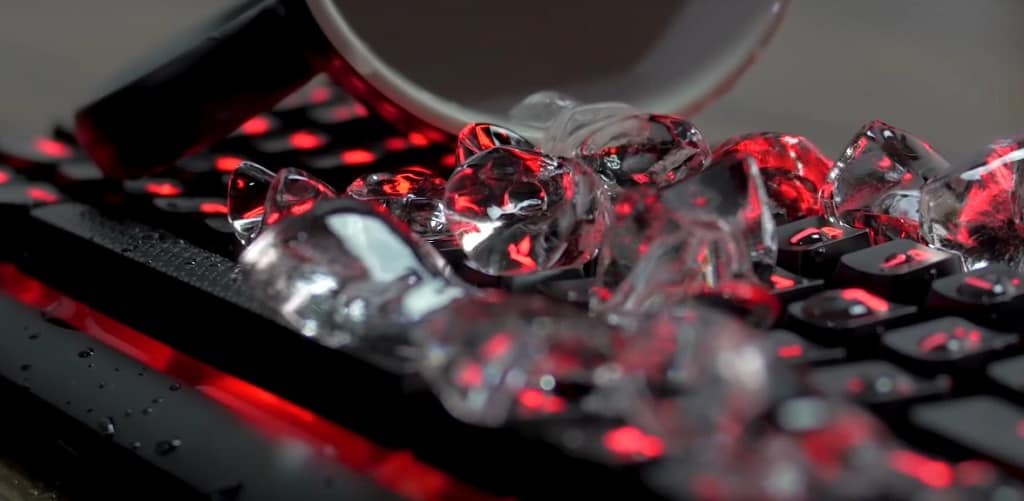 And now, to the most important part of our Corsair K68 review – examining the product's build quality.
To see how the mechanical keyboard is made, we pulled some of the keycaps and found that they are molded in white plastic and are then coated black. The Cherry MX stems are easily customizable for specific gaming experiences.
The mechanical keyboard's steel plate is surrounded by a red rubber membrane which prevents liquid from getting into the switch and protects the main keys from spills. The multimedia keys, LED intensity button, and a second membrane also covers windows lock. The second membrane and the red one are locked tightly making sure they cannot be penetrated.
K68's two-piece frame is made of plastic, and the lower part of the back is ribbed. It supports the PCB, eliminating vibration. The design also makes it possible to eradicate liquids as quickly as possible. When powered on, the K68 LEDs are at its brightest. The top buttons are much dimmer, but the LED lock indicator is easily visible.
Functionality & Switches
Corsair's K68 mechanical gaming keyboard has an Ingress Protection (IP) rating of 32. The first digit (3) refers to solids. This means that the keyboard protects against particulates larger than 2.5 millimeters. Small crumbs fall into this category, and compared with dust particles, they are a lot coarser.
K68 also has an IP rating of 2 for water resistance, making it worthy as the top contender on our spill-resistant keyboards list. This rating means that dripping water will not affect the keyboard's functionality. The sheet seals around K68's switches improve dust and water resistance.
Another important feature that we would like to emphasize in this Corsair K68 review is the CUE software which enables customization for the gaming savvy. You can remap the keys if you want. You can even add a timer or launch an application via a key. A profile switching option is also available which enables you to store executable profiles in your drive.
The CUE comes with a Macro Editor, where you can add sounds and can set two macros on a single key. If you're into key lighting, you can work on the CUE Lighting Effects tab.
The keyboard features Cherry MX Red key switches – meaning the keyboard uses single-color backlighting which cannot be customized. However, an RGB version of the product may follow. Corsair has done the same thing with K70 and STRAFE. They initially came out with red key switches, but they now have RGB options.
Although K68 does not carry the Cherry MX Silent feature which is great for reducing noise, the keyboard's rubber membrane will still enable you to enjoy a quieter gaming experience. The Cherry MX feature is prominent in Corsair keyboards and is also used by other brands on the market.
If you compare K68 vs. K70 and vs. STRAFE, they share the same features, only that K68 is spill-resistant. Corsair K68 is also more budget-friendly than K70 at under $100.
Our Corsair K68 review would like to note that if you are into aesthetic appeal and style, K68 won't impress you. But if you want a keyboard that's highly functional with a price that won't hurt your pocket, then K68 is for you.
Corsair K68 – An Excellent Snack Resistant Keyboard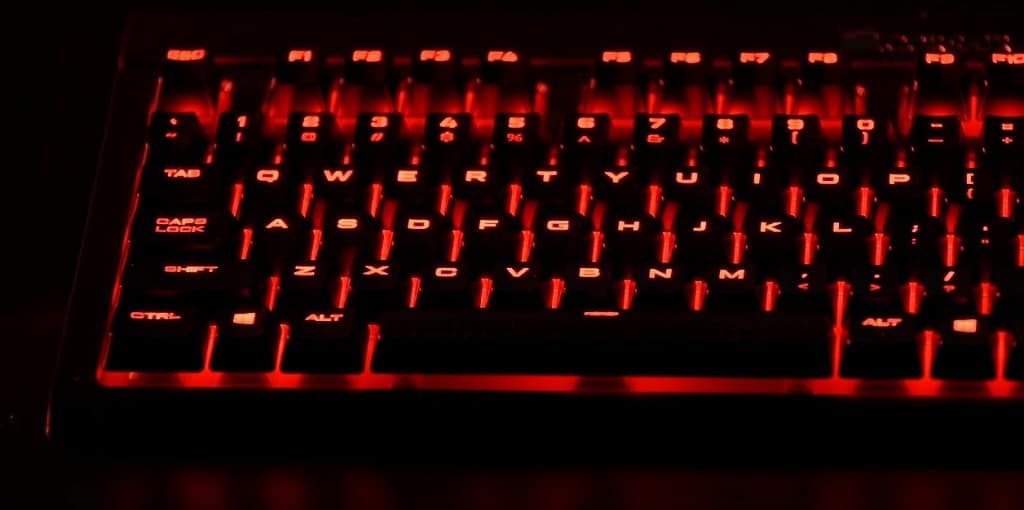 Overall, the K68 mechanical keyboard has a solid build quality and is easy to maintain and reliable. The CUE software is impressive. The mechanical switches and media keys are decent, too, which are great for game enthusiasts.  The keyboard's dust and spill resistance is a plus. Most Corsair K68 customer reviews we found agree that the keyboard is worth the money and combats water spills the way it should.
Although the price can be a bit high for some consumers as cheaper alternatives are available in the market (but without the spill resistance feature), you can never go wrong with K68 – it serves its purpose. That concludes our review of the Corsair K68. A highly functional and simplistic mechanical keyboard, excellent for everyday typing.
For more Corsair K68 reviews, you may visit Amazon or Reddit.