Pros & Cons of the MM520
| | |
| --- | --- |
| The Good | The Bad |
| The MM520 offers the DPI range up to 12000 that tracks each movement during your gaming sessions. This quick response time provides a notable positive experience. Also, the 32-bit ARM Cortex M0 processor and Pixart PMW-3360 Optical sensor offer a user-friendly experience. It features an easy-to-use software at a reasonable price. | Personally, I feel that the RGB lighting settings are a little bit overwhelming. There is a light downfall towards the build quality of MM520 – provided that the mouse cable is also non-braided. Braided cables are often more durable and versatile than traditional ones. In simple words, MM520 has a questionable build quality. |
After thorough research and market analysis, after I purchased the MM520 claw-grip gaming mouse, it never disappointed me. Let's take a look at how this mouse served my gaming needs.
MM520 – Features & Specs Overview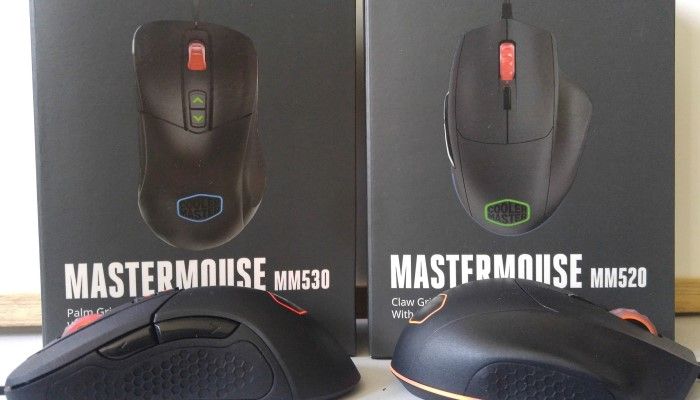 MasterMouse 520 Review: Cooler Master released the MasterMouse 520 in 2017 especially for those looking forward to a claw grip gaming mouse.
Whereas, its variant MasterMouse 530 is a palm-grip gaming mouse with same specs. This six-button, high-DPI PC gaming mouse is certainly the best choice for beginners as well as high-grade gamers. It proves more efficient than Cooler Master had anticipated. I have been using the MasterMouse 520 for the past few days for gaming, browsing, office work, and traditional desktop use. And without a doubt, MM 520 doesn't disappoint me as a claw-grip user.
Cooler Master has done an excellent job as it feels pretty good with a unique design, texture, and shape. Although the MM520 and MM530 were launched side-by-side, I will still focus on MM520 for claw-grip players.
The ergonomic difference between the two mouses can be quite substantial over intense and prolonged periods of use.
The claw grip ergonomics can be very comfortable for larger hands when gripping the mouse tightly. Your decision to use claw grip will mainly be a function of ergonomic preference. If you feel a normal mouse is a little too small and cramps up your hands, I highly recommend trying out a wider gripped gaming mouse.
Features & Specs
Current Amazon Price: $42.5
Dimensions:78.5 x118 x 29.5mm
Angle Snapping: On/Off
No. of Programmable Buttons: 6
Warranty: 2-Year Manufacturer Warranty
DPI: 4 Levels ranging from 100-12000dpi
Color: Black M14
Material: Plastic/Rubber
Cable Lenth: 1.8 Meters Flexible Cable
Connector: Gold-Plated
Sensor: Pixart PMW-3360 Optical
Processor: 32-bit ARM Cortex M0
At first, I was somewhat annoyed with the hardy yet sturdy design that doesn't shine at all, but the RGB lighting covers it all. The Omron switches in MM520 are reliable and are versatile.
Cooler Master claims that these Ormon Switches are rated for 20 million clicks. The most amazing thing about the MM520 is its Pixart 3360 sensor that supports up to 12000CPI (counts per inch) and tracks each point precisely even when the mouse is moving 250-inches/sec.
In my high-grade and twitchy gameplay session of hours, I never felt a single or slightest bit of hesitation from MM520 when tracking points.
MM520 Claw-grip Unboxing
The MM520 comes in a decent black packaging box that lists all the necessary information there is to know about this masterpiece. Holding the box makes you feel and anticipate the high-grade quality it will offer.
The front cover of the packaging box represents the image of MM520, the Cooler Master logo, and the product name in the upper left corner. The packaging box incorporates a small user guide and the mouse with a 1.8 meter flexible and lightweight cable.
One downside of MM520 is that the mouse cable is not braided which is not preferred by many gamers – braided cables are recognized as more durable and versatile.
MM520 Design Quality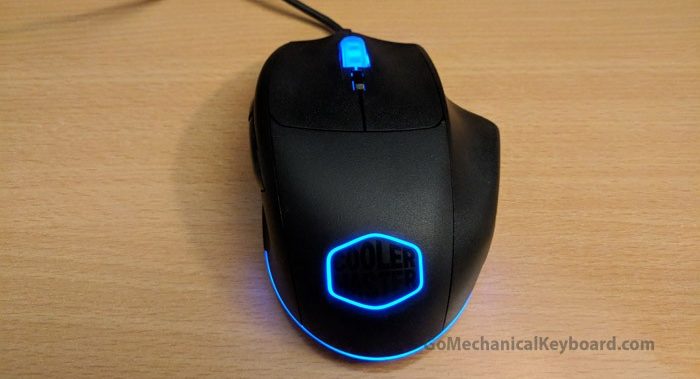 The MM520 design is what makes it stand out to other products; the difference can be seen from the MM530 that offers the same specs. The efficient claw-grip design with a stepped right side provides extra support to ring finger.
The curved arch from the back side of MM520 is flattened out toward the right and left click. The front also incorporates a unique shape somewhat like a Ferrari Grill.
The slotted left side of the MM520 let my thumb rest easily and comfortably to provide efficient access to the back and forward buttons. However, MM520 doesn't have any rubber grip for thumb like MM530.
A small, soft, honeycomb-styled rubber strip is placed on the pinky finger for larger hands that suffer using a claw-grip mouse. However, this rubber strip doesn't play a greater role to a solid grip. Unfortunately, my pinky on the rubber finger, when used for 2 weeks started to dislodge the rubber unit so slightly.
An Efficient Gaming Accessory
I've used many high-grade gaming accessories including vertical gaming mouses, mics, mechanical keyboards, etc. and my initial experience with the MM520 was not that extraordinary. But as it positioned my fingers uniquely, it served as a great companion in lengthy gaming durations where my fingers never felt extra strained holding the MM520.
The body of MM520 is built with a matte black, coarse plastic that is highly durable as well as adds value to an extra bit of texture for the ring finger and thumb to hold.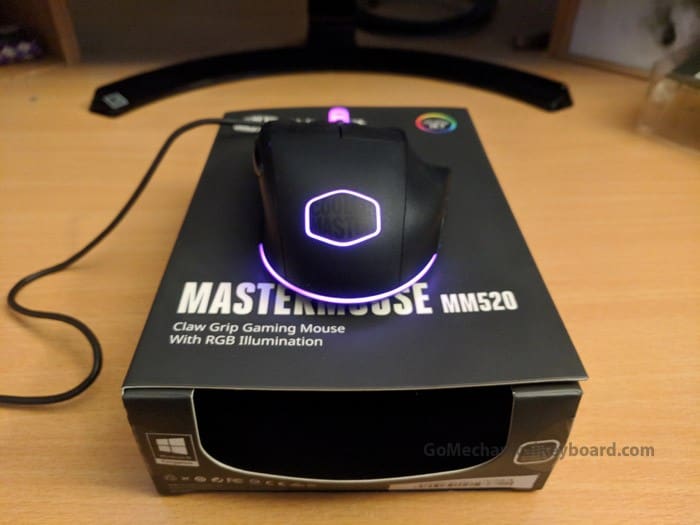 No doubt the plastic feels a bit sturdy and hardy. Overall, the MM520 design incorporates few weak points due to undesirable flex.
For gamers, three-zone RGB lighting with 16.7 million colors and a variety of patterns adds value to this masterpiece. The primary mouse buttons are surely the best and feel great, they are extraordinary clicky and consistent for long-term use.
I use the MM520 for both gaming as well as general desktop purposes, and it never disappoints me.
Easy to Use and Customizable Software Support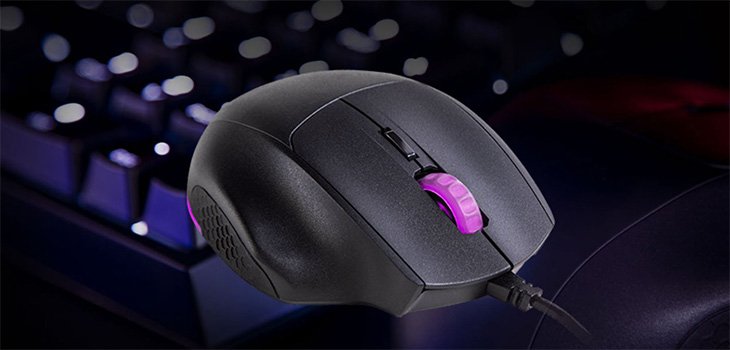 The amazing user-friendly GUI software provides an efficient control for sync and key mapping with the built-in key assignment and OS sensitivity in its system. The MM520's software allows us to adjust the LED colors and lighting effects out of 16.7 million colors from the RGB lighting schema.
You can keep a hand on complete color tuning for all zones individually and set up multiple modes i.e. simple, spectrum. Recently, I used the special multilayer mode for custom effects in darker conditions. You can even change the sensor performance according to the usage i.e. LOD tuning, DPI tuning. I didn't know but after MasterMouse 520 review, I got to know these amazing featues offered by MM520.
Tactix: The tactix provides the ability to double all functions offered by the buttons. In simple words, all the six buttons offer an alternative function when using Tactix. The alternative function assigned to each key is also based on the user's preferences. It can essentially turn this six-button mouse into 12.
Programmable Model: The MM520's software also allows us to set the default DPI and another four separate DPI settings following an increment of 100 DPIs. You can set up this preference from 100 DPI up to 12000 DPI. Keep up with your gaming life and office work with the on-the-fly customization in mouse precision to avail a better hand over precision in moments.
Our Final Verdict on CoolerMaster's MM520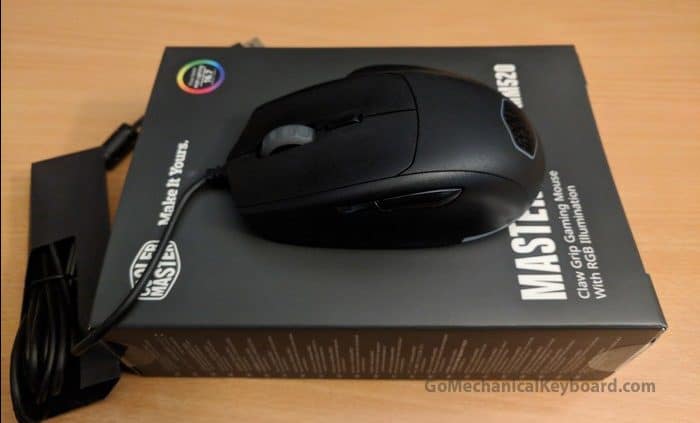 After hours of use, I would like to conclude this review by saying that Cooler Master has created a pretty well-built gaming mouse especially for claw users that will surely stand beyond your desired results.
The only disappointing fact about this device is the non-braided cable. Don't get me wrong, but braided cables are one of many factors gamers and computer geeks look when finding the perfect choice.
I have been using the Cooler Master MM520 for a few weeks now, and it is a must-have accessory for gamers – providing the best and consistent gaming experience. The incredible PWM 3360 sensor will track every movement and remains consistent throughout my gaming session.
However, if you're not into claw style gaming mouses, I would highly recommend checking out our Anker vertical mouse review or the HAVIT MS 794 which is a regular style mouse.
This MasterMouse 520 Review is based on my personal experience and taste. It provides the most comfortable grip and holds a sleek yet unique design. In case of further questions or suggestions, feel free to leave a reply below.