There are a limited amount of mechanical keyboards out there that is made for Mac, and the Velocifire M104 is one of them.
Pros & Cons of Velocifire M104
Interested in getting a Mac-compatible mechanical keyboard? Check out our list of the best Mac mechanical keyboards of all time here.
Here are the highlighted features of Velocifire M104,
| | |
| --- | --- |
| The Good | The Bad |
| | |
| | Mild Glare in Direct Light |
| Well-integrated Mac Layout | |
| | |
Moving forward with this unusual type of keyboard review, there is one thing that becomes flashingly clear; it is NOT a gaming keyboard. This is more for general typists or office workers who want an alternative to their mac keyboards (Macs keyboards have been extremely finicky in the past and are known to break down).
A few weeks back, Velocifire sent me one of their "Mac Targetting" keyboards; The Velocifire M104.
Note that if you're looking for a more compact variation of this keyboard, check out our review of Velocifire's M87 here which is essentially a TKL version of the M104.
I used it for a week and here are my final thoughts.
First Impressions and Features – 7/10
As for the features, the Mac layout does its job and it supports the standard plug & play. After you think about the main purpose of this build, which is office work, these features add more to Velocifire M104.
First, it's pretty hefty. I would not want to carry it with me anywhere, but that isn't an issue on my desk and it feels very durable.
The lighting looks good and adds a subtle touch to an otherwise simple mechanical keyboard.
The settings for the lighting are decent for the price. I rather like the waterfall effect when the speed is turned down. There are 3 brightness settings for each mode: off, medium, and bright. The media hotkeys are pretty convenient and are easily accessed once you get used to the location of the function key.
DESIGN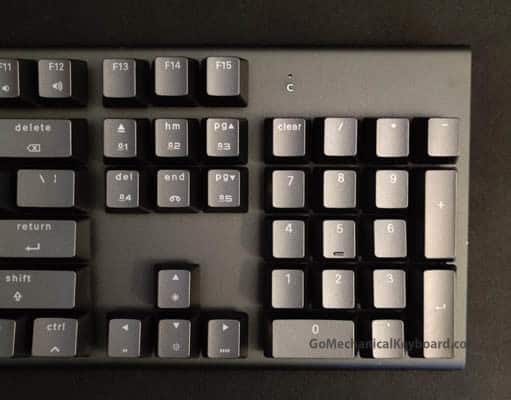 The keyboard has good ergonomics and it feels very comfortable while typing, even for extended periods. In my experience, Velocifire M104 is an excellent choice for you if you are an elite typist, or like to use Numpad a lot.
That's right, there is not only a Numpad but a full-fledged 104 key layout. Not to mention that the whole layout is 100% supported by Mac.
To end, the design is pretty sleek with very thin bezels around the border of the keyboard.
CONNECTIVITY
Sadly, the keyboard has no wireless connections. I would have loved wireless connectivity but it turns out that you are stuck with a traditional, non-removable USB cable attached to the keyboard.
On the bright side, the cable is long enough to meet both ends but refrain from turning or twisting it too much because you'll end up breaking the joints.
However, if you would like to read my review of one of Velocifire's wireless keyboards, look here.
COMPATIBILITY
Since it is a Mac layout keyboard, the CMD, CTRL, OPT (FN) keys are observed.
However, the Mac layout keyboards are more compatible with Mac OS. This is mainly because the Windows layout keyboard does not allow the FN button to function correctly on Mac OS or most of the time, FN buttons are not recognized with Mac OS.
Thus, it is advised to use Mac keyboards only with Mac and vice versa. However, if you do not tend to use the OPT key on Mac, you can deploy a better windows layout keyboard to Mac as well.
Keys & Switches Quality in Velocifire M104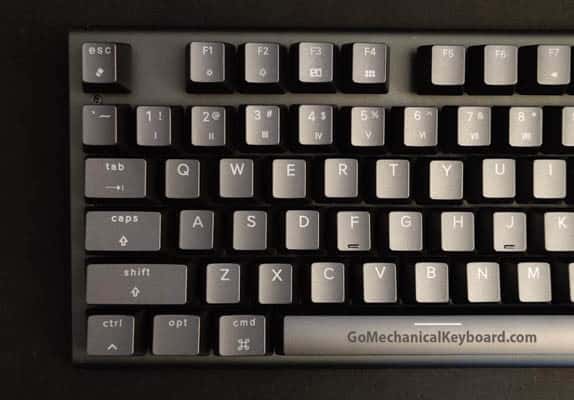 Now, I'm satisfied with the switches out of the box, they are grippy and sleek. Additionally, they do not feel too clicky as most Mac keyboards do.
The keyboard features brown switches that feel premium. Responsiveness of these switches is also a cool breeze, so, kudos to that.
The only thing I am concerned about is the space bar as it wobbles a bit. The keys are quiet and provide tactile feedback as you press them down.
Another annoyance I had was how easily the keycaps glared when there was direct light shining on it. It wasn't a deal-breaker by any means, such something to be aware of.
Unboxing Experience – 6/10

Now, in my point of view, I think every mechanical keyboard deserves at-least a good unboxing regardless of its price tag.
As for the Velocifire M104, do not expect anything excellent and top-level. You will get your $70 keyboard in a brown-colored cardboard box and that is pretty much it.
You should be able to find the following things inside the box,
Velocifire M104 × 1
User Guide × 1
I am going to score this unboxing as 6/10.
Tests and Overall Performance – 8/10
When it comes to performance, Velocifire has never made you suffer in its keyboards. Owing to this, Velcofire M104 performs pretty well under any circumstances.
Now, since this keyboard is not aimed for gamers, I feel like the keyboard itself is well-optimized for elite typists and office environments.
I tested it with everything from extreme typing scenarios to forced keystrokes, the results were shocking! I was not expecting much from the keyboard as it follows a conventional design and layout but the switches hold the ground.
In extreme typing tests, I did not notice any lags until you were clicking around three keys at a time (if you are an elite typist, you know GHOSTING).
For normal users, the keyboard would do more than just fine on both Mac and Windows OS.
Nevertheless, you need to be careful enough to not break your keys while typing in anger as the brown switches are fragile and normally break if you press down hard enough.
As for the typing experience, the keyboard exceeded expectations and it went like a knife through butter (Smooth).
One more thing that I find worth mentioning is that if you are looking forward to buying your first mechanical keyboard, Velocifire M104 would do more than just fine. However, if you have been using mechanical keyboards for quite some time, you might want something with a few more bells and whistles.
Verdict about Velocifire M104: Hello, Old School!
Pretty much every other keyboard I have tested is more than enough to justify all your gaming requirements as well as your office's. Most of the time, these keyboards are compatible with Mac and Windows operating systems although there are certain differences like the FN buttons.
So, I do not see a need to buy a separate Mac keyboard but if you are keen on buying it, I would recommend this board.
Another big factor is the connectivity, wireless would be a great add-on.
While there is not much to consider about this keyboard or any other Mac layout keyboard, if I were you, I would buy a gaming keyboard instead as it would add more versatility to your user experience.
Anyhow, I would like to know how well this keyboard performed for you or if you would like to add something to this review.
Let us know down in the comments and we'll feature you in our reviews.
Happy Typing!