Pros & Cons of Royal Kludge RK61
These are some of the most prominent features in Royal Kludge RK61,
Budget-friendly pricing
Wireless Connectivity
60% Compact Minimalism Layout
RGB
| | |
| --- | --- |
| The Good | The Bad |
| | Learning-curve for Hotkeys |
| Connect to Multiple Devices | |
| | |
| | |
Note: Make sure you visit Banggood as the pricing is a lot cheaper for the same keyboard!
Still interested in Amazon? Check out their pricing here.
So, here we are again, with another Wireless keyboard! I guess everyone wants a wireless keyboard now, maybe that is why I see companies focusing on their wireless keyboards so much.
Regardless of what goes in trend, we at GoMechanicalKeyboard, have to keep up the pace with the constantly changing gaming market to provide you with honest insights for your favorite gaming products.
This time though, we are going to review Royal Kludge's flagship, the "RK61."
You probably know this line, but here it goes; Yes! I've been using the product for the past two weeks and this is what I found out about RK61's experience.
Read now: Best Wireless Mechanical Keyboards of All Time
First Impressions & Features – 8.5/10
The RK61 is very similar to the Anne Pro 2 in terms of design – a clean white 60% keyboard with great functionality and unique font design.
From what I can see, I am confident that the Royal Kludge RK61 has one of the most attractive designs in the market. Not only is the design of this product aesthetically good looking but also efficient.
Moreover, the overall RGB lighting and double-shot ABS keycaps make the keyboard durable and feature-rich.
As for the features, I'll discuss them in detail below;
DESIGN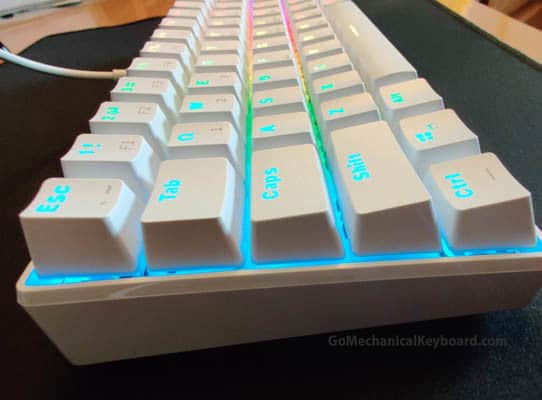 Design Features:
Borderless layout
Curved key structuring for efficiency typing
Fabulous RGB
Good ergonomics (5 Degrees incline)
61 Key Compact Layout
The keyboard focuses much on the actual user experience than on its design which makes its design even more practical and attractive.
Unlike other manufacturers, Royal Kludge focuses on the practical aspects of their keyboard's design and they have done precisely that in RK61.
If you want to learn more about mechanical keyboards, read my beginners' guide for mechanical keyboards here.
The curved layout plays an important role in ergonomics as it eases the load on your thumbs and makes typing even easier. Using CTRL and SPACE keys is easier than ever on Royal Kludge RK61.
The 60% layout is very well designed and you can use FN shortcut keys to access all the important features as arrow keys, PG UP & DOWN. (Glad they included that)
As for the main incline, the keyboard sits on a 5-degree incline which is considered within the range of good ergonomics.
Ultimately, I am satisfied with the design.
LIGHTS on Royal Kludge RK61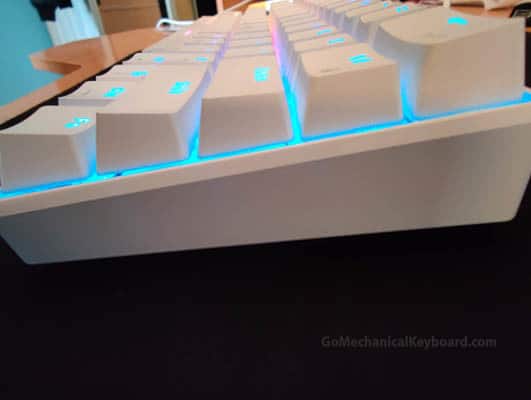 The lights on RK61 give you added value as the RGB is vibrant with contrasting colors. Unlike cheaper lights seen often in this price segment, I found RK61's RGB lights to be actually better.
They have more dynamic range and are well-integrated with the keyboard's design. This essentially makes them look exceptionally good in low-light conditions.
You can set up the RGB lights based on 17 modes for you to choose from.
CONNECTIONS
Interestingly, Royal Kludge RK61 features Bluetooth wireless connectivity which enables it to connect and interact with three devices at a time. You can press FN+Q, FN+W, FN+E to switch between devices while in wireless mode and using more than one device.
There is a USB-C (3.0) cable which is detachable for added convenience in usage.
Therefore, you get a full-fledged connectivity platform. Additionally, I faced connectivity issues with wireless as the keyboard did not show up on available devices sometimes, restarting the keyboard seemed to fix the problem.

KEYCAPS AND SWITCHES OF ROYAL KLUDGE RK61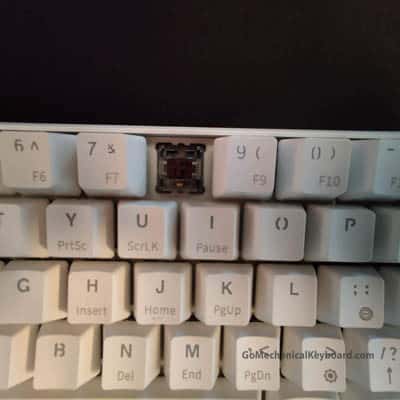 The keyboard features RK Brown Switches and double-shot ABS keycaps which is a reliable combination. The switches are not faster than OUTEMU or Cherry MX Brown, but they are sufficiently responsive.
Also, the clickiness is satisfying and the keyboard provides a satisfying clicking experience.
I like the keycap quality but some keys lack the tactile bumps which result in your finger slipping over the keys and losing grip (especially if your hands tend to get sweaty while typing like me).
BATTERY
Royal Kludge RK61 has a standby time of 360 hrs and you get around 10 hours of constant working time. For me, I had to charge it every two days after constantly working on it for five hours each day.
To my surprise, it still had some juice left.
If you turn off the RGBs or Backlighting, you can expect a couple of hours more in terms of battery life.
SOFTWARE
Royal Kludge RK61 RGB comes with its own software to make it more customizable. It is fairly easy to use and gives you more control over your keyboard.
You can download the RK61's software directly from this link.
The software is decent considering the keyboards' price but do expect a learning curve.
Unboxing Royal Kludge RK61 – 7/10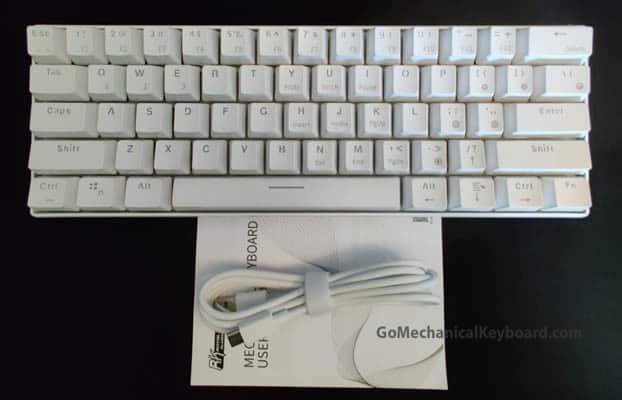 The RK61 comes in a usual cardboard box with a ROYAL KLUDGE branding on top and a price & model sticker on the front side. If I were you, I would not expect much from the unboxing.
The box opens in an interesting way though, I'll give it at least that.
You should see the following items with the RK61 keyboard,
A detachable USB-C cable
User Guide
Sadly, no keycap pulling tool or additional keycaps.
If you'd like to have some bona-fidas on some custom keycaps, give these a shot.
Performance – 8/10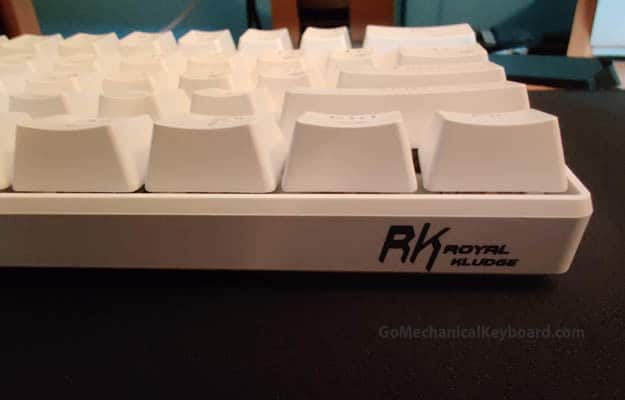 The keyboard is very compact and responsive. Even for a wireless keyboard, the responsiveness of Royal Kludge RK61 beats a lot of other mechanical keyboards in the market.
For office environments and non-gaming usage, there's nothing better than RK61's user experience, you will love it. Even at high-speed typing and hard-pressing on the keys, the keyboard stood strong.
However, things get ugly in Gaming environments where the wireless mode significantly drops in performance and fails to keep up with the game being played. For this reason, I recommend using the wired mode while gaming as it will save you a lot of "RAGE QUITS."
I had absolutely no issue with the keyboard's responsiveness except for a little lag in wireless mode. (Wired mode works just fine)
Also, the wired mode supports NKRO which further improves the usability of the keyboard. Especially, for games that need multiple key combinations, NKRO support is a must-have feature.
The layout of the keyboard works for all the games I have tested so you would not feel any key missing.
Verdict: Great Mechanical Keyboard at an Even Greater Price
If you have the under $50 budget and are looking for a value-for-money keyboard, I can confidently put Royal Kludge RK61 on the list. Check it out for a great price on Banggood.
So, go ahead and buy this keyboard. Use it and let me know if you liked it or found my review helpful.
Let me know if you have any questions or suggestions and I'll feature you in my reviews.
Happy Keyboarding!!!
Looking for other mechanical keyboards under $50? Check out our list here.